You may notice that, the format of audio files in iTunes will be different. M4A and M4B are the two which look most alike. Both of them are used as the audio files formats. So, what are the differences and similarities between them?
Encoding Method And Format Protection
Both M4A and M4B format are basically an audio file extension of MP4 codec, and encoded by AAC (Advanced Audio Coding). M4A is mostly for music files format, while M4B is audiobooks from iTunes store. The digital contents from iTunes are all protected by Apple's FairPlay DRM. However, M4A is not protected by DRM. The iTunes Music as well as Apple Music are in the format of M4P, which refers to the Apple's version of M4A format that includes DRM. By comparison, M4B has both DRM-ed and DRM-free version in audiobook files. The audiobooks bought from iTunes Store are all in DRM encryption, while those DRM-free M4B audiobooks can also be found on the Internet by yourself.
Note: You are able to remove DRM from iTunes music and audiobooks, try the TuneFab Apple Music Converter. This easy-to-use program can also convert the format of M4A, M4B, M4P into plain MP3, FLAC, etc.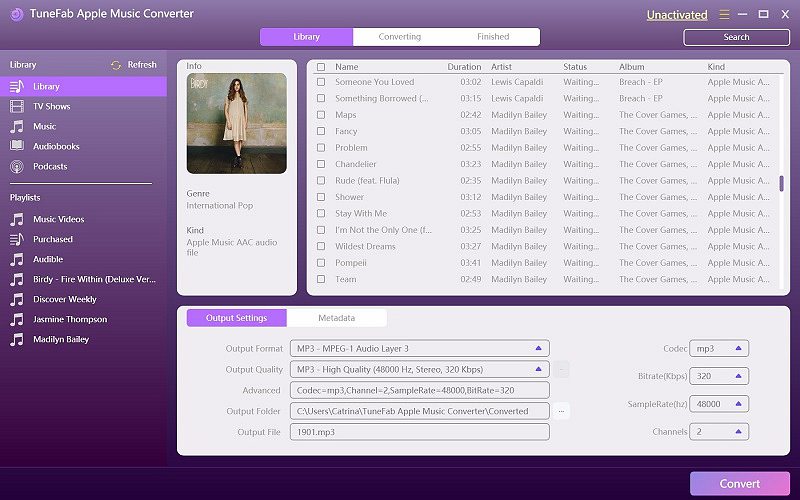 See the Guidance:
• How to Convert M4B to MP3 Format
• Convert M4P to MP3 Format ( Without iTunes)
Compatible/Supported Devices of M4A and M4B
As for DRM-ed M4B, it is compatible on fewer devices. It is supported by iPhone, iPod, iPad, etc. Besides, the DRM-encrypted M4A and DRM-free M4B would be available on more devices and media players as long as these devices and media players support the formats.
The Bookmarks of M4B Audiobooks
Comparing to M4A, one of the most obvious features of M4B audiobooks is the bookmarks. Bookmark is applied to audiobooks, which allows you to skip to the part you have read in the last time. This function saves lots of time since you don't need to search for exact point you want to go. However, M4A music files do not have bookmarks.
Also, another feature of M4B audiobooks refers to the Chapter setting of audiobooks. The audiobook is divided by its chapters, which make it looks like a physical book and become more convenient for users to read.
Conclusion
As we can know, both M4A and M4B format are related to MPEG-4 format and are represented the audio files. There occurs both differences and similarities in these two. The basic difference of them refers to that M4A is the extension of music files while M4B is audiobooks. Besides, M4A is totally unencrypted by DRM, and M4B has both DRM-ed and DRM-free.
Was this information helpful?
TrustScore 3.8 | 8