It is simple to play AAX audiobooks on Android if you are an Audible subscriber. However, if you also want the flexibility to play these audiobooks on other media players on Android, then it's difficult. This is because the AAX format is DRM-protected to work exclusively on authorized media players, like the Audible app. Therefore, many audiobook listeners will choose to play AAX audiobooks by converting them to a more compatible format, such as MP3, so that they can easily play the audiobooks on other apps. And this article will provide you with a step-by-step guide to these two methods.
CONTENTS
Method 1: Play DRM-protected AAX Audiobooks on Android with Audible
Audible is one of the most popular services for listening to and streaming technology-protected audiobooks. It's available for both desktop and mobile devices. You can download the Audible app to add and play the DRM-protected AAX audiobooks directly.
Here are some simple steps to playing DRM-protected AAX audiobooks on Android with Audible :
Step 1. Search for and download the Audible app from the Google Play Store.
Step 2. Once the app is installed, sign in with your Audible account credentials or create a new account.
Step 3. After logging into an account, go to My 'Library' on the sidebar, and you will see a playlist of your AAX-format audiobooks. If not, select the 'Cloud' icon on the top and switch it to 'Device.'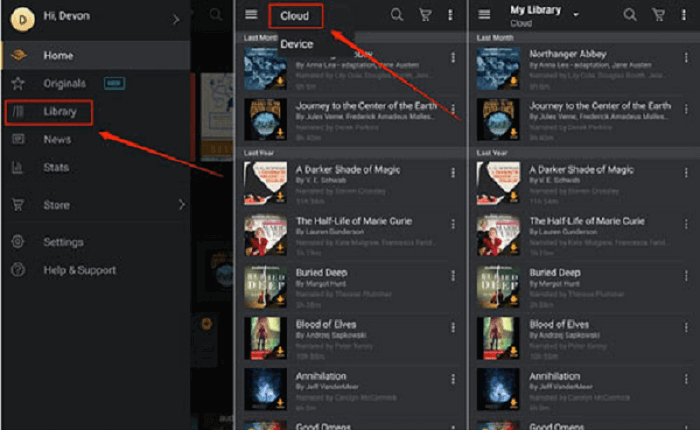 Step 4. Select the audiobook you want to play from your library and click the 'Download' icon. Then you will have your audiobooks ready to play on Audible.
Method 2: Play DRM-free AAX Files on Android Without Audible
Downloading the Audible app can help you play the AAX files on Andriod quickly. Still, it is inconvenient to use Audible to play AAX audiobooks if you want offline playback on other media players on Andriod. Therefore, we will provide you with another method to play AAX audiobooks by converting them from DRM-protected AAX files to DRM-free format, so that you can transfer them to other media players and enjoy them on Android flexibly.
Convert AAX Audible Books to MP3
If you want to convert protected audiobooks to DRM-free audiobooks, you need to use a third-party audio converter. Among all the professional audio converters, our top recommendation is TuneFab Audible Converter.
It is a powerful tool to convert Audible AA and AAX files to MP3, M4A, FLAC, and WAV formats. It supports batch conversion and promises the best output audio quality of your audiobooks. With TuneFab, you can easily enjoy your favorite audiobooks on your Android devices, no matter which media player you use.
Why you should choose TuneFab Audible Converter:
● Convert Audible audiobooks to popular audio formats (MP3, WAV, M4A, FLAC) to enjoy offline playback on different media players.
● Convert audio files 60x or more times faster than other music convertors with the support of batch conversion.
● Keeps 100% original sound quality of your audiobooks.
● Edit ID3 information (cover, artist, album, etc.) to build your own audiobook library.
● Customize audiobooks by setting the bit rate, sample rate and split mode of conversion.

Here are some simple steps to convert AAX Audiobooks to MP3 with TuneFab Audible Converter:
Step 1: Download and Install TuneFab Audible Converter
Firstly, download and install TuneFab Audible Converter to your PC.
Step 2: Add AAX Audible Books to the Converter
Launch TunFab after finishing installing, then open the converter and drag your audio files directly into the empty conversion interface. After adding your audiobooks to the converter, you will see a playlist of them in the interface.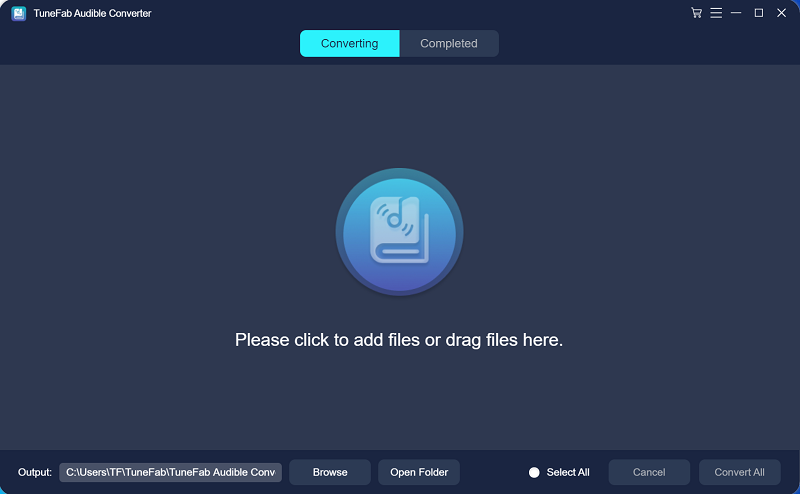 Step 3: Configure Output Parameters
Before processing to conversion, you can customize some ID3 parameters, bit rate, and sample rate and choose the cut method (by time, chapter, or no cut) by going to 'Menu >> Preferences' for better file management later.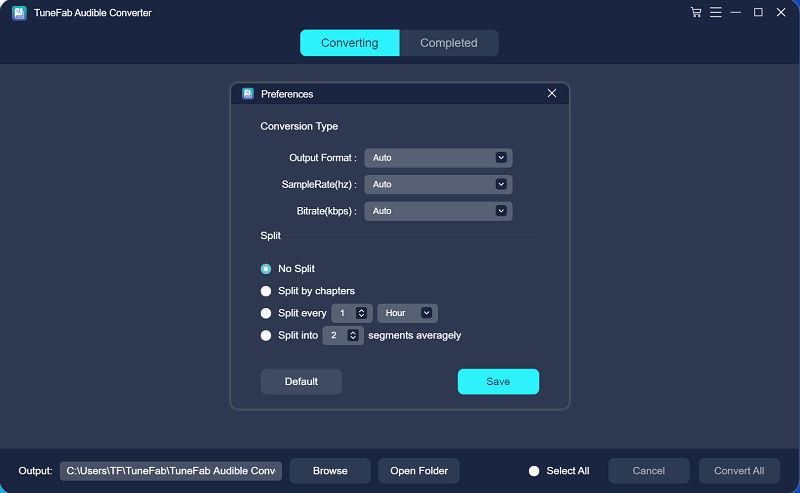 Step 4: Choose MP3 as Output Format
Select 'MP3' under the drag-down menu of 'Output Format'. You can also choose other commonly supported formats like M4A, FLAC, and WAV.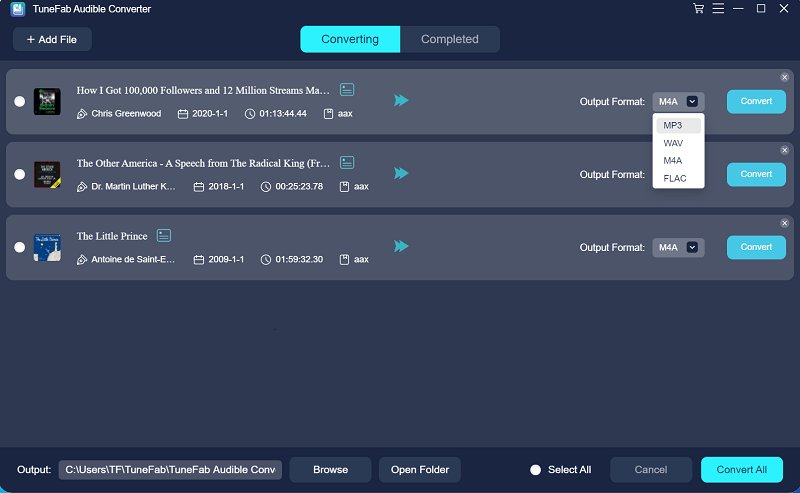 Step 5: Convert AAX File to MP3
Click the 'Convert' button on the right side and the converted audio files will automatically appear under the 'Completed' tab after finishing the conversion. Then click 'Open File' to access the folder you output your files to.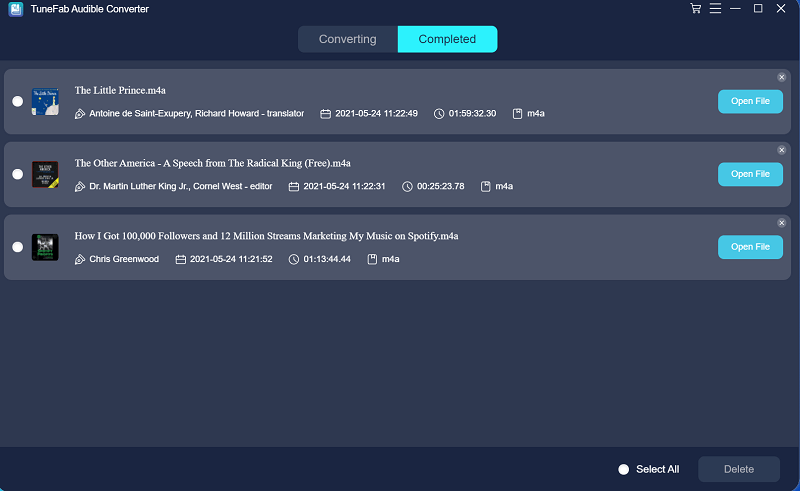 Transfer DRM-free AAX Audio to Android
You should have your converted DRM-free audiobooks on your computer, and now you need to transfer these files to your Android.
● First, link your Android phone with a USB cable to your computer.
● Second, select all the audiobooks in the folder and drag/copy them to the USB folder.
● Finally, unplug your phone from the PC. You will have your AAX audiobooks playable on your Android devices.
Conclusion
We have provided you with two methods to play DRM-protected AAX audiobooks on Andriod. You can play AA or AAX files on Andriod by using the Audible App or the Audio converter. While using Audible is not flexible enough as the downloaded audiobooks can only be played on the Audible software on Android phones. Therefore, we will recommend using the method by converting the DRM-protected AAX audiobooks into DRM-free and more compatible MP3 files and transferring them to your Android phone using TuneFab Audible Converter
Was this information helpful?
TrustScore 2.3 | 3