Whether you are the fan of Apple Music or not, you may be confused by the bitrate of it. Comparing to Spotify bitrate of 320kbps, Apple Music only has the bitrate of 256kbps. Some users of Apple Music always dissatisfy with the "low" bitrate of Apple Music, because it means a lower quality.
Therefore, is it possible for us to convert Apple Music into 320kbps? Actually, the answer is YES. But how? The following passage will give you some guides on the conversion between 256kbps and 320kbps.
CONTENTS
Part 1. Convert Apple Music from 256kbps to 320kbps
If you want to get Apple Music at 320kbps, you can make use of TuneFab Apple Music Converter. This software can not only convert Apple Music from 256kbps to 320kbps but also help you remove DRM from Apple Music. In this way, you can play Apple Music on any devices and listen to Apple Music offline with more freedom.
It seems difficult, but actually, the operation of using TuneFab Apple Music Converter is easy to grasp. There are only five steps to follow.
Step 1. Download the tool
Download the TuneFab Apple Music Converter on your computer and install it. After installment, your iTunes will connect to it automatically.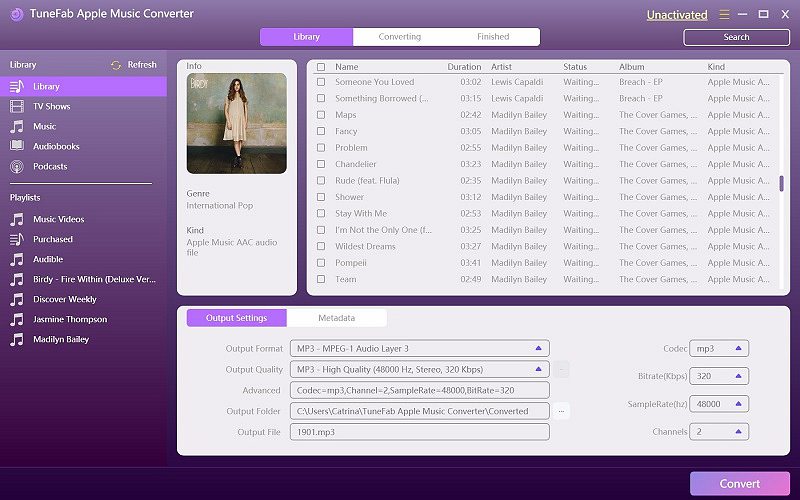 Step 2. Choose the original one in "Library"
After connecting to iTunes, you will find the column of your iTunes on the left side of the TuneFab app. Click the "Library" and tick one or several Apple Music you want to convert.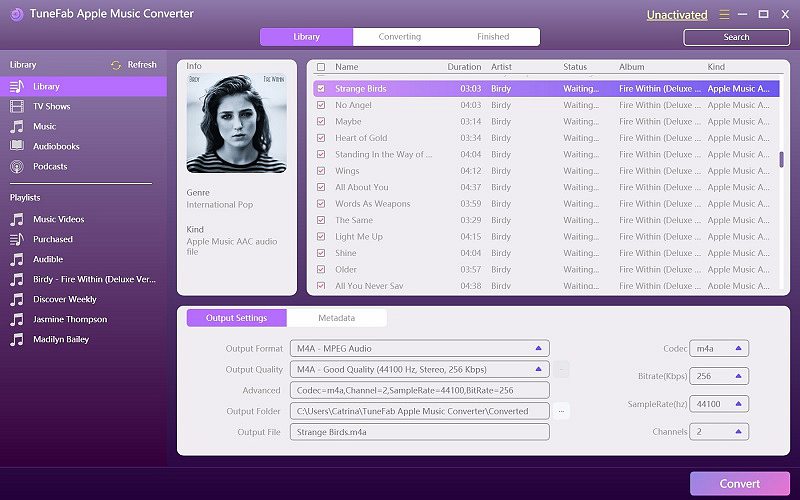 Step 3. Set the format & bitrate of output files
You are able to set the format, folder, file name of the target files in "Output Settings". Just select MP3 as output format and move to the bottom right, in the option of "Bitrate", from the drop-down list, choose 320kbps as output files' bitrate.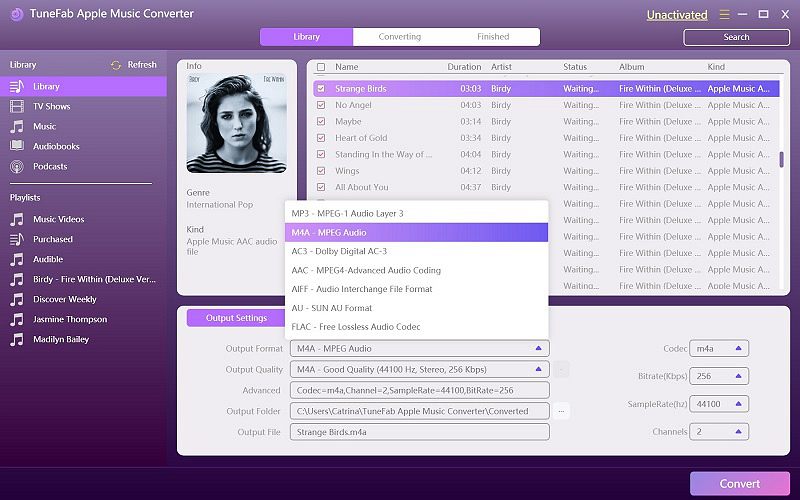 Step 4. Select the speed of conversion (optional)
This app also provides the function of setting the speed of conversion. You can choose the speed from 1x to 16x according to your preference. The setting could be found in "Options"> "Convert"> "Set Custom conversion speed for audio convert (1-16)".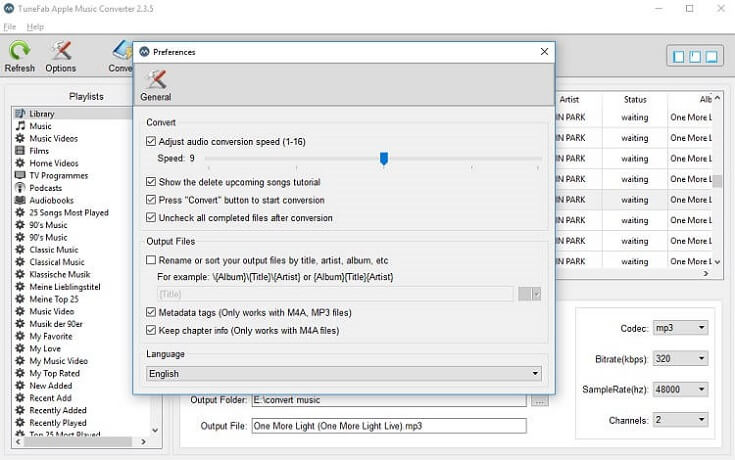 Step 5. Conversion of the files
After the setting above, you just need to click on "Convert" button and waiting for the conversion. Finally, you can find the files by clicking on the "Export Output File".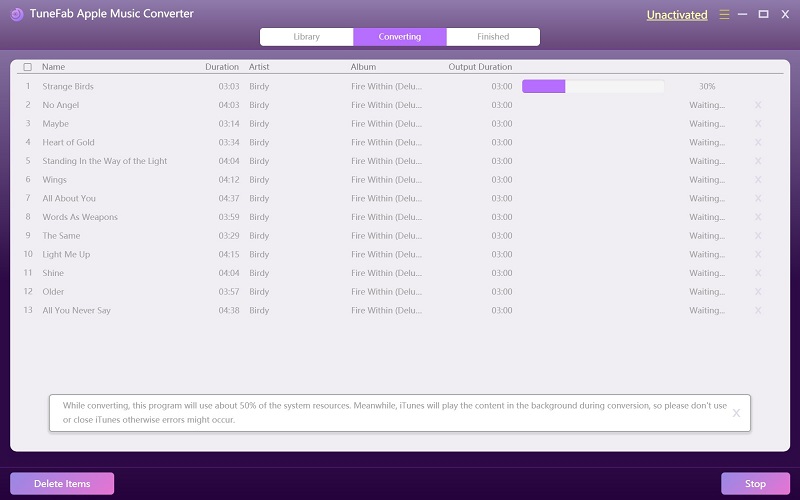 In this way, we can perfectly convert Apple Music streaming bitrate from 256kbps into 320kbps with the best Apple Music DRM removal - TuneFab Apple Music Converter.
Part 2. 256kbps AAC VS 320kbps OGG
As the two best music streaming services, AAC of Apple Music and OGG of Spotify, are often taken to some comparison. So, what are the differences between them?
A. Quality
Actually, AAC format would be much closer to lossless, instead, OGG would be slightly less. Although the bitrate of OGG is higher, and as we all know, with a higher bitrate, there comes better quality, this could be offset by the format itself. In reality, the quality of both formats is good enough for us at present.
B. File Size
We can know that, with a higher bitrate, the size of the file would also be larger. But in fact, the size of 320kbps OGG only occupies 1146KB, while 256kbps AAC takes 1185kbps. As a result, when your mobile phone or laptop has a limited storage, OGG could be a pretty good choice to save some space.
Part 3. Suggestion: Choose The Adaptable One for Yourself
Actually, both 256kbps AAC of Apple Music and 320kbps OGG of Spotify have been a very good quality, and few people could really tell the differences when they are listening to music. As a result, it would be better to choose the one which is more adaptable to themselves.
According to the devices
If you are using an iPhone, or any other Apple electronic products, the Apple Music could be a well choice. The 256kbps AAC format can not only save your space but also help you enjoy a wonderful sound quality. However, if you need to transfer the music between two different devices frequently, or your devices are the brands which don't support AAC, an OGG format is your choice. As we know, it is compatible with lots of devices.
According to personal needs
People may need the music with 320kbps in some cases. For example, a comment on a forum says that he/she needs the 320kbps music because he/she is a DJ and is going to play it in clubs. In this case, Apple Music is not a good choice because it only has the maximum of 256kbps and he/she has to choose Google music or Spotify. Besides, you can also try the conversion method mentioned in the front of the passage to turn Apple Music into a 320kbps one. It would be a better choice for its convenience.
Was this information helpful?
TrustScore 5 | 49