Imagine you are on a morning workout, surrounded by stunning nature with no cell service. With Mighty, you can still immerse yourself in your personalized music world, and literally free your hands by playing Spotify Music on Mighty. As a portable music player, Mighty allows you to enjoy your favorite Spotify and Amazon playlists without an internet connection. Besides, its compact size makes it easy to carry during your running adventure.
Don't know how to use it? Continue reading to get more and you will find out how to play Spotify Music on Mighty!
CONTENTS
Part 1: Mighty Spotify Player Review: Pros and Cons
What is Mighty Spotify Player? That's a good question for you to get to know Mighty, a wonderful device for you to enjoy music.
One of the standout features of the Mighty Spotify Player is its great integration with Spotify. It supports downloading and syncing songs from Spotify or Amazon Music platforms, so you can easily play Spotify/Amazon music anytime, anywhere on this tiny device offline.
This Mighty Vibe Spotify also provides you with Bluetooth wireless connectivity, which is never seen on the previous portable player. The great function frees you from those annoying tangled wired headphones entirely and enables you to embrace the convenient product of technological progress, wireless earphones.
The design of the Mighty Spotify Player is simple yet stylish. It has a small, lightweight body that fits comfortably in your pocket or bag, making it perfect for workouts, commutes, or travel. The player also comes with a sturdy clip, allowing you to attach it to your clothes or accessories while you are on the move.
Through the brief review above, you must have a general understanding of Mighty Spotify Player. However, it is not perfect and has its drawbacks. The following sections will clearly show you its pros and cons.
Advantages of Mighty Spotify Player
• It allows users to listen to their Spotify playlists offline. There is an integrated clip that stores downloaded Spotify playlists and podcasts, and it does not require a smartphone or internet connection, which is particularly useful when traveling or in areas with limited internet connectivity.

• It has great integration with the Spotify app. You can directly connect to your Spotify account to import your own playlists and podcasts to Mighty. This is no different from having a portable Spotify app. It truly allows you to enjoy your own playlist every moment.

• The Mighty Spotify Player can easily be carried around. It is convenient for outdoor activities, workouts, or even just relaxing at home without draining your phone's battery. It is equipped with a clip for easy attachment to clothing or accessories during physical activities.

• Built-in Wi-Fi and Bluetooth enable you to use Bluetooth headphones and speakers. This is important for urban people who adapt to modern lifestyles. More and more people are abandoning wired headphones and turning to wireless headphones, making traditional portable music listening devices no longer suitable for today's life. Moreover, for people who love sports, it is not necessary to let them be disturbed by electrical wires when working out.
Disadvantages of Mighty Spotify Player
• Unable to directly listen to songs online. Users cannot discover new songs, update playlists, or access Spotify's social features without connecting the device to a computer or smartphone.

• Unable to import local files. The Mighty Spotify Player is primarily designed for one purpose - to play Spotify music. It lacks the ability to import local files to it, which is actually the function that almost all previous portable music devices have.

• Its storage capacity is small. The Mighty Spotify Player has a limited storage capacity. This may be insufficient if you have a vast music library or frequently update your playlists.

• Its sound quality isn't satisfying for now. According to some users' true feedback, its bass is not strong enough, the mid-range sound is not as smooth and full, and there is some hissing in the human voice.
Part 2: How to Play Spotify on Mighty
If you have a detailed understanding of the advantages of this product and have already purchased it, then follow these steps to learn how to play Spotify music on Mighty. All the steps are easy and you will grasp them quickly!
👀 Note:
To play Spotify on Mighty, it is necessary to subscribe to Spotify Premium in advance, otherwise you will not be able to use Spotify on Mighty.
Step 1. Power up your Mighty and leave it plugged in during setup with the LED showing white or blinking green.
Step 2. Download and install the Mighty app on your smartphone from the App Store (for iOS) or Google Play Store (for Android) by searching for "Mighty Audio".
Step 3. Open the Mighty app and ensure that your Mighty device is turned on and nearby. Then log in to your account or create a new one. You will see your Mighty's name appear in the Bluetooth section.
Step 4. Tap the + button at the right side of your Mighty's name. When the LED of your Mighty flashes blue, please press the play button on your Mighty.
Step 5. Connect your Mighty to Wi-Fi by tapping the + button next to the name of the WiFi network you desired. Then fill in the password and tap OK.
Step 6. Select the music service you want. As this is a guide to using Spotify Mighty, let's choose Spotify music service. Then log in to your Spotify account.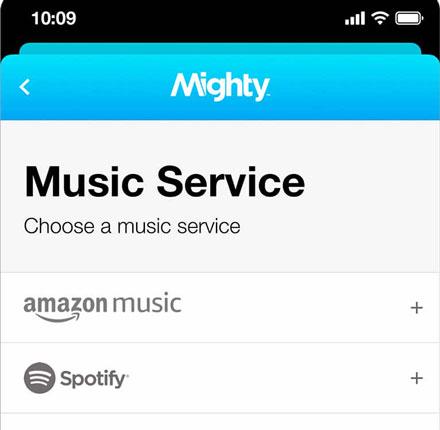 Step 7. In the Mighty app, tap the + button to select the music you want to sync from your Spotify playlists. You can choose individual songs or entire playlists to transfer onto your Mighty device. Then, tap the pink Sync Nowbutton to start the sync process.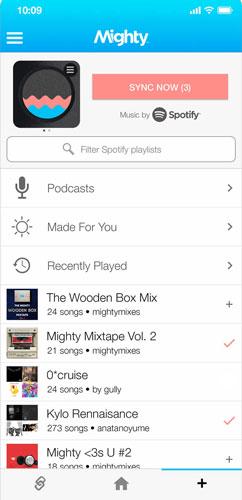 Remember that Mighty Spotify Player is an independent device, so you need to sync your Spotify library frequently to change your playlists because it doesn't support cross-device transfer or download playlists from Spotify.
Now, you can take Mighty with you and enjoy your favorite Spotify music without being connected to the internet or a phone!
FAQs about Playing Spotify Music on Mighty
Q1: Does Mighty Work with Free Spotify?
Unfortunately, Mighty does not work with free Spotify. This is due to restrictions from Spotify's terms of service. The offline use of the Mighty device requires a premium Spotify account in order to access and stream music. You can choose to subscribe to Premium or, if you are a new user, you can get a Spotify free trial to enjoy the Premium service. Then, you will be able to play Spotify music on Mighty for free.
Q2: Can I Listen to Spotify Free Without Phones?
Mighty Spotify Player allows you to listen to Spotify without phones. However, a Spotify Premium account is required to import and listen to music on Mighty. Also, Mighty does not support online listening or uploading music from local files to it, which means you can't transfer your song to it from other devices.
If you still want to use a portable player to listen to Spotify songs for free, there is a way to do so. Firstly, you might need to switch from Mighty to other workable Spotify MP3 players. Then, you can download Spotify songs to MP3 or other mainstream formats like MP3 using a music downloader like TuneFab Spotify Music Converter. Finally, upload them to the compatible player and you will be able to listen to Spotify for free without phones on it.
Summary
Mighty Spotify Player is a nice portable music player designed specifically for Spotify users. It allows you to enjoy your favorite Spotify music and playlists on the go without needing a phone or internet connection. This article reviews its various advantages, disadvantages, and usage. Hope it will be helpful for you to choose a suitable portable music player.
TuneFab Spotify Music Converter
Batch convert Spotify to MP3 320kbps in lossless quality
Was this information helpful?
TrustScore 5 | 1