Is it a bit below trend to listen to Spotify on MP3 Players? There are all kinds of sounds since Apple finally killed the iPod brand and discontinued the iPod Touch on May 10, 2022. Nowadays, smart gadgets are equipped with more functions, while online music streaming platforms like Spotify offer online & offline HD listening services for all genres of music.
However, I don't think so. It'll remain a trend for the minority to listen to music on a portable MP3 player. If you are looking for an excellent MP3 player to play Spotify music, don't miss this post. Check out the 7 Best Spotify MP3 players of 2023 before you make a purchase.
CONTENTS
Top 7 Spotify Music Player of 2023
Mighty Vibe
Mighty Vibe Spotify Music Player is a lightweight and portable music-playing gadget that can clip onto your clothing and offers a phone-free listening experience. It enables users to sync playlists, albums, and podcasts from Spotify Premium and store over 1,000 songs. It's designed for all types of workout scenarios and can last for approximately 5 hours at a time.
Sony Walkman
Sony Walkman Portable Spotify Player is a high-end MP3 player that provides high-resolution audio quality and balanced output for clearer sound. Sony Walkman MP3 players are compatible with the Spotify app and you can connect the players to Wi-Fi and stream Spotify songs. However, the Spotify app is available only on the NWZ-A and NW-ZX specific series of Sony Walkman players.
Cowon Plenue D3
Cownon Plenue D3 would be a nice choice for a portable Spotify Music Player. This small and sonically talented portable MP3 player will be your sound stage wherever you go. It supports 24-bit/192kHz WAV, FLAC, ALAC, and AIFF files and offers 64GB of built-in storage with a microCD card supported. Cownon Plenue D3 provides 48 of JetEffects in total to enrich your listening experience. It takes around 3.5 hours to fully charge its battery life of up to 45 hours.
Onkyo DP-X1A
Onkyo DP-X1A is a wireless digital audio player that works with Spotify music. It is based on the intuitive Android platform powered by a very fast quad-core CPU. This MP3 Player can deliver the best balance of premium high-fidelity reproduction and real-world practicality and bring high-end personal audio to music lovers every day. However, nothing is perfect. Onkyo DP-X1A comes a bit bulky and may not be that portable to take away.
Astell & Kern AK Jr
Astell & Kern AK Jr is a compact and tiny gadget that can slip into your pocket and allows you to carry a small concert along the way. It enables users to stream Spotify on MP3 players and gives everyone the chance to access high-resolution audio, anytime and anywhere. The AK Jr supports many types of earphones and headphones, and you don't need a separate amplifier.
Astell & Kern A&norma SR25 MKII
Astell & Kern A&norma SR25 MKII utilizes Astell&Kern's latest audio design technology and delivers music junkies clear and natural high-resolution sound with the addition of a 4.4mm balanced output for the first time in an A&norma player. It works with Spotify music to offer the best Spotify streaming experience anywhere, anytime.
Astell & Kern A&ultima SP2000T
Astell & Kern A&ultima SP2000T allows users to listen to Spotify music on it. This luxury MP3 player applies the finest audio technology and adds a vintage feel with a vacuum TUBE AMP. It comes with the 4.4mm balanced Pentaconn output and a dual-triode KORG Nutube, delivering the same audio with rich overtones. Also, it offers multiple amplification modes to give listeners rich experiences.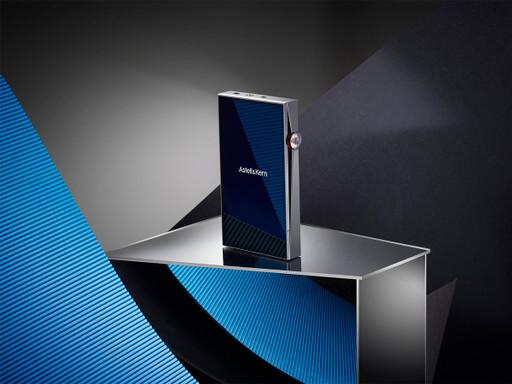 Comparison Among 7 Best Spotify Music Players
If you're tired of reading a lot of words, just check out the differences among the 7 Best Spotify Music Players in this chart in terms of Price, Storage, Battery Life, Supported Formats, and whether it supports an extra micro SD card.
 
Price
Storage
Battery Life
Formats
Micro SD
Mighty Vibe
$119.99
8GB
5 Hours
MP3, WMA, OGG, FLAC, WAV, ALAC
×
Sony Walkman NW-ZX507/S
$778
64GB
20 Hours
MP3, OGG, WMA, FLAC, WAV, AAC, HE-AAC, Apple Lossless, AIFF, DSD, APE, MQA
√
Cowon Plenue D3
$360
64GB
45 Hours
DSD, DFF, DSF, ISO, FLAC, WAV, AIFF, ALAC, APE, MP3, WMA, OGG, DCF
√
Onkyo DP-X1A
$799
64GB
16 Hours
AAC, FLAC, OGG, WAV, MP3, ALAC
√
Astell & Kern A&norma SR25 MKII
$750
64GB
21 Hours
WAV, FLAC, WMA, MP3, OGG, APE, AAC, ALAC, AIFF, DFF, DSF, MQA
√
Astell & Kern AK Jr
$600
64GB
9 Hours
WAV, FLAC, WMA, MP3, OGG, APE(Normal, High, Fast), AAC, ALAC, AIFF, DFF, DSF
√
Astell & Kern A&norma SP2000T 
$2,149
256GB
9 Hours
WAV, FLAC, WMA, MP3, OGG, APE, AAC, ALAC, AIFF, DFF, DSF, MQA
√
How to Put Music on MP3 Player from Spotify? [All Supported]
If your MP3 player is not compatible with Spotify music, you may wonder a question - can you get Spotify on MP3 players? Due to the Digital Rights Management (DRM) restrictions, Spotify is indeed exclusive to playing music in its own application or compatible MP3 players. Premium users can enjoy offline playback, but the downloads are encrypted to prevent listeners from accessing Spotify music outside its app.
So, how can you put Spotify on MP3 players? You may have to utilize a top-rated tool - TuneFab Spotify Music Converter. It sets the trend in technology that allows users to decrypt and transcode protected Spotify music to MP3. Thus, users are able to play Spotify on MP3 players or other devices freely. You may want to learn your way of this excellent tool and how it works here.
Silver Lining of TuneFab Spotify Music Converter
● DRM-Restriction Removal - TuneFab Spotify Music Converter boosts its exclusive technology that can easily remove DRM restrictions and decode protected songs from Spotify to popular audio formats without Premium.
● Spotify to MP3 - This dedicated program can transcode Spotify music to MP3, M4A, FLAC, and WAV, which are fully compatible with all portable MP3 players.
● Playable on Any Device - The downloads are in unencrypted audio formats and are free to play, edit, share, or transfer to any device including MP3 players, audio speakers, car audio, gaming consoles, TVs, and more.
● Batch Download - Spotify is a library of millions of songs, and it'll be killing to download songs one by one. TuneFab Spotify Music Converter offers a quick button to instantly download the entire playlist/album/podcast with ease.
● Audiophile-Grade Quality - The program ensures the best output sound quality that delivers listeners a high-resolution listening experience. Users can modify output quality with Sample Rate of up to 48kHZ and Bitrate of up to 320kbps.
● Ultra-Fast Performance - TuneFab Spotify Music Converter won't keep you waiting for long. It can accelerate the whole process up to 5X faster even when you download as many songs as you want at once.
In this case, you can use TuneFab Spotify Music Converter to download songs from Spotify to MP3 and then save them to your micro SD card as follows.
STEP 1. Open Spotify Music Web Player
After the installation is done, open TuneFab Spotify Music Converter from the desktop. It offers an in-built Spotify Music web player for users to quickly access any songs/playlists/albums/podcasts on Spotify. You are required to log in to your Spotify account first, as you do when visiting Spotify in the browser.
Note that you don't need to have a Premium subscription to download songs viaTuneFab.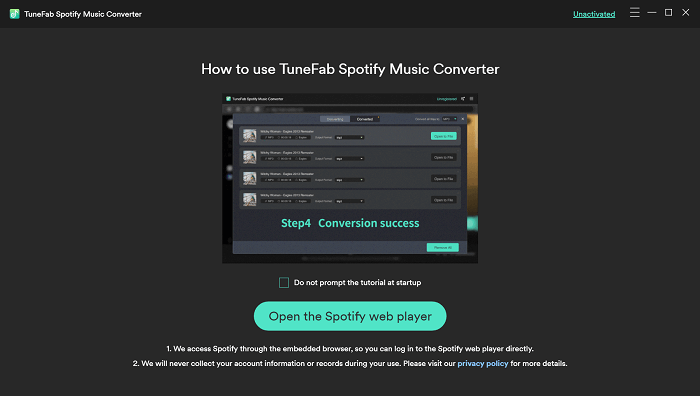 STEP 2. Insert MicroSD Card
Now, you want to insert your microSD card into the computer and go to ≡ - Preferences - General to set the Music folder in the microSD card as the output path. Also, switch to the Advanced tab and modify the output format, sample rate, and bitrate if necessary.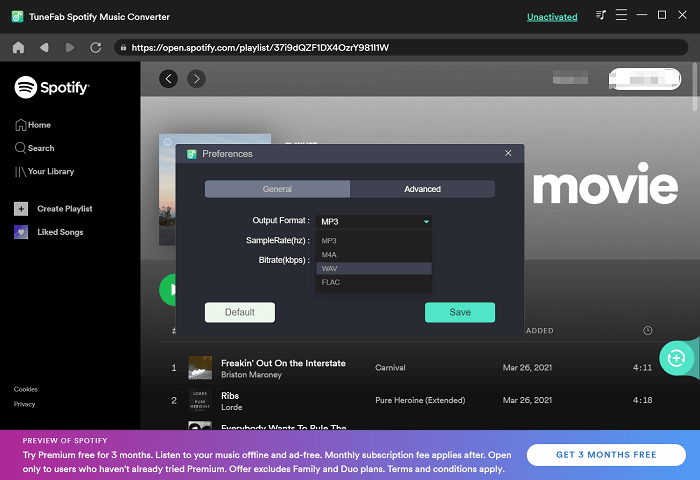 STEP 3. Download Songs to MP3 Player
Go to your library or search for the desired album/playlist, and click the Green Plus button to fetch the entire album/playlist. You'll see a popup window with music feeds when data is received from Spotify. Make your selections, and then click Convert All to start converting Spotify music and download selected songs to your microSD card. After you insert it back into your MP3 player, you'll be able to enjoy offline listening to your favorite Spotify songs now.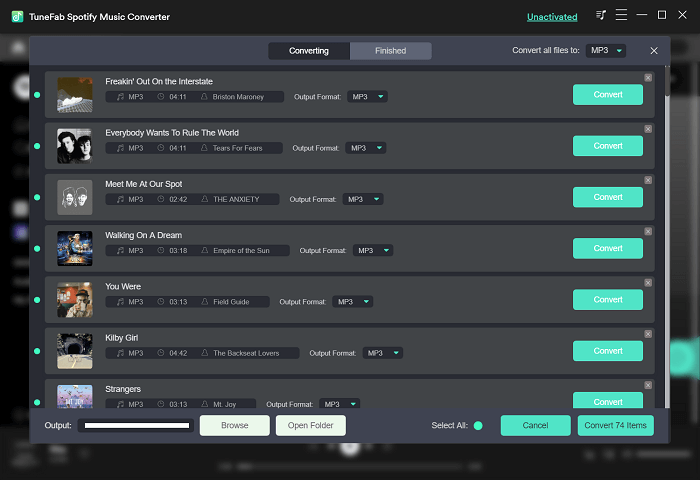 If you are used to listening to Spotify on MP3 players, take a look at the ranking of the Top 7 Spotify MP3 Players of 2023. Which one will be your best pick? Also, if you don't like beautiful tunes restricted to one device, you might as well consider downloading Spotify music via TuneFab Spotify Music Converter and then you can listen to Spotify songs on any device you want.
Was this information helpful?
TrustScore 5 | 49