Is Spotify available on iPad? Definitely yes. You can use Spotify on smartphones, PCs, and iPads. While the core functionality of Spotify remains the same across devices, the user experience may vary. Due to the differences in screen size, Spotify on iPad can offer better visuals, album art, and graphics within the app, which may enhance your music-listening experience.
As long as your iPad runs iOS 13 or above, you can install and use Spotify on it. For those specific usage methods, such as how to get Spotify on iPad, or how to download Spotify songs on iPad, the following section will explain to you in detail.
You May Like: How to Download Songs from Spotify to MP3 [2023 Full Guide]
CONTENTS
Part 1: How to Get Spotify on iPad
If you are already proficient in using Spotify on your phone, then the following steps shouldn't be too difficult for you. If not, don't worry, downloading Spotify for iPad doesn't involve any complicated steps.
The next part will guide you through the process of getting Spotify on iPad so that you can take your music anywhere you go. So grab your iPad and get started!
Get Spotify App on iPad
The most important step in getting Spotify on your iPad is to download the Spotify app on it:
Step 1. Open the App Store on your iPad, and search for "Spotify (tap to jump)" in the search box.
Step 2. Choose the right app, and tap GET to install Spotify for iPad. If you have already downloaded Spotify on other devices, you will see a download arrow with a cloud symbol on it, as indicated in the picture below, and again, tap it to start installing.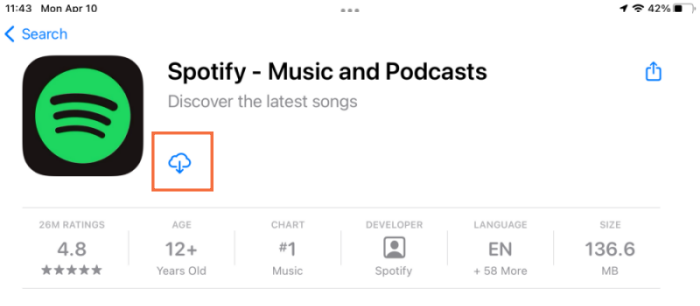 Get Spotify Premium on iPad
Having got Spotify on iPad successfully, the next thing to do is to explore the vast library of songs. You can create a Spotify account or log into an existing one to listen to them online. Considering that only Premium users can download music, if you find your free Spotify account too limited, you can subscribe to Premium for better service. The following part will show you how to subscribe to Premium.
👀 Tips:
For new sign-ups, Spotify provides a free trial of Premium to give new users a taste of the paid services. If you are not new to Spotify, you can also use other channels to get a free trial of Spotify Premium.
Step 1. Turn on your iPad, and navigate to Spotify's Official Website in a web browser.
Step 2. Log in to your Spotify account on the website./p>
Step 3. Tap the Account Overview menu bar at the top of the interface. Next, tap the Subscription button from the drop-down menu.
Step 4. Choose Try Premium Free and then select a suitable payment method. Now, you successfully finish your Spotify Premium subscription. If you are not a new sign-up now, choose a suitable plan for you, and follow the next step.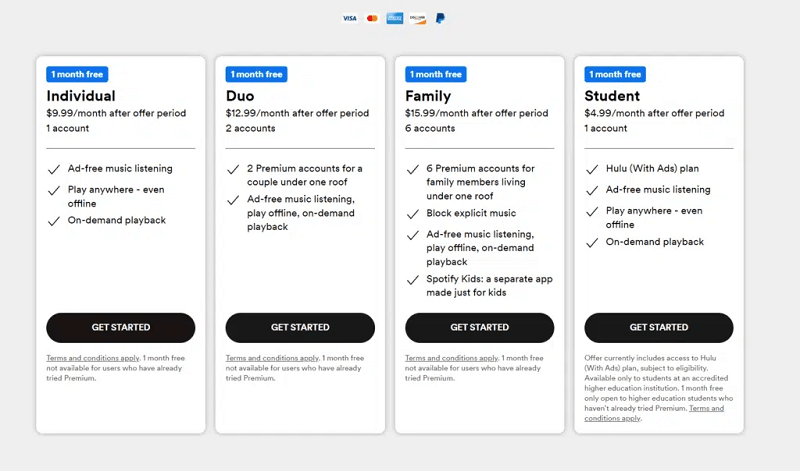 Step 5. Once you have decided on a subscription plan, you need to select a payment method. Which one to choose depends on your preference. After that, all you have to do is make a payment and your plan will start.
Part 2: How to Download Songs on Spotify on iPad (Premium Required)
If you go through all the steps in the previous part, now you should be a Spotify Premium user. For users with a Premium subscription, downloading music is not a hard thing for Spotify on iPad.
However, users have to be aware that downloaded songs are only available for offline listening within the Spotify app itself, which means that they can not be transferred to other devices. Even a premium subscription is not a perfect solution if you want to download songs from Spotify to mobile devices.
The following steps will tell you how to download songs on Spotify on iPad with a Premium subscription:
Step 1. Open the Spotify app on your iPad and sign in to your account. Search for the song or album you want to download, and tap on it to open the details screen.
Step 2. On the details screen, you will see a toggle switch labeled Download. Tap on it to start the download process.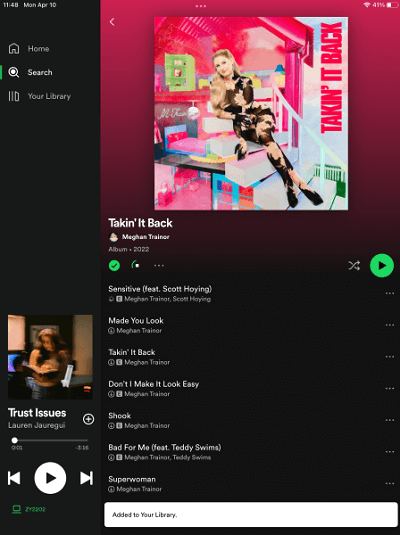 Step 3. Once the download is complete, you can find the downloaded songs in the Your Library section under the Downloads tab.
Part 3: How to Download Songs on Spotify Without Premium on iPad
As briefly mentioned earlier, Premium is not a perfect solution for Spotify on iPad, since the songs you download can only be played within Spotify App, and once your Premium expires, you won't be able to listen to the music anymore, even if you've already downloaded it.
For this annoying problem, we will recommend you use a Spotify Converter to download the songs for your needs, such as TuneFab Spotify Music Converter. It is a computer program that works on both Windows and Mac devices. With its help, you can directly download Spotify music without Premium to your computer in mainstream formats like MP3, and then transfer them to your iPad for offline listening with ease.
👍 More key features of TuneFab Spotify Music Converter:
• Fast Download Speed: TuneFab Spotify Music Converter ensures swift downloading of your favorite tracks. With advanced technology, it optimizes the download speed at 35X faster speed, making it possible to finish downloading MP3 in 20 seconds!

• High Download Quality: TuneFab Spotify Music Converter allows you to download your favorite songs of the same high quality as the original, without any loss.

• Customizable Multi-Format Output: TuneFab Spotify Music Converter enables you to choose from a range of output formats for downloaded tracks, including MP3, M4A, FLAC, WAV, AIFF, AAC, and ALAC.

• Batch Download: TuneFab Spotify Music Converter offers you to save multiple songs at once, like entire playlists, albums, or podcasts.

• Metadata and ID3 Tag Preservation: TuneFab Spotify Music Converter also preserves essential metadata such as artist name, album title, genre, and album artwork, which ensures that your downloaded music remains organized.
These highlights make TuneFab Spotify Music Converter an excellent choice for anyone looking to download and enjoy their favorite Spotify music offline. Now, follow the below steps to create your personal playlists and transfer tunes to offline devices — all within a few clicks!
Download Songs on Spotify to Computers
Step 1. Download TuneFab Spotify Music Converter on your PC. Start up the software and click Open the Spotify web player.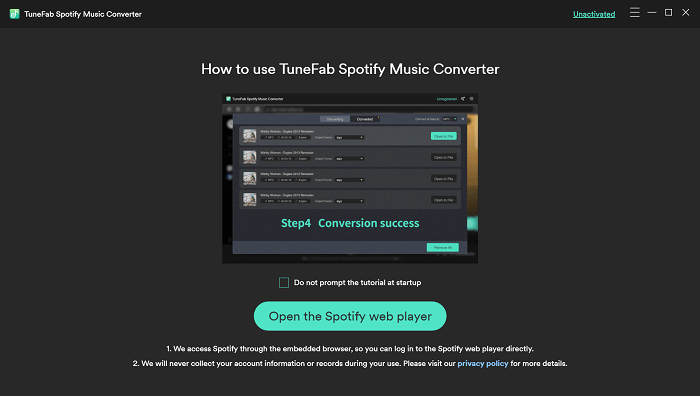 Step 2. After entering the main interface, click the Log In logo at the top of the page, then log in to your Spotify account.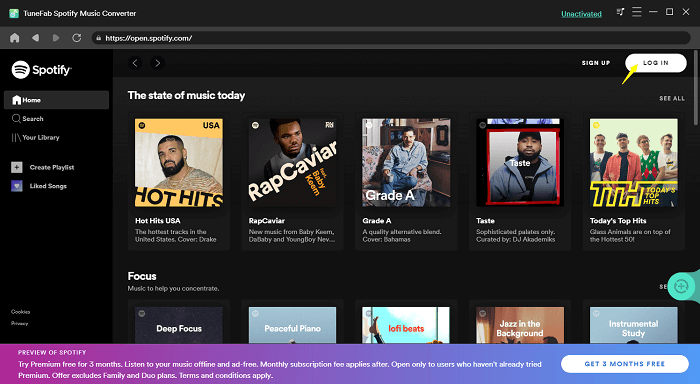 Step 3. Search for the music you want to download in the search bar at the top of the page. Drag the music you want to download onto the green floating ball on the right side of the page. Then you will get the analyzed list of the music.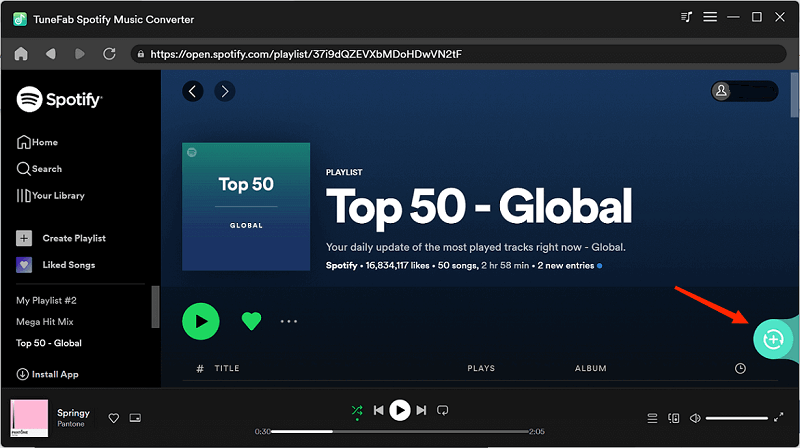 Step 4. Before officially starting the download, you can set your download preferences in advance on the Preferences page. Or, you can check the final output format you want on the Converting page.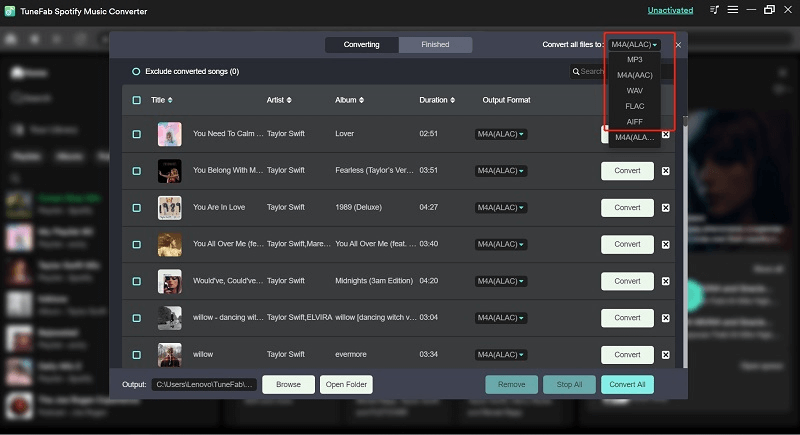 Step 5. Finally, click on "Convert All" in the down-right corner to download the music. And the downloading process can be observed.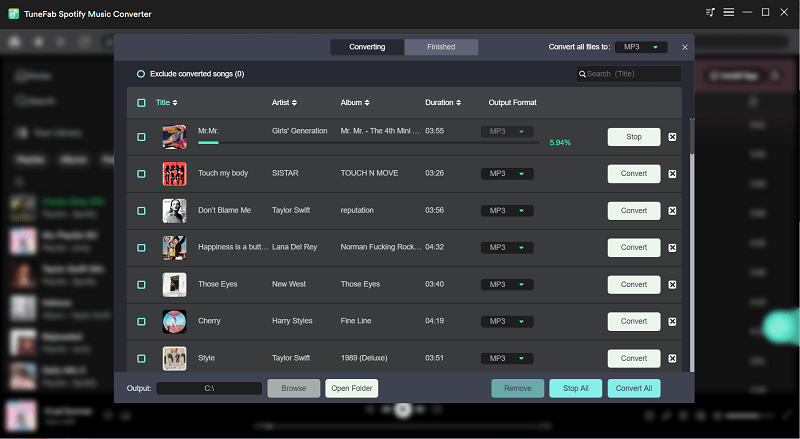 Once you see the following status, it means that the music has been downloaded. You can also click on the play button to the left of the song to play it within the software.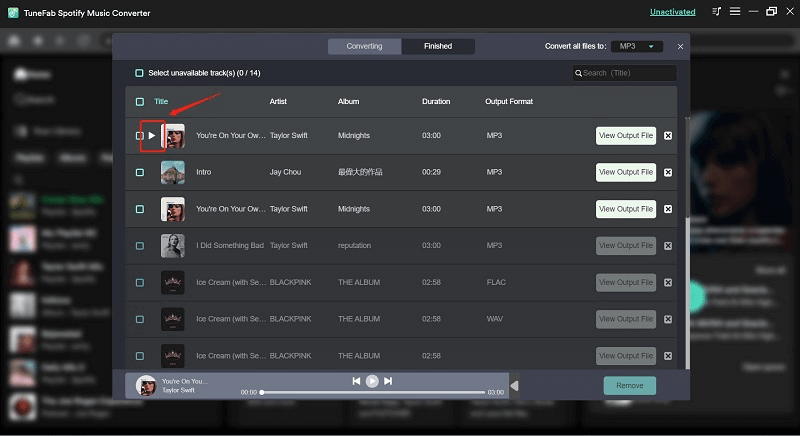 Transfer Downloaded Spotify Songs to iPad
From Mac
Step 1. Plug your iPad into a USB cable, then plug the other end into your Mac.
Step 2. Choose your device, which is your iPad in the Finder sidebar on your Mac.
Step 3. At the top of the Finder window, select Files.
Step 4. Drag the selected music files from the Finder window onto your iPad. The files will be immediately transferred to the device.

From Windows
Step 1. Make sure that you have installed iTunes on your Windows PC. If not, please install the latest version.
Step 2. Plug your iPad into your Windows PC via a USB cable.
Step 3. Open iTunes on your PC, and click the iPad button in the top left-hand corner.
Step 4. Click File Sharing and select the music files that you want to transfer, and click Save To.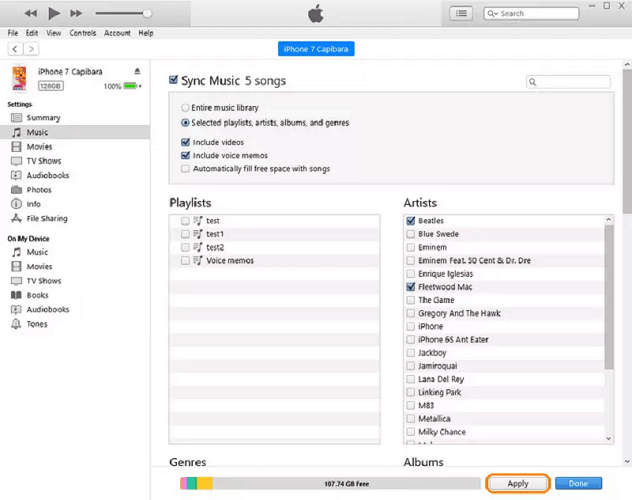 FAQs About Download Songs on Spotify on iPad
Q1: Can I Use Spotify Free on iPad?
Yes, you can use Spotify Free on your iPad. Spotify can be used for free on smartphones, PCs, or iPads. You can get a Spotify free trial to enjoy its Premium service if you are a new user of it. This at least 30-day free trial gives you the chance to experience their Spotify Premium function.
Q2: Why Spotify Stopped Working on iPad?
Many reasons are that Spotify stopped working on iPad. The most common one could be that your Spotify is taking up too much storage space on your iPad, which can lead to Spotify being difficult to run. The storage Spotify can take could be astonishing. Clearing or freeing some storage space may be helpful. Through Settings > Storage Settings > Clear cache in the Spotify app, you can easily delete the cache.
And, for Spotify's Premium users, the taken storage is even larger because you can download music. Once a playlist is created and the download option is enabled, it will automatically download all the new songs added to it. So when this happens, you can tap on the download icon of the song and then tap Remove to remove the downloads you don't want. What's more, don't forget to check whether there are other possible causes of inoperability.
Summary
In conclusion, utilizing Spotify on your iPad can greatly enhance your music streaming experience. If you already have an iPad, then don't wait to try Spotify on your iPad! If not, reading this article must be very helpful for you to know more about Spotify for iPad. By following the steps outlined in this article, you will be able to discover new music, create your own playlists, and enjoy high-quality audio.
TuneFab Spotify Music Converter
Batch convert Spotify to MP3 320kbps in lossless quality
Was this information helpful?
TrustScore 1.8 | 5