That's pretty cool if you can make Spotify as ringtones, which really makes you stand out from the crowd. So, the problem here is how to make Spotify song your ringtone. Good for you. This post will show you how to download Spotify music to MP3 without Premium and make ringtones from Spotify with iTunes for Android and iPhone. Now, don't miss this detailed guide. Let's get it started.
CONTENTS
Part 1. Can I Make Spotify Songs My Ringtone?
Actually, you cannot directly set a Spotify song as your ringtone due to DRM restrictions. Spotify songs are tied to DRM protections and restricted from being accessed by other apps. Luckily, nothing is impossible. You can first download Spotify to DRM-free MP3 with TuneFab Spotify Music Converter and then make Spotify ringtones for iPhone or Android. If you have no idea how to do so, you should grasp the idea below.
Part 2. How to Download Spotify Ringtones for iPhone/Android
TuneFab Spotify Music Converter is a great helper to convert songs from Spotify to MP3 with lossless quality. Better yet, it requires no Premium subscription to access the whole catalog of Spotify and get all your favorite songs with ease. From new releases to classic music, all is at your fingertip. After that, you can follow the instructions in Part 3 to make ringtones from Spotify for iPhone and Android.
Why TuneFab Spotify Music Converter Outperforms?
● DRM-Restriction Removal - As it is known to all, Spotify encrypts all the tracks with DRM technology so as to prevent people from accessing and processing Spotify Music. TuneFab Spotify Music Converter can easily remove the DRM protection of Spotify with its excellent decryption algorithm.
● Multiple Downloads at Once - The program enables users to download a single song or all the tracks in the same playlist, album, or podcast from Spotify with ease. What you need is a simple click on the button.
● Universally Compatible Formats - TuneFab Spotify Music Converter will extract protected Spotify music and decode the songs to popular unprotected audio format containers such as MP3, M4A, FLAC, or WAV. They are free to process, share or transfer to use as ringtones as you wish.
● Best Quality Guaranteed - The program will keep the original quality as lossy as possible to ensure listeners the best sound quality. Optional output Sample Rate ranges from 22kHZ to 48kHZ and Bitrate from 128kbps to 320kbps. The default settings are medium to avoid taking up too much storage.
● Powerful and Fast Decoding Rate - TuneFab enables hardware acceleration and GPU acceleration to boost the whole decoding process up to 5X faster than other software. It also takes no time to download multiple Spotify songs for creating ringtones at once.
● ID3 Tags Preservation - Spotify song details including Title, Artists, Track ID, and Album Artwork can be comprehensively displayed and preserved after conversion for easy ringtone management.

How does TuneFab Spotify Music Converter work? The whole procedure is as easy as ABC. It takes only a few clicks to easily extract encrypted Spotify music to your computer.
STEP 1. Log in with Your Spotify Account
After you complete the setup, please launch the program on your desktop. Now, you'll be prompted to sign in with your accounts. The program can download Spotify music without premium.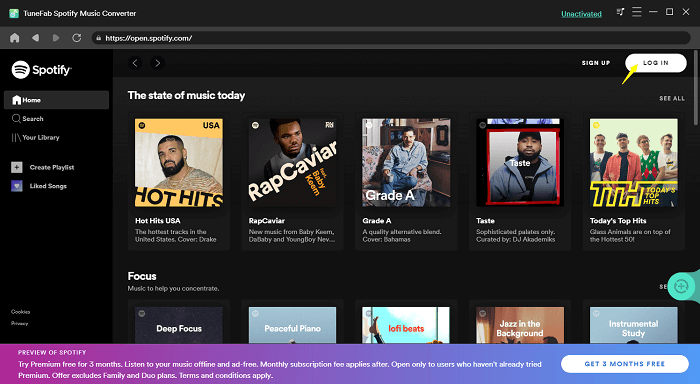 STEP 2. Select Spotify Music
Go to a playlist/album you want to download as Spotify ringtones. You can select all the songs in the playlist/album by clicking on the Green Plus button. It takes no instant to fetch data from Spotify and then show music feeds in the program. You should make your selections in this step.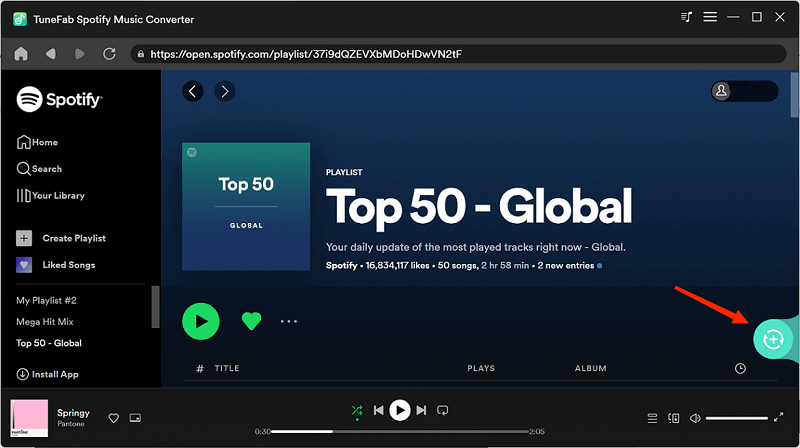 STEP 3. Download Spotify Music for Ringtones
You can click Output Format in a music feed or click Convert all files to to choose the output format in one click. The top priority is the MP3 format, because it can be edited by most tools and directly used as ringtones for Android. Now, click the Convert All button to start decrypting and decoding Spotify tracks to an unencrypted audio format
Note that you can modify SampleRate (up to 48kHZ) and Bitrate (up to 320kbps) in Preference.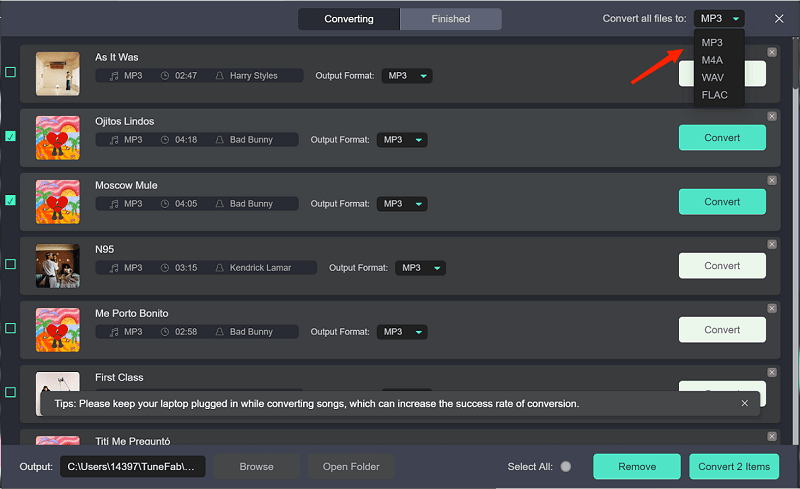 Part 3

. How to Use Spotify Songs as Ringtones on iPhone/Android

Now that you rip Spotify songs off DRM protections in the first place, the second thing you need is to make Spotify ringtones on your own. iPhone allows custom ringtones within 30 seconds in .m4r file extension. However, the ringtone requirements of Android devices vary from model to model. Most Android devices allow users to directly set the entire song in MP3 and M4A as a ringtone.
Make Spotify Ringtone via iTunes
Do you know you actually can use iTunes to make ringtones from Spotify songs? In this case, you need to convert the Spotify track into a 30s clip and save it to .m4r file if you're using an iPhone. As for Android users, you can clip the highlight out of the entire song to make an eye-catching ringtone. Now, let's see how to take advantage of iTunes.
STEP 1. Add the Spotify tracks you just downloaded to iTunes by going to File > Add File to Library or Add Folder to Library to upload the songs to iTunes Library.
STEP 2. Go to Songs from the left panel and right-click on the song you want to make a ringtone. Then, click the Song Info option to bring up the details of this song.
STEP 3. Now, switch to the Options tab. You can set up the start and stop timing here. Please make sure that the clip lasts less than 30 seconds. Then, click OK to save the change.
STEP 4. Go to File > Convert > Create AAC Version. iTunes will convert a new clip for you and show it right below the original song.
STEP 5. Right-click on the clip and select Show in Windows Explorer or Show in Finder.
STEP 6. (Android users can skip this step.) The clip will be saved in the .m4a file extension by default. You need to change it to .m4r so that it can be used on your iPhone.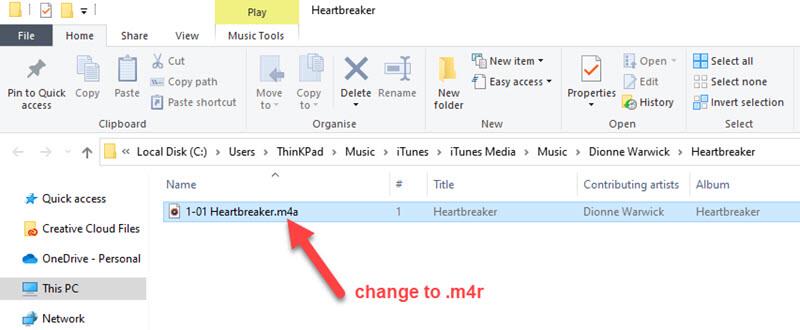 Set Spotify As Ringtones on iPhone
After you create a Spotify ringtone via iTunes, you should follow the steps below to sync your custom ringtones to iPhone and set it as your exclusive ringtones. You may want to make several ringtones at a time using iTunes and then sync all of them to your iPhone to avoid repeated procedures.
Also, if you want to convert Spotify to iPhone ringtone without a computer, you can directly download Spotify music to iPhone and then use the GarageBand app to change Spotify songs to ringtones as well. The following will show you how to set Spotify ringtones for iPhone.
STEP 1. Connect your iPhone to iTunes using a USB cable.
STEP 2. When connected, you'll see the Tones tab on the left side. Drag files in .m4r to it and the Spotify ringtones will auto-sync to your iPhone.
STEP 3. Open the Settings on your iPhone.
STEP 4. Navigate to Sound & Haptics > Ringtone.
STEP 5. Select your custom Spofty ringtones and turn it to your iPhone ringtone.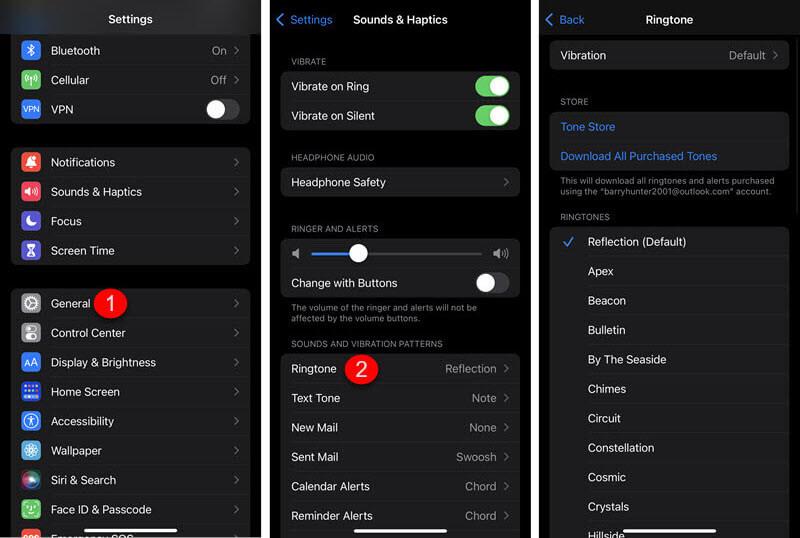 Make Spotify Ringtones on Android
Android devices are able to directly set songs in MP3 or M4A as ringtones. Therefore, you can also directly download Spotify music to Android in MP3 and then use songs as ringtones from Spotify. If you already made the ringtones using iTunes, you can transfer the .m4a files onto your Android phone and set them as exclusive ringtones. It cannot be easier to do that. Let's check out the tutorial here.
STEP 1. Connect your Android device to the computer.
STEP 2. Directly drag the Spotify ringtones to the Music folder on Android.
STEP 3. Now, go back to your Android and open the Settings app.
STEP 4. Navigate to Sounds and vibration and tap Ringtone.
STEP 5. Click the Plus button on the top right and put a Spotify song as a ringtone.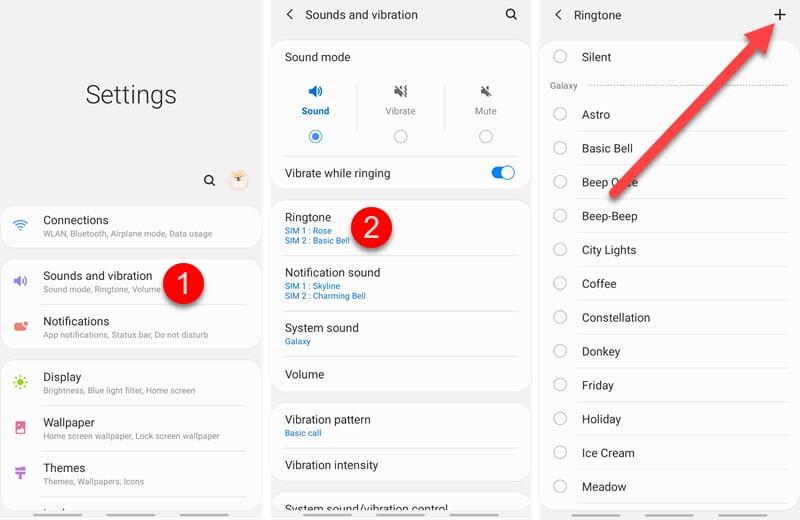 The difficulty is to break DRM restrictions and rip encrypted tracks from Spotify, but it will be easily solved by TuneFab Spotify Music Converter. This marvelous software enables you to download high-res Spotify songs/albums/playlists at a 5X faster rate without Premium. Then, the rest of making Spotify ringtones is easy to handle. Now, you may want to get down to making personalized ringtones from Spotify and be a shining star among the crowd.
Was this information helpful?
TrustScore 1.8 | 17