"I really like this piece of Spotify track and wanna make it as my phone ringtone, but I'm at a loss what to do. How can I handle it?"
Users who enjoy Spotify Music with heart and soul are hungry for making ringtone from the attractive and keen Spotify Music. However, it is not always an easy case for Spotify Free users and Spotify Premium. Luckily, the following articles together with the professional tool you can apply in making ringtone from Spotify Music. But first, let's go and learn why it is so hard to make Spotify as ringtones.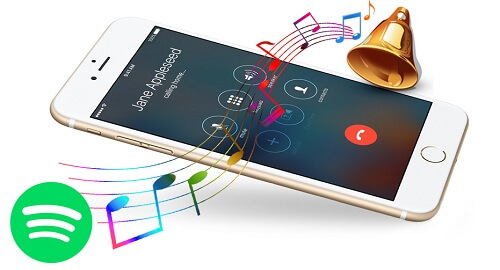 CONTENTS
Part 1. Why It Is Hard to Make Ringtone From Spotify
The key obstacle to making ringtone from Spotify is the DRM protection added to Spotify tracks, which makes it have no access to ringtone making or enjoying on other devices. DRM, abbreviated to Digital Right Management Protection, is a kind of technological protection measure added on digital content, with the aim of restricting the free editing or copying on them. So does Spotify Music. Besides, it is difficult for iPhone users to make a DIY ringtone with the reason that you need to take the complex operation to make the compatible file for your iPhone. And as for Android Users, things seem not so bad that they just need to make Spotify Music to the Android-playable file format.
Knowing the difficulty of making a ringtone from Spotify, you may be disappointed and want to give up to make ringtones from your Spotify Music. Don't give up so early and keep reading this post. Two powerful tools you can take into consideration and have a try to make your personal Spotify Music ringtone, that is TuneFab Spotify Music Converter for removing DRM from Spotify and TuneFab WeTrans for making a ringtone from DRM-free Spotify Music(iOS users). Let's move on to the next part.
Part 2. Guidance on How to Remove DRM from Spotify Tracks
To make the ringtone from Spotify Music, the key is to find an efficient tool to remove DRM from Spotify and to convert Spotify Music to common formats. TuneFab Spotify Music Converter is such a good tool since it is professional and easy-to-use on converting Spotify Music. It can not only remove DRM protection from Spotify songs but also convert Spotify songs, playlists to DRM-free songs in MP3, M4A, FLAC, WAV formats. Then you can make ringtones with them freely or enjoy Spotify music offline without Ads interruption.
Step 1. Launch TuneFab Spotify Music Converter and Add Tracks from Spotify
Download and launch TuneFab Spotify Music Converter on Mac/Windows and the Spotify app will be opened automatically as well. Go to the Spotify app, drag any song or playlist you want to make as ringtones from Spotify into the Converter. Or you can copy and paste the tracks link directly onto the search bar. All the songs that you want to convert will be automatically recognized by the converter.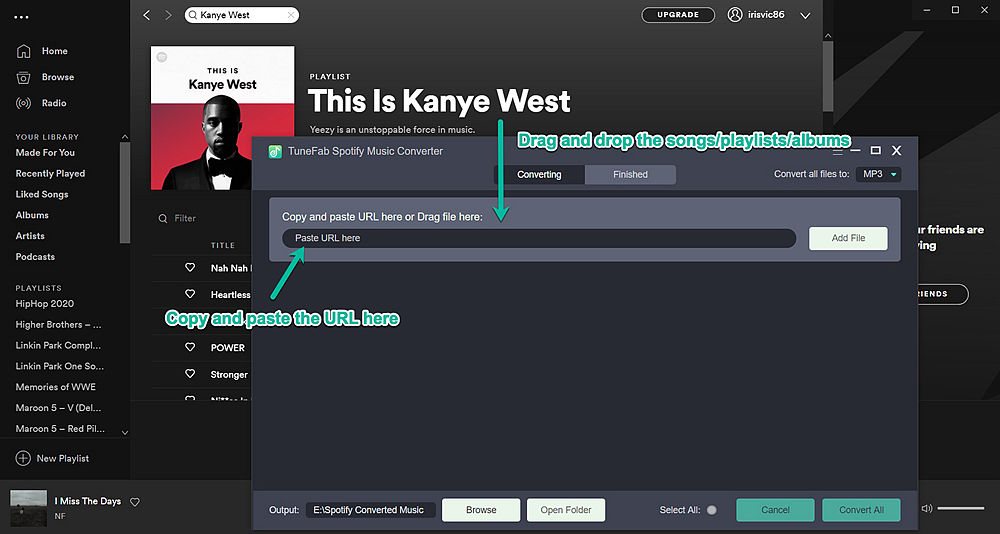 Step 2. Choose Proper Output Formats, Parameter Setting, and Output Folder
On the top right corner, there is a Menu button. Click on the Menu button and then the "Preference" button to enter the Preferences settings. The "General" tag is for choosing your specified output folder, while the "Advanced" section is for selecting the output format (MP3, M4A, WAV, FLAC) and adjusting the output quality, including sample rate and bitrate.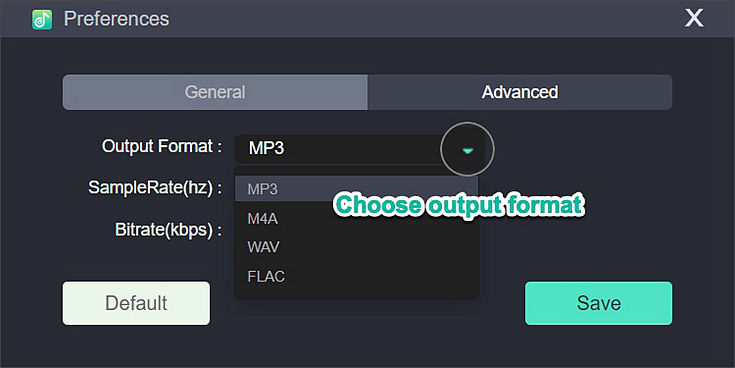 Step 3. Conduct Conversion
When you have finished the output settings adjustment, now click on the "Convert All" button or "Convert X Items" and TuneFab Spotify Music Converter will start converting Spotify tracks that you want to make as the ringtone to MP3 or other DRM-free formats that you have selected. If you have a bunch of Spotify tracks to convert, please be patient and wait.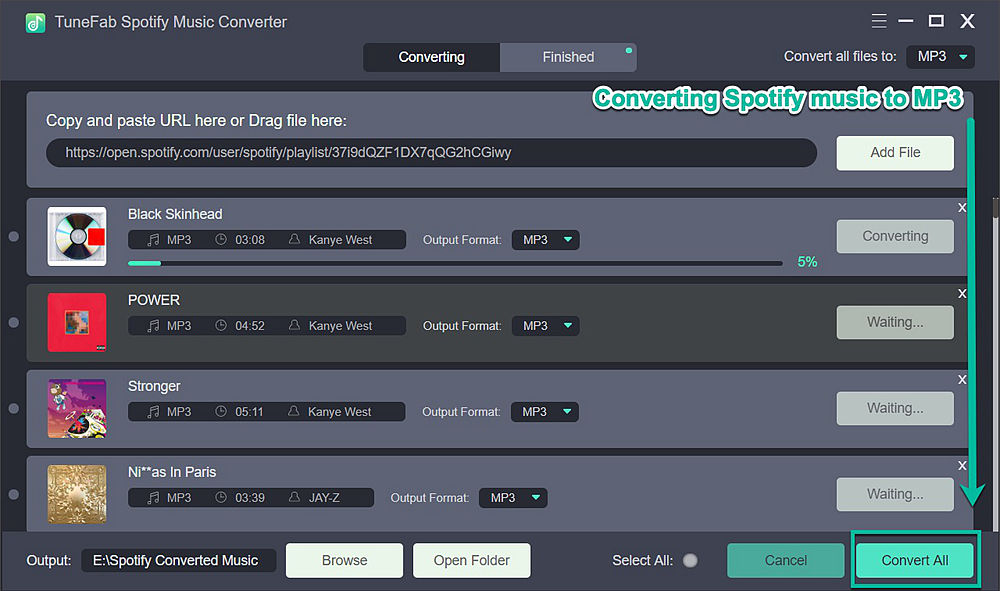 Part 3. iPhone Users: Make Ringtones with the Converted Spotify Music
Attentions! This part is going to introduce the way to make Spotify Music ringtones for iPhone users. If you are Android Users, please move on to the next part.
If you are iPhone users, after conversion, you can use iTunes to make ringtones with these songs converted from Spotify. But here, we can try another recommended new solution to making ringtones of converted Spotify Music without iTunes but with TuneFab WeTrans, which is simple and fast-running. Please be patient and read carefully.
Tutorial: Making Ringtones from Converted Spotify Music with TuneFab Ringtone Maker
TuneFab WeTrans, a newly released iOS data transfer for iOS users, is aimed at transferring music, video in at a high rate of transmission speed and managing message, contacts and even your beautiful photos. Apart from the major functions, the files transfer, there are also consist of the highlighted functions, and they are Ringtone Maker and HEIC photos converter. And hence, with TuneFab WeTrans, Spotify Free or Premium users can easy to make the favorite music to ringtones.
Step 1. Download TuneFab Ringtone Maker and install on your PC
Click the above download button to get the TuneFab WeTrans downloaded and installed on your computer. And then you will catch sight of the following interface.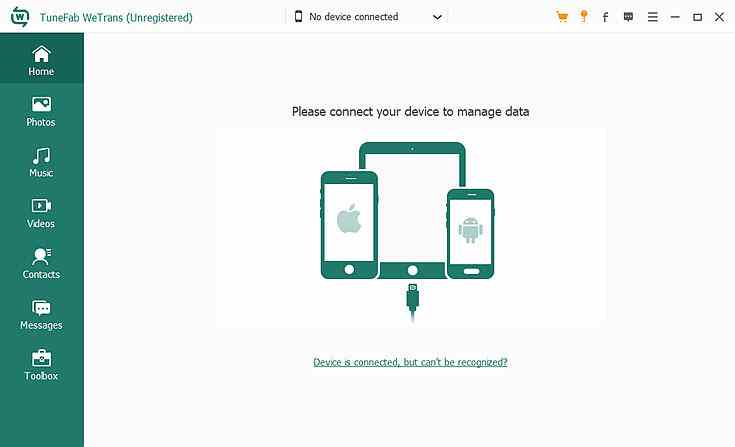 Step 2. Connect iPhone to PC with USB cable
Plug in the USB cable to your iPhone and connect it to your PC. And then on your iPhone screen, tap the Trust to make your iPhone data accessible to WeTrans.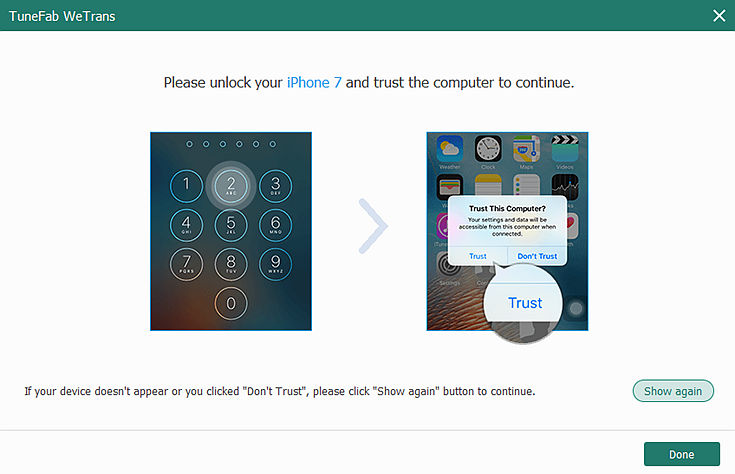 Step 3. Add the Converted Spotify Music to the TuneFab Ringtone Maker.

On the main interface of TuneFab WeTrans, click to the "Toolbox" and select the "Ringtone Maker" which can be seen in the middle of the interface.
You can add music to TuneFab Ringtone Maker in 2 ways.
If you have added the converted music to your iOS devices, you can directly click to "Add Files from Devices".
If you haven't added the converted music to your iPhone, then you can choose "Add Files from PC".
But here we recommend adding files from PC, which can save the internal storage of your iPhone.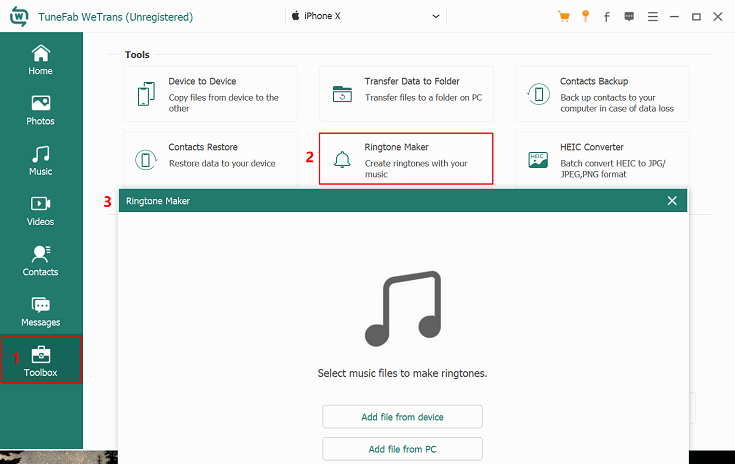 Step 4. Set the Timer of the Favorite Parts of the Converted Music
After adding the music to the TuneFab Ringtone Maker, you can choose the favorite parts from the converted music for making the ringtone. You can drag the time shaft button to set the starting point and ending point to set the ringtone or enter the time point of the input box to set the timer of your ringtone.
Note: Please make sure that you have selected the "Add to Devices", which can save your time on re-adding the music to your iPhone.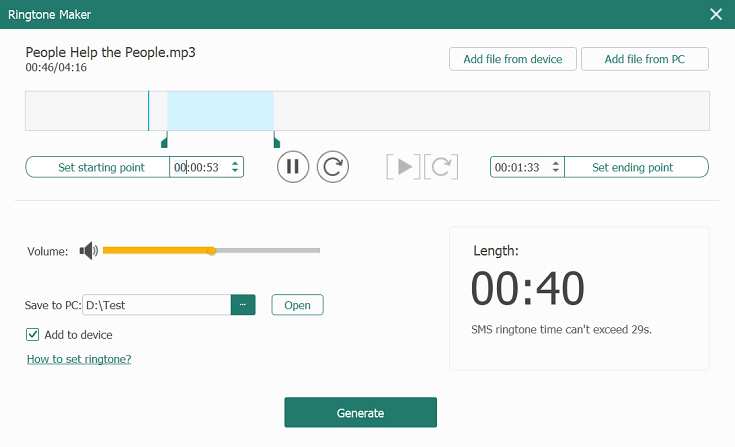 Step 5. Click Generate to Generate the Ringtone.
When you have set all the parameter of your ringtone, then you can just click to Generate and when the whole generate operation is finished, then you can set the ringtone on your iPhone as usual. And please don't forget to eject the devices when the whole generation is over.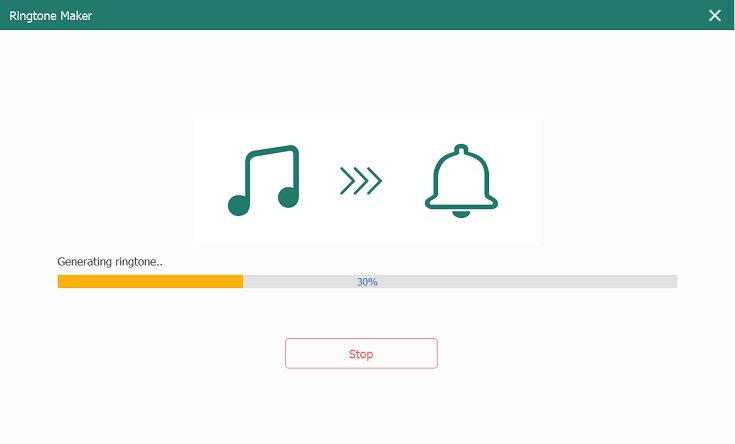 Tips: How to Set the Ringtone on iPhone

Having got the ringtone on iPhone, you can set the ringtone with 4 taps: Turning on the Settings on iPhones > Tapping the Sounds & Haptics > Tapping the Ringtones > Select the music that you have already made as to the ringtone. And then you can enjoy your favorite music playing when your iPhone ringing.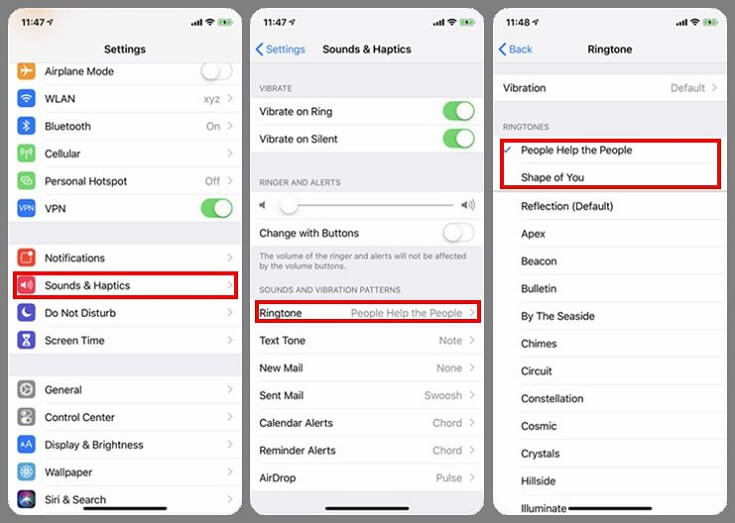 Part 4. Android Users: Set the Converted Spotify Music as Ringtones
For Android Users, when you have got the converted Spotify Music files, you can link your Phone with your computer with USB cable, and drag and drop this music files to your ringtones files(if haven't, please create the new one) of your external SD card or internal storage. And after transferring is done, you can turn on your phone and tap "Settings" > "Sound" > "Device ringtone" > set the music you have added to your phone > "Save".
After that, you can enjoy Spotify Music when your phone is ringing. However, if you want more for your ringtone like clipping the music to the favorite part. Some phone allows users to edit the songs to the specified parts, while some need some ringtone maker. Hence, 2 of them will be recommended in the following part.
Part 5. Online Spotify Ringtone Makers
#1 Ringtone Maker
Ringtone Maker is the app which available from the Google Play Store. It offers users to create his or her personally ringtone from his or her favorite music. And even merge different songs together and create the unique ringtone. The different file format is available for online ringtones, like MP3, FLAC, OGG, WAV, AAC(M4A)/MP4, 3GPP/AMR.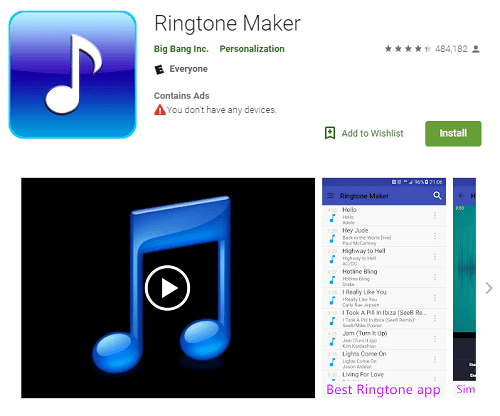 #2 RingDroid
Ringdroid is another app from Google Play Store which you can use it to make your own favorite ringtones. The recording is also available for creating the ringtones. Nice to have a try.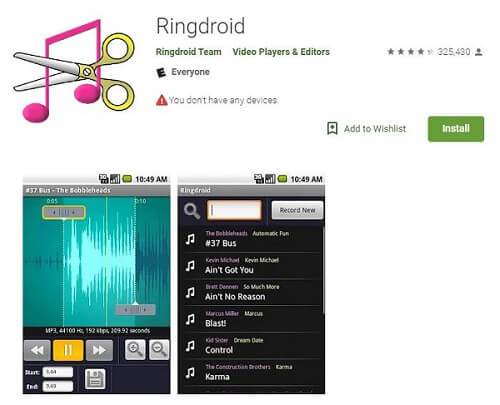 Is it easy to make your personal ringtones with Spotify Music? Read and follow the above parts carefully when you are trying to make your ringtone from Spotify. Try TuneFab Spotify Music Converter if you want to edit Spotify music freely and efficiently. With this program, not only can you break DRM restriction of Spotify Music and convert Spotify tracks to common DRM-free formats with faster speed, but also able to customize the audio parameters as well. Have a try, it will help you!
Was this information helpful?
TrustScore 3 | 2