How to transfer your Spotify Playlist to Amazon Music? Your answer might be: enter Spotify, find out all the playlists and songs on it, and then search for the song to add them individually to your new Amazon Music account. But it's easy to see that such steps can take a lot of time and effort, and you won't be able to enjoy your Spotify music playlist on Amazon Music right away.
Hence, to make it easy to move your Spotify playlist to Amazon Music, we'll offer you 3 simple but feasible methods that cover different requirements. Read on and pick one and upload your music to Amazon!
CONTENTS
Method 1: Transfer Spotify Playlist to Amazon Music via TuneMyMusic
TuneMyMusic is a web-based service for you to transfer the Spotify playlist to Amazon Music directly with just a simple click on its web page. With its help, you will no longer need to manually search for songs to add. Instead, you can share your music library on a platform with others to listen to with one click.
Here are the detailed steps to do this.
Step 1. Open a tab in the browser to turn to TuneMyMusic. Click on the "Let's Start" button to start the transfer process and select Spotify as the source platform.
Step 2. Please sign in to your Spotify account here. You can also paste the Spotify playlist URL instead of logging in to the account. Anyway, complete adding the Spotify playlists for transferring to Amazon Music.
Step 3. When the playlists are selected, click on "Next: Select Destination" for selecting Amazon Music as the destination platform for transferring the playlists. Also, you are required to sign in with your Amazon account.
Step 4. Proceed to transfer Spotify playlists to Amazon Music by tapping the Start Moving My Music button. Eventually, you can get Spotify Music synchronized to Amazon Music successfully.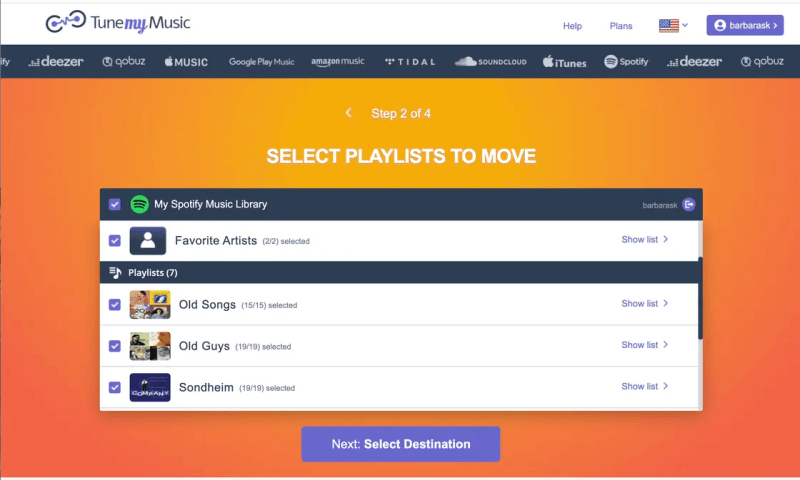 Method 2: Import Spotify Playlist to Amazon Music via Spotify Music Converter
Sometimes the songs in Spotify may not be available in Amazon Music, so when you use TuneMyMusic, it may be failed to transfer, resulting in those unavailable songs not appearing in Amazon Music Playlist.
To avoid this kind of trouble, TuneFab Spotify Music Converter may be a better option. As a powerful program that works on both Windows and Mac devices, it allows you to download Spotify playlists to MP3, M4A, and other mainstream formats. The downloaded files will keep the ID3 info, including titles, album covers, etc. Then, it will be easy for you to upload the music to Amazon for free offline playback without hassle.
More Key Features of TuneFab Spotify Music Converter:
● Built-in Web Player: It has an embedded Spotify Web Player, which supports you to directly visit the whole Spotify Music Library without Premium.
● Multiple Output Formats: It rips off DRM protection from Spotify music and allows you to download them in mainstream audio formats including MP3, M4A, WAV, FLAC, ALAC, AAC, and AIFF.
● High-quality Fastest Conversion: With its powerful functions, you can get Spotify music downloads in the best quality without loss at 35x faster speed.
● Customizable Settings: You can reset Sample Rate (up to 48,000Hz), Bitrate (up to 320 Kbps), output file name, output track archive, and so on as you like.
● Controllable Storage Occupation: It has a "Clean Cache" function to delete your login information without erasing Spotify downloads and your activation records.

Directly Download Spotify Playlists to Local MP3 Files
Once you're familiar with TuneFab Spotify Music Converter, you can easily use it to download Spotify playlists as local MP3 files, then transfer them to wherever you want to play them at will! The operation is easy and only requires the following few steps:
Step 1. Install and Log in to Your Spotify Account
Hit the button below to download and launch TuneFab Spotify Music Converter on your Windows/Mac computer. Log in to your Spotify Account, and you can see the Spotify Web Player interface in front of you.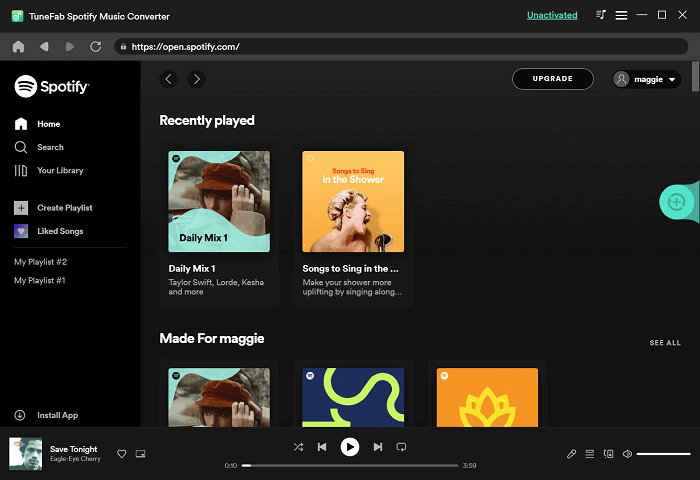 Step 2. One Click to Download Spotify Content
Now after those settings, you can easily start your downloading work! Just search for the songs/playlists/albums/podcast you like and click the green "+" icon on the right, and all the things you want will be listed on the "Converting" page.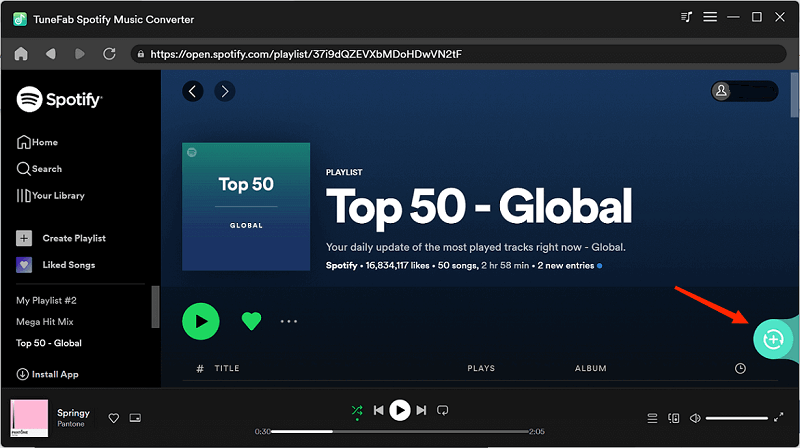 On the "Converting" page, you can select the output option of each song, and click the sort bar to rearrange them as you preferred. Then, just click "Convert All", and wait for them to be placed in the location you chose. If you find that a song is not the one you want, you can stop the conversion at any time by clicking "Stop" to the right of the song.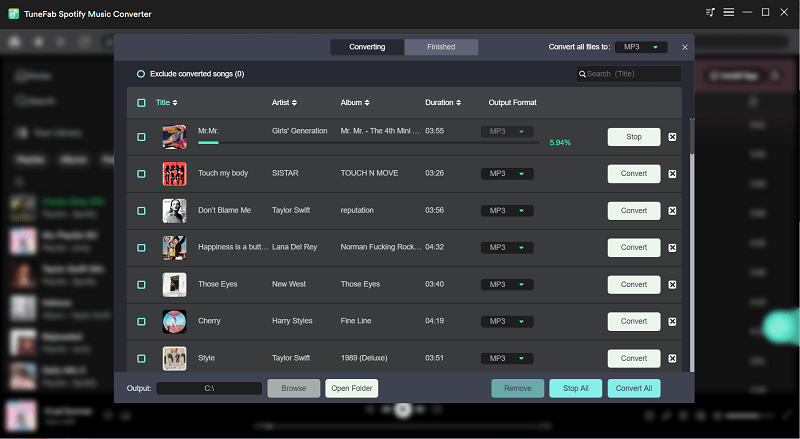 Step 3. Tweak Personal Settings Before Conversion
After entering "Preference" from the "Settings" menu in the upper right corner, you can customize the services you want. The output format and download parameters of the song can be changed under the "Advanced" tag.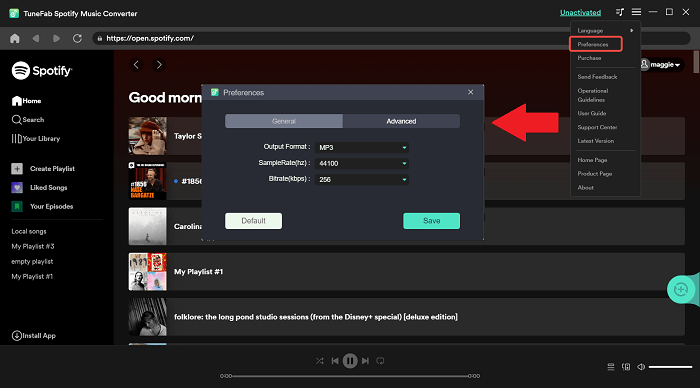 Also, you can categorize downloaded songs by selecting the ID3 tag on the "General" tag, and then it will automatically generate a custom save path.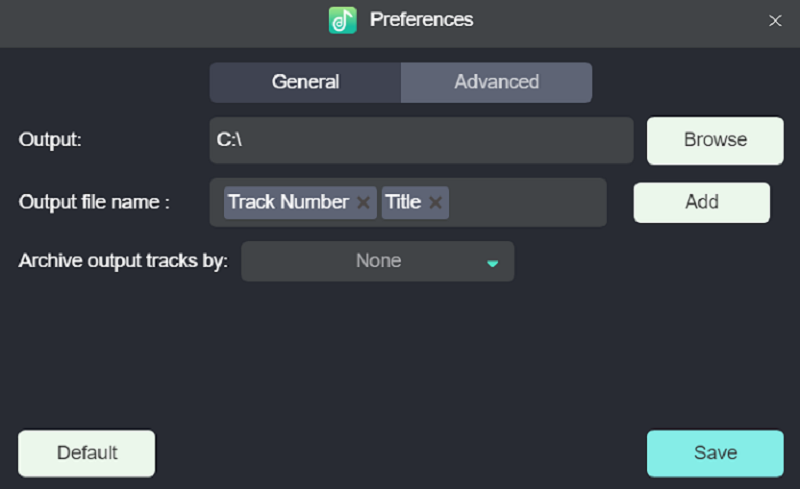 Step 4. Finish the Conversion and Check the Files
After a while, the downloaded songs will be listed on the "Finished" tab. You can either click on the button to the right of the song to "View Output File" or directly click on "Play" on the left of the song to preview.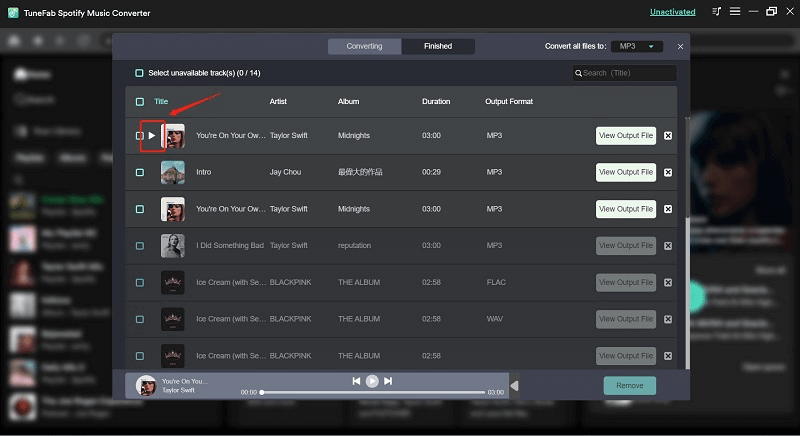 Move MP3 Spotify Download to Amazon Music
Once you've got these high-quality Spotify music files with TuneFab Spotify Music Converter, you can upload the music to Amazon Music and other external players for free offline playback! The steps are also very simple as follows.
Step 1. Install and open the Amazon Music app on your computer, locate your profile icon, click "Setting" and enter the "Automatically Import Music From" tag.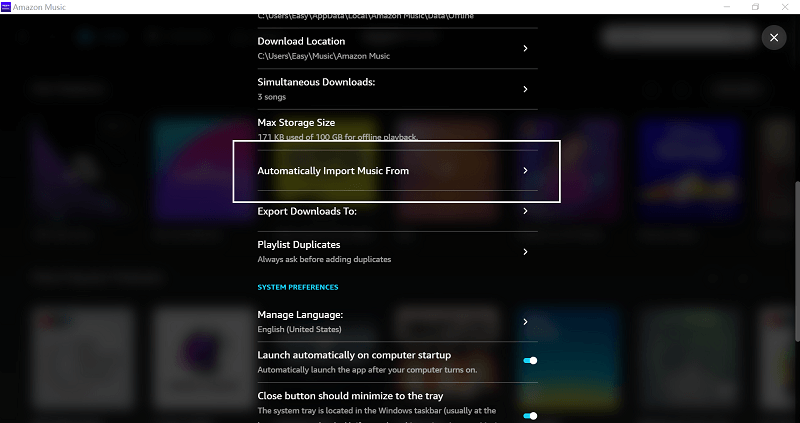 Step 2. Click the "Select Folder" option, and find the folder of your local music files to upload music to Amazon Music.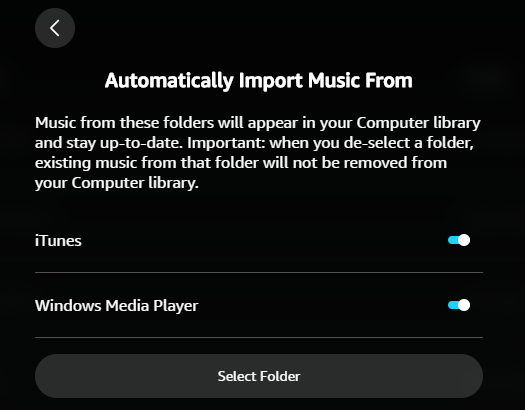 Step 3. Once your local music files have been imported to Amazon Music, you can simply go to "Library" and access the "Music" section. Filter the offline music files in "Location", then you are able to find the uploaded tracks and play them in the Amazon Music app directly.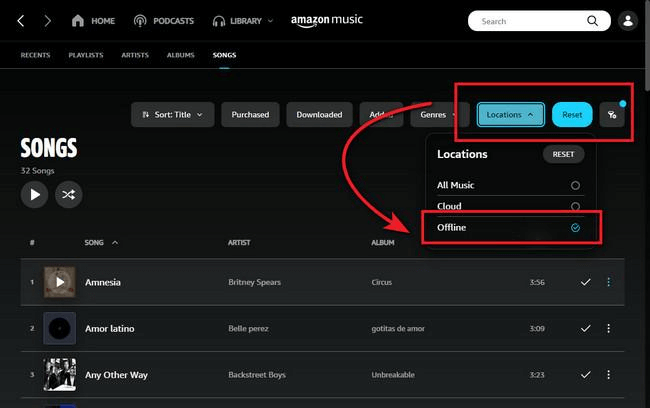 Method 3: Sync Spotify Playlist to Amazon Music via SongShift (For iOS)
SongShift is an iOS-oriented application developed for iOS models to transfer Spotify playlists to Amazon Music with easy manipulation. The speed of shifting songs and albums is really fast, and you can even add multiple shifts at a time for processing. With its help, you can share playlists with friends, no matter what service they use.
Although the downside of the app is that data loss may occur during the transferring process, it is still a handy tool for iOS users to manipulate by synchronizing Spotify with Amazon Music. The following procedures are how you can use the tool.
Step 1. Install SongShift on an iOS device first. Subsequently, run the app and select Spotify as the source platform and confirm Continue.
Step 2. As for the transfer destination, please choose Amazon Music and sign in to the account to continue the transfer process.
Step 3. Access Spotify and select the playlists for transferring now. Simply tick the options you wish to transfer for synchronizing to Amazon Music.
Step 4. Confirm the playlists list and initiate the transfer process now. When it completes, check the transferred playlists in Amazon Music for streaming right away!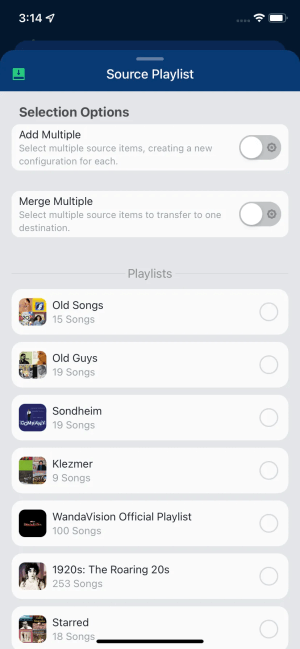 Tips: Download Amazon Prime Music to MP3 to Get the Most Out of Amazon Music
After you transfer your Spotify playlists to Amazon Music, you can listen to them freely on Amazon Music. Amazon Music has a nice service experience like HD sound quality and offline listening. To extend the benefits of using this music service, here I would like to share a tip with you. That is, while you are still subscribed to the subscription, use a tool to download your favorite songs as MP3 files or FLAC files with the original sound quality preserved, so that even if you cancel the subscription later or that song is taken down, you can still listen to it, even on different devices.
TuneFab Amazon Music Converter is the one to achieve this. It can export Amazon Music to MP3, M4A, WAV, and FLAC plain formats. Besides, it retains the ID3 information accompanying each song and provides the batch conversion feature, making the downloading process time-saving and effortless. Moreover, you can adjust the parameters to the highest (320 kbps, 44.1 kHz) in Settings to get the best sound quality for Amazon Music downloads, without any loss.
After having an overall understanding of TuneFab Amazon Music Converter, the following steps can be followed to manipulate the program to download Amazon Music right away.
Step 1. Install TuneFab Amazon Music Converter and Sign in
First, please free download TuneFab Amazon Music Converter here and follow the instructions to complete the installation of the program. Subsequently, open it and enter the built-in Amazon Music Web Player to sign in to your Amazon Music account.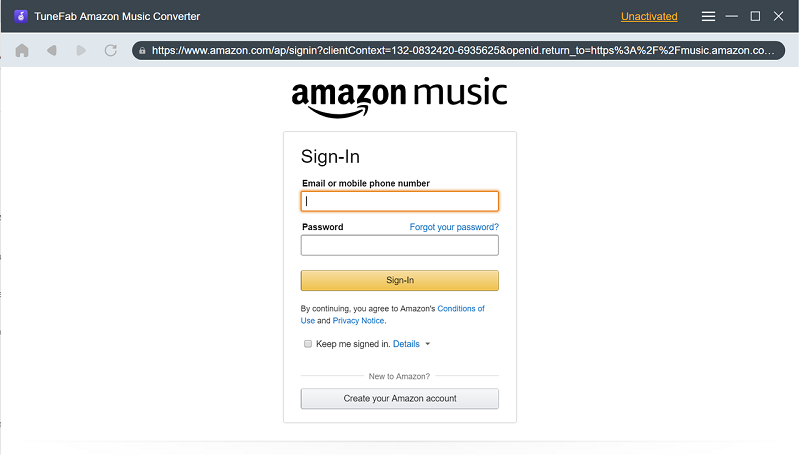 Step 2. Analyze Amazon Playlist
When you have signed in to the account and accessed the library, please select an Amazon Music playlist and enter it. Subsequently, directly click on the "Add" button, and TuneFab Amazon Music Converter will initiate to analyze the playlist and process the conversion for you.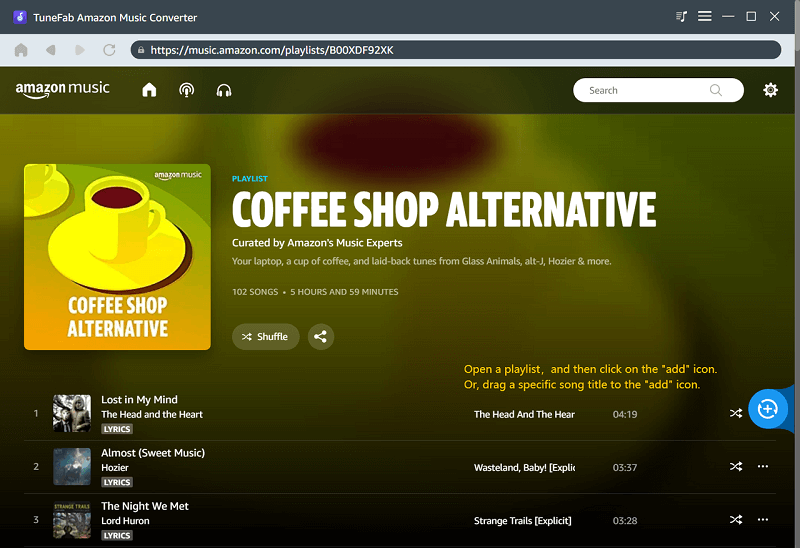 Step 3. Configure Output Format to Download Amazon Music
Select the songs you wish to download offline from the playlist. Despite this, please also select an output encoder from the Convert all files to the drop-down menu to encode the downloaded Amazon songs.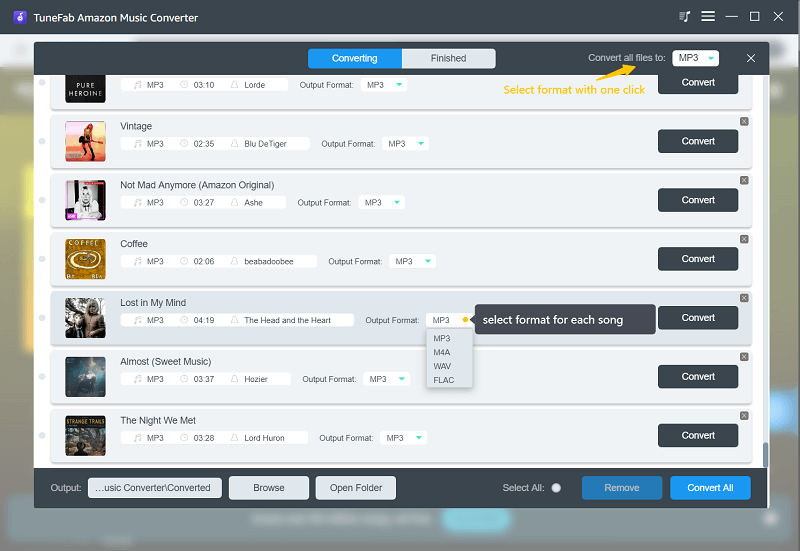 Step 4. Proceed to Download Songs from Amazon Music
Eventually, proceed to download the selected Amazon songs to the offline audio files. The downloaded history will be presented in the Finished module. By choosing the View Output File and you can access them in the output destination on your computer.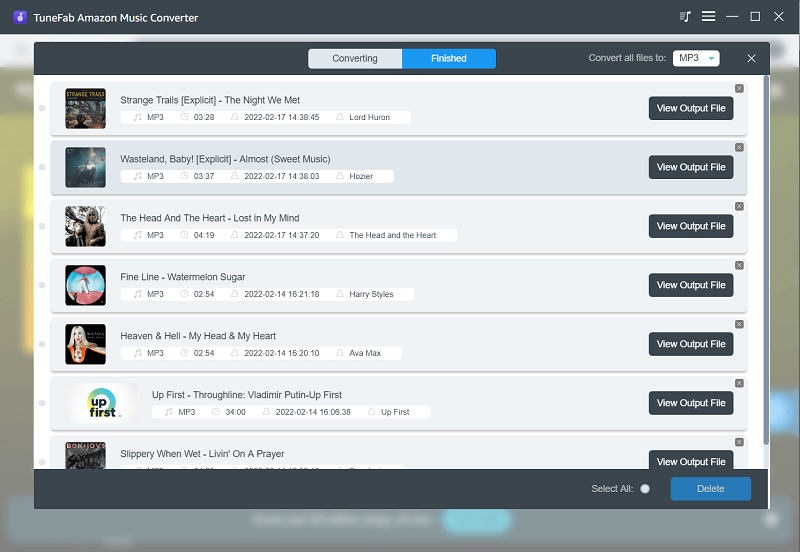 After that, the downloaded Amazon Music can be collected offline to save forever. And, you can import them to other music streaming platforms or media players to play back freely as you wish.
Conclusion
The programs mentioned in this article can help you successfully transfer Spotify playlists to Amazon Music. For transferring an entire Spotify playlist and even podcasts, you can consider using TuneFab Spotify Music Converter to download Spotify content as local files and then import them to Amazon, so you can listen to them without worrying about other restrictions. Now, press the button below and give it a shot!
TuneFab Spotify Music Converter
Batch convert Spotify to MP3 320kbps in lossless quality
Was this information helpful?
TrustScore 2.1 | 7
Copyright © 2022 TuneFab Software Inc. All rights reserved.