What can you do if you want to delete your Spotify account and then switch to Amazon Music? Probably, your answer to this question is to go to the Spotify account, find out all the playlists and songs on Spotify and then add them one by one to your new Amazon Music account.
However, this manual way to transfer Spotify playlists to Amazon music is not the best option. Even for those who have to utilize two or more streaming platforms for accessing the full music resources comprehensively (because the authorization of some songs may not be given to all of them), they may wish to transfer the playlists cross-platform for streaming conveniently.
To make it easy to transfer Spotify Playlists to Amazon Music, we would like to give you 2 easy but feasible ways to transfer Spotify playlists to Amazon Music. The first way is to transfer Spotify Playlists to Amazon music is using the third-party software to load your playlists and then transfer them to your Amazon Music account, and the other way is to download the Spotify Playlists and then upload them to your Amazon Music.
It's worth mentioning that these third-party tools are compatible with both desktop devices and iOS devices.
CONTENTS
1. How to Sync Spotify Playlist to Amazon Music Online
Based on different devices, there can be appropriate options tailored for users to easily synchronize Spotify playlists to Amazon Music. In the following, you will be introduced to the web-based service, mobile application, and desktop program you can try to transfer Spotify to Amazon Music. Accordingly, you can choose the device you are using and skip to the corresponding solution to proceed with the transfer.
Transfer Spotify Playlist to Amazon Music with TuneMyMusic (For Web)
The web-based service, TuneMyMusic, is tailored for people who wish to complete the Spotify playlist to Amazon Music transfer without installing third-party programs. The whole conversion can be completed online within only 4 procedures. The following is how TuneMyMusic works.
1. Open a tab in the browser for turning to TuneMyMusic. Click on the Let's Start button to start the transfer process and select Spotify as the source platform.
2. Please sign in to your Spotify account here. You can also paste the Spotify playlist URL instead of logging in to the account. Anyway, complete adding the Spotify playlists for transferring to Amazon Music.
3. When the playlists are selected, click on the Next: Select Destination for selecting Amazon Music as the destination platform for transferring the playlists. Also, you are required to sign in with your Amazon account.
4. Proceed transferring Spotify playlists to Amazon Music by tapping the Start Moving My Music button. Eventually, you can get Spotify Music synchronized to Amazon Music successfully.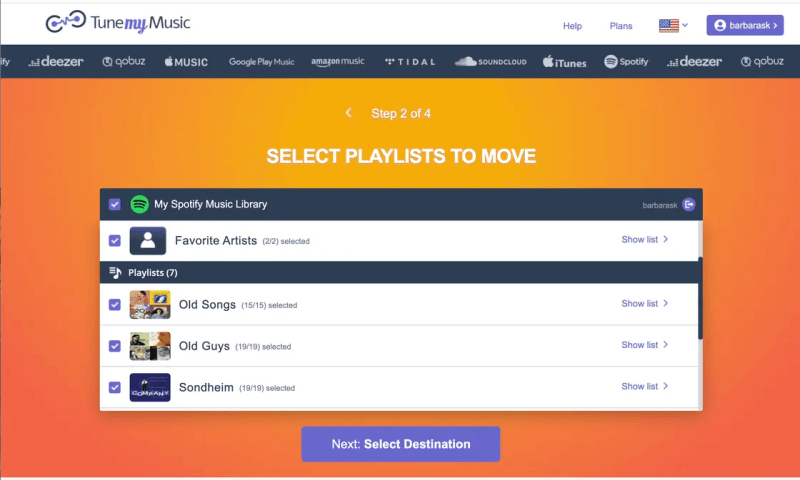 Move Music from Spotify to Amazon Music Via SongShift (For iOS)
SongShift is an iOS-oriented application developed for iOS models to transfer Spotify playlists to Amazon Music with easy manipulation. Although the downside of the app is that data loss may occur during the transferring process, it is still a handy tool for iOS users to manipulate synchronizing Spotify with Amazon Music. The following procedures are how you can use the tool.
1. Please install SongShift on an iOS device at first. Subsequently, run the app and select Spotify as the source platform and confirm Continue.
2. As for the transfer destination, please choose Amazon Music and sign in to the account to continue the transfer process.
3. Access Spotify and select the playlists for transferring now. Simply tick the options you wish to transfer for synchronizing to Amazon Music.
4. Confirm the playlists list and initiate the transfer process now. When it completes, check the transferred playlists in Amazon Music for streaming right away!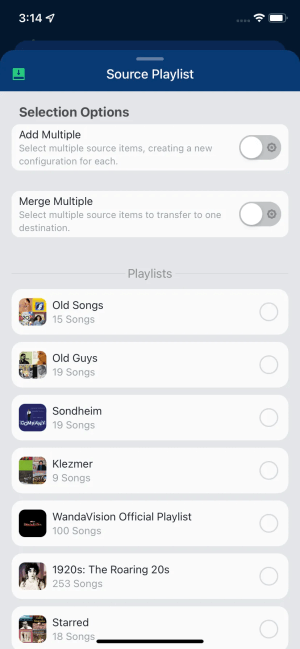 If You Also Want to Keep Amazon Music Forever...
When TuneMyMusic and SongShift provide the direct transfer services for synchronizing Spotify playlists to Amazon Music for having the higher sound quality to facilitate the streaming experience, this program allows users to keep Amazon Music offline forever for playing the songs without any obstacle. It is TuneFab Amazon Music Converter.
TuneFab Amazon Music Converter is a professional partner for giving a hand to those who always be irritated by the streaming restrictions of Amazon Music, such as the failure to download Amazon Music offline, or the distinguishing quality differences between different subscriptions plans. Therefore, TuneFab Amazon Music Converter helps to download for keeping Amazon Music offline forever to overpass all these obstacles.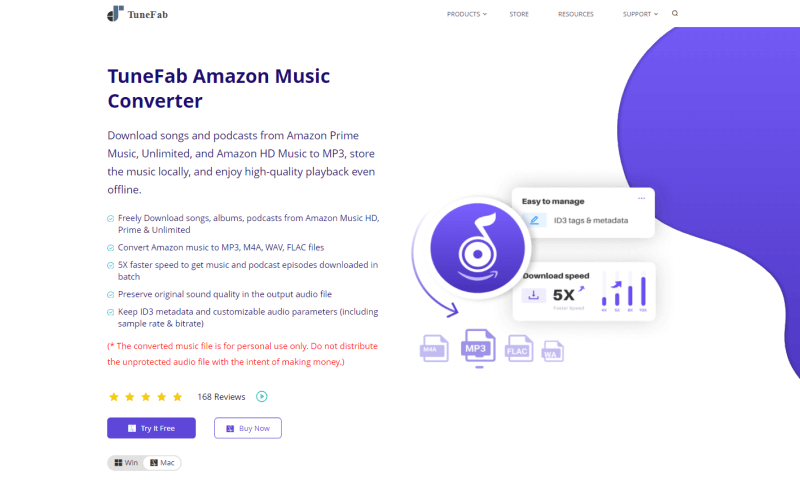 The Amazon Music Converter can export the songs to MP3, M4A, WAV, and FLAC plain formats with original sound quality. Meanwhile, it retains the ID3 information accompanying each song. With the 5X speedy performance, plus the batch conversion feature, it makes the Amazon Music download to be a time-saving and effortless process. When the songs are exported to local media files, people can upload them to any other music streaming platform or transfer them to all devices for playback without restrictions.
After having an overall understanding of TuneFab Amazon Music Converter, the following procedures can be followed to manipulate the program to download Amazon Music right away. Please check.
Step 1. Install TuneFab Amazon Music Converter and Sign in
First, please free download TuneFab Amazon Music Converter here and follow the instructions to complete the installation of the program. Subsequently, open it and enter the built-in Amazon Music Web Player to sign in to your Amazon Music account.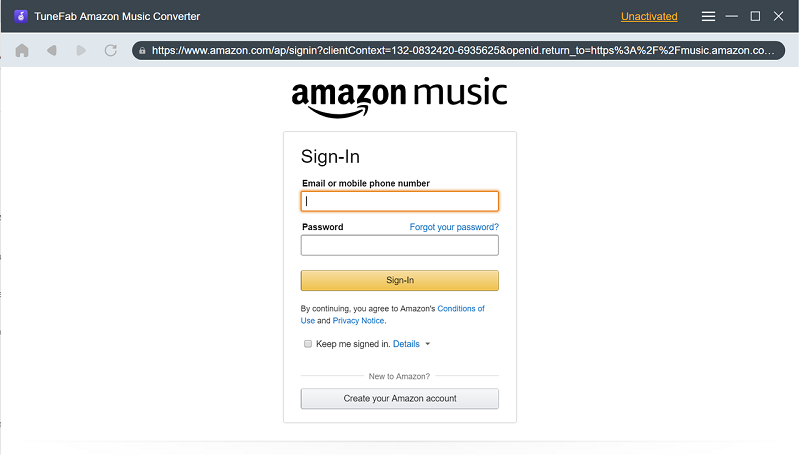 Step 2. Analyze Amazon Playlist
When you have signed in to the account and access the library, please select an Amazon Music playlist and enter it. Subsequently, directly click on the Add button, and TuneFab Amazon Music Converter will initiate to analyze the playlist and process the conversion for you.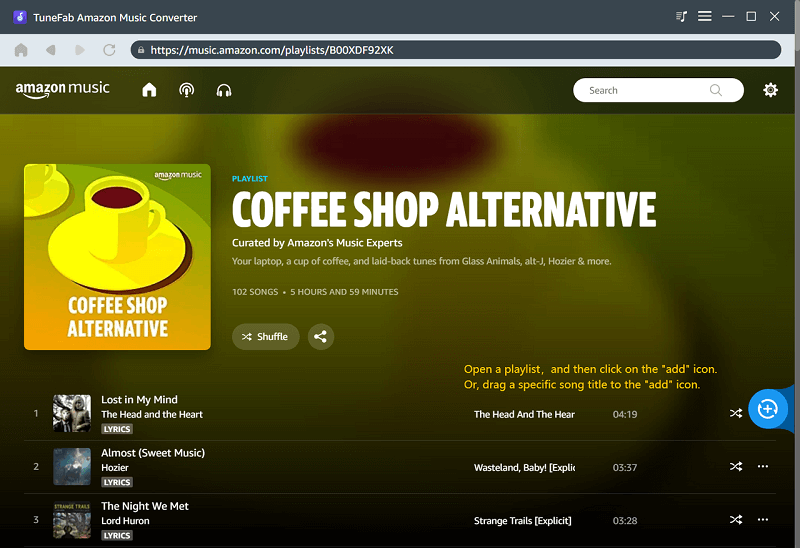 Step 3. Configure Output Format to Download Amazon Music
Select the songs you wish to download offline from the playlist. Despite this, please also select an output encoder from the Convert all files to the drop-down menu to encode the downloaded Amazon songs.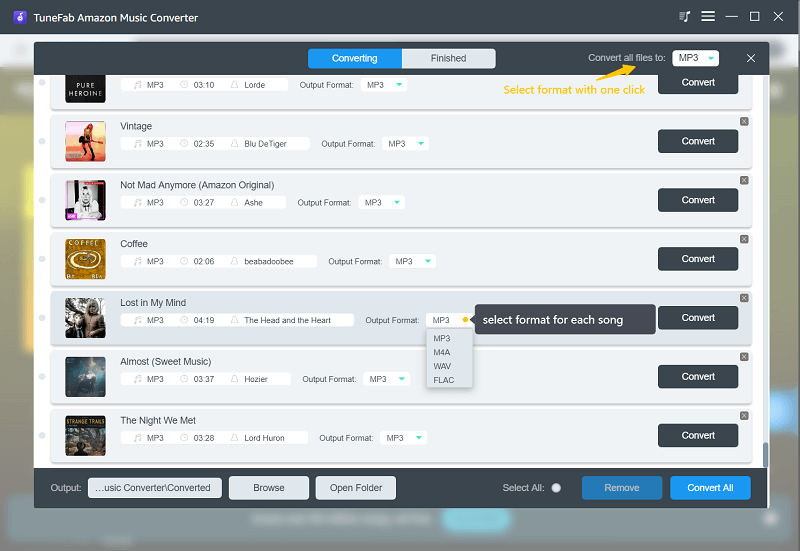 Step 4. Proceed to Download Songs from Amazon Music
Eventually, proceed to download the selected Amazon songs to the offline audio files. The downloaded history will be presented in the Finished module. By choosing the View Output File and you can access them in the output destination on your computer.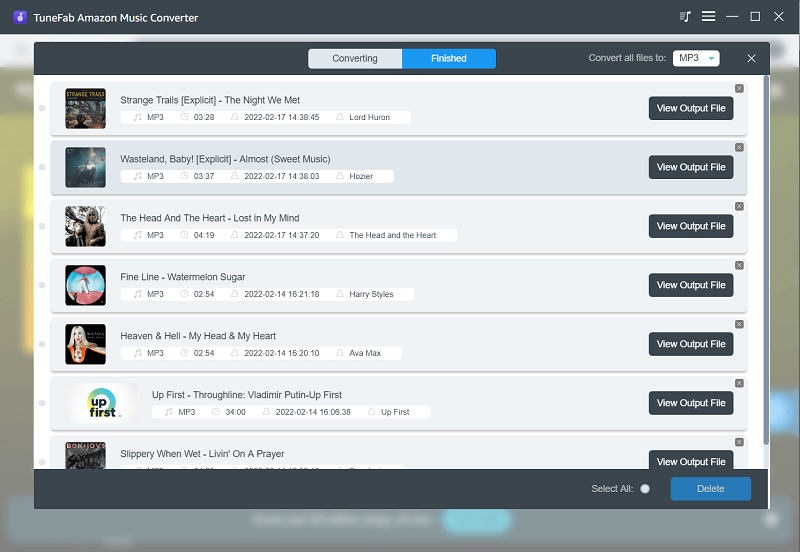 As mentioned, the downloaded Amazon Music can be collected offline for saving forever. In addition, you can import them to other music streaming platforms or media players for playing back freely as you wish.
2. Bonus Tips: How to Directly Download Spotify Playlists as Local Audio
A frustrating thing is that TuneFab Amazon Music Converter only works to download Amazon Music, unlike the cross-platform supported TuneMyMusic and SongShift. This bonus tip is shared with those who wish to download Spotify playlists offline as local audios for flexible management. The only tool you require is TuneFab Spotify Music Converter.
Sharing similarities with TuneFab Amazon Music Converter, TuneFab Spotify Music Converter also embeds the web player inside the program for proceeding direct playlist analysis, conversion, and download. People can use it to remove DRM from all Spotify playlists and export with popular audio encoders. The quality and ID3 information will all be retained. The following manipulation guides you on how to utilize it.
1. Launch TuneFab Spotify Music Converter and sign in to the embedded Spotify Web Player.
2. Select a Spotify playlist you wish to download and open it.
3. Subsequently, tap the Add button to initiate analyzing and converting it.
4. Please select the output encoder for exporting the downloaded Spotify songs.
5. Proceed to download the Spotify playlist by tapping the Convert All button.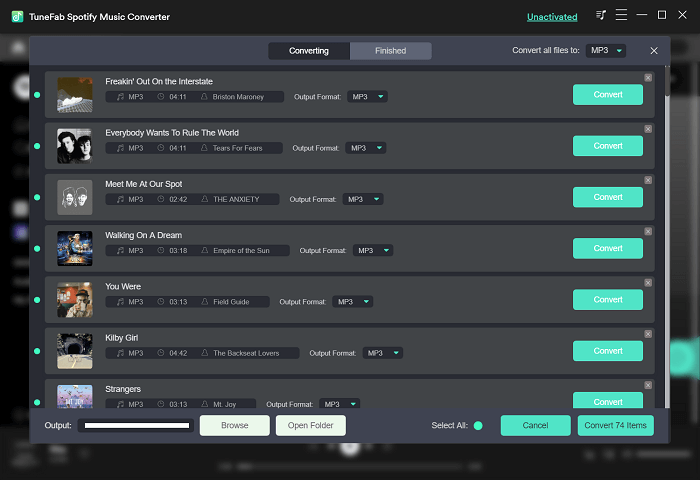 Conclusion
No matter you wish you transfer Spotify playlists to Amazon Music, or synchronize Amazon Music back to Spotify, the programs mentioned in this post can all function to help. Most importantly, you ought to select the method based on your personal situations, such as the device you are utilizing, or whether you consider downloading the playlists as local files for uploading or managing in a flexible way offline. Now, please try!
Was this information helpful?
TrustScore 2.1 | 7