For millions of music lovers on Spotify, enjoying perfect songs or discovering a new favorite artist is at the heart of their experience. Although Spotify's recommendation algorithm is very powerful, you may want to search for specific songs by certain keywords, such as titles, artist names, album names, etc, and that's why the built-in search function is so essential. But what if Spotify search not working? It can be incredibly frustrating!
Hence, we will provide you with 8 effective methods to figure out this problem and enjoy a seamless using experience. Let's dive in!
Related Article: How to Download Spotify Podcasts to MP3 for Free?
Why is Search Not Working on Spotify
As the built-in search function is indispensable while exploring Spotify music, it is necessary to know some common causes to this problem.
● Poor Network
The most possible reason causing Spotify search not working is the poor network connection. All functions of Spotify, including the in-app search, rely on smooth network performance. Please make sure that you have a stable network connection before attempting to search.
● Spotify App Damaged
Though Spotify is a professional and feature-packed program, it is unavoidable to encounter problems more or less. Spotify app damage is one of them, which can also affect search. Try to check and fix potential Spotify problems if your Spotify search doesn't work.
● Internal Server Error of Spotify
When you search songs on Spotify, it will connect to the internal server and offer you results. If there are errors on the internal server, they can temporarily disrupt the search functionality and you won't get any response by searching.
After knowing some potential causes of Spotify search not working, we will deliver you seven methods to solve this problem.
Method 1. Check the Network Connection
As an unstable network connection is the most possible reason, you should check the internet connection on your device first. To check it, you can launch any program on your device to see whether it can work. If not, go to the settings to check Wi-Fi and cellular connections.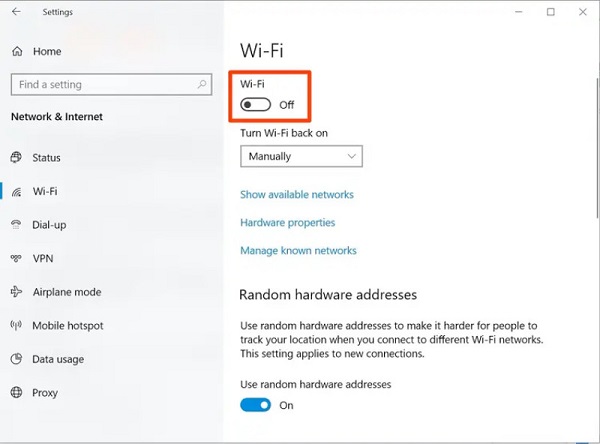 Method 2. Restart the Device or the Browser
Restarting your device can help refresh your computer system and clear temporary glitches that cause problems with the search feature. If you are using Spotify web player via the browser but can't search, try to restart your browser.
Related Article: How to Fix Spotify Web Player Not Working in 2023
For Desktop
To restart your Windows computer, click on the Power button and tap Restart. For Mac, click the Apple icon at the top column and choose Restart from the drop-down menu.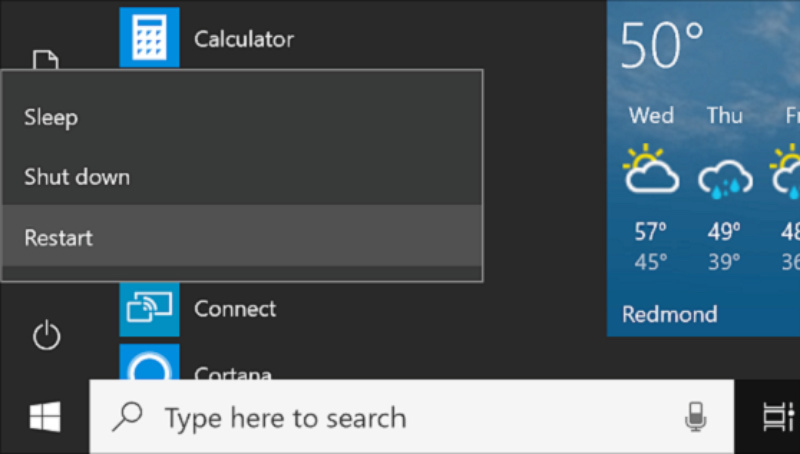 For Mobile
For iPhone, just press the Volume button and the Side button together to restart your mobile. For Android, press and hold the Power button to reveal the power menu. Then, select Restart to power off the device and restart.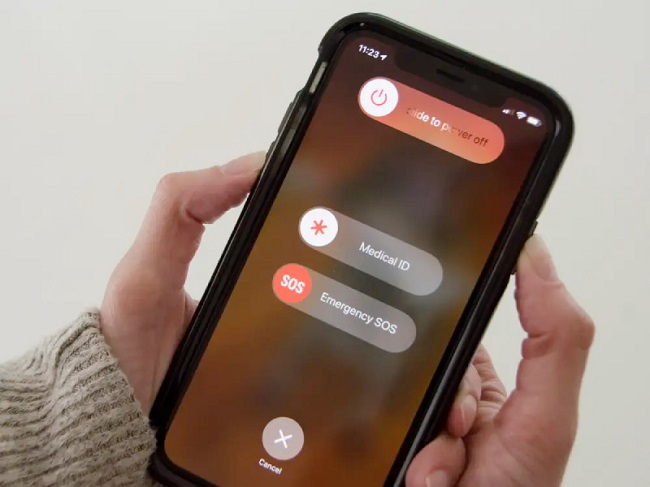 Method 3. Log out and Log in to Spotify Account
To address the problem of the Spotify search bar not functioning properly, the third solution is to log out of your Spotify account and then log back in. Follow the instructions below according to your device's operating system (Android, iOS, Windows, or Mac OS) to perform this action.
For Desktop
No matter on Windows or Mac, launch the Spotify app, click on your profile and choose Log out. Log in to it after a moment to check the search bar.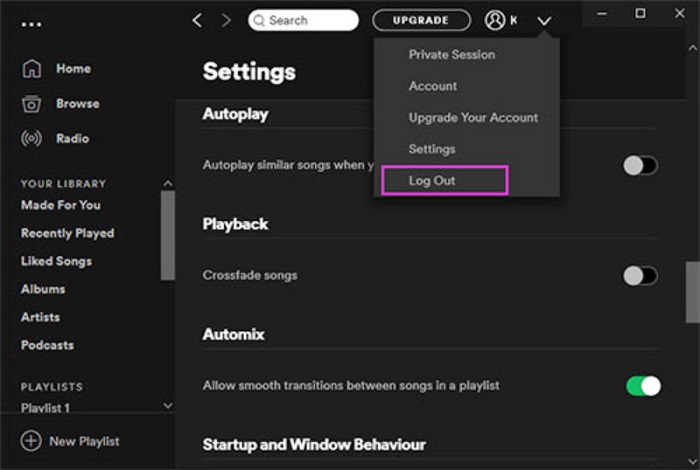 For Mobile
Both iOS and Android users can go to the Spotify app and tap the Home option. Then, choose Settings and hit on Log out. After logging out your Spotify account, quit the app and sign in to it again to check if the search bar works.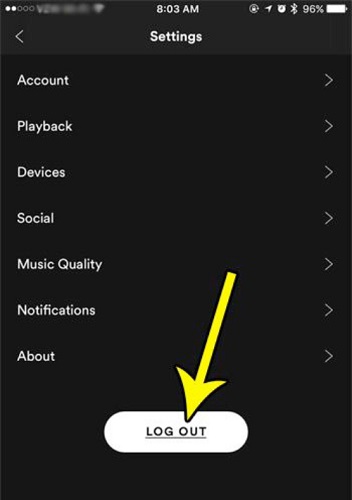 Method 4. Check Spotify Updates
If you are using an outdated version of the Spotify app, you may also encounter the issue of a broken Spotify search. Follow the guide to check if you have installed the latest version.
For Desktop
Head to the profile tab on your Spotify app and select Update Spotify now. Or, you can click on More > Help > About Spotify to install the latest version.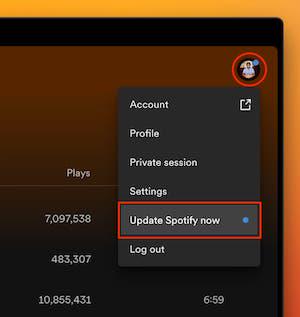 For Mobile
Navigate to the App Store (for iOS) or Google Play Store (for Android), search for the Spotify app to check if there is an update option. If yes, click it to upgrade.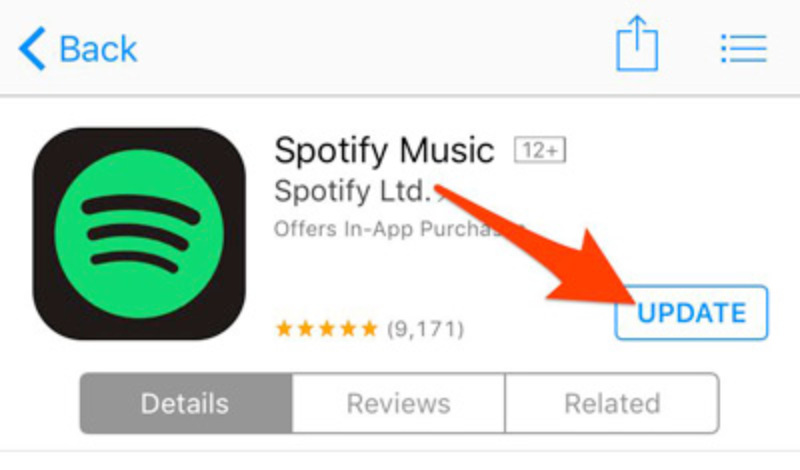 Method 5. Clear Cache
You can also try to clear Spotify cache to solve the problem of Spotify search not working. The steps are shown as follows.
For Desktop
Step 1. Launch the Spotify app and go to Settings.
Step 2. Go to the Offline songs storage section. Then, head to this location.
Step 3. Locate the target folder of Spotify offline files and delete them.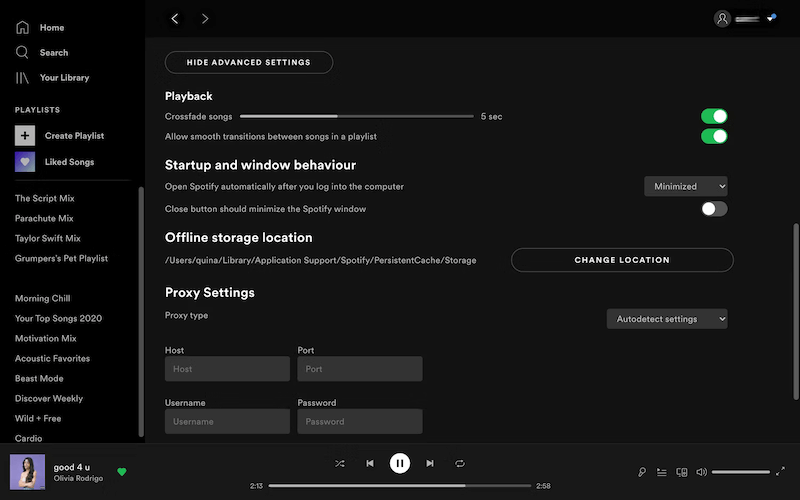 For Mobile
Step 1. Go to the Settings on your phone.
Step 2. Find the Spotify app in the Apps section and click it.
Step 3. Click on Storage and Clear cache.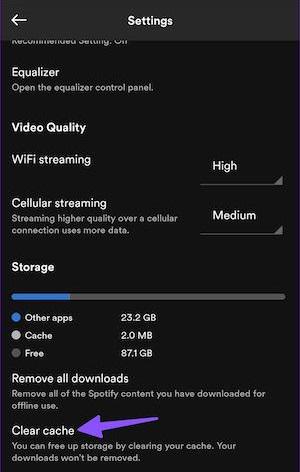 Method 6. Disable Spotify Offline Mode
If you turn on the Spotify offline mode, the search bar may also be affected. Therefore, please follow these steps to ensure you have disabled your offline mode.
For Desktop
Launch your Spotify app and tap the three-dot icon in the top left corner. Hold your mouse on File and tap Offline Mode to turn it off.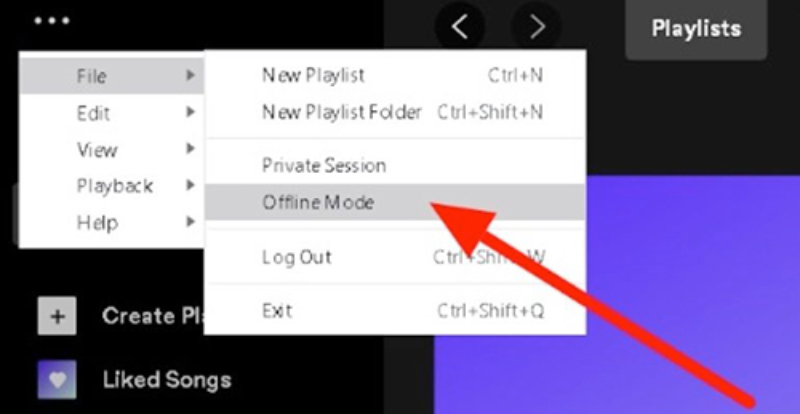 For Mobile
Step 1. Launch Spotify on your mobile phone and click Your Library.
Step 2. Go to Settings to find Playback.
Step 3. Find the Offline mode button and switch it off.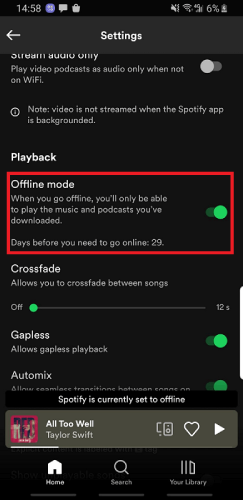 Method 7. Close Background Usage Restrictions
The background usage restriction setting limits app activity in the background to save resources and improve battery life. However, it can also cause the Spotify search not working by preventing active access to data services. Here are some simple steps to close background usage restrictions.
For Desktop
Step 1. Open Spotify and click the Profile.
Step 2. Go to Settings > Show Advanced Settings.
Step 3. Switch Close button should minimize the Spotify window off to close background usage restrictions.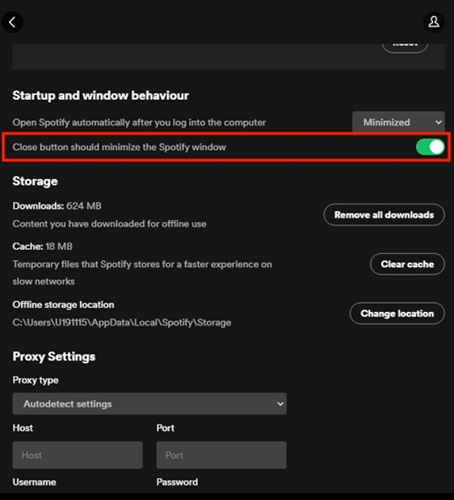 For Mobile
If you are an iOS user, go to Settings, General and hit Background App Refresh. Find the Spotify and turn on the button next to it. For Android, you should also go to Settings, Apps, Manage Apps and find Spotify. Then, choose battery saver and turn off the background usage restrictions.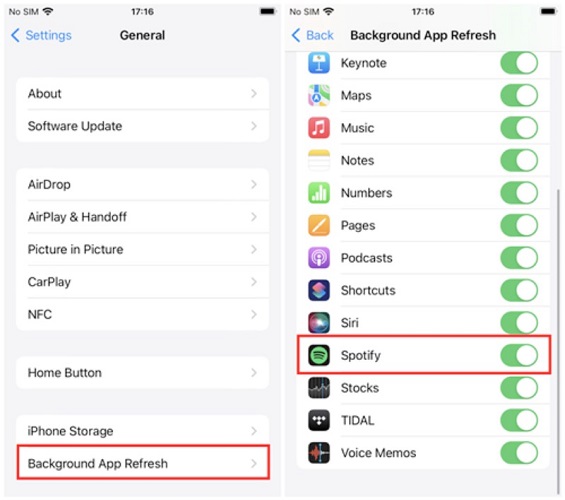 NOTE: If you're still experiencing issues after trying these seven fixes, you can directly visit the official Spotify Support Center to contact them and report the problem.
👍 Bonus: An Extra Way to Avoid Spotify Search Not Working Issue
If you're unable to resolve the issue of the search bar not working on both mobile and desktop applications, there is an alternative solution. You can switch to the Spotify Web Player for searching and playing Spotify songs. However, it should be noted that the web player may compress the quality of the songs, resulting in a compromised listening experience.
To overcome this limitation and ultimately resolve the search problem, we highly recommend you try TuneFab Spotify Music Converter. This versatile tool not only features a powerful embedded Spotify web player but also offers multiple additional features. With TuneFab, you can seamlessly enjoy high-quality music content after logging in, as well as download, extract and convert Spotify songs into mainstream formats for offline playback. By doing so, you can enjoy your Spotify songs without worrying about technical difficulties.
More Advanced Features of TuneFab Spotify Music Converter:
● Output Multiple Audio Formats with High Quality
This tool supports downloading and converting songs, albums, playlists, and video podcasts to inclusive output formats including MP3, M4A, FLAC, WAV, AIFF, AAC, and ALAC. Better still, they will be preserved at original quality, so you can play your music on any device and experience the purest audio.
● Versatile and Customized Output Setting
While converting, you can sort audio files, customize file names, and set a tag for them. Besides, you can change the sample rate from 22050hz to 48000hz or adjust the bit rate from 128 kbps to 320 kbps to fulfill your needs. With its integrated player, you can play them during conversion to check your adjustments.
● Ultra-fast Speed to Convert Spotify Songs
With a stable network and well computer performance, its advanced hardware, and GPU acceleration can guarantee downloading process at 35X faster speed. The additional features like "Clear Cache" will also help enhance speed.
● Retain Music Metadata and ID3 Tags
The ID3 tags and media metadata information such as titles, artists, albums, and cover artworks can be saved after conversion. Therefore, you can sort the music collection more systematically.
To address Spotify search not working, resorting to a third-party tool with an embedded Spotify web player and downloading music for offline playback is a workaround. We highly recommend you try TuneFab Spotify Music Converter. With this powerful tool, you can quickly download your favorite Spotify music to different formats with the original quality. Better still, you can finish the process in just a few simple steps as follows.
Step 1.

Launch TuneFab Spotify Music Converter

Install and launch the program. On the main interface, click the Open the Spotify web player button to activate the embedded Spotify web player. Then, log into your Spotify account to browse the music library.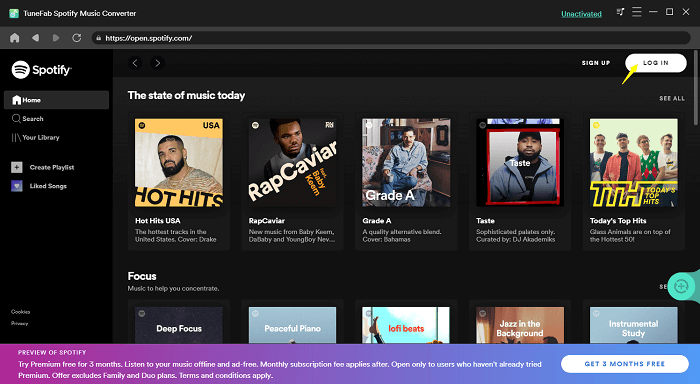 Step 2.

Choose Spotify Songs to Download

Search for your desired songs, artists or podcasts on the search bar and save them to your music library. Drag and drop Spotify songs to the green "+" button on the right side, then these songs will be added to the converting list.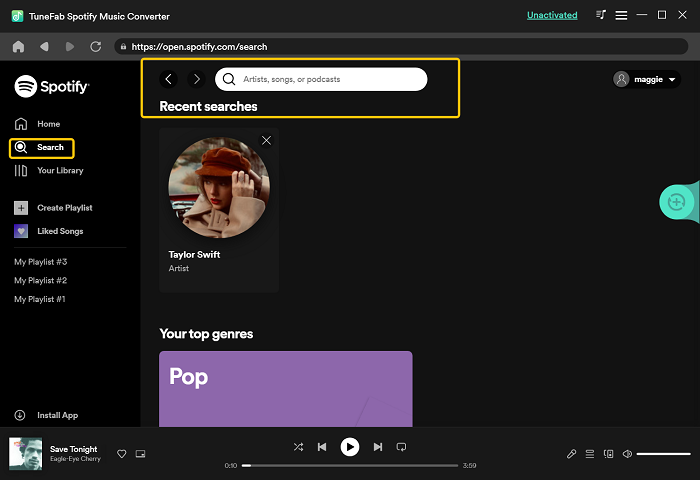 Step 3.

Adjust Output Settings

Before starting conversion, click on the menu button in the upper right corner and choose Preference, Advanced. In the pop-up window, you can choose the output format from MP3, M4A, WAV and FLAC. Also, the sample rate (reach up to 48000hz) and bitrate (highest 320kbps) are available to change.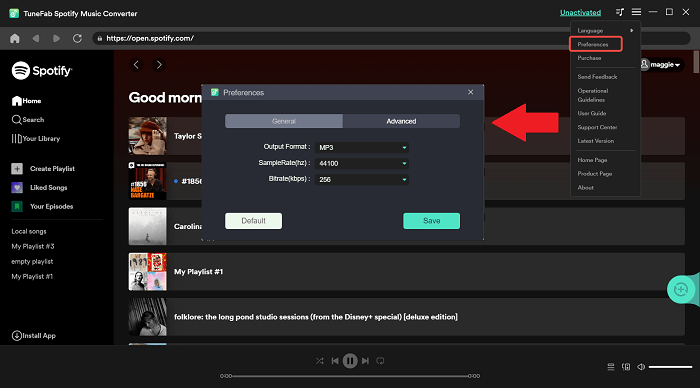 Step 4.

Start to Convert and Download Spotify Songs

Once the settings are done, hit on the Convert All icon to start the converting process. In a moment, you can get lossless high-quality music as you want. Hit the Play button next to the songs to preview, or click View Output File to check your downloads.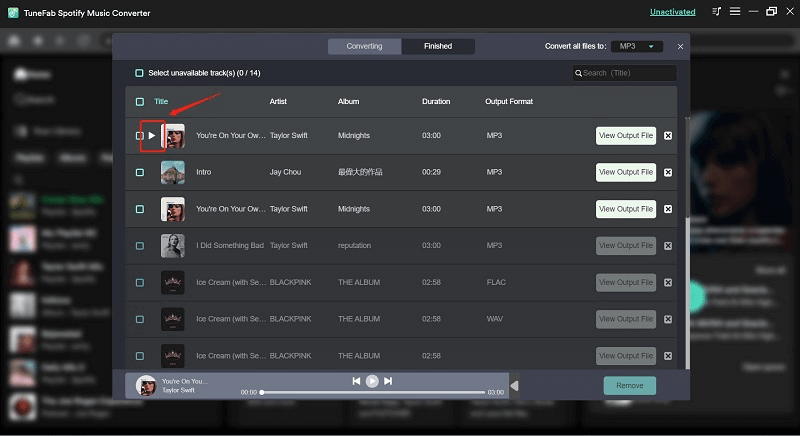 FAQs about Fixing Spotify Search Not Working
Q1: How to Search Your Liked Songs on Spotify?
In most cases, your liked songs will be shown in your Spotify library after logging into your account. If you can not find your liked songs, the reasons can include a virus attack, an unstable network, expired membership, and accidental removal. To search for your liked songs, you can try the following solutions.
● Check the network
● Reinstall the Spotify application
● Renew your Spotify membership
● Change your device
Q2: How to Change the Way of Searching Spotify Songs?
In addition to the standard search method on Spotify, where you enter the names of songs, artists, or albums, there are alternative ways to search for your songs if you don't have complete information.
● Lyrics search: Search at least 3 words from its lyrics. Songs with those lyrics will be listed for you.
● Advanced search by year: Enter the year the song was released, for example, year: 1990, or it can be a range like year: 1990-1999.
● Advanced search by genre: Enter the music genre like genre: pop, genre: rock.
● Advanced search by label: Enter the record label like label: domino.
● Combined search with different tags: For example, find music by genre and year like genre: metal AND year: 1982.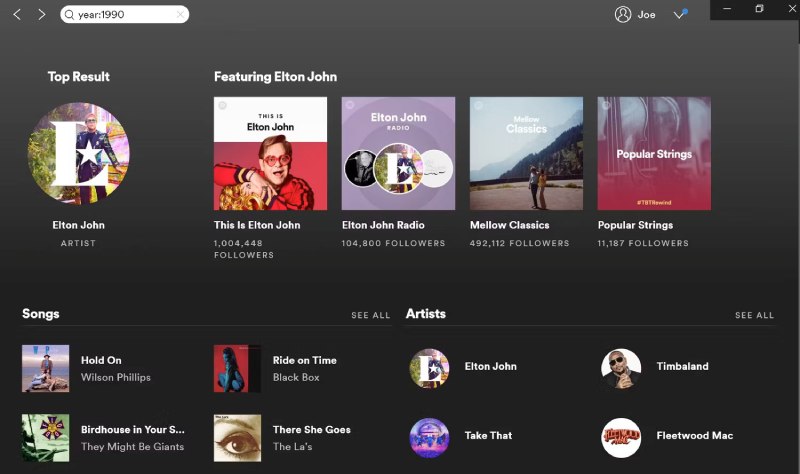 Summary
In summary, this post has provided you with 8 solutions to address issues with Spotify search not working. To address this problem, you can try to check the network, restart the device, update the Spotify app, clear the cache, and adjust different features on Spotify. If you find them troublesome and have been plagued with this problem for a long time, we highly recommend you try TuneFab Spotify Music Converter. This software allows you to use the search function properly and convert Spotify songs to different formats for flexible playback.
Was this information helpful?
TrustScore 1.9 | 9
Copyright © 2022 TuneFab Software Inc. All rights reserved.