If you use web-based services to stream online music, it would be very annoying if Spotify web player not working, leaving you unable to play a song. This is a fairly common phenomenon and anyone using the Spotify Web Player will have experienced it at some point. Today, we are going to show you the reasons why the Spotify Web Player is not working and 10 easy ways to fix it. Try them now and see if they work for you!
You May Like: 5 Spotify to MP3 Converters Free to Convert Spotify Songs
CONTENTS
Part 1: General Checks Before You Go Further
There are a number of reasons why Spotify Web Player is not working, such as the browser you're using is out of date to be compatible with Spotify, or you are in a location where the network signal is not very stable, etc. These factors can lead to the Spotify web player won't load issue, and usually you will receive an error message occurring on the web player's interface. Hence, when you run into these problems, please don't worry. Calm down and do a preliminary check using the following methods.
● Network Connection Check: Click on your computer's "Status Bar" or enter "Settings" to check the network, including Wi-Fi and wired connection.
● Restart the browser: Sometimes computers may have weird bugs appearing, so restarting your browser can be a helpful way to get ahead of the game.
● Check Browser Compatibility: If the restarting work didn't fix it, read the browser's instructions to make sure it is compatible with Spotify Web Player and is up to date.
● Log out of Spotify Account: Using the same account on multiple devices can cause problems, so please sign out of your Spotify account on any device other than the one you're currently using.
● Disable VPN: Using VPN may cause the system to determine that you are in a different country, in which case regional copyright restrictions may block the songs you want. Please turn it off before visiting Spotify.
If the problem is not solved, you can read on for more ways to get help.
Part 2: 10 Ways to Fix Spotify Web Player Not Working
If you've checked the version of your browser and Internet connection through the general checks above and the problem still persists, the following 10 detailed countermeasures may help you troubleshoot and resolve the problem.
Open the Website in a Private Window
Actually, if you have installed many extensions in your browser, their performances may be a hidden reason causing Spotify Web Player not working properly. As a result, to exclude the affections brought by browser extensions, you can try opening the web player with a private window instead. The Spotify incognito mode of the web browser will also filter some other features like cache storing to make sure the net surfing can be fast and without being affected. It may be a good and simple way to fix Spotify Web Player not working.
Here I will show you how to open the private mode in the browsers supporting running Spotify Web Player.
Chrome: Click the three-dots icon in the top-right corner of the window and select "New Incognito Window". Or you can use the shortcut "Shift + ⌘ + N" (on macOS) or "Shift + CTRL + N" (on Windows/Linux) to open it as well.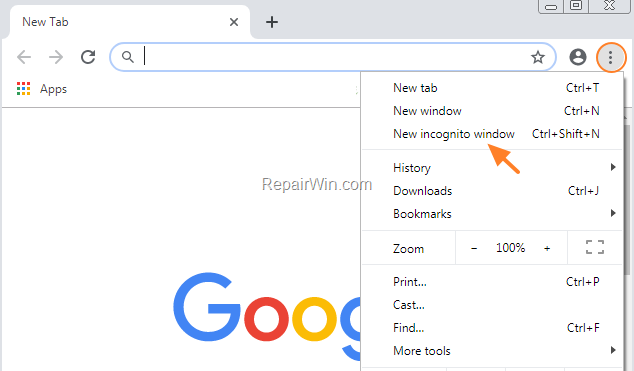 Firefox: Like Chrome, directly select the Firefox menu and then choose "New Private Window". The shortcut "Shift + ⌘ + P" (on macOS) or "Shift + CTRL + P" (on Windows/Linux) can also be used.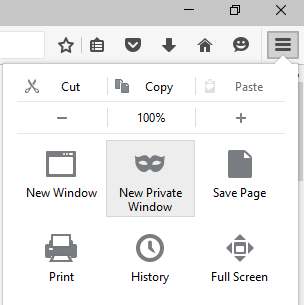 Edge: Except for selecting to open in the browser setting menu, shortcut "Shift + CTRL + N" can also help.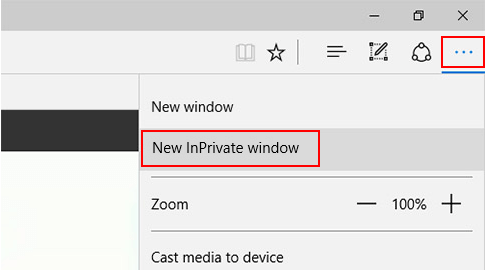 Safari: In Safari browser, you need to click the "File" option in the Apple top menu and then select "New Private Window" to open it.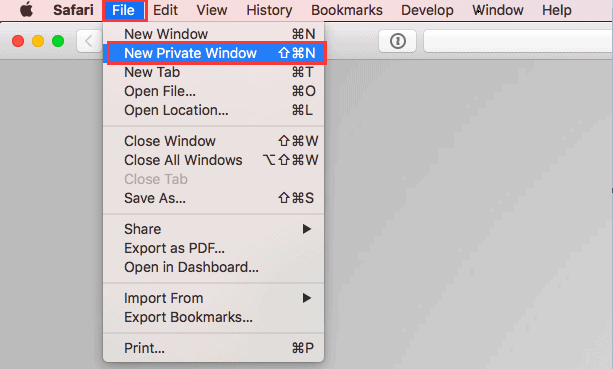 Set up Spotify Connect Feature
In some cases, the reason Spotify Web Player not playing on Brower is nothing more than an incorrect player selection that caused Spotify to connect to the wrong playback location. The steps to solve this problem are quite simple, as follows.
Step 1. Visit Spotify Web Player and click on the "Connect to Device" icon in the lower right corner.
Step 2. Select your web browser in the playback device list, such as Microsoft Edge in the image below.
After this, Spotify will play your music in your chosen web browser, fixing the web player not working issue.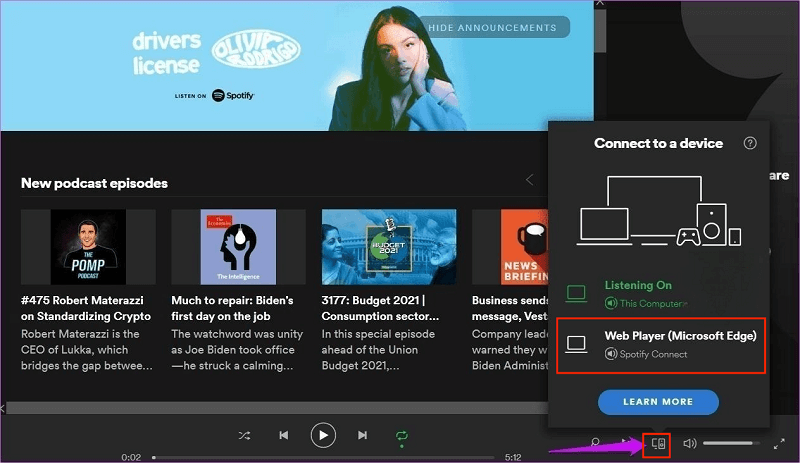 Enable Playback of Protected Content
If you find the Spotify Web Player not working and also an error occurs telling you that playback of protected content is not enabled, you just need to enable the browser to let you play such protected content to fix the problem. The workaround will vary depending on the browser, as shown in the following steps.
For Google Chrome Users:
Step 1. Simply open the browser menu and select "Settings".
Step 2. By going to "Content", you will find the "Protected content" option.
Step 3. Open it and turn on "Allow site to play protected content" to fix Spotify Web Player not working easily.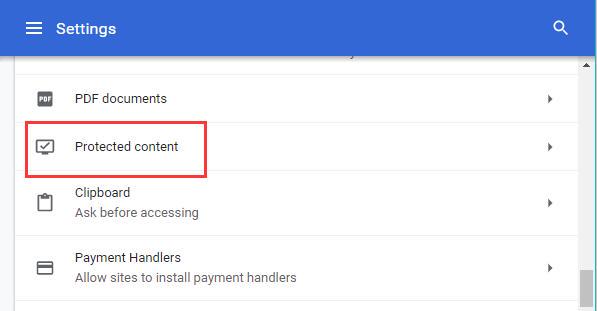 For Firefox users:
Step 1. Click "Enable DRM" in the yellow warning bar at the top of the screen.
Step 2. If you don't see the yellow bar, enter "about:preferences#content" in your browser address bar. Or, switch on "Play DRM" under DRM content.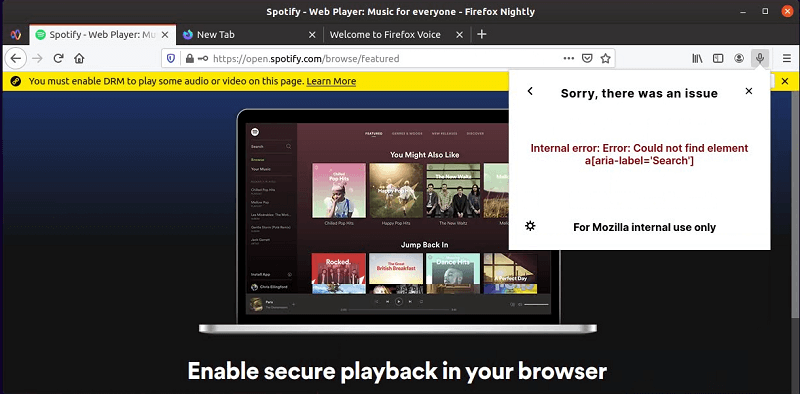 For Microsoft Edge Users:
Before doing so, please check your Edge version, as N editions of Windows 10 require a Media Feature Pack to enable the web player.
Step 1. Go to the Microsoft download center.
Step 2. Select your language and click the "Download" button.
Step 3. Choose your platform and click "Next".
If your problem is still unresolved, you can check for more details and a full installation guide on Microsoft's download center.
Clear Cache and Cookies
As mentioned before, when your web browsers have stored many caches and cookies, they will get corrupted so that making many websites fail to work properly while opening them. So trying cleaning cache and cookies can also be a good way to make everything work well again, including the Spotify Web Player not working problem. Just follow the guide here to clean up browser cache or cookies in the browsers supporting running Spotify Web Player.
Chrome: Open "Menu" and select "More tools" to find the "Clear browsing data…" option. After opening the window, select the date range and also the cache as well as cookies to clean up immediately.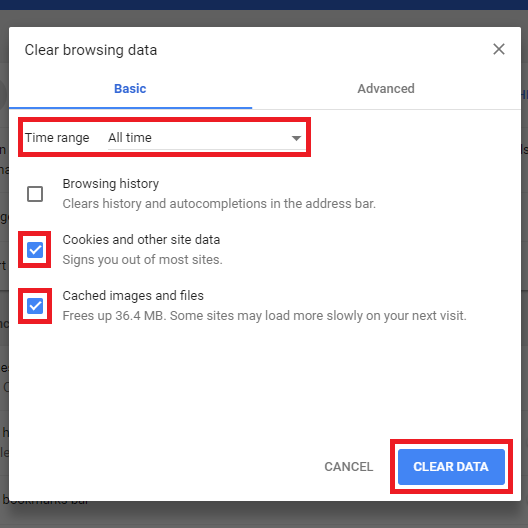 Firefox: In the browser, also open "Settings" under its "Menu". Then by going to "Privacy & Security", find "Cookies and Site Data" to select cache as well as cookies for clearing.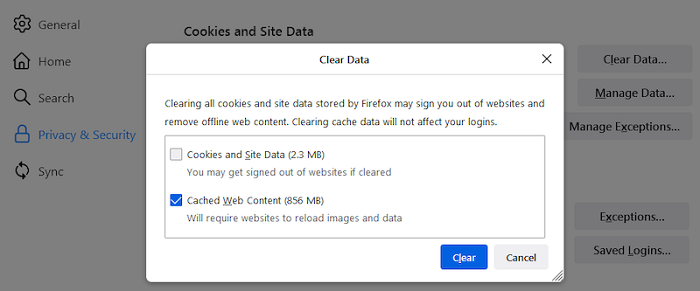 Edge: Open "Settings". When you find the "Clear browsing data" part, click "Choose what to clear" and select cleaning up cache as well as cookies.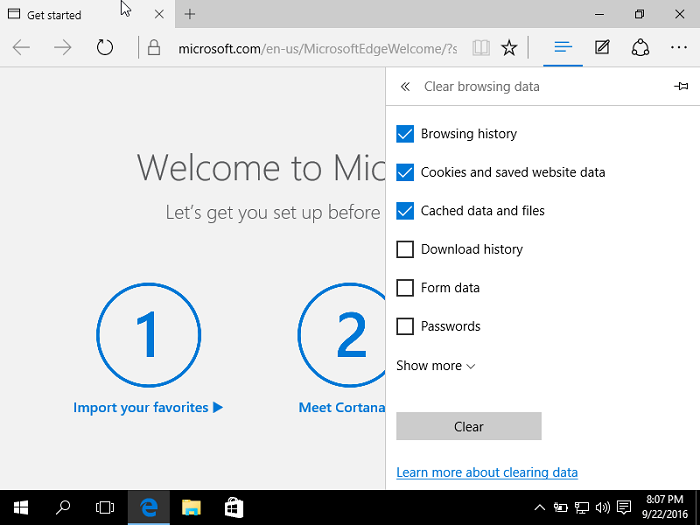 Safari: Select going to "Clear History…" in the Safari menu. Then open "Clear field" and choose "All History" to clear both cache and cookies up.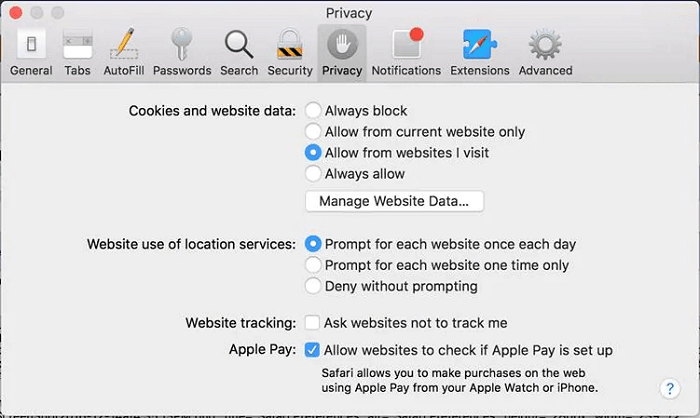 Disable Spotify Ad Blocker
For users who have installed Spotify Ad Blocker to remove the ads while playing Spotify songs in the web player, the extension may be the reason causing Spotify Web Player to fail to work for you. So you can fix it by disabling your browser's ad-blocker. You can first temporarily disable the extension to see if it works, then decide whether you need to continue using this extension.
The process is roughly the same on every browser, and the steps below will take Google Chrome as an example.
Step 1. Find the extension you are using in the top-right corner, right-click it, and select "Manage extension".
Step 2. Turn off the toggle to disable your ad-blocker extension. Then, you can close and restart the Browser to check if your problem has been solved.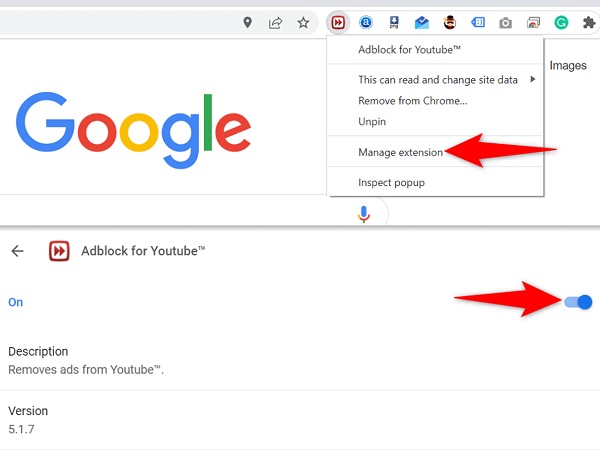 Update the Browser
When the Spotify Web Player can't well support your web browsers because the ones you are using are outdated, many bugs will appear, including the Spotify Web Player not working problem. So you can actually try updating the browser version if you find that you haven't done it for a long time, then it can directly fix the error and help the web player to run smoothly again. See how to check browser updates within it directly.
Chrome: Go to "Menu" and choose "Help". When opening the "About Google Chrome" option, there will be a " Checking for updates" to select updating the browser.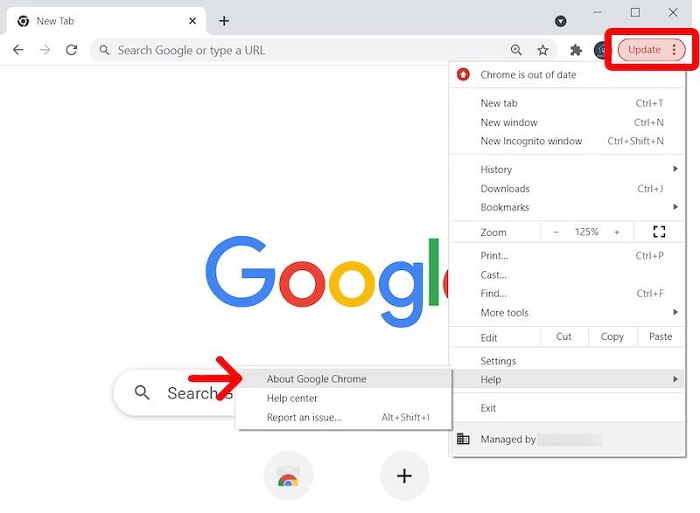 Firefox: In "Menu", click "Options" to scroll down the page and click "Check for updates" to complete the browser update directly.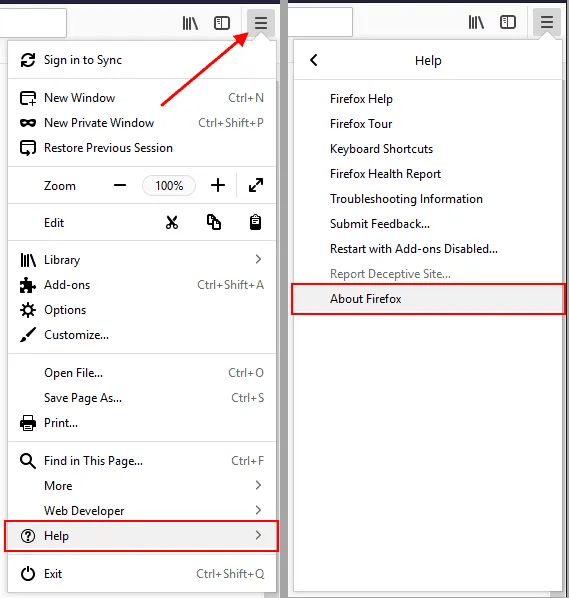 Edge: Click the top-right three-dots icon and select "Help and feedback". There will be the "About Microsoft Edge" option. Open the window and click "Checking for updates" to complete the update immediately.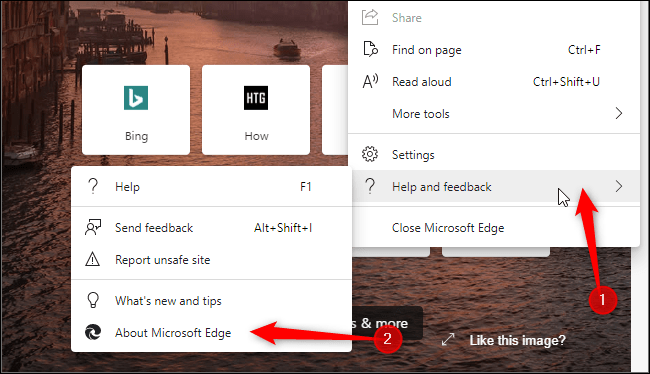 Safari: Click on the Apple icon and open the "App Store…". By switching to "Updates" and finding Safari from the list to complete updating it by clicking the "UPDATE" button.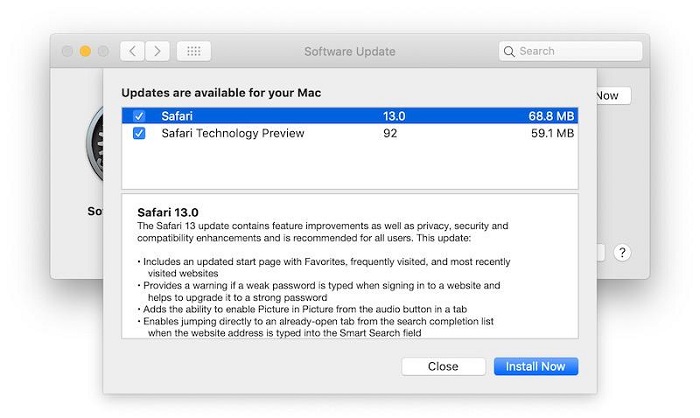 Reset and Clean Up the Browser
You have done some customized settings while using the browsers, but they are actually causing the performing issues for some sites, including the Spotify Web Player. But as you may not be conscious about what settings you have made are actually leading to Spotify Web Player not working, trying to reset and clean up the browser settings is the quickest way to solve the problem. So just follow the guide below to reset and clean browser settings now.
Chrome: Open browser "Settings" and scroll to the "Reser and clean up" section. Open it to choose the option to "Restore settings to their original defaults".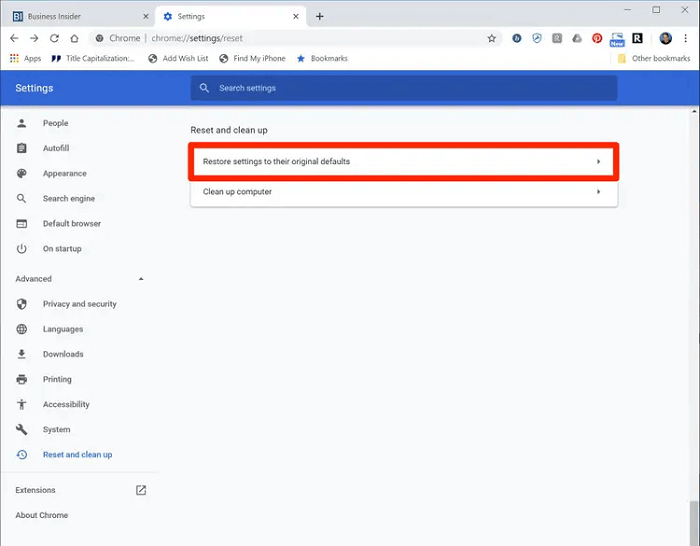 Firefox: After clicking the menu icon provided in the top-right corner, select "Help" and then "More troubleshooting information". Click "Refresh Firefox" and then all browser settings will be reset.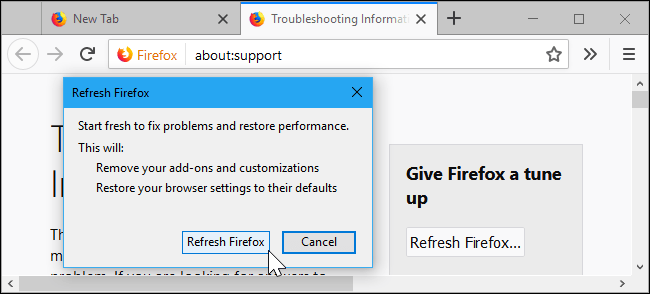 Safari: For Safari, simply go to "Preferences" and switch to "Privacy". Click the "Manage Website Data…" and simply select "Remove All" data, and the browser settings will all be reset and refreshed now.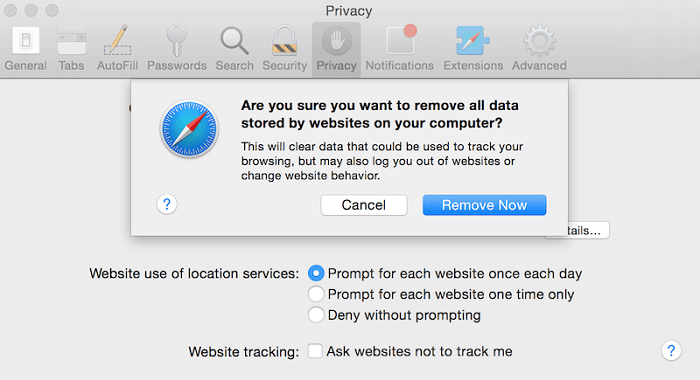 Use a Different Browser
When you have cleared all extensions from the browser you are using, or have updated and reset the settings, but Spotify Web Player still fails to work for you, under such conditions, trying using a different browser that is supported by Spotify Web Player can be the direct method to solve the problem. In most cases, using a different browser can make Spotify Web Player work properly again on your devices. But just pay attention to selecting and installing the browsers that are recommended on the Spotify Web Player supported list (with the right versions installed as well).
Flush the DNS Cache
As Spotify Web Player is actually an online service, the Internet connection can actually be an important reason causing the Spotify Web Player not working error. As a result, you can try flushing the DNS and resetting the Internet connection to help fix the problem.
On Windows:
Step 1. Click the Windows logo and select "Admin" or "Command Prompt". If a pop-up window asks you to allow making changes to the computer, select "Yes" and continue.
Step 2. Try the following commands separately. You need to remember to press the "Enter" key after pasting each of them:
Type "ipconfig /flushdns" and press Enter.
Type "ipconfig /registerdns" and press Enter.
Type "ipconfig /release" and press Enter.
Type "ipconfig /renew" and press Enter.
Type "netsh winsock reset" and press Enter.
Step 3. Finally, restart the computer. Now your DNS is refreshed and the Internet is well connected again.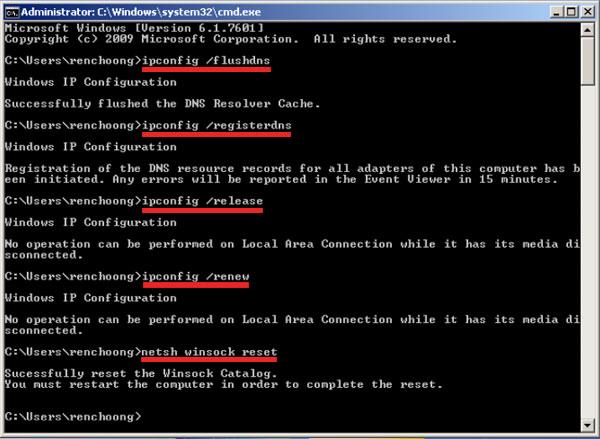 On Mac
Step 1. Before getting started, you need to close all the browser windows you have opened.
Step 2. Now go to "Applications" and switch to "Utilities" to open "Terminal".
Step 3. Then simply enter the correct commands based on the system your Mac is running:
OS X 10.10 (Yosemite): sudo discoveryutil mdnsflushcache
OS X 10.7 - 10.9 (Mavericks, Mountain Lion, and Lion): sudo killall -HUP mDNSResponder
OS X 10.6 and older: sudo dscacheutil -flushcache
Step 4. By passing the "Enter" key , the DNS will be refreshed.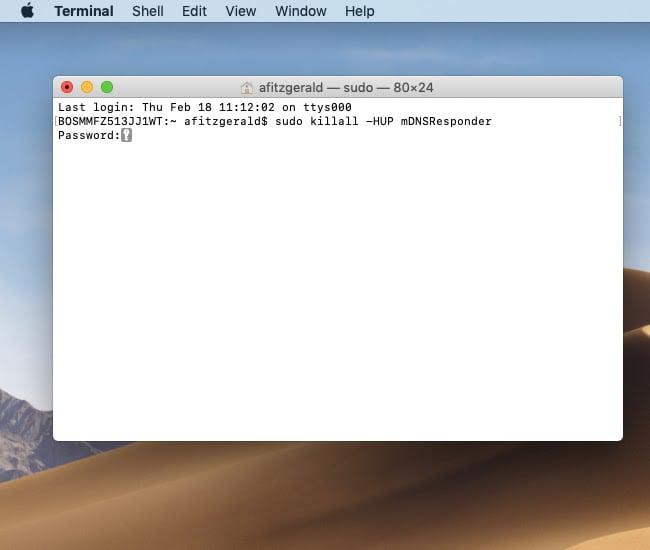 Install Media Feature pack
This method is provided only for Windows 10 N edition users. This N edition of Windows 10 run much the same way as other Windows 10 versions except lacking some of the media functions and Apps that come preloaded in mainline Windows 10 releases, like Skype, Video, Music, and Voice Recorder.
Back to our topic. The N edition also doesn't support the media playback features that Spotify Web Player needs to run in a browser. But luckily, it's not hard to install the Media feature pack, which will get Spotify Web Player running in browsers. Click to install the Media Feature Pack for N editions of Windows 10. When finish installing, please restart the browser and the Spotify web player should work the next time around.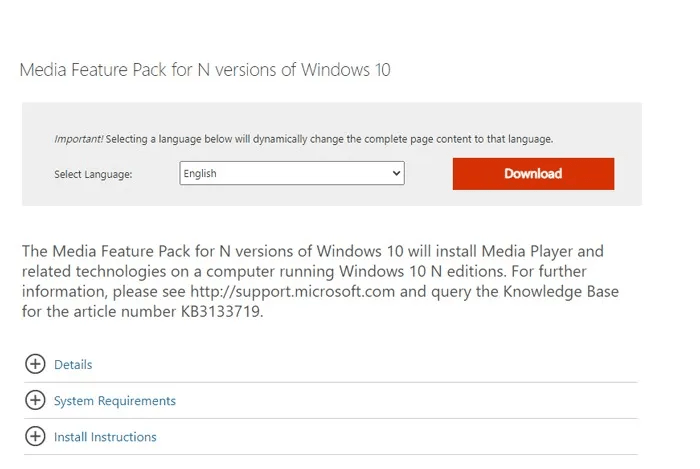 Part 3: Best Way to Use Spotify Web Player and Even Download Songs on It
Actually, when you are facing the Spotify Web Player not working issue and don't know how to get started fixing the error, it would be a quick and efficient way for you to try another powerful third-party program to help you enjoy the same or even better service as Spotify Web Player without the above worries. This software is also considered to be one of the best Spotify to MP3 converters - TuneFab Spotify Music Converter.
TuneFab Spotify Music Converter also embeds the official Spotify Web Player in the software, letting every user access the music resources and gain the advanced services without subscribing to Premium, like songs skipping, high-quality online listening, etc. In addition, the software also allows you to download Spotify music into the mainstream audio format, which can be played on any player or device, so you don't have to worry about Spotify Web Player not working issues anymore.
Key Features:
● Builds in the official Spotify Web Player to listen to Spotify content even without Premium.
● Directly convert Spotify songs to MP3, M4A, WAV, and FLAC for free offline playback.
● Keeps the best quality while saving all the ID3 and metadata info for each downloaded Spotify song.
● Provides up to 5X faster speed to batch download all Spotify songs/albums/playlists.
Now, you will see how TuneFab Spotify Music Converter works to download Spotify songs from Spotify Web Player within very easy steps.
Step 1. Open TuneFab Spotify Music Converter after installing it. When you click the "Open the Spotify web player" and open the in-built player, click the "LOG IN" button in the top-right corner to sign in.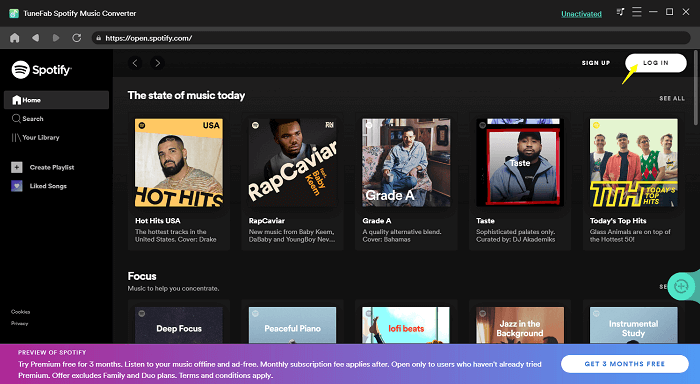 Step 2. Once logged in, you'll be presented with the full Spotify Web Player home page. You can search for songs to listen to online, as usual, and select any playback mode in the song toolbar below.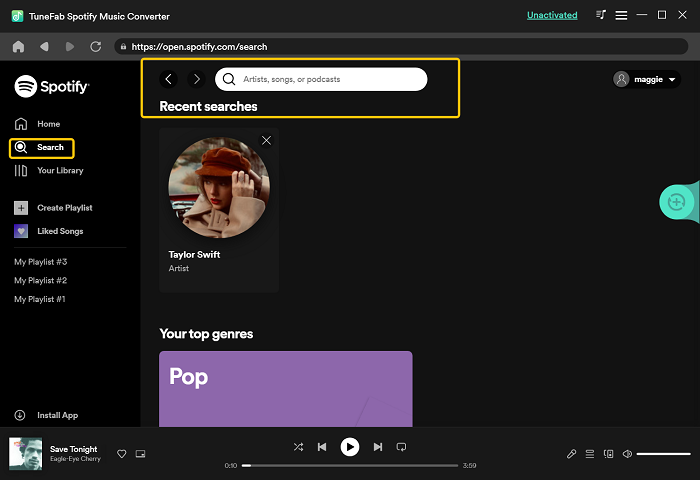 Step 3. After signing in Spotify Web Player, you can directly find the playlists to download and drag them to the "+" button.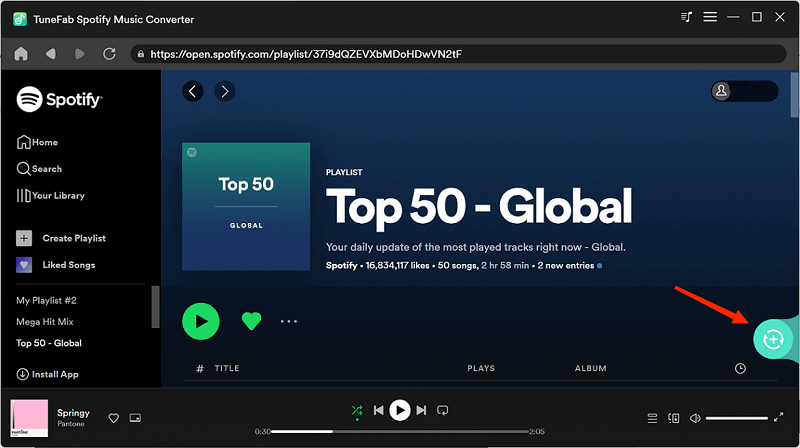 Step 4. Now, choose an output format from "Convert all files to" for converting the songs. Or you can open "Preferences" to further change the "SampleRate" or "Bitrate" to select the quality you need freely.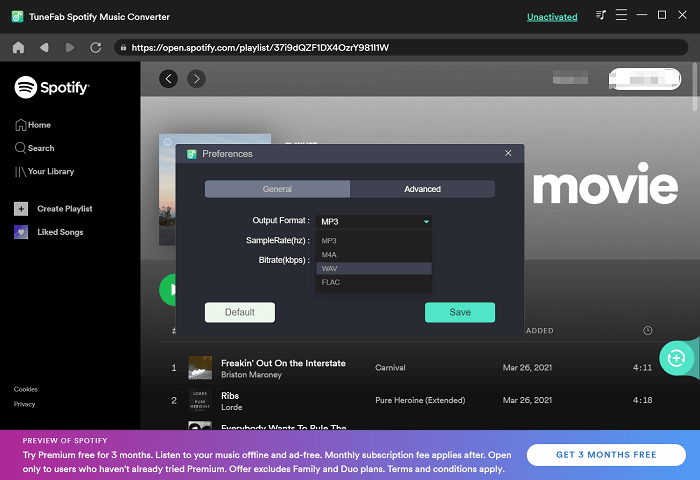 Step 5. Finally, simply press the "Download" button and all the selected Spotify songs will be downloaded offline immediately. After getting them, you can play them offline without using Spotify Web Player anymore.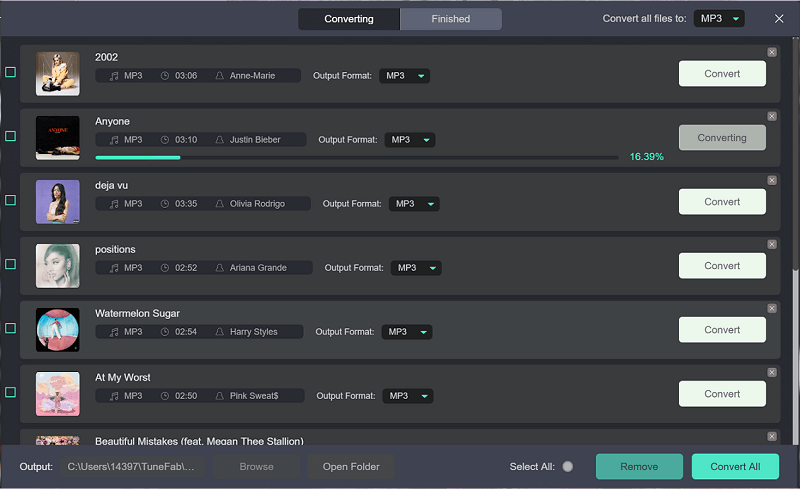 FAQs About Spotify Web Player Not Working
Q1: Why Does Spotify Web Player Stop Playing After 10 Seconds?
When you listen to songs online using Spotify Web Player normally, sometimes the song will suddenly stop playing on its own after 10 seconds. This situation is relatively common, and there are many reasons why this can happen, such as membership expiration, Internet connection failure, browser failure, etc.
At this time, you can first click on your avatar to view the account information and confirm that you are logged in with an available membership subscription. You can then go back to the "10 Ways to Fix Spotify Web Player Not Working" section to find out why and fix the problem.
Tips: If you feel that the process of using Spotify Web Player always has such annoying problems, you can consider switching to a more stable and more powerful software, such as TuneFab Spotify Music Converter, to bring you a better experience without worries.
Q2: Why Is Spotify Web Player Randomly Pausing?
In general, if you're playing a Spotify song using Spotify Web Player and it suddenly randomly pauses, it's likely that your account is logged into more than one device at the same time, causing Spotify to force one of the devices in use offline. Or, it may be that your computer has too many apps running in the background or the browser has too much web cache, causing the computer to be overloaded, and some apps automatically stop running.
If you encounter a similar problem, you can first check if your account is logged in on another device. If yes, log out. You can then close any app or Web page on your computer other than Spotify Web Player to keep it running smoothly. If the problem is still not resolved, you can visit Spotify's Official Support Center for more help.
Conclusion
The Spotify Web Player not working error can be a problem if you rely on it to enjoy music playback frequently. But as here are 10 updated ways and also an extra method (using TuneFab Spotify Music Converter) to save all songs for playing without using Spotify Web Player, you can easily get over the problem and continue enjoying Spotify Music streaming enjoyably. So when you are in need as Spotify Web Player not works for you, turn to this article and fix it easily!
TuneFab Spotify Music Converter
Batch convert Spotify to MP3 320kbps in lossless quality
Was this information helpful?
TrustScore 2.5 | 22