RealPlayer, formerly known as RealAudio Player, RealOne Player, and RealPlayer G2, is a cross- platform media player app which is developed by RealNetworks. Platforms including Windows, macOS, Linux, Android, Symbian, Palm support to install RealPlayer. That is why this media player becomes popular among users. It is available for you to play most of the online or local videos. With RealPlayer Plus 16, you can even convert, trim, transfer high-quality videos.
However, iTunes M4V movies are exceptions because they are encrypted with DRM. Therefore, they can't be played on RealPlayer directly. Then, what formats does RealPlayer support? Is there a solution to watch iTunes movies on RealPlayer? This article may help you out.
CONTENTS
Part 1. Compatible Media Formats of RealPlayer
Though RealPlayer is mainly used to play videos of the format of FLV, MOV, etc, numerous formats are supported by this program. A list below can help you know the details of its supported formats.
1. RealMedia Formats
RealAudio (*.ra, *.rm), RealVideo (*.rv, *.rm, *.rmvb), RealPix (*.rp), RealText (*.rt), RealMedia Shortcut (*.ram, *.rmm)
2. Video
DVD (*.vob), Video CD (*.dat), MPEG Video (*.mpg, *.mpeg, *.m2v, *.mpe etc.), AVI (*.avi, *.divx), MJPEG video playback from .avi files, Windows Media (*.wma, *.wmv etc.) (requires Windows Media Player 9/10), QuickTime (*.mov, *.qt) (QuickTime Player must be installed), Adobe Systems Flash (*.swf) (Flash or Shockwave Player must be installed), Flash Video (*.flv)
3. Audio
MP3 (*.mp3, *.mp2, *.mp2, *.m3u), CD Audio (*.cda), WAV (*.wav), AAC/aacPlus v1 (*.aac, *.m4a, *.m4b, *.mp4, *.acp, *.m4p), Apple Lossless, AIFF (*.aif, *.aiff), AU Audio Files (*.au), Panasonic AAC (*.acp)
4. Streaming
RealTime Streaming Protocol (rtsp://), Progressive Networks Streaming Protocols (pna://, pnm://), Microsoft Windows Media Streaming Protocol (mms://),[citation needed] Real Scalable Multicast (*.sdp), Synchronized Multimedia Integration Language (*.smil, *.smi)
5. Graphics
Bitmap (*.bmp), GIF Images (*.gif), JPEG Images (*.jpeg, *.jpg), PNG (*.png)
Part 2. Best Solution to Watch iTunes M4V Movies on RealPlayer
Obviously, M4V is not included in the compatible media formats of RealPlayer, but you can find that the file extension name ".mp4" is on the list. MP4 is the primary format that most people are choosing for exporting. As a result, you can convert M4V to MP4 for playing on RealPlayer. To finish this work, a converter is absolutely necessary. Here, TuneFab M4V Converter is highly recommended. It is a reliable assistant for you to play M4V in VLC or RealPlayer without difficulty.
It has great features that you must not miss:
1. Unprotect iTunes movies, TV shows, music videos by removing DRM without quality loss.
2. Convert iTunes videos to DRM-free MP4 videos to be accepted by multiple devices.
3. Video content including subtitle and audio track can be kept in the converted video.
4. Batch convert M4V to MP4 effortlessly with several clicks.
5. Play M4V on Windows Media Player without limitation.
Step 1. Upload iTunes Movies to the Converter
To begin with, make sure the converter has been installed on your computer and it can be opened normally. Then, find the button "Add Files", click it to choose the movie that you want to enjoy on RealPlayer. If you have a bunch of movies to convert, you are allowed to choose several movies at the same time.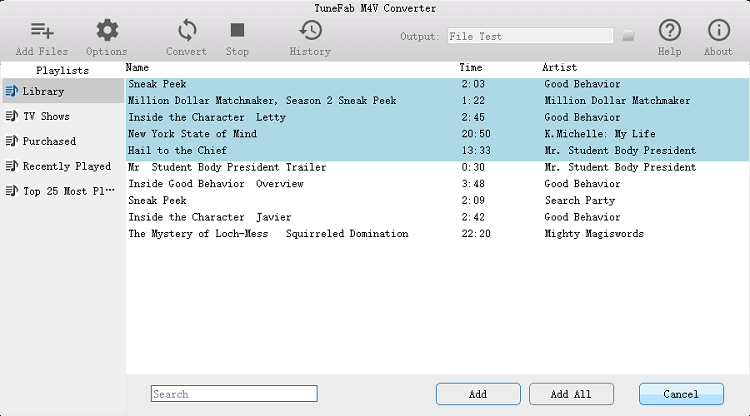 Step 2. Reset Output Folder
For conveniently getting access to the movies, you can reset the output folder by clicking "Options", designate a path to save the converted movies.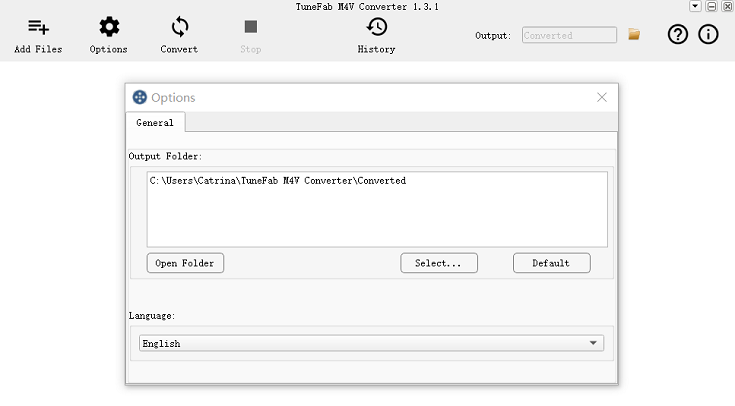 Step 3. Preserve the Subtitle and Audio Track
If you won't miss all the subtitles and audio tracks of the movies, click the settings button to make sure that all of them are selected.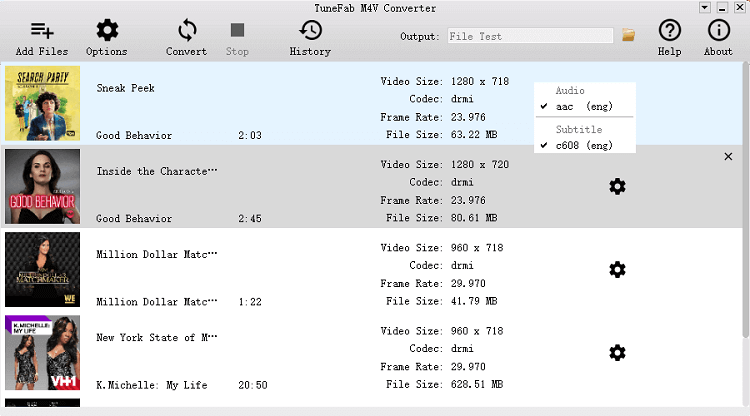 Step 4. Start Finishing the Conversion
Make a single click on the button "Convert", the converter will start converting iTunes movies.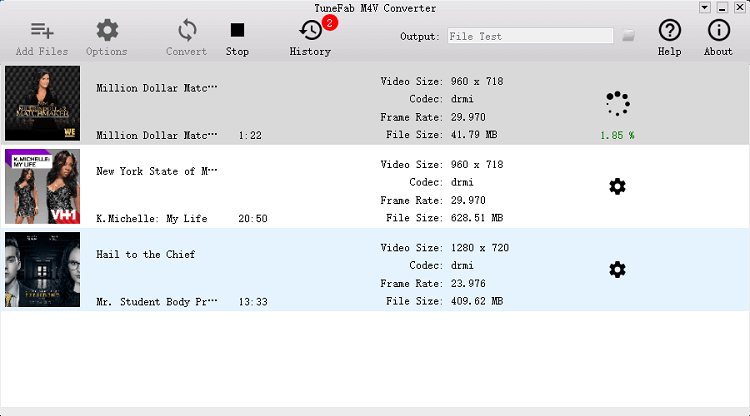 Now, you are free to add the converted movies to the playlist of RealPlayer for playback. If you want to get a different experience when enjoying iTunes movies on RealPlayer, you can make use of it to edit movies. For example, you can trim movie by right-clicking the movie and choose "Edit > Trim". Or right-click the movie, select "Share" and follow the screen wizard to share to Facebook, YouTube, email, and etc.
With the help of TuneFab M4V Converter, you can use RealPlayer to open iTunes movies successfully and enjoy anytime. If you want to watch iTunes TV shows on RealPlayer, you can do the same work with TuneFab M4V Converter.
Was this information helpful?
TrustScore 5 | 49