If you are a music lover, you must be familiar with iTunes and Apple Music. For both platforms, the M4P audio format is commonly used for their downloaded music. Therefore, you may want to know more information about M4P, such as its compatible devices. Or, you may wonder how to open it quickly and convert it to MP3 for flexible playback on more devices. This article will explain M4P in detail and offer you step-to-step guides on converting operations. Let's dive in!
CONTENTS
What is M4P
M4P is an audio format introduced by Apple and is generally applied to iTunes-purchased songs. Actually, it is an AAC (Advanced Audio Coding) file that's copy-protected using DRM technology created by Apple. To be specific, this DRM technology is called FairPlay for limiting the playback of M4P files. M4P files can only be played on authorized devices with the same iTunes account buying music. This means that if you want to play M4P files on other devices, you may need to convert them to formats like M4A.
M4P is a format with DRM protection, while M4A is an audio extension for unprotected AAC files. Since 2019, iTunes Music Store replaces the M4P format with M4A while Apple Music uses M4P as an output format all the time. Though this format produces better audio quality, it is not compatible with popular devices like Android phones and MP3 players. Therefore, converting M4P files to MP3 is also necessary.
How to Open and Play M4P Files
The devices that support M4P format mainly include iOS devices such as iPhone, iPad, iPod touch, Mac computers, Apple TV, and HomePod. To open and play your M4P files, you can resort to Apple's iTunes.
However, the computer with your iTunes on should be authorized to play the file. This can be done by logging into iTunes with the same Apple ID that was used to download the M4P files. It should be noted that you can authorize up to five computers to use the same iTunes account.
How to Convert M4P to MP3 to Play on Any Device
As mentioned above, M4P files are protected MPEG-4 audio files that are encrypted with Apple's FairPlay DRM technology. It can not be opened and played on unauthorized or non-iOS devices.
Therefore, if you want to enjoy M4P music on other devices, you should remove the DRM restriction and convert them to common formats. MP3 is the most compatible one that can be played on any device and media player.
To convert M4P to MP3, you need the help of a professional tool. We recommend you try TuneFab Apple Music Converter, which is designed to download and convert Apple Music to MP3, M4A, FLAC, and other formats. With this tool, you can also convert your M4P files to MP3 easily and enjoy high-quality music on any device. For enhancing user experience, it also offers everyone a 30-day trial and you can convert the first three minutes of your songs without quantity limit.
Here are Key Features of TuneFab Apple Music Converter.
● Remove DRM encryption for flexible playback on any device
With TuneFab Apple Music Converter, you can unlock DRM of M4P files without hassle. After converting to MP3, you can transfer music to devices such as MP3 players.
● Guarantee flexible output settings
It offers you a range of output formats for no-limit playback, including MP3, M4A, WAV, FLAC, and MP4 (for video). Plus, TuneFab allows customization of audio/video quality to fulfill your needs at best.
● Improve efficiency in conversion and downloading
To enhance efficiency, its conversion speed can be maintained at 6X faster at least. Batch conversion is also supported to save time.
● Keep original ID3 information
TuneFab will keep the ID3 information along with your downloads to conveniently manage your song collection.
The user interface is very clear and the converting process can be operated with simple clicks. The following step-to-step guide will teach you how to convert M4P files to MP3 files and download them to your computers with TuneFab Apple Music Converter.
STEP 1: Get your TuneFab Apple Music Converter ready
TuneFab Apple Music Converter can be downloaded to Windows and Mac computers. You can easily click the button and install it. After that, please launch the program and sign in to your Apple account in the built-in web player.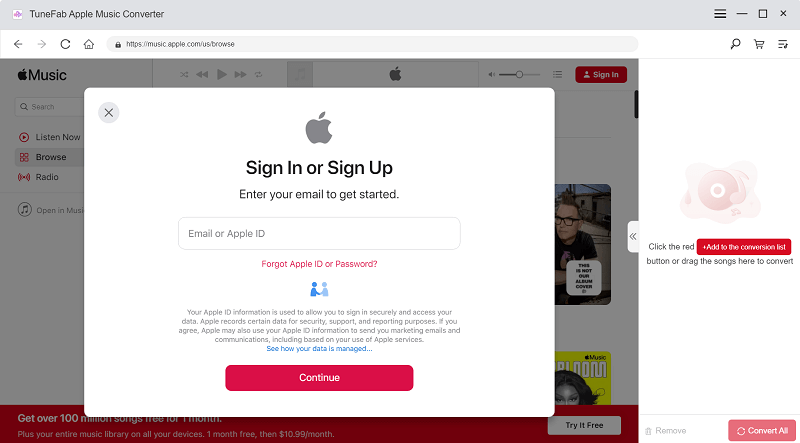 STEP 2: Browse Apple music libraries and select desired songs
Now, you can browse your music library to select songs or just go to playlists that you want to download. Then, please click on the red "+" icon on the right side to import desired songs or directly drag them to the "+" icon. TuneFab will list the selected songs for you.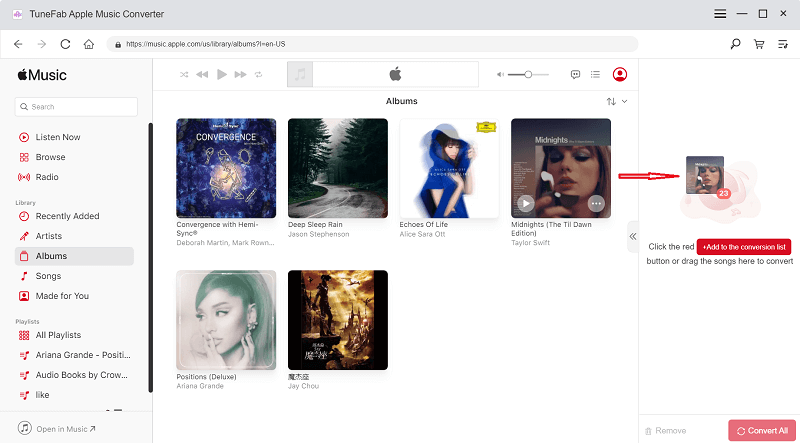 STEP 3: Customize output settings for downloading
After selection, you need to choose the output format as MP3 and decide the destination folder for your songs. Once the settings are done, just click the Convert All button in the lower-right corner to start downloading.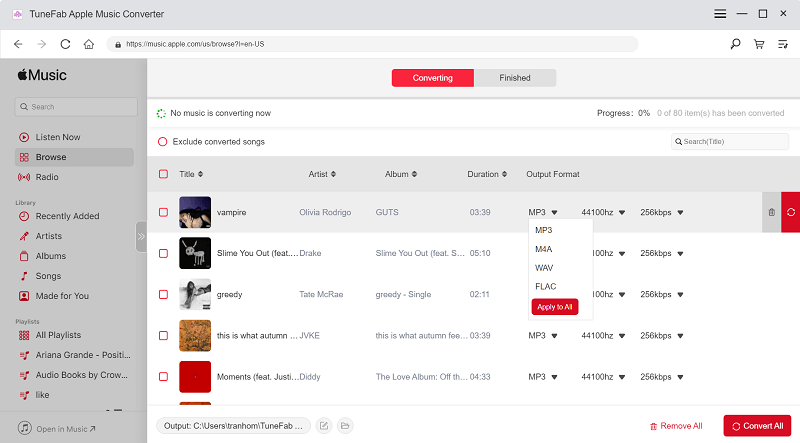 STEP 4: Review your converted audio files
After done, by clicking the View Output File button on the Finished interface, you can locate your converted music and stream them to USB or other devices for offline playback.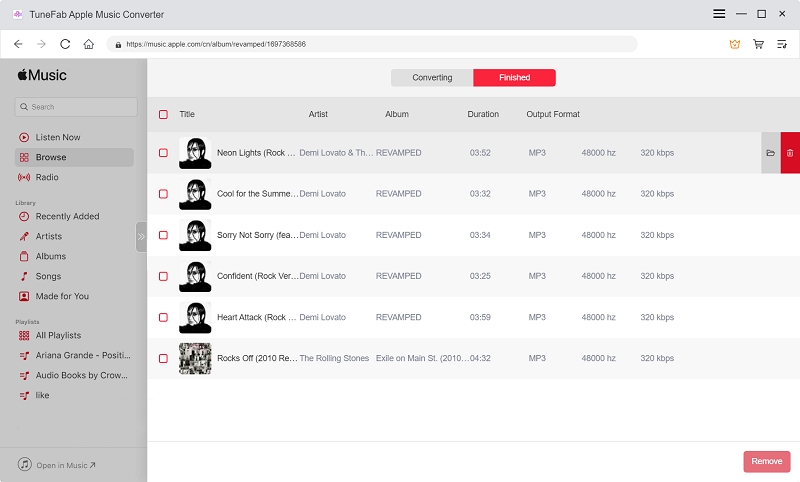 Tips: How to Authorize Computers on iTunes or Apple Music?
If you want to know how to authorize computers on iTunes or Apple Music, here are simple steps you can take on Mac/Windows computers to finish authorization.
On Mac
STEP 1. Open the Apple Music or iTunes app on your Mac computer and click Account at the top of your screen. Then, click on Sign In.

STEP 2. Enter your Apple ID and Password in the pop-up window and click Sign In. You may press Forgot Apple ID or Password If you don't know your Apple ID or password.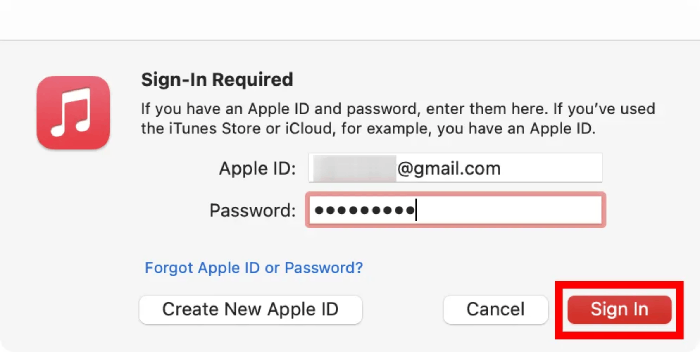 STEP 3. Tap Account again. Then, hover the mouse over Authorizations and choose Authorize This Computer.

On Windows
STEP 1. Open the iTunes app on your Windows computer and click Account at the top of the iTunes window. Then, click on Sign In.

STEP 2. Enter your Apple ID and Password and tap Sign In.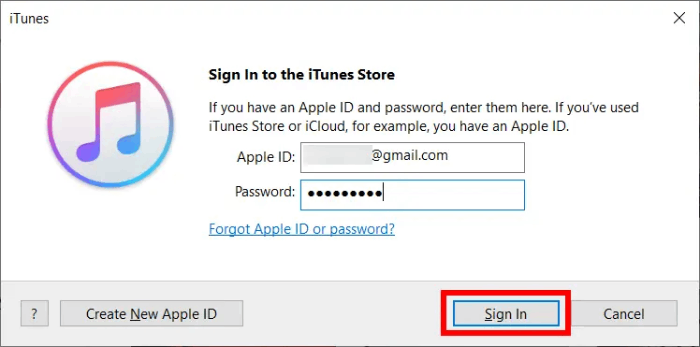 STEP 3. Tap Account again. Then, hover the mouse over Authorizations and click Authorize This Computer.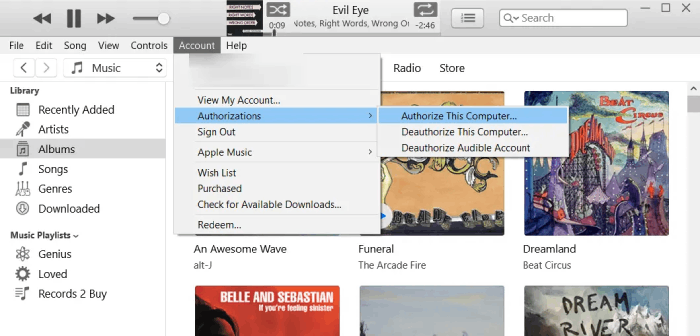 FAQs About What is .M4P
How to Play .M4P Files on Android?
To play M4P files on Android, you can install the Apple Music app which allows you to open and play its M4P files. However, the iTunes app is not supported by Android devices. This means that you can not play iTunes M4P files or transfer the M4P music purchased from iTunes to non-iOS devices for playback.
Hence, to enjoy music more freely on all devices and media players, you'd better convert iTunes M4P files to mainstream format using a third-party tool.
How to .Play M4P Files Without iTunes?
Apart from iTunes, Quicktime Player is also able to open and play M4P files. With Quicktime Player, you can play them on your iPhone or iPad. But if you are not using iOS devices, we still recommend you try TuneFab Apple Music Converter to convert your M4P files to MP3 and transfer them to other devices.
Conclusion
In this article, we have shown what an M4P file is and how to open it with iTunes. We hope this article can help you know more about M4P files and how to deal with them. Considering fulfilling your needs to play music in M4P format on non-ios devices and MP3 media players, we also introduce you to a professional tool, TuneFab Apple Music Converter, which can help you convert M4P files from Apple Music to MP3 easily and efficiently.
Besides, it provides multiple format options, preserves your original music quality, and guarantees high conversion speed. It is worth a shot!
Was this information helpful?
TrustScore 3.4 | 17