"I have about 1000 songs in my iTunes library, some of them are formatted as .m4p while the others are in .m4a format. Those M4P songs are DRM-protected tracks that I bought prior to mid-2009. Is it possible to get M4P files unprotected or directly convert M4P to M4A?"
You might have alreday downloaded some free/trial M4P to M4A converters to convert protected M4P tracks but still got no feasible solution.
This is because M4P is a DRM-protected format, which prevents you from having full access to these files. To convert M4P to M4A, you will need a professional M4P DRM Removal tool to get rid of FairPlay DRM protection. After that, you can easily turn protected MPEG-4 audio to other unprotected audio formats including M4A, MP3, FLAC, AAC, etc.
This tutorial will introduce the most recommended method to convert protected M4P to M4A. Just read it up!
CONTENTS
Part 1. What You'll Need
Before you start converting M4P to M4A, please prepare the following things on your computer.
#1. TuneFab Apple Music Converter
It's been mentioned that M4P is an iTunes Audio file which is copy-protected using a FairPlay DRM technology created by Apple, while M4A is the file extension for unprotected AAC file. The best and most secure way to convert protected M4P to M4A is by using a professional M4P converter like TuneFab Apple Music Converter.
TuneFab Apple Music Converter is specialized in removing DRM from all protected M4P tracks including songs you purchased from iTunes before 2009 as well as the Apple Music tracks. It can convert M4P to different DRM-free audio formats such as M4A, MP3, AAC, FLAC, AIFF, etc. It is available for both Windows and macOS. You can download the free trial version of this program directly form the buttons below.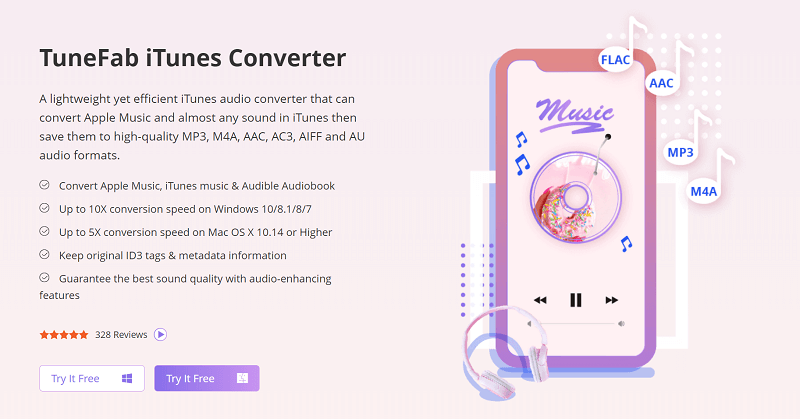 #2. iTunes and Your Playable M4P Songs
You need to download and install iTunes on your computer, and the latest version of iTunes is highly recommended. Last but not least, please make sure that the M4P songs stored in your iTunes library are playable. If the songs are not available in iTunes, you might not be able to convert them to M4A with TuneFab Apple Music Converter.
Once you have the above tools installed, you can start converting M4P to M4A by following the steps below.
Tips: You can download the DRM-free version of M4P songs via an iTunes Match subscription. Before you upgrade your music to iTunes Plus format, please make sure that the same album or song is available in the iTunes Store.
Part 2. Convert Protected M4P to DRM-free M4A in 3 Steps
Step 1. Add M4P Songs to TuneFab Apple Music Converter
Open TuneFab Apple Music Converter on your PC/Mac. And iTunes will be automatically launched. You may notice, that all iTunes playlists will display on the main interface of TuneFab Apple Music Converter.
You can select a playlist from the left column and preview the songs from that playlist. For example, if you want to convert M4P songs, please: Go to main screen > "Playlists" > select "Library" or "Music".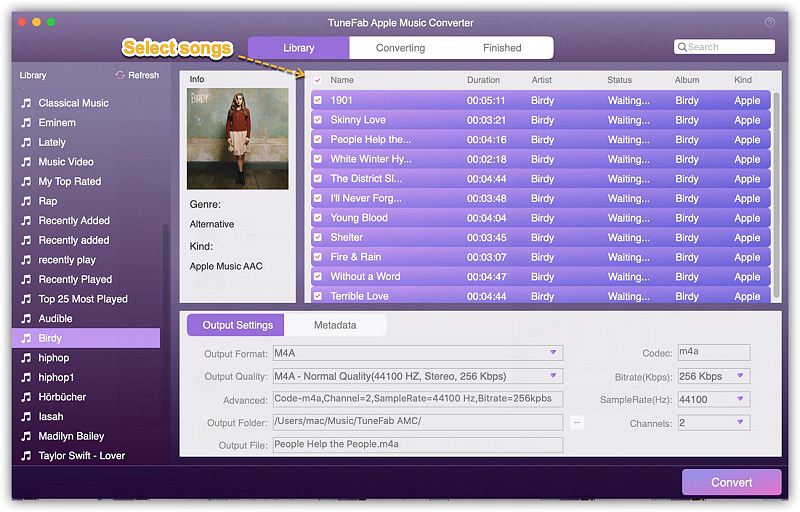 Step 2. Select M4A as Output Format
Go to "Output Settings" on the main interface and click at the drop-down menu button of the "Output Format" section. You will find M4A format from there. Select "M4A - MPEG 4 Audio" from the drop-down list.
When the quality settings are all set, you can choose an output folder to save the converted M4A songs. Go to "Output Settings" > "Output Folder" to select the output path.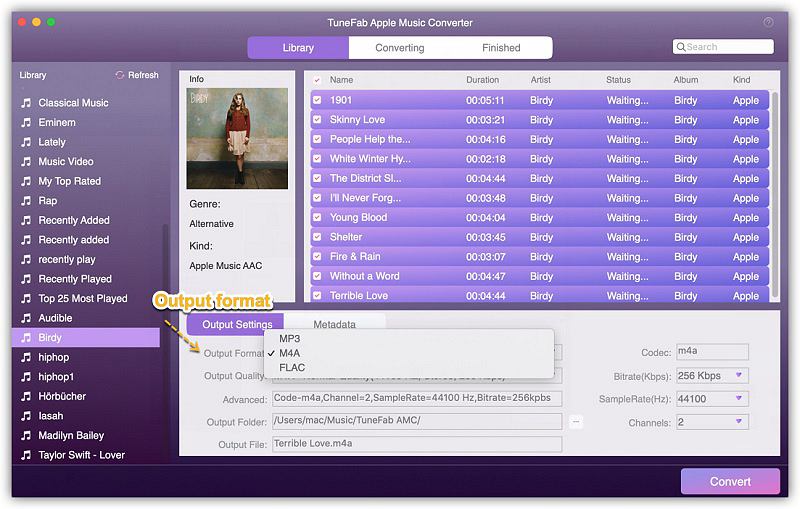 Tips: To preserve the better output audio quality, It is highly recommended that you use the following settings:
* Codec: m4a
* Bit Rate: 256 Kbps (the original bitrate of Apple Music track)
* Sample Rate: 44,100 Hz
* Channel: 2
Step 3. Start the M4P to M4A Conversion
Now you are all set, you can start converting M4P music to M4A simply click at the "Convert" button on the main interface. All songs you added previously will be converted one by one.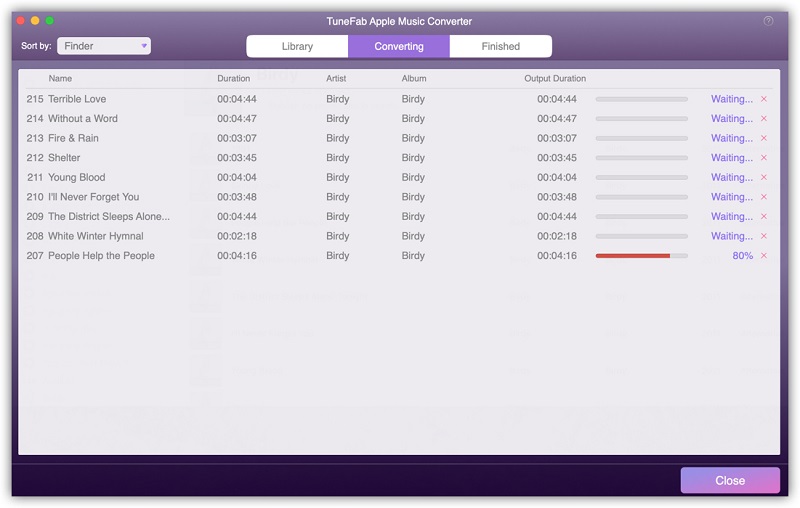 Note: To make sure that the software can successfully convert M4P to M4A with no error, you'd better clear your iTunes playing history before converting:
* Go to iTunes's main interface and click at the playlist icon on the top of the menu bar.
* Clear the history of the "Up Next" & "History" section.
Explore More: M4P vs M4A vs AAC - What's the Difference?
Simply put, M4P and M4A are both Apple iTunes Audio files that are encoded by Advanced Audio Coding (AAC).
M4P file is regarded as a DRM-protected AAC file. You can find the M4P files from Apple Music downloads and songs purchased from iTunes Store before April 2009. The protected M4P files are playable on authorized iOS device and PC only. If you want to play M4P on common media players like VLC, then you must remove DRM from M4P first.
M4A, however, is an audio extension for unprotected AAC file. Currently the songs you purchased and downloaded from iTunes Store are in M4A format.
Part 3. Is it Possible to Convert M4P to M4A Online Directly?
TuneFab Apple Music Converter does help you convert M4P to M4A, but you may also think of completing the M4P conversion online, which is convenient for it needs no software to be downloaded. Then you can try out this free online converter instead.
FreeConvert is a web-based program with secure technology ensuring the service. The following part will offer detailed procedures for utilizing FreeConvert to convert M4P to M4A.
Step 1: Start a tab and visit FreeConvert M4P to M4A Converter in a browser.
Step 2: Drag and drop the M4P files to the converter. It can manage up to 1GB of audio files at once.
Step 3: The provided Advanced Settings lets users adjust the parameters manually. Do it as you like.
Step 4: Start to convert M4P to M4A by clicking on the Convert to M4A button.
Step 5: When the converted M4A files are ready, click Download to save the zip package offline.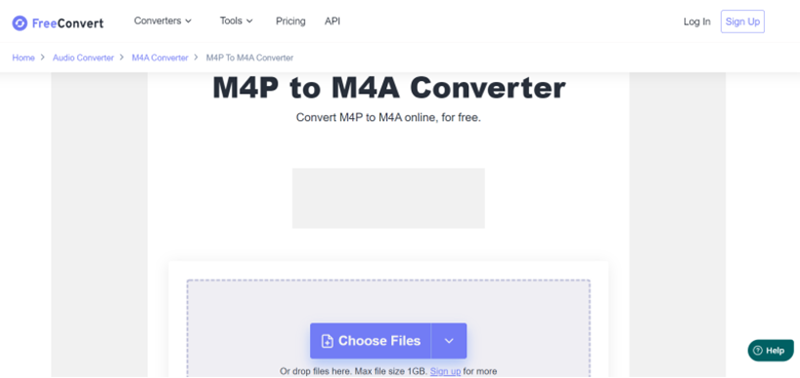 Conclusion
All songs you downloaded from Apple Music will always be saved as protected M4P files. And if you want to get unprotected copies of all your Apple Music songs, using TuneFab Apple Music Converter is highly suggested. It's easy to handle, and the conversion is simple, too. After converting M4P to M4A or MP3, you can transfer the songs to any device you like or you can burn your iTunes songs or Apple Music to CD once the DRM is removed.
Just try it now and fully leverage your previously purchased iTunes Songs!