Released on 23rd January 2018 and developed by Apple Inc, the white, space grey, and round smart speaker HomePod has been popular among 3 countries: the United Kindom, the United States, and Australia. Running with the AudioOS system and powered by Apple's Siri voice assistant, the HomePod is appealing for Apple users who want to have a surround sound music experience as well as user-friendly services.
And here's a problem. How do you get your music, what I am meaning, your Apple Music playing through HomePod? If you are curious about how to play Apple Music on Homepod, take your time reading the following information, and trust me, you won't regret it!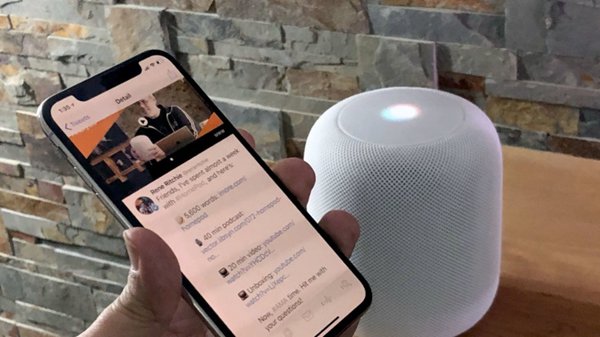 CONTENTS
Part 1. Introduction to HomePod
As stated before, the HomePod is the sounding smart speaker developed by Apple Inc., with Apple's proprietary AudioOS system and Siri integrated. All the detailed information will be divided into several parts, and without further ado, we will provide a holistic picture of this great speaker in the following.
Memory & Storage: HomePod carries 1 GB LPDDR3 RAM memory with the storage of 16 GB, whilst Amazon Echo 256MB LPDDR1 RAM memory 4 GB storage.
Accessible System: Apple users who are using iPhone 5s or later, iPad Pro, iPad 5th generation, iPad Air or later, iPad Mini 2 or later, iPod 6th generation with the iOS 11.2.5 or later system running can enjoy directly peer-to-peer when WiFi connected.
Facade: HomePod is designed with a piece of seamless mesh fabric that perfectly combines an aesthetic element and acoustic music experience in a cylindrical shape. What's more, with a touchscreen on the top, HomePod is easy and convenient for you to schedule playing your Apple Music.
Price: The prices vary from country to country. HomePod is sold at the price of US$349 in the United States, GB£319 in the United Kingdom, and AU$499 in Australia respectively.
Available Services: Speech control on playing music, texting message, voice calling, setting Timer, getting news about news, sport, weather, and traffic, chatting with Siri, and even controlling your room's lights.
UPDATE: Apple unveiled a smaller version of the HomePod smart speaker, the HomePod Mini, at the 2020 October iPhone event. The new model comes with a lower price at $99 (£99, AU$149), which is the same price as Google's new Nest speaker, but closer in dimensions to the Google Nest Mini.
The new HomePod Mini model will be available for order on November 6th, 2020, according to Apple, and it will start shipping the week of November 16th, 2020. If interested, you may gain more information from this article by the Verge.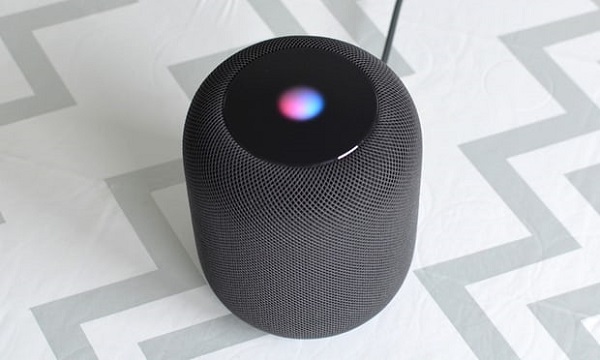 Note: All of these features are exclusively available for Apple users. In other words, Android users are out of luck if they want to play music with HomePod. In addition, Apple Music subscribers can enjoy the whole services that HomePod offers and users who are still in the 3 months free trial period. And those who don't subscribe to Apple Music will fail to enjoy HomePod services.
Thus, how does HomePod showing all the above amazing features for us? How to use HomePod to play Apple Music? Time to move to the next part with the settings and some detailed guidance about it.
Part 2. How Can I Listen to Apple Music via HomePod?
Set Your HomePod First
As you want to play music with HomePod, the first thing you should do is to set your HomePod first. Similar to setting your Apple TV, take a closer look at your HomePod and connect it to your iPhone and it won't spend you much time. The following are the whole steps to setting your HomePod.
# 1. Holding your iPhone near to your HomePod, a mini-windows will pop-up from the bottom of your iPhone.
# 2. Onto the small window, tap Set Up.
# 3. Select the place where you place your HomePod. If you want to one set your HomePod, HomeKit Room is your option.
# 4. Enable your Personal Requests, and this step will authorize Siri in reading your Messages, accessing your Reminders and Notes when your iOS devices are connected to the networks. This step is optional, but here I suggest enabling this feature which lets you get the utmost of your HomePod.
# 5. Tap the Agree button below the Terms and Conditions, which is the basic operation if you want to use any kind of service.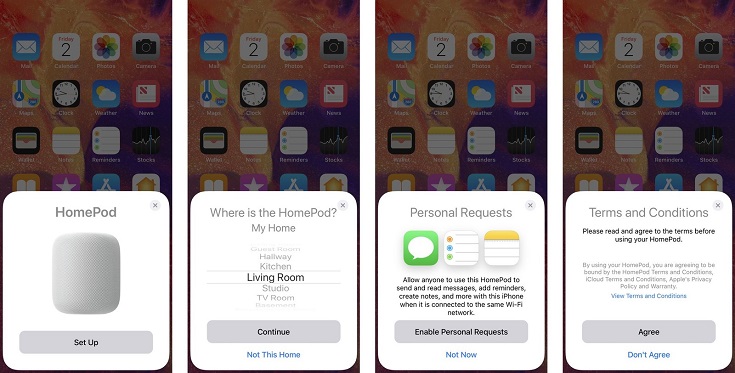 # 6. On the Accounts and Settings Page, tap Transfer Settings with the aim of using your iCloud account, Wi-Fi, and other settings on your iPhone to configure your HomePod.
# 7. Enter your Apple ID password to confirm your authorization.
# 8. Follow the statements that appeared via Siri. When it is over, you can get started to play music and enjoy other available services that HomePod and Siri bring to you.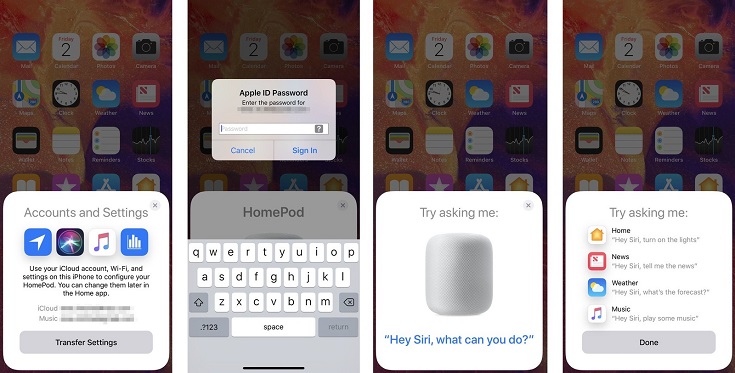 Play Apple Music on HomePod Using Siri
When setting up with your HomePod, perhaps you just can't wait but to enjoy the music first. There is some common knowledge about the operation of HomePod's touchscreen. Learn it first and this will improve your experience.
Different touch-taps have different meanings, and I will introduce the operations to you one by one.
One Tap: Play or Pause the song that you are hearing.
Double Tap: Play the next song or track.
Triple Tap: Go back to the previous track.
Touch and hold the top of HomePod: Activate Siri and then you can talk with Siri.
Tap or Hold Plus: Sound volume Up.
Tap or Hold Minus: Sound volume Down.
After knowing about some tips and tricks on operating your HomePod. It is time to know how to play Apple Music on HomePod now! Apart from the basic commands which you can play Apple Music with Siri, there are also other different advanced commands to play Apple Music, like playing Apple music by Genres, Moods, and playing Radio. Let's see how it works.
Activate your Siri and say something like the following, your Siri will smartly recognize your words and lets you enjoy any specific songs, albums, and playlists from your Apple Music.
For Genres:
"Hey Siri, play some rock songs."
"Hey Siri, play R&B music."
"Hey Siri, I want some Hip-pop songs."
"Hey Siri, create a radio station based on Linkin Park."
"Hey Siri, play the heated song from 1998."
For Mood:
"Hey Siri, I feeling sad, give me some cheerful songs."
"Hey Siri, I want some relaxed songs."
"Hey Siri, play some romantic songs."
"Hey Siri, I am cooking now, I need some songs about cooking."
"Hey Siri, I need some calm down songs."
"Hey Siri, I want to sleep, need some song for bedtime."
Moreover, if you want to control your HomePod, the following voice commands will always work.
"Hey Siri, skip forward 30 seconds.
"Hey Siri, increase the volume to 50 percent."
"Hey Siri, I want to hear the live version of this song."
"Hey Siri, turn on repeat."
From above, you've grasped some helpful voice commands that let you play Apple Music without using the touchscreen of HomePod. However, if you are fond of the Apple Music that you are listening to and want to share these songs with your friends, these voice commands won't help to share these songs. It also fails to work if your friend isn't an Apple Music subscriber. However, things go differently when you meet TuneFab Apple Music Converter.
With TuneFab Apple Music Converter, all you need to do is to add Apple Music songs to the converter first and then utilize TuneFab Apple Music Converter to remove the DRM protection from your Apple Music by converting Apple Music to MP3, M4A, WAV, FLAC, and etc., and further back up these DRM-Free Apple Music songs locally. It is a professional converter that can convert Apple Music in high quality within a few minutes and supports batch conversion. Besides, you can read the following articles and form a better understanding of using your Apple Music more conveniently.
Now, it is your turn to set about playing Apple Music on your HomePod at once! However, you may also wonder "Can I also play my iTunes Music on HomePod?" The answer is definitely yes! The following is about the music services that are supported on Homepod.
Part 3. Tips: What Music Services Can be Supported on HomePod
There are 6 types of music you can directly stream to HomePod.
Apple Music: 45 million of the songs are allowed streaming on HomePod with Siri if you have already subscribed to the service.
iTunes Music: All your purchased contents such as songs, albums, and audiobooks, are allowed to play on HomePod. Just simply saying "Hey Siri" and give voice commands.
iCloud Music Library: All the upload contents are also can be played on HomePod when Siri can recognize your voice commands, including the music you have imported from CD, Apple Music, or iTunes Match.
Beats 1: Podcasts from Beats 1 can be played on HomePod.
Podcasts: Podcasts from iTunes can be listened to on HomePod when saying Hey to Sir.
AirPlay: The users of HomePod can use AirPlay to play all the audio from iPhone, iPad, iPod Touch, Apple TV as well as your Mac.
Although Apple wants HomePod users to use its own Apple Music service, the company is also opening its platform to third-party services. At the current time, the HomePod speaker also works with music services like Spotify and Pandora using Airplay, and an iPhone, iPad, or Mac. So it is possible to stream Spotify music to your HomePod. Just ask Siri to stream music by specifying "with Spotify" at the end of a request.

In the End...
Now that you have got all the essential material about playing Apple Music with HomePod. It is your time to enjoy your Apple Music on HomePod. Any questions when you using your HomePod, you can turn to TuneFab support teams for further help by sending an e-mail or just leave a comment below. Enjoy your Apple Music and your incredible Music experience on HomePod!
Was this information helpful?
TrustScore 5 | 49