Due to DRM protection, music on Amazon Prime and Unlimited is only cached offline on your computer for internet-free listening. The audio files are permanently stored on your computer. If you're frustrated by this and want to learn how to truly download Amazon Prime to your computer, this post can address your concerns. To help you out, a complete guide on downloading Amazon Music for PC or Mac will be introduced in this post. Just scroll down, and you'll learn how to download music from Amazon Music on computers.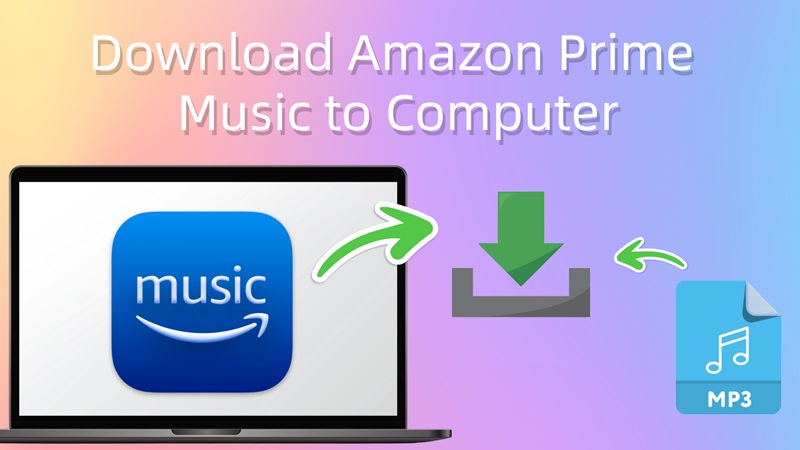 CONTENTS
Part 1: What Should You Know Before Downloading Amazon Music to Computer?
Before downloading music from Amazon Prime to your PC, you should know that Amazon Music provides the following 3 types of accounts, Amazon Music Free/Prime/Unlimited, and they don't all support offline playback.
Note: Even with an Amazon Music subscription, the streaming music provided inside the Amazon Music application can only be cached and played within the app. If you want to get rid of this limit, you'll need help from TuneFab Amazon Music Converter mentioned later in the post. (👉Click to learn first!)
Amazon Music Free: Amazon Music Free accounts can only grant online access to top Playlists and thousands of stations with ads. They can not download Amazon music on PC or Mac unless upgraded to Amazon Music Prime or Unlimited.
Amazon Music Prime: Amazon Music Prime subscribers gain access to 100 million songs and the ability to cache music offline. Note that only All-Access playlists can be cached from Amazon Prime to a computer.
Amazon Music Unlimited: Amazon Music Unlimited accounts provide superior audio quality. However, when it comes to downloading Amazon Music to a PC or Mac, only the Amazon Music Unlimited Individual and Family plans support offline playback. The Amazon Music Unlimited Single Device plan does not support offline music caching either.
Purchased Amazon Music Songs: Amazon Music also allows any user to purchase single tracks or entire albums. The purchased music can be downloaded on computers as local music files. In general, a single song download is saved in MP3 format, while multiple songs are downloaded as a compressed ZIP file.
Part 2: How to Download Streaming Amazon Music to Computer
If you don't have purchased Amazon music, there are 2 ways to download Amazon music to your computer. One is using TuneFab Amazon Music Converter, suitable for both free and paid users. It can convert any Amazon songs to MP3 files for flexible playback. The other way is directly downloading available Amazon songs on the Amazon Music web app if you have a paid Amazon Music account.
Download Amazon Prime Music as MP3 via TuneFab Amazon Music Converter
Although Amazon Music sets restrictions for downloading Amazon songs on computers unexpectedly, we still have ways to figure it out. We know that DRM encryption is added to Amazon Music, so our target is to remove it, and then download Amazon Free/Prime/Unlimited to MP3.
TuneFab Amazon Music Converter is the best program with powerful functions to strip DRM encryption from Amazon Music, including Amazon Music Free, and the titles with Amazon Music Prime and Unlimited. It provides popular output formats to export streaming media for you to download music from Amazon Music even without membership to your computer and play them in more flexible ways.
Sparkling Features of TuneFab Amazon Music Converter
Popular output encoders: the most popular encoders such as MP3, M4A, WAV, and FLAC are supported to encode downloaded Amazon Prime Music on a computer.

Original sound quality: to ensure awesome music streaming offline, the program saves the same high quality as the original sources without compression.

Customizable audio parameters: before proceeding with the conversion, the program allows people to adjust the parameter settings such as SampleRate and Bitrate based on personal preference.

5X speedy batch conversion: the program can proceed to the Amazon Music conversion and downloading processes at 5X quicker speed. Equipped with the batch convert feature, it highly facilitates output productivity.

Retain original ID3 information: during the conversion, it will retain the full ID3 information of Amazon Music for people to check back after getting the downloads offline.
If you are not proficient in digital products, this program will be the best Amazon Music downloader for you, since you can get the most out of it with the simplest operating process. Here's how to download Amazon Prime Music to PC or Mac with its help.
Step 1. Open TuneFab Amazon Music Converter and Sign in
TuneFab Amazon Music Converter provides a free trial to all new users. It is recommended to experience the features before making a purchase. Therefore, please install the program first and launch it. You ought to enter the main feed of the embedded Amazon Music Web Player to sign in to your Amazon account.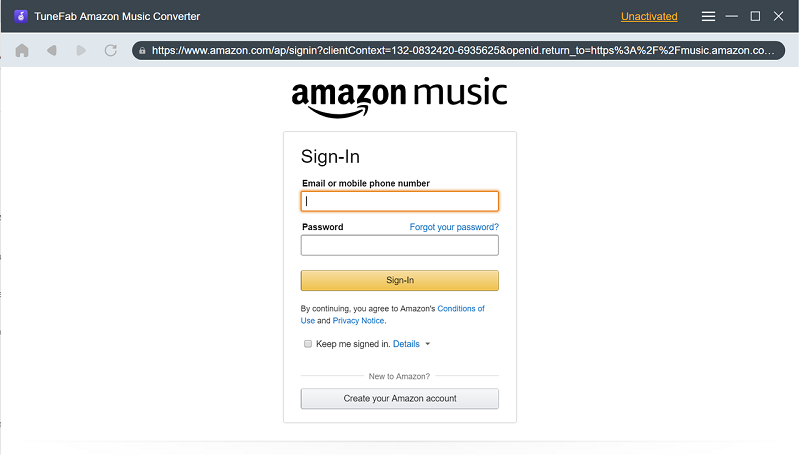 Step 2. Select Amazon Music Playlist to Convert
Single tracks, playlists, and albums are all selective when downloading Amazon music to computers. Just pick and drag them to the blue "Plus" button. If you select playlists or albums, the collections will be generated in a new dialogue for selecting the songs to download for your preferences.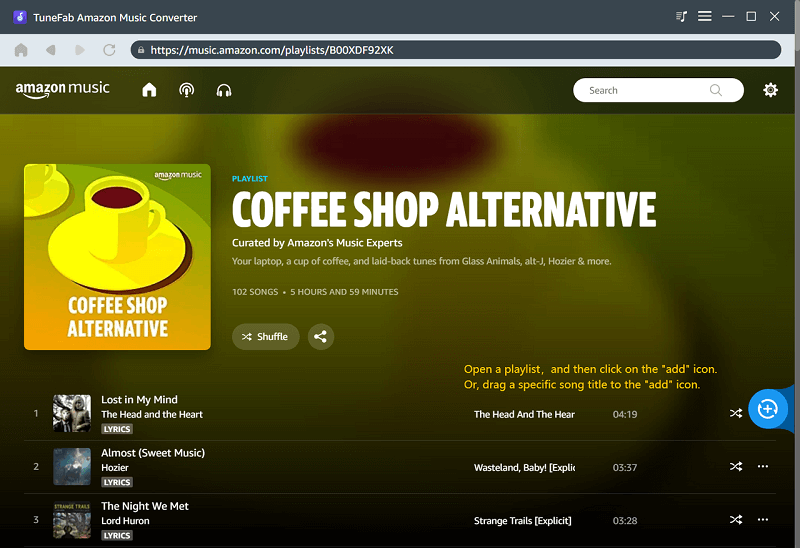 Step 3. Configure Output Encoder to Download Amazon Music
Subsequently, please select an output encoder to export the Amazon Prime Music from the drop-down menu in Convert all files. For advanced settings such as SampleRate and Bitrate, please turn to Settings > Preferences to customize under the Advanced tab.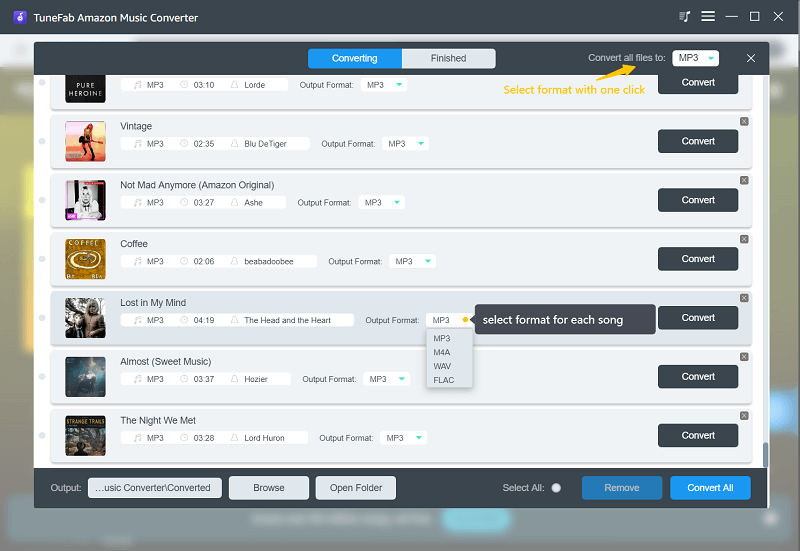 Step 4. Download Amazon Prime Music to Computer
Eventually, directly click on the Convert All button to proceed with the downloading process. TuneFab Amazon Music Converter will initiate exporting the selected songs to local audio files of MP3 or other selected formats.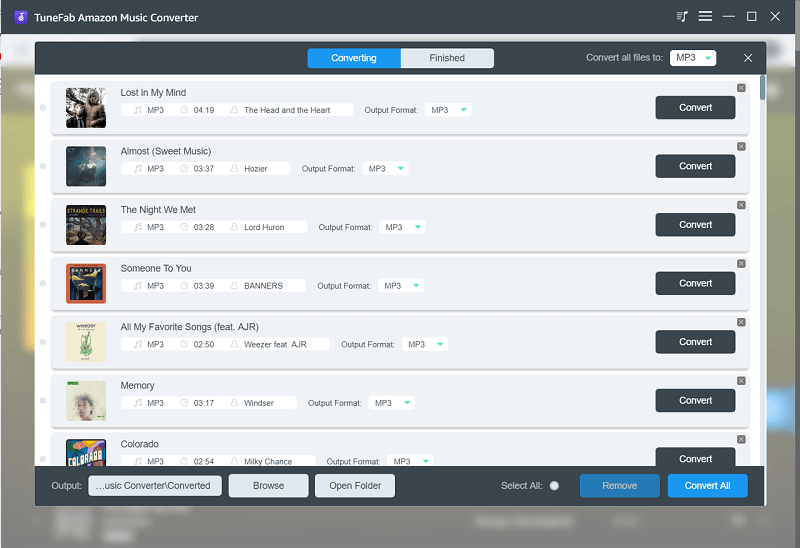 You can turn to the Finished module to check the complete download history and open the output destination to find the downloaded MP3 Amazon Free/Prime/Unlimited Music files by tapping the View Output File button.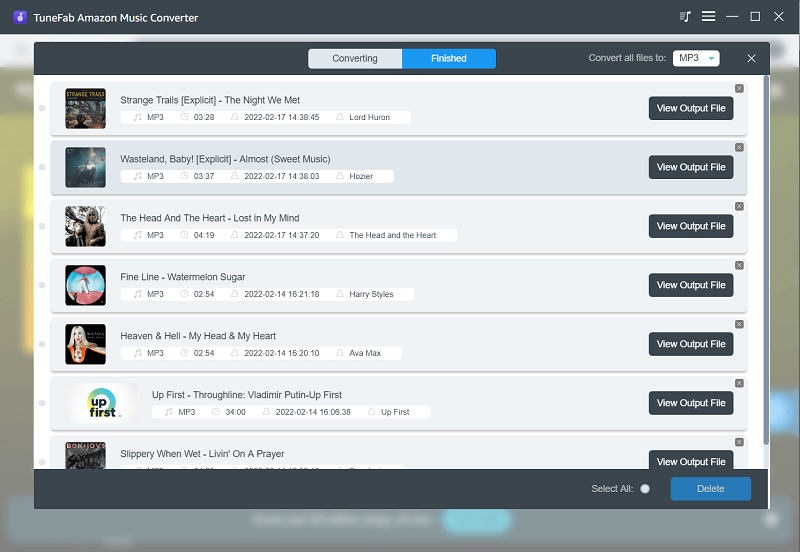 After the process, you can now get Amazon music downloads to MP3 players or other devices you like as local files for free offline listening. Action is better than heart, just click the download button below to have a try!
Download Prime Music on the Amazon Music App
Amazon Prime members can access more than 100 million songs, thousands of playlists, and personalized streaming stations. More importantly, if you are an Amazon Prime/Unlimited user, you can download available Amazon music to computer directly from the Amazon Music app.
Here are the steps for you to download Prime Amazon music to your computer on the Amazon Music app.
Step 1.Go to the information page of Amazon Music to select "Download for PC/Mac", then install the Amazon Music app to your computer.
Step 2. After installing the app, sign in to your Amazon Prime Music account and then navigate to "Library" to choose the Prime songs you like to download.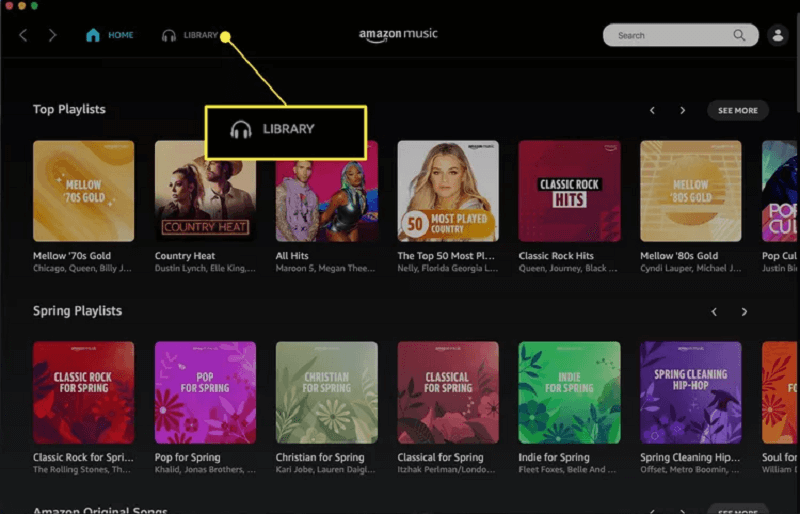 Step 3. Click the "Three-dots" next to the song to choose the "Download" option. If the prime songs from Amazon Music are finally downloaded successfully, then you will see a small blue arrow that indicates you can listen to the content offline.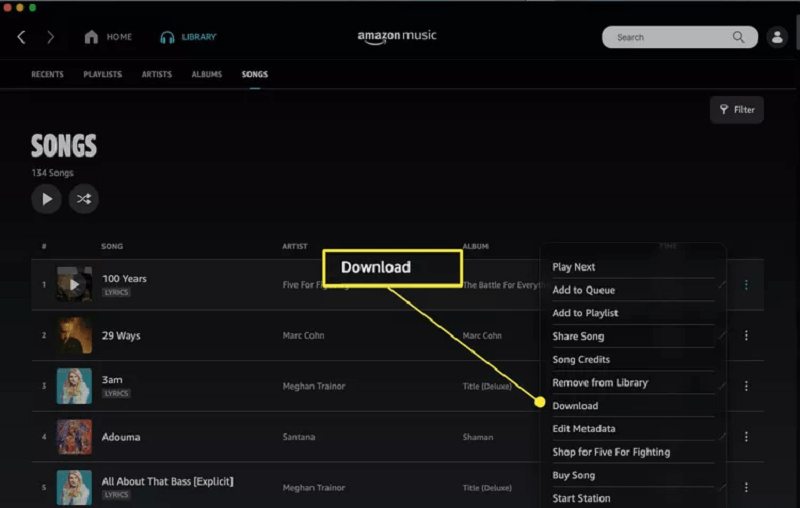 Tips: For the Amazon Prime plan, you can only download the playlists marked as "All-Access", while the Unlimited subscribers can download all the Amazon songs to play within its app. If you want to download any of Amazon's playlists for free, you can consider using TuneFab Amazon Music Converter as an alternative.
Part 3: How to Download Purchased Amazon Music to Computer
As previously mentioned, you can buy some of the songs on Amazon Music, and the purchased songs can be downloaded as MP3 files. This allows you to export Amazon Music to other players or devices for unlimited offline playback. If you have such music, you can download it via the Amazon Music app or web player. Scroll down to check how it works by the steps below.
Note: Buying Amazon music doesn't require a subscription, but it can be costly. If you don't want to pay for songs, TuneFab Amazon Music Converter can download Amazon Music to computers for free.
Download Purchased Amazon Music on App
Step 1. Launch the Amazon Music app on your PC, log into your Amazon account, and then navigate to "Library".
Step 2. On this page, click "Songs" > "Purchased", and then you will see all your bought Amazon songs listed on the screen.
Step 3. Click the "Download" icon on the right, and you can get your Amazon music in the local folders on your computer.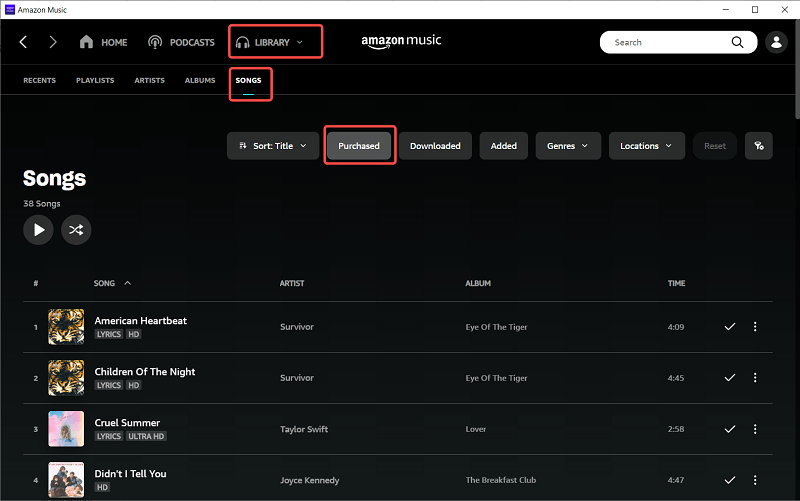 Download Purchased Amazon Music via Web Player
Step 1. Visit Amazon Music web, go to "Library", and click on "Songs".
Step 2. Select "Purchased" to see the music you've bought and choose to download.
Step 3. Hit the download icon next to the song or album. Or drag songs and albums to the "Download" section under "Actions" in the right sidebar.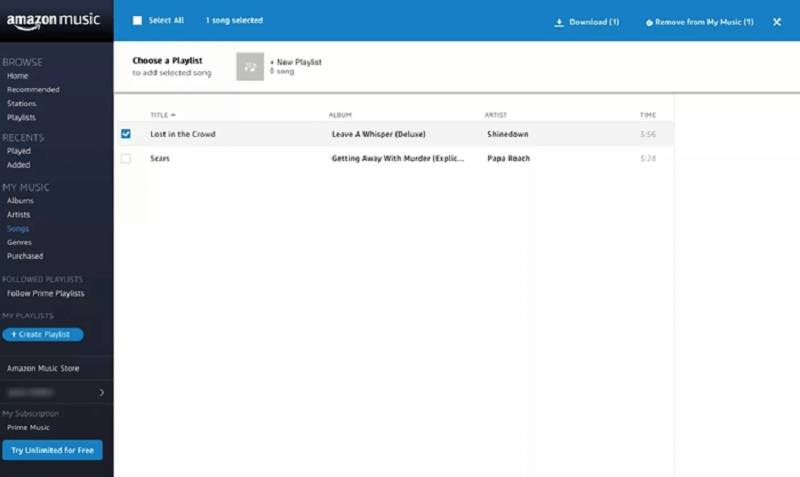 After that, you can choose to transfer them to other devices, or just import them to iTunes or Windows Media Player for offline listening.
FAQs About Amazon Music Downloads to Computer
Q1: Is It Possible to Download Music from Amazon Music to USB?
It depends. Amazon Prime and Unlimited allow offline playback of music, but it's only cached and not actually downloaded to the computer or phone. Therefore, it cannot be transferred to a USB. If you additionally purchase Amazon tracks or albums, however, these songs are downloaded in MP3 format and can be saved to a USB drive.
Q2: Where is the Location of Amazon Music Downloads on Windows PC?
To check the Amazon download location on a PC, you can navigate to "Setting" on the Amazon Music App to locate the save patch.
Generally, offline cached music for Amazon Prime and Unlimited will be in the folder: C:\Users\UserName\AppData\Local\Amazon Music\Data.
For purchased Amazon music downloads, the default destination folder will be: "File Explorer" > "This PC" > "My Music" > "Amazon Music".
Q3: Is Amazon Music Unlimited Free with Prime Users?
How does Amazon Music work on subscriptions? This can be confusing, especially with Amazon Prime and Unlimited. In fact, Amazon offers three subscription tiers: Amazon Free, Prime, and Unlimited, with benefits that progressively escalate. If you are already a subscriber to Amazon Prime, additional payment is required to experience Amazon Music Unlimited. However, please be aware that you can directly upgrade to Amazon Unlimited without first being a Prime user.
Final Thoughts
Now that you know how to download Amazon Music to computers depending on your subscriptions. If you are an Amazon Prime Music user, you can directly download music from Amazon Music to computers on the Amazon Music app. For those who want to play Amazon Prime Music on multiple media players without restrictions, TuneFab Amazon Music Converter is an optimal choice to enjoy every song on Amazon at home or on the go.
TuneFab Amazon Music Converter
Download music from Amazon Music to Windows/Mac computer as MP3 files
Was this information helpful?
TrustScore 2 | 2