Amazon Music is one of the most welcomed streaming music platforms in the world, accessing more than 100 million songs. For paid users, whether you're a purchaser of a digital music album or a premium plan user, the function for offline playing can be provided. However, when downloading the songs, you may encounter such a plight as where the downloaded Amazon music goes. If you are still baffled, this article will discuss and figure out how to find your downloaded Amazon music location.
CONTENTS
Part 1: Where Can You Find the Purchased Amazon Music Downloads?
If you have already purchased your favorite Amazon music, it would be super easy to download them on your local drive. By the way, note that the storage location differs depending on what kind of device you use.
For Windows PC, the purchased music is saved by fault under the folder of "My Music". You just head to "This PC", and then find the folder named "My Music", under which "Amazon Music" can be found.
For Mac, the only difference is that the default folder is "Music". Open it and you'll discover "Amazon Music".
For a web browser, the files are typically stored in your browser's default "Downloads" folder. You can choose to move the downloaded Amazon music to other locations on your computer.
For Android, go to "Android"-"data"-"com.amazon.mp3"-"files"-"Music"-"Purchased". This is where the music files are saved.
Part 2: Where Can You Find the Offline Streaming Amazon Downloads?
If you're a subscriber to the premium or unlimited plan of Amazon Music, locating the music files will be a little more tanglesome. But just like purchased music, it also depends on your device.
When using the Windows PC, you first need to open File Explorer, click the "view" button on the top bar, and then tick on "hidden items" under it. Only in this way can you seek out the hidden download folder of Amazon Music. Next, go to the default path: C:\Users\UserName\AppData\Local\Amazon Music\Data.
When using the iPhone or Mac, finding the actual storage location is difficult. Only some cache data can be located instead. For iPhone devices, the caches are saved on "music.amazon.com/showDebugOptions", while for Mac go to the default path: "UserName/Library/Application Support/Amazon Music/Data".
When using Android, initially, you should open the File Manager on Mobile. Go to "Setting", and start the "Show hidden files" tab. Then, you can find the storage location option on the Amazon music app. Alternatively, you can go to the path like "storage/emulated/0/android/data/com.amazon.mp3/files/music" or "/mnt/extSdCard/Android/data/com.amazon.mp3/files/Music", hinging on the default download location you've set on your Android phone.
If your phone has an SD card inserted, it's better to turn to "Card/Android/Media/Com.Amazon.MP3/".
Can I Use These Downloaded Amazon Music Files Elsewhere?
After realizing how to trace where the downloaded Amazon music locates, many of you may be eager to know if there is any possibility to transfer these files to other platforms for listening.
Pitifully speaking, no! Although the specific location of music files can be found, they are still DRM-protected. These downloaded music files are just the cache in the Amazon Music app, so they can only be played within the Amazon Music app, rather than being transferred elsewhere.
Bonus: How to Flexibly Export Downloaded Amazon Prime Music to Other Devices
When there is a problem, there is a way. Although there's no direct way to copy Amazon music to other devices, there are some third-party tools that can help record and save Amazon music as MP3 files. With strong compatibility, the MP3 format can be played on most devices. After testing and using, TuneFab Amazon Music Converter is highly recommended here!
TuneFab Amazon Music Converter is a specially designed music-converting software that aids in removing the DRM protection of Amazon Music and downloading its music to other mainstream formats like MP3, M4A, WAV, and FLAC files. It is a powerful yet easy-to-use tool that can help you finish the downloading process with several steps efficiently, supported by its 5X faster conversion speed. Most prominently, it also guarantees lossless sound quality when being played back.
Key Features
● Remove DRM protection: no limitations on the playing device.
● Multiple music types: support Amazon Prime Music, Amazon Prime Unlimited, and Amazon Music HD, and also provides users options to download songs and podcasts for playback offline.
● Various output formats: convert Amazon music to MP3, M4A, WAV, and FLAC files.
● Efficient downloading process: 5X faster speed to get music and podcast episodes downloaded in batches.
● High-quality audio output: keep the original sound quality in the output audio file.
● ID3 metadata preserved: retain the title, album, artist, and album cover for convenient classification management.
● Customizable audio parameters: freely choose parameters like sample rate and bitrate.
Here's the tutorial on how to operate TuneFab Amazon Music Converter specifically.
Step 1. Log into Your Amazon Account
Launch TuneFab Amazon Music Converter on your computer. Tap on "Open the Amazon web player", and log in to your Amazon Music account.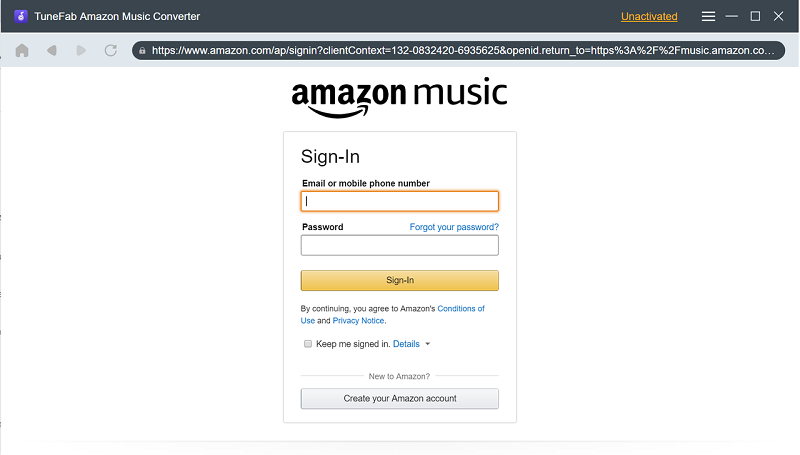 Step 2. Choose Amazon Playlist or Songs to Convert
Next, go to the library and sort out the songs/playlists you'd like to convert to MP3. Drag them to the blue "+" icon and it will begin analyzing immediately.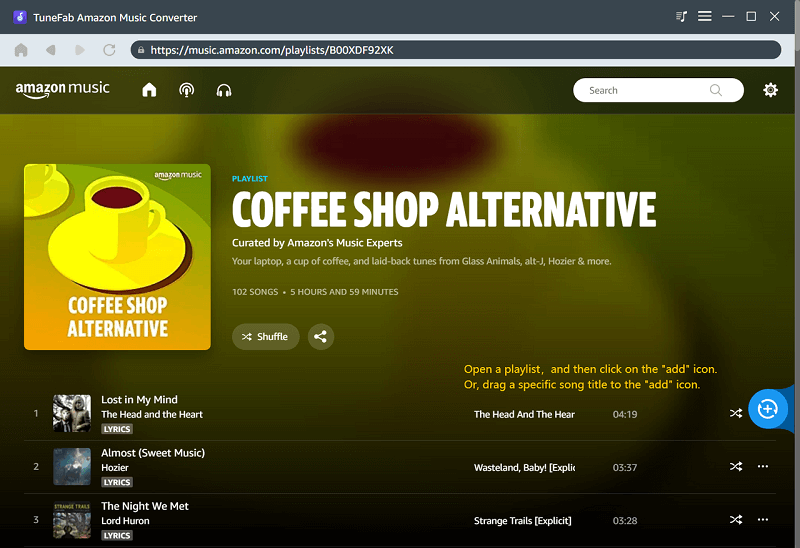 Step 3. Select Output Format as MP3
When the songs are converted, you can select the output format as MP3 by going to the Format menu in the top-right "Convert all files to".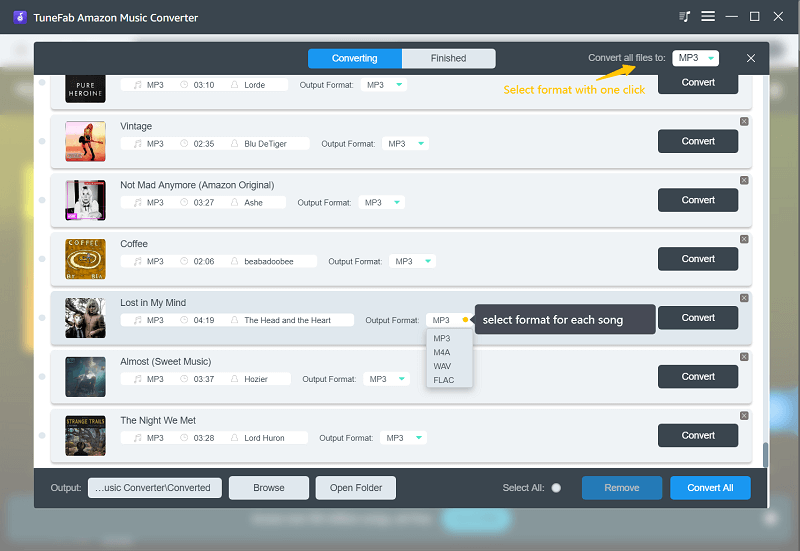 Step 4. Choose Advanced Parameters (Optional)
If you have any personal preferences, you can go to the settings menu and select "Preferences". Under the "Advanced" section, you can alter the parameters like samplerate and bitrate at your will.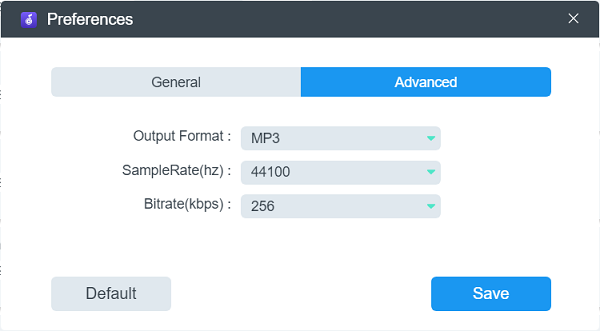 Step 5. Convert Amazon Music to MP3 Offline
Finally, just click on the "Convert All" button to start converting Amazon Music to MP3. Just wait for a few seconds, and then you can get the downloaded MP3 Amazon Music saved on your computer for free playback at any time and anywhere.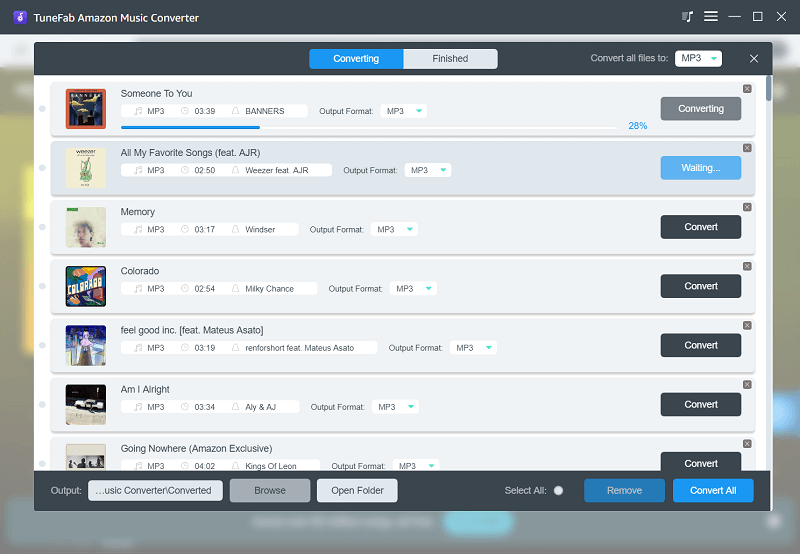 Conclusion
To sum up, this article shares with you some methods of how to locate your Amazon music downloads, which are illustrated according to different cases. You just need to apply one of them based on your conditions. If you're craving to use these downloaded Amazon music files elsewhere, the tool named TuneFab Amazon Music Converter is a good choice for you. It is a powerful and user-friendly software to convert Amazon music to MP3 and other formats. What're you hesitating for? Download it now and it won't let you down.
Was this information helpful?
TrustScore 3 | 2