Since the spread of coronavirus pandemic, many people are being generous in purchasing movies or renting movies from the iTunes Store. Movies available for audiences to rent or buy on iTunes are usually in HD and SD resolution in order to meet users' unique demands. Whether to choose iTunes HD movies or SD movies can be confusing. Therefore, for a better purchase experience, it seems necessary for you to know the differences between iTunes HD and SD movies.
In the following, we will make an iTunes HD vs SD comparison to get you informed of the distinction between the two resolution specifications. For those who wonder if they can switch from iTunes HD to SD may also find the answer. After that, you can know an extra tip about removing DRM from iTunes HD or SD movies.
CONTENTS
Part 1. Differences between iTunes HD and SD
Generally speaking, iTunes HD and SD movies or TV shows are similar when playing on small screen devices. But when playing on a large screen, their picture quality would be more distinct. This is just one aspect. The following chart will show more details about iTunes HD vs SD.
iTunes HD vs SD: A Brief Comparison
iTunes Standard Definition (SD) Movies

iTunes High Definition (HD) Movies

Video Quality

480p (854x480)

720p (1280x720)

or1080p (1920x1080)

Price

$9.99 – $14.99

$14.99 – $19.99

File Size

(a 2-hour movie)

Around 2GB

Around 4GB (720p HD)

5GB or more (1080p HD)

Additional Features

CC (Closed captions) or SDH (Subtitles for the deaf and hard of hearing), AD (Audio descriptions)

CC, or SDH, AD, 4K, Dolby Vision, Dolby Atmos, HDR, and iTunes Extras (if included)

Internet Connection Recommendation for Streaming

Make sure that your Wi-Fi router is 802.11a/g/n/ac compatible. Streaming HD content requires 8 Mbit/s or faster.

Slower tiers of Wi-Fi connections might not be fast enough to stream HD video content.
iTunes HD vs SD: System Requirement
As a basic video version, SD videos definitely show greater compatibility to fit most devices. In contrast, due to the fact that HD movies contain multiple times the pixels and info of an SD movie, HD movies are not supported on all devices or computers. Here is the information that helps you find out if your device can play 720p or 1080p HD movies.
| | | |
| --- | --- | --- |
| | Windows | Mac OS |
| OS version | 32 or 64-bit version of Windows 7, Windows 8 or Windows 10 | Mac OS X 10.5 or later |
| iTunes Version | iTunes 10.6 or later | iTunes 10.6 or later |
| Processor | 2.4 GHz Intel Core 2 Duo or faster | 2.4 GHz Intel Core 2 Duo or faster |
| RAM | At least 2 GB | At least 2 GB |
| Video Driver | HDCP capable (you may need to check with the manufacturer to determine if your video driver supports HDCP) | |
| Display | supports HDCP with a screen resolution of 1280 x 800 or higher with a digital connection (DVI, DisplayPort, or HDMI) | supports HDCP with a screen resolution of 1280 x 720 or higher |
Furthermore, for HD quality, iTunes offers 720p and 1080p versions. But it is worth noted that not all devices support 1080p videos. In case you may download the unsuitable version, we compiled a list of Apple products that support 1080p:
iPhone 6 Plus and later

3rd generation Apple TV and later

3rd generation iPad (which connects a 2048x1536 Retina Display) and newer

All MacBooks

Mac Mini

iMacs 2006 and later

Any HDTV that supports 1080p HD can also display 1080p content from iTunes.
Part 2. iTunes HD vs SD: Which Should You Choose?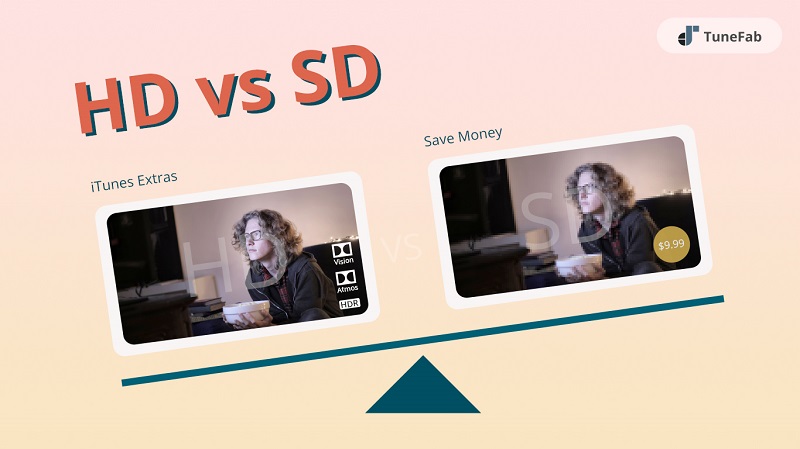 Whether an HD or SD iTunes movie is better for still depends. In terms of picture quality, many people may hold a view that the quality of the HD movies would perform better than the SD movies because HD movies get a higher definition. But for those who use smartphones or iPad to watch iTunes movies, even if these devices support HD quality, the viewing experience between HD and SD on iPad or other devices could be so subtle that people can simply neglect it.
If you are looking for an economical option…
When it comes to price, nearly half of the movies in the iTunes Store are sold at the same price for HD and SD. And for the rest, the price is different. To be specific, HD movies are often sold at around $14.99 to $19.99 while SD versions are sold from $9.99 to $14.99. The difference is upwards of $5. But for rentals, there's only a $1 difference between most SD and HD movies. In general, SD versions are cost-effective.
If you want some special features…
Perhaps you start to wonder why Apple charges extra for the HD version. Possibly, it is because delivering HD content consumes more bandwidth than delivering SD when streaming a movie. And the extra spending seems not that unreasonable. Some HD versions indeed include many highlighted features like Dolby Vision, Dolby Atmos, HDR, and iTunes Extras, which worth giving a try. Besides, HD movies can be automatically upgraded to 4K HDR for free, which makes buying HD version more enticing if you have a 4K video compatible device.
Conclusion
Then, to sum up, if you are going to buy one of your favorite movies or TV shows on iTunes to watch on HD players, we suggest you should buy the HD version. Not only it provides a nice visual enjoyment but also the valuable iTunes extras that may include deleted and alternate scenes, director commentary, and a lot more to help you better know the making of a film. Of course, you need to ensure that you have enough storage space and a nice network connection to save these HD movies.
And if you tend to watch movies on the small screen Apple devices or computers with a mediocre display and iTunes player, or don't care much about the quality level, then the SD version should be a favorable choice, so that you will not waste money on pixels you don't really need. Besides, for those who prefer streaming, choosing SD quality should run more smoothly because it uses fewer streaming data as compared to streaming HD video.
Part 3. How to Switch from HD to SD in iTunes?
To check the video quality of your purchased movies, simply tap or click a movie in your library. And look at the top of the page for HD or SD icon.
Normally, when you buy or rent a movie from the iTunes Store or the Apple TV app, the movie will automatically play in the best quality format available for the device that you're using. But in case if you accidentally download the HD version and find it not compatible with your devices, you can manually adjust some settings before downloading a movie.
For those who buy an HD version of a movie or TV show, here is how to switch a lower-quality video format.
On iOS devices:
Go to Settings > TV > iTunes Videos OR Settings > Videos > iTunes Videos
Then you can change your playback quality from Best available to Good.
On Mac:
Launch iTunes. From the menu bar at the top of your computer screen, chose iTunes > Preferences. Click the Downloads tab, and select Download high-quality SD videos.
On PC:
Run the iTunes program. From the menu bar at the top of the iTunes window, click Edit > Preferences. And then click the Downloads tab, and choose Download high-quality SD videos.

Note: Click the Playback tab, you can also change your video playback quality and resolution based on your preferences.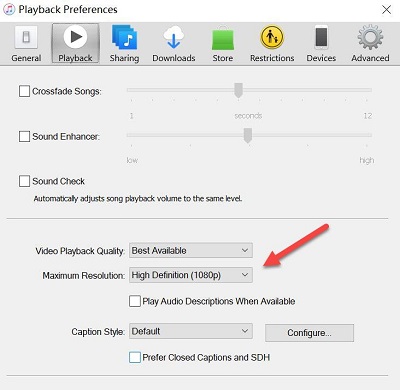 However, if you've already purchased or rented a standard definition (SD) video, you cannot play higher-quality versions such as 1080p (HD) or 4K video content. And if you are considering to upgrade iTunes SD movies to HD, pitifully, iTunes hasn't given an option to upgrade to HD. Then, you need to re-purchase the HD version of the movie.
Part 4. An Extra Tip: A Useful Tool to Convert iTunes M4V Videos to MP4
Now you may know the main differences between iTunes HD or SD movies. Besides, a common feature that both iTunes HD and SD movies share is that they are protected with Apple's FairPlay DRM protection. That said, they can only be played on Apple's devices or computers that are authorized with. Therefore, if you manage to download and then play these iTunes HD or SD movies on a big screen TV or Android phones for watching, it is likely that you fail to do it.
Don't worry. Here you meet TuneFab M4V Converter, a professional tool to help you break the DRM restriction. With this smart iTunes M4V video converter, you can convert your iTunes HD or SD movie to a universal MP4 format and enjoy the movie on any device free from the compatibility limit.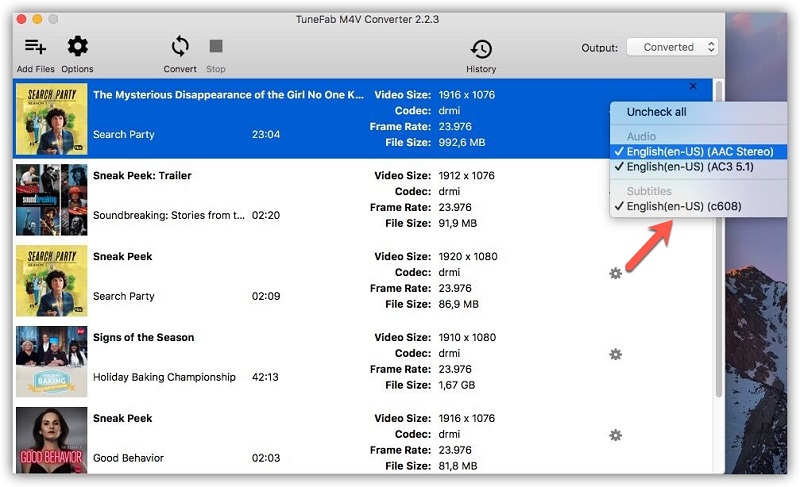 You can choose a suitable version to download according to your computer system. Just read this guide: How to Convert iTunes M4V Movies to MP4 Losslessly to know more details.
Final Words
After viewing this iTunes Movies HD vs SD comparison, you may form a better understanding of the two resolution specifications. Have you decided which version of the iTunes movies to buy? Just don't forget to share this article with your friends if you find it useful.
Was this information helpful?
TrustScore 4 | 4