The world's largest music streaming platform, Spotify, has announced the launch of Spotify Hifi in around February in 2021. For the whole year, many Spotify users have been longing for its release to enjoy the high-quality music playback experience that will be brought by Spotify HiFi. However, as time went by, it was quite frustrating as there still gained no notification of its launch.
But still, there were certain recent news coming out, with the message informing the release of Spotify HiFi will arrive soon or later. Hence, before its arrival, let's first grasp an overview on Spotify HiFi from different aspects. Now, get started to check.
CONTENTS
What Is Spotify HiFi?
Firstly introduced in February 2021, Spotify HiFi is a description used by Spotify to describe the lossless music audio quality it will deliver for subscribers of the so-called "Spotify Platinum plan" to enjoy music streaming with the best quality in the platform. For those who desire even higher music quality to play the songs, they are available to select upgrading to Spotify HiFi plan from the current premium subscription to grasp the service.
When Is the Release Date of Spotify HiFi?
Although Spotify HiFi has been introduced by the official in the early 2021, since today, there was no actual announcement of when Spotify HiFi would actually release. According to a post from a Reddit user, he has received a mail from Spotify when he cancelled the subscribed Spotify premium subscription plan after a long while and then switched to Apple Music.
In the mail, Spotify has promised the release of the upgraded Spotify platinum plan (with Spotify HiFi quality equipped). In other words, Spotify HiFi may probably be on its way! Let's look forward to seeing its release in 2023.
How Is the Audio Quality of Spotify HiFi?
For the music quality deliver by Spotify HiFi, Spotify has used the term "lossless" to define it. Typically, "CD-quality" stands for the audio of 44.1kHz sample rate and 16-bit depth. However, the "lossless quality" delivered by Spotify HiFi will reach an even higher standard. The audio quality will be maintained as exactly the same as its source, without any compression at all.
Currently, Spotify premium plan has provided subscribers with higher streaming quality than the one that free users can access - which is at 320kbps bitrate but encoded in the "lossy" Ogg format. In other words, even for the best music quality delivered by Spotify premium today, it is not lossless at all. Hence, Spotify HiFi will actually reach the best "lossless" audio quality without a bit compression. Users are able to stream music with better experience than the current one they are enjoying.
How Much Will Spotify HiFi Cost?
As Spotify HiFi has not launched yet, it is hard to say how much it will cost precisely. But analyzing from the services it would include, it is obvious that the Spotify platinum plan will cost more than the current Spotify premium subscription. As we all know, it takes US$9.99 per month to subscribe to Spotify premium. There has certain rumors saying that Spotify HiFi would probably cost from US$14.99 to US$19.99 for monthly subscribing, which is similar to the plan offered by Deezer, Qobuz, and Tidal.
But still, as Spotify hasn't announced accurate info about Spotify HiFi, the pricing for it is still in rumor. The only thing we can do is to wait for its official announcement in the near future.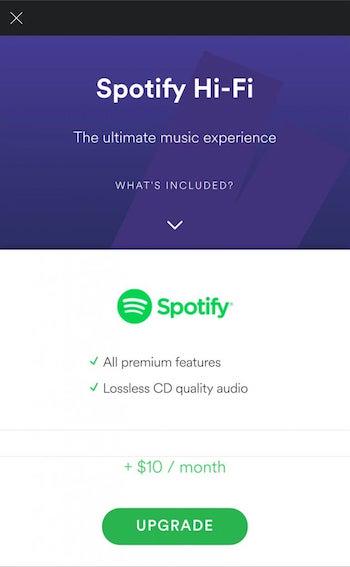 Do You Really Need Spotify HiFi?
The most distinguishing difference between Spotify HiFi and the current Spotify premium plan should be the lossless audio quality it can offered to play music in the platform. Actually, through some tests processed by professional organizations, it is difficult for most users to feel the difference while they are listening to lossy music file of high quality and lossless audio. Hence, as Spotify HiFi would cost a higher expense, you really should consider whether you have high demand in taking the lossless music streaming experience, or can you actually feel it or not?
Can Spotify HiFi Make It Possible to Download Spotify Songs for Streaming Outside Spotify?
However, a frustrating fact is that even Spotify will release the upcoming Spotify HiFi to deliver music streaming of lossless quality, it will be impossible for you to grasp the Spotify downloads for playback outside the platform because of the DRM encryption. Luckily, you are able to bypass this limitation with the help of TuneFab Spotify Music Converter.
TuneFab Spotify Music Converter has embedded the official Spotify web player within the software, enabling users to directly access the music library and stream or download all Spotify songs, playlists, and podcasts to MP3, M4A, WAV, or FLAC files without DRM encryption. The most attractive feature of TuneFab Spotify Music Converter should be its ability to customize the output parameters such as sample rate and bitrate in your requirements. Even for Spotify HiFi songs, you are possible to grasp them offline with the highest quality settings to save the music and play enjoyably without Spotify app.
In other words, TuneFab Spotify Music Converter offers a more flexible way for you to enjoy Spotify HiFi songs streaming without being limited by the annoying DRM protection.
User Guides: How to Enjoy Spotify in Lossless Quality before Spotify Hi-Fi Released
Highlighted Features of TuneFab Spotify Music Converter
● Integration of Spotify web player to download all Spotify songs and playlists without hassle;
● A variety of mainstream formats such as MP3, M4A, WAV, and FLAC for selections;
● Customized parameter settings to set lossless quality to output Spotify downloads;
● Preservation of full ID3 info to keep Spotify songs offline;
● Up to 5X or even faster conversion speed to batch download Spotify songs simultaneously.

Now, take this simple guide to grasp how to download lossless Spotty songs for streaming offline via TuneFab Spotify Music Converter:
STEP 1. Complete the software installation and launch TuneFab Spotify Music Converter on desktop. After entering the main interface of the built-in Spotify web player, tap the upper-right "Log in" button to log in via your Spotify account.
Note: Both free and subscribed account are supported.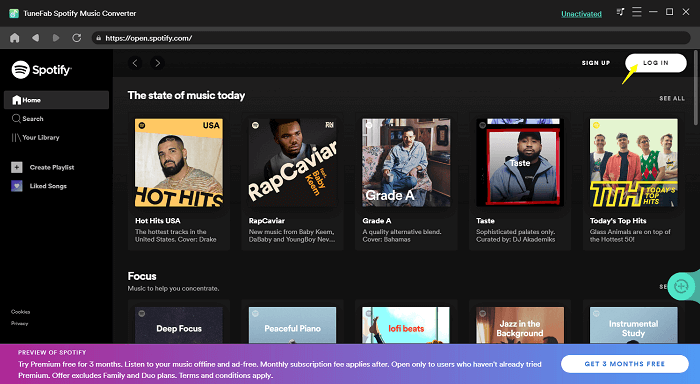 STEP 2. Once login, you are able to search for the Spotify singles or playlists, podcasts and access those you desire to download. Simply by dragging them to the "+"icon and the songs will be imported to the converting queue right away.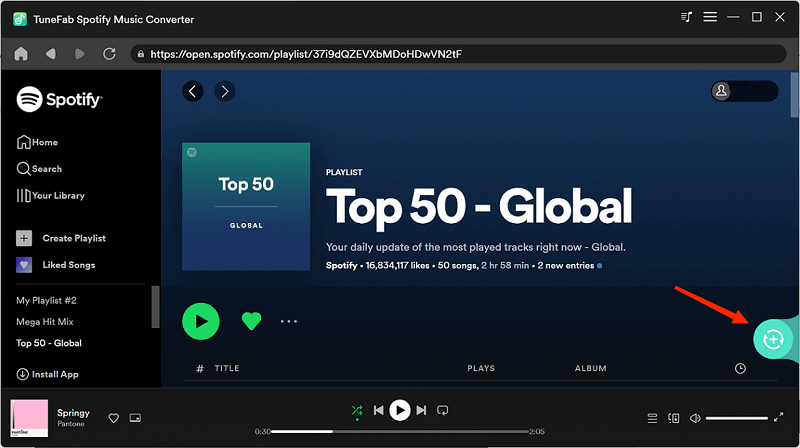 STEP 3. Then, navigate to "Menu" > "Preferences" > "Advanced" to adjust the format, sample rate, and bitrate before processing the music download later.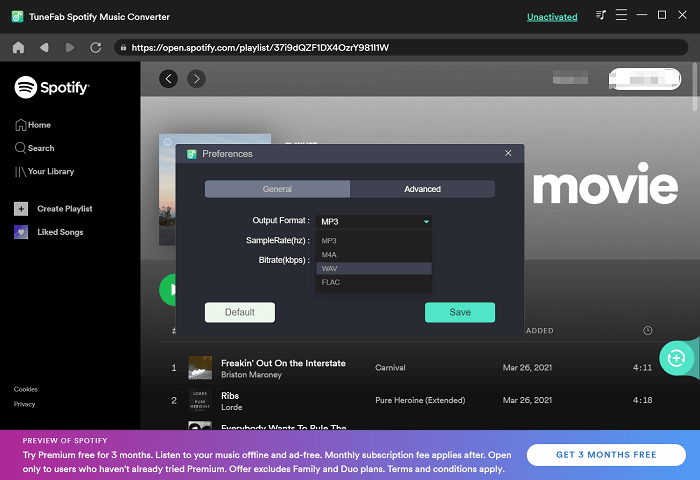 STEP 4. Finally, simply hit the "Convert All" icon and the Spotify songs will be batch downloaded offline right away! Just wait for its complete patiently.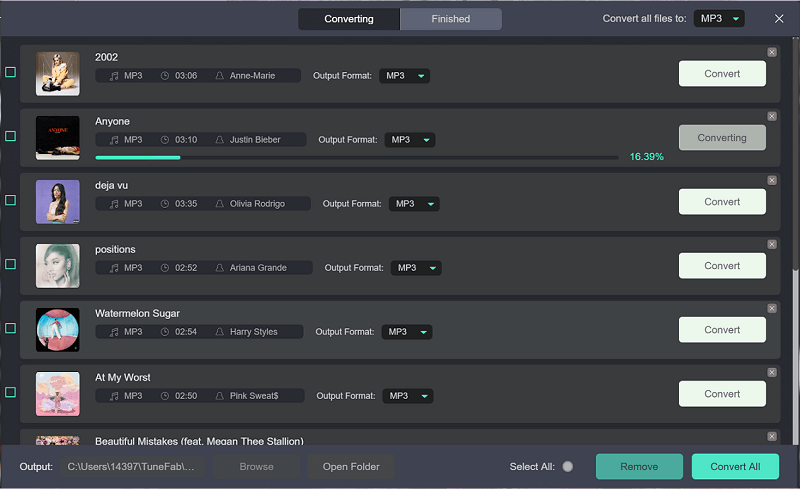 Although Spotify HiFi is not precisely accounted for the launch, if you are the one desiring better streaming quality to enjoy Spotify music playback, you probably may be able to welcome it this year as Spotify has offered certain signals already! Now, the only thing we can do is to wait for its launch patiently!
Was this information helpful?
TrustScore 1.4 | 5