• I want to join this Hi-Fi test, please invite me!
• I recently switched to Tidal for the lossless playback. I'd be tempted to return to Spotify if the bump in music quality is released.
• Today is my last day of Spotify service until the lossless music is released. Hopefully, the rumor of an impending release of lossless music on Spotify will happen soon!
As the post published by The Verge said that Spotify is prepping the launch of a lossless audio version of its music streaming service. This new subscription tier is said to be called Spotify Hi-Fi and will offer higher bandwidth lossless audio quality to premium members. Though today Spotify doesn't support lossless streaming because it is still in a testing phase, how much you know about this Spotify Lossless service? To help you know more information about Spotify lossless, we have collected some important information and share with you here. Don't move and you'll love it!
Don't Miss:
Spotify Equalizer Unavailable? Try This Way
Want to Play Spotify Music on Apple Watch? Here is the Ultimate Tutorial
CONTENTS
Part 1. How to Get Spotify Hi-Fi?
Though Spotify has already offered the highest quality to music enjoyment, that is 320 Kbps quality music. However, it still has some flaws and not lossless files, such as quite small sized and loads quickly. So what is lossless files? Lossless files are compressed with no quality loss just like songs copied from a CD to your hard drive and then "zipped" to reduce the file size. An average lossless song can be five to ten times bigger than a 320kbps song.
To Get Spotify Hi-Fi service, in the beginning, some users have received notifications within the Spotify app that is adding Spotify Hi-Fi to their account. However, those users who received the invitation to sign up for the Hi-Fi service either received an error message or were told the service was unavailable in their area at the time.
However hard Spotify users work to find the Hi-Fi service over and over again, they are nearly got the same information, say, there is no direct way to join in Spotify Lossless service or the Hi-Fi services are unavailable.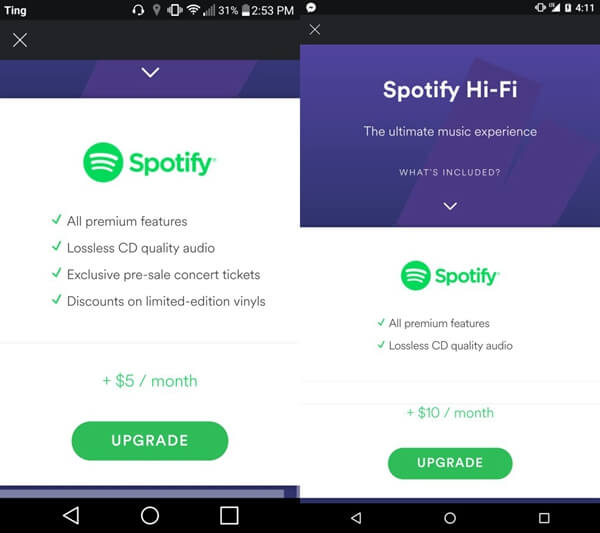 Since you have got the notifications from Spotify app, you must be curious about when will the Spotify Lossless service come to the market? When can you enjoy these humanized services from Spotify to upgrade your Spotify Music enjoyment? Let's move onto the next parts.
Part 2. When will Spotify Lossless Service Release? How Much Will It Cost?
According to The Verge, Spotify responded to the rumor, stating: "We are always testing new products and offers but have no news to share at this time." Though many people are eager to the official release of Spotify Lossless service, they may need to wait for some time. However, with the company already offering details of the Hi-Fi service to a small subset of users, a wider launch shouldn't be too far off.
Compared with other streaming music App, if Spotify released the Hi-Fi service, it will have another highlight to make it become the most popular music streaming service. So the only thing we need to do now is waiting.
As for the price, according to threads from Reddit, the option could cost $5, $7.50 or $10 per month. Once Spotify figures out the most lucrative price, the company will probably settle on one of those three prices.
Facing the cruel factor that there is no Hi-Fi service available on Spotify, is there any way to enjoy Spotify Lossless quality or get Spotify in FLAC file format before it is released? Don't be absent in mind and read the next part.

Part 3. How to Enjoy Spotify in Lossless Quality before Spotify Hi-Fi Released
Since there is no Spotify Hi-Fi available with your Spotify App, all you can do with getting Spotify in Lossless quality or make the Spotify FLAC file formats to enjoy is to use the powerful Spotify Music Editor, which aimed at providing the best and lossless quality of Spotify Music enjoyment, named TuneFab Spotify Music Converter.
TuneFab Spotify Music Converter is not only a Spotify Music DRM Removal but also an all-around Spotify Music editor, which can help you with converting the music with the best bitrate and then save as the best lossless file format, for example, FLAC for lossless streaming. Besides, you can also use TuneFab Spotify Music Converter to download all the Spotify for offline enjoyment. With the help of TuneFab Spotify Music Converter, you can enjoy Spotify lossless quality before Spotify Lossless Hi-Fi released.
TuneFab Spotify Music Converter: Spotify to Lossless Quality Editor
#1 Convert Spotify to multiple music formats, like FLAC, WAV(Windows), M4A, and MP3.
#2 Professional editing functions: Reset Bitrate, Reset Sample Rate.
#3 Simple operation: dragging and dropping music with several clicks.
#4 Default conversion speed reaches up to 5X. (Only for Windows)
#5 Allow adjusting the converter size according to your needs.
#6 Elegant Interface when using TuneFab Spotify Music Converter to convert Spotify Music.
User Guides: How to Enjoy Spotify in Lossless Quality before Spotify Hi-Fi Released
Video Tutorial: Get Spotify Lossless Enjoyment with TuneFab Spotify Music Converter
Now, it is your turn to do it yourself to get your Spotify lossless quality enjoyment with TuneFab Spotify Music Converter. Although it is not the same as the Spotify Lossless Hi-Fi services, it is the best option for getting the Spotify Lossless enjoyment. Right?
[Bonus Tips] Enjoy Spotify Lossless Music on Your iPhone/iPad/iPod Touch Now!
It is better to enjoy Spotify Lossless Music on your iOS devices when having got the non-DRM Spotify Music than just letting them storing on your Windows or Mac. But are you going to insert the USB cable and turning on your iTunes? Not really. It is time for you to upgrade the way to transferring to iPhone/iPad/iPod Touch now. In this way, we are going to share you with the high-speed iOS transfer, TuneFab WeTrans, which has the powerful functions of transferring the data from your PC to your iOS devices and vice verse.
TuneFab WeTrans: Your Powerful and Multifunctional iOS Data Transfer
#1 Transfer Music, Audiobooks, Playlists, iTunes U, and etc. between iOS devices and PC/iOS devices.
#2 Manage videos, TV shows, Movies and etc. between iOS devices and PC/iOS devices.
#3 Sync photos, contacts, and messages to your PC.
#4 Super fast transmission speed for transferring the data between iOS devices and PC.
#5 Expand functions for boosting your iPhone experience like converting HEIC photos and making a ringtone.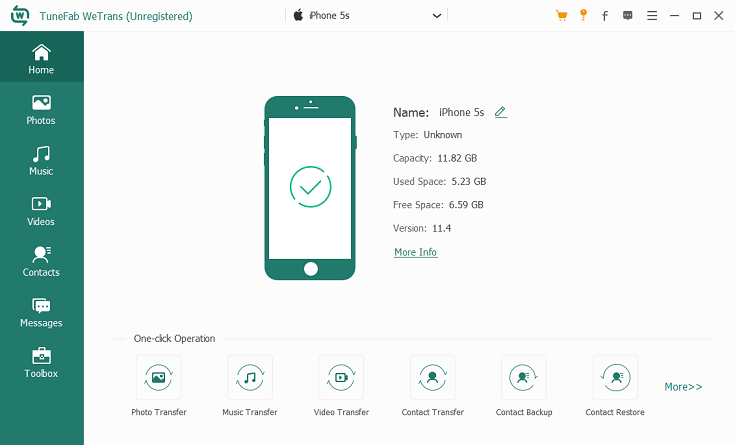 Related Article:
Apple Music Not Lossless? Convert Apple Music to Lossless Format Here!
Was this information helpful?
TrustScore 5 | 49