Listen to free audiobooks online? Yes, we have elaborately prepared 10 best websites so you can listen to free audiobooks online even without download.
Sometimes you may want to listen to audiobooks on your computer, smartphone or other devices. If so, free online audiobook listening is your best choice. Now many websites have voluntarily offered the visitors quite a lot of audiobooks that are free to listen and download. You can easily get a high-quality audiobook version with the least cost on these lovely websites.
No.1 LibriVox
LibriVox is indeed a nice website for online audiobook listening. It offers free public domain audiobooks for the mass audiobook career. Librivox invites volunteers around the world to read and record the chapters of these free audiobooks. If you want to find a free audiobook on it, you can search for the title, author, reader, genre/subject, or language, or browse the entire catalog, or just find it on the most recent audio books area. A free audiobook in a ZIP file is also available to download on LibriVox.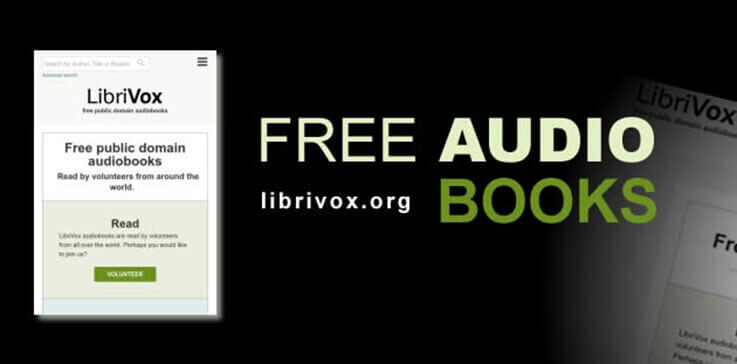 No.2 Lit2Go
Developed by Florida's Educational Technology Clearinghouse, Lit2Go provides a considerably decent collection of audiobooks which can be freely downloaded as a single MP3. A specialty of it is the audiobook arrangement based on readability grading from K to 12. Lit2Go also shares a unique homepage design as the whole interface is in black and white. More often you can find audiobooks about short stories and poems on Lit2Go.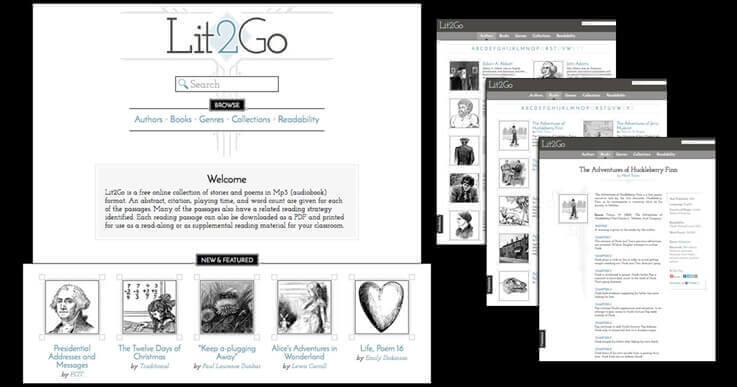 No.3 Open Culture
If you would like to find some educational and cultural sources, Open Culture then is the best audiobook portal for you. A large collection of free audiobooks, mostly classics, can be downloaded in diverse available formats that you can choose one playable on your device. Or you can stream some audiobooks over the Internet. Open Culture has arranged an alphabet sequence by author's last name over the fiction, non-fiction, and poetry categories.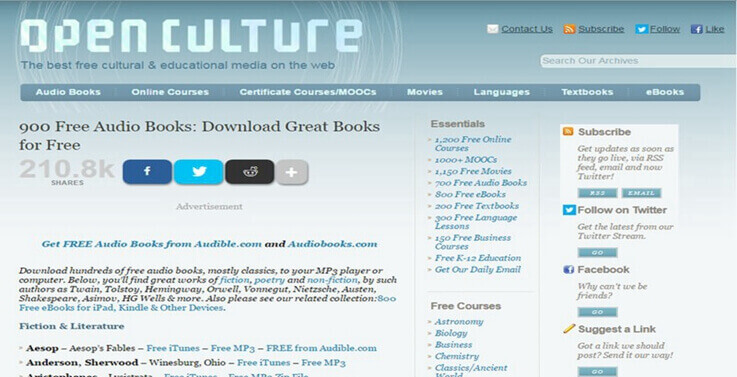 No.4 Storynory
Storynory is an online audiobook gateway intended for children. Read by narrators with exquisite skills, this website can help the children listen to hilarious audiobooks including original stories, fairy tales, classic stories, educational books, and some small stories. Nicely, Storynory publishers always upload at least a new childlike audiobooks every week. Audiobooks here are also downloadable for your offline use. You can get informed of the latest releases with an RSS feed.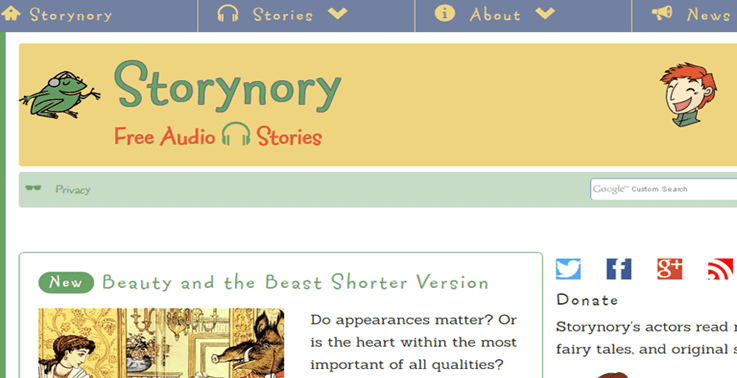 No.5 Podiobooks
Podiobooks holds tremendous audiobook collection that fits adult and children. You can also get a free access to download the audiobooks to play on your computer or MP3 player. Or you can receive them on your iTunes via RSS, but in this case, you only can read just a chapter at a time instead of the whole story. You can also freely register on the Podiobooks, so you can a custom podcast feed that will make your online audiobook listening work better.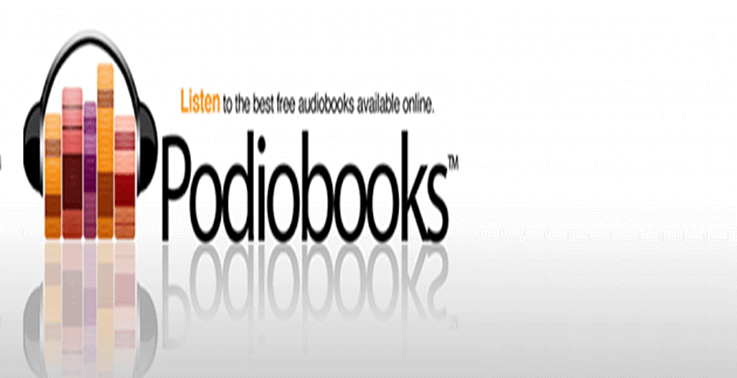 No.6 ThoughtAudio
ThoughtAudio offers free listening and download service for literature and philosophy books. But audiobooks there are separated into several parts. That is, though you can have a free audiobook online listening, you should operate on each separated segments if you want to download or stream the whole audiobook. You can also get a PDF version for ebook reading.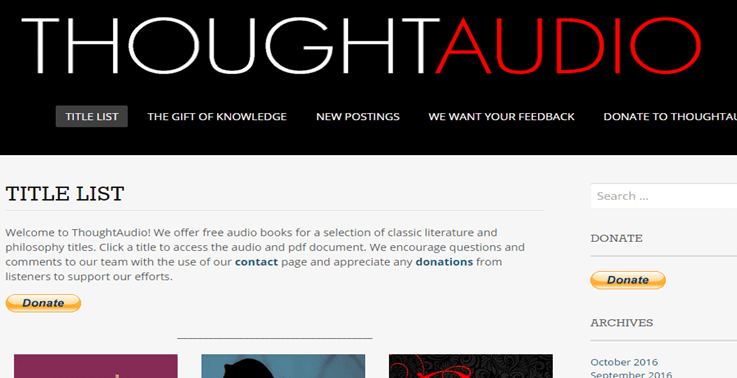 No.7 Free Classic Audiobooks
On Free Classic Audiobooks, you can find great pleasure in some outstanding classic works like Huckleberry Finn and the King James Bible. It would be good that you know what audiobooks you are looking for as this online audiobook website doesn't do much work on recommended audiobook lists except the most popular downloads. The downloaded audiobook will be saved as an MP3 file or some as the M4B files for iPod. As its name tells, it might be not a good place to find the newly-issued works.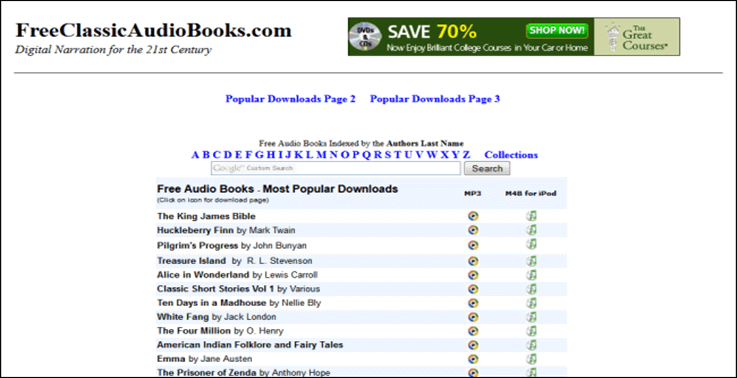 No.8 The Internet Archive
The Internet Archive offers you a large collection of free audiobook and poetry recordings, nearly 13,000 items. It provides you multiple search method from subject, keywords, alphabet, to title. The "VIEWS" area will promote different specific zones for the most popular audio books. Moreover, the Internet Archive staff has picked their weekly favorites for your generous visit.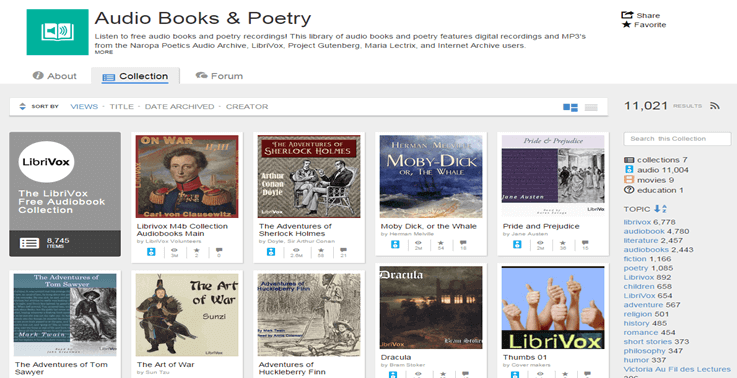 No.9 Learn Out Loud
Learn Out Loud shows the visitors a large bulk of educational audiobooks, lectures, podcasts, and free audio & video, roughly amounting to over 10,000 options. This free audiobook website has performed a detailed distinction into different categories such as Arts & Entertainment, History, Language, Science, and etc.
You can also find audiobooks from the recently added, or by random, or for the most popular, or just alphabetically. These audiobooks can be directly streamed online. If you want to download the version, just sign up for a free account and then try a free purchase service to download it.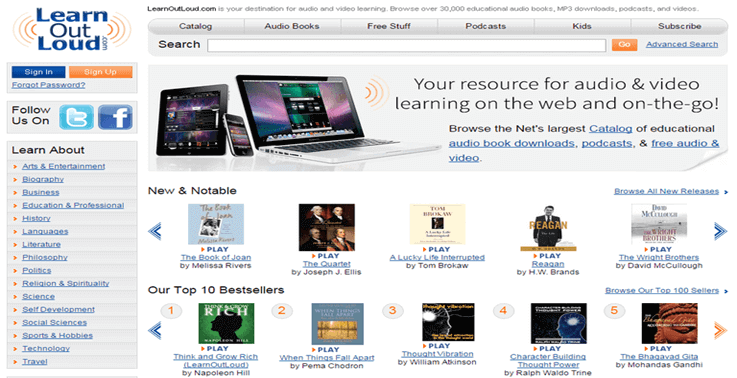 No.10 Project Gutenberg
As one of the largest and oldest audiobook website, Project Gutenberg actually is the cooperative product of LibriVox and Audiobooksforfree, which thus features its human-read and computer-generated audiobooks. Here you can search the audiobooks by the author, title, language and the newly-added time. As it is, most readers tend to listen to the affectionate audiobook version read by a human.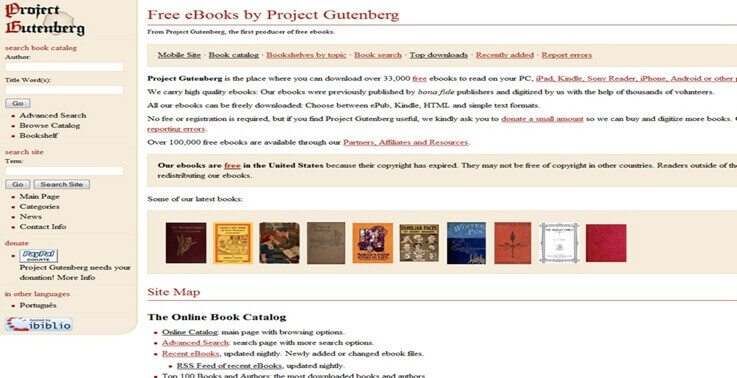 Now you've got 10 nice websites that can help you listen to free audiobooks online. Have a good time with your audiobooks listening.
Was this information helpful?
TrustScore 3 | 10