Given the DRM protection of Audible which has certain limitations when it comes to listening and sharing Audible books across devices, the Audible family sharing feature is truly a nice way to share Audible books with family or friends. But how much do you know about this Amazon family plan? Are you aware of any limitations it may have ? If you have the same confusion, just check this post where you can learn the most comprehensive information about Amazon Family sharing that you want to know. Besides, this post will show you a lesser-known but effective way that helps you convert Audible to MP3 so that you can share Audible books with family and friends more easily. Now, let's dive in!
CONTENTS
Method 1. Share Audible Books via Amazon Household Sharing
To enhance the connection between users, Amazon launched a family plan called Amazon Household, which allows you to share your Amazon/Audible content - games, apps, videos, music, and books - with members that you have added to the group. This plan is easy to get started and that will come with Audible family sharing. You can follow the process below and begin to share Audible books with family and friends.
Set Up a Family Sharing Library
Step 1. Go to Amazon Household, find "Manage Your Content and Devices" > "Preferences".
Step 2. Click on "Households and Family Library" to open it and then select "Learn more about Households."

Step 3. Tap the "Add" button and there are three options you can choose - "Add Adult", "Add a Teen", "Add a Child"
Step 4. Now you can fill in the name and email to invite the user you want to add to your Amazon Household.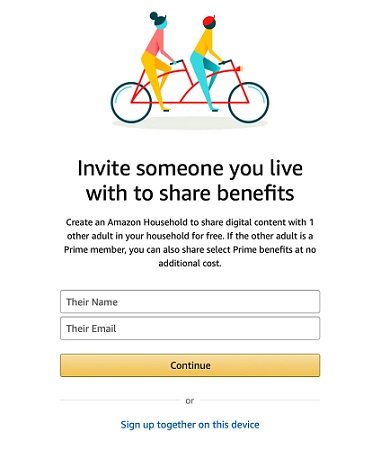 Step 5. Read the conditions again on the screen, and click to create a Family Household.
Share Audible Books with Audible Family Plan
Step 1. Head to the "Manage Your Content and Devices" page of Amazon.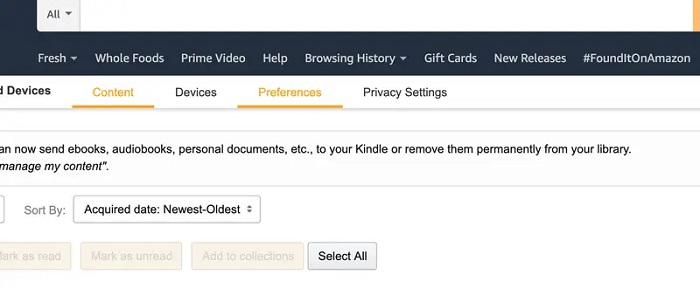 Step 2. Select "Audiobook" from the "Show" list and hit "Show Family Library".

Step 3. Pick and check the audiobook that you want to share with other members. Also, you can specifically select Audible books for your child and share them.
Amazon Household Sharing Limitations
● Sharing books should be chosen from the Audible Plus catalog or purchased by the main adult's account.
● Only one adult can use the account at a time.
Method 2. Share Books on Audible with Audible Free Trial
If your family or friends are newcomers to Amazon, you must not waste the chance to share Audible books with the free trial. This user-friendly feature allows your family and friends to listen to audiobooks included in the Audible Plus Catalog for 30 days without a penny, and you can also stand a chance to send them an audible book for free.
To Get Audible Free Trial
Step 1. Navigate to Audible on a browser and sign up for a new account.
Step 2. Click on "Start my trial" and enter payment information (which will work if you don't stop the Audible subscription once the free trial comes to an end).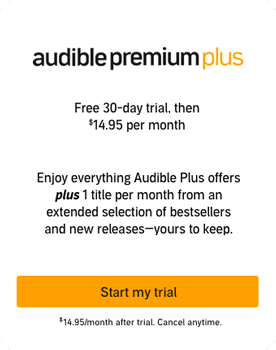 Step 3. Now your family or friends can enjoy Audible for free.
Share Audible Books with the Free Trial
Step 1. Log in to your Audible account on a browser, go to Library, and select "My Book".
Step 2. Open one book you want to share with your family or a friend who has been a new user of Audible.
Step 3. Fill in the email address of your family or a friend and confirm it to share.
Note:
● The audible free trial can only let you listen to 2 free audiobooks.
● You can only share one free audible book with your family or friends.
Method 3. Send Books on Audible as a Gift
To share books on Audible with your family or friends, you can also make it happen by purchasing an audiobook as a gift. This method may cost more, but it is truly easy and effective. And here is how it works.
Step 1. Go to the Audible site and sign into your account.
Step 2. Find and click on the audiobook you want to purchase as a gift.
Step 3. Hit "More options" and then choose the "Give as a gift" option.

Step 4. Select the way you want to send the gift - an email or a printable card. After that, enter the information according to the requirements.
Step 5. Review the information and buy the Audible book by clicking "Confirm Purchase". Then you have finished the process of sending an Audible book to your family or friends.
Method 4. Audible Family Sharing via
MP3 Files
Official ways to share audiobooks with family members and friends are straightforward but expensive and full of various restrictions. In this case, why not bypass the DRM protection of Audible and the costly subscription and try Audible family sharing via MP3 files?
TuneFab Audible Converter is a powerful tool that can do you a great favor. Compatible with Windows and Mac, this top-rated program can easily remove DRM encryption from Audible and simultaneously convert audiobooks to MP3 format. Considering the compatibility of MP3, you can listen to Audible books and share them among multiple devices as you want. Better yet, TuneFab Audible Converter comes with the original quality output, which can ensure your listening experience to the greatest extent.
Explore more features of TuneFab Audible Converter
● Easy to get started with an intuitive interface and simple design;
● Convert Audible AAX/AA to MP3 and other highly compatible formats, including WAV, M4A, and FLAC;
● Boost downloads of Audible books in bulk with 60X faster speed;
● Preserve ID3 tag information well that is conducive to managing your audiobook library;
● Provide customized settings like sample rate and bitrate;
● Split audiobooks into small segments by time frame or by chapters.
Here's how to share Audible books with family or friends by converting them to MP3.
Step 1. Launch TuneFab Audible Converter
Choose a compatible version for your computer and then download and install TuneFab Audible Converter.
Once you get the Audible Converter installed successfully, run the software.
Step 2. Add Your Own Audible Books to TuneFab
After you download Audible books to your PC, you can locate the Audible books that you want to convert, and then click on the interface to add audiobooks to the waiting list. You may also drag and drop the .aax or .aa Audible files to the program's interface. Then you can see all ID3 information including book title, narrator, and audiobook cover are detailedly displayed.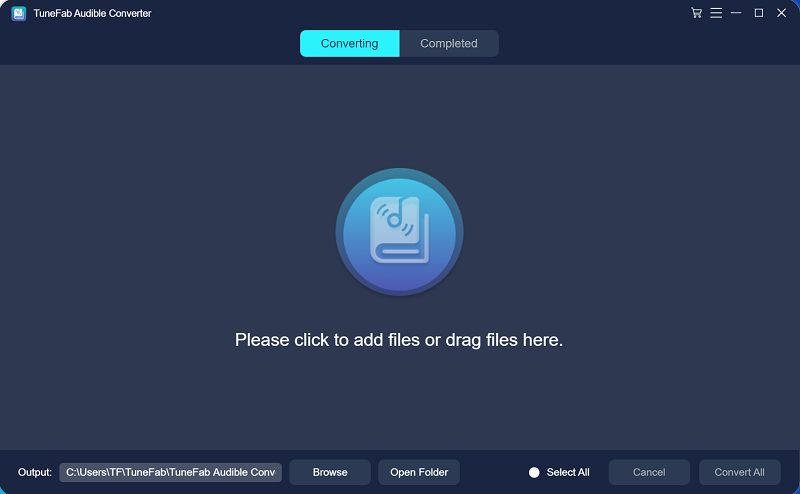 Step 3. Set Up the Output format
When the Audible books are successfully imported, you can choose a desired output format from the drop-down menu. If you want to enjoy Audible books on different devices, usually it is recommended to convert Audible books to MP3 audio. To ensure keeping chapter info, you may select the M4A format for exporting.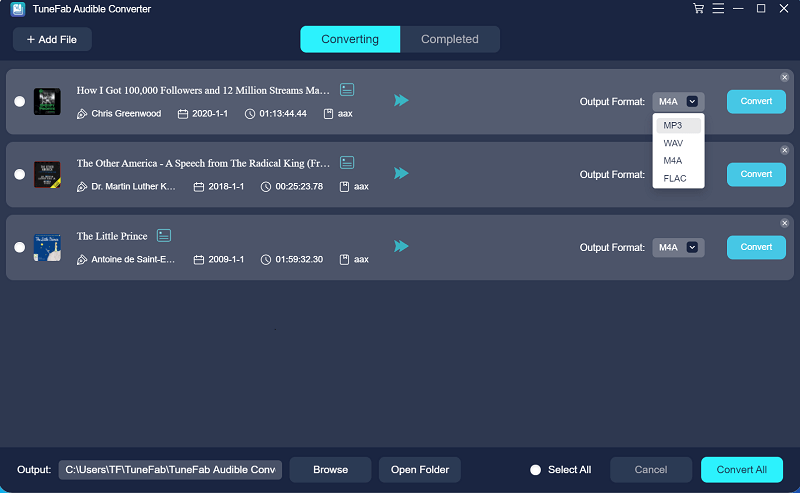 Step 4. Convert Audible AA/AAX Files
Click the "Convert" button. After that, TuneFab Audible Converter will convert AA/AAX to MP3/M4A in a few minutes. The duration time for the entire conversion process largely depends on the actual length of your audiobooks. Once the conversion is over, you can click on the "View File" button to check your converted Audible books.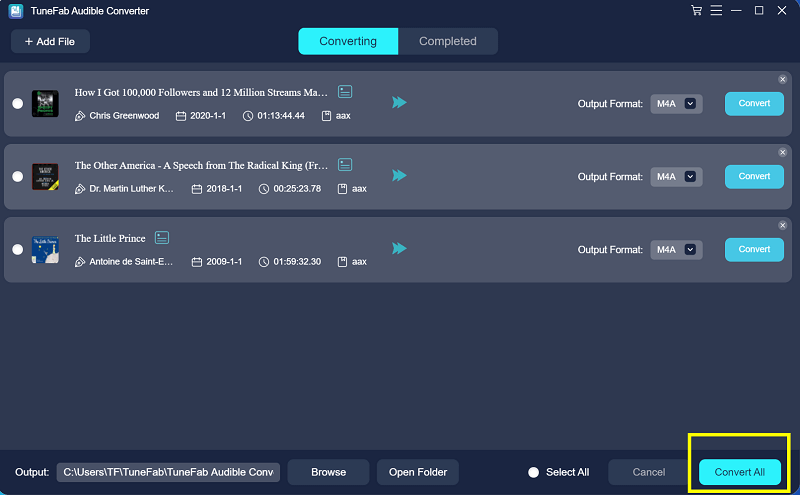 With DRM easily removed, now you can freely share Audible books with family members or your friends without any intractable restrictions. Just locate the output destination folder and right-click and copy the Audible book you want to share, and then send the book to your family or friends via a chat tool or email.
FAQs on Sharing Audible Books
Is Audible "Send This Book" Still Available?
Sadly, the answer is no. As of April 2021, Amazon has stopped the "Send this Book" feature. This promotion has ended and can not be claimed at this time. But now you can still employ the three methods by Amazon - Amazon Household, Audible Free Trial, and audiobook gift - to share Audible books with your family and friends. Also, if you want a more free way, you can try to convert Audible books to MP3 files to share, which has fewer restrictions.
Can 2 people share an Audible account?
It depends. It is possible to share personal Audible accounts with each other, but you may encounter some login errors or official warnings. But if you want to share an Audible account in Amazon Household, it is not feasible. According to Amazon, every member of Amazon Household requires two adults and four children. Children do not need an Amazon account in order to have a profile, while the two adults should have their own accounts.
How many times can you share from Audible?
If you have created an Amazon Household sharing, you can share at will as long as the subscription is available and books are chosen from the Audible Plus catalog or purchased by the main adult's account. Similarly, if you send an audiobook to your family or friends by buying the book as a gift, you can also share as much as you like with the appropriate fees paid. But if you are asking about sharing books with the Audible free trial, the answer may frustrate you that you can only share them one time.
Conclusion
To wrap up, there are four workable ways to share audible books with family and friends. You can pick one that suits you most. But if you want to adopt a freer and cheaper way that has fewer limitations, you must top TuneFab Audible Converter. With it, audiobooks in MP3 format can be at your fingertips and any chat tool or email can help you share them. This software can bring you nothing but convenience. Now try better than never!
Was this information helpful?
TrustScore 3.9 | 11