Audible sharing is really a nice idea as you may want to share some interesting or inspiring audiobooks with your family, friends, or colleagues. But as we know, it's not so easy to share Audible contents because they are encrypted by Amazon DRM to prevent illegal piracy over digital contents. Given that, DRM-encrypted Audible books are only playable on certain devices and fail to be simply copied and shared with your family members.
But if you have legally purchased an Audible audiobook, Audible actually has accordingly promoted sharing way. This article will show you how to utilize Audible's sharing feature to recommend audiobooks that you love. Besides, we also have prepared a lesser-known but effective way that helps you convert them to MP3 so that you can share Audible books with family and friends easily.
CONTENTS
Method 1. Use "Amazon Household Sharing" to Share Audible Audiobooks
If both you and your family members are regular Audible readers, the "Amazon Household Sharing" plan may deserve a try to avoid duplicate audiobook payouts. This feature allows involved members to share digital content such as games, apps, videos, music and books, and so on if you have the Household Sharing Center account.
Tip: If you haven't set up your Amazon Household Library, you can navigate to "Your Content and Devices > Preferences > Learn more about Households" and add your families' account.
Now I will walk you through how to share audible books with family in 4 steps.
Step 1 Enter the "Manage Your Household" page of Amazon, and then you will be led steps by steps. And this sharing way allows for two adults and four children's active engagement.

Step 2 Then you can come to the "Manage Your Content and Devices" page of Amazon.

Step 3 Select "Audiobook" from the "Show" list and hit "Show Family Library".

Step 4 Pick and check the audiobook that you want to share with other members.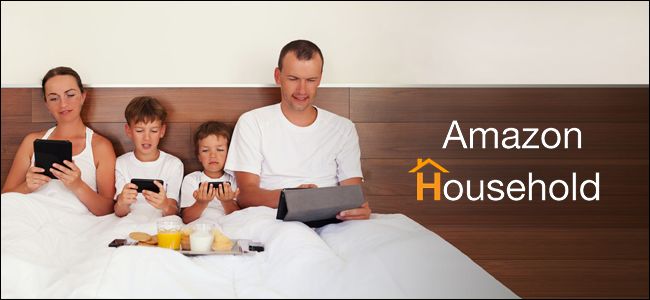 Now your family can purchase and share Audible audiobooks. But this is more applicable for family members instead of friends as the Amazon Household Sharing may involve children and the payment info will be charged equally. Moreover, as the function is launched by Amazon, you should first have an Amazon Prime account besides an Audible account. Additionally, titles included in the Audible Plus Catalog cannot be shared via Family Library Sharing.
Method 2. Share Audible Audiobooks as MP3, M4A, FLAC, and WAV
So is there any way that can share Audible books with family members and friends free from these inconveniences? As it is, Audible limits the sharing capacity due to the DRM restriction. But if we could bypass the DRM then it will be much easier to share audiobooks with family members. Here we highly recommend an easy-to-use DRM removal tool TuneFab Audible Converter that helps you convert your audiobooks to MP3 or M4A.
TuneFab Audible Converter can easily remove DRM encryption from Audible audiobooks, and simultaneously convert Audible AA/AAX to other available formats like MP3. You don't need to worry the conversion process will do any damage to your audiobooks as it abides by an efficient and high-quality conversion. So you will be surprised to find that all your audible audiobooks are converted in good order and with chapter info kept.
• Strip DRM from Audible audiobooks;
• Convert Audible AA/AAX to MP3, M4A, FLAC, and WAV
• Finish the conversion at 60X faster speed;
• Fully preserve all chapter and ID3 info;
• Spilt Audible books by chapter/segment/time length
• Work on Windows & Mac;
Here's how to share Audible books with family or friends by converting them to MP3 or other formats.
>>

Step 1. Launch TuneFab Audible Converter

Choose a compatible version and then download and install TuneFab Audible Converter. Once you get the Audible Converter installed successfully, run the software.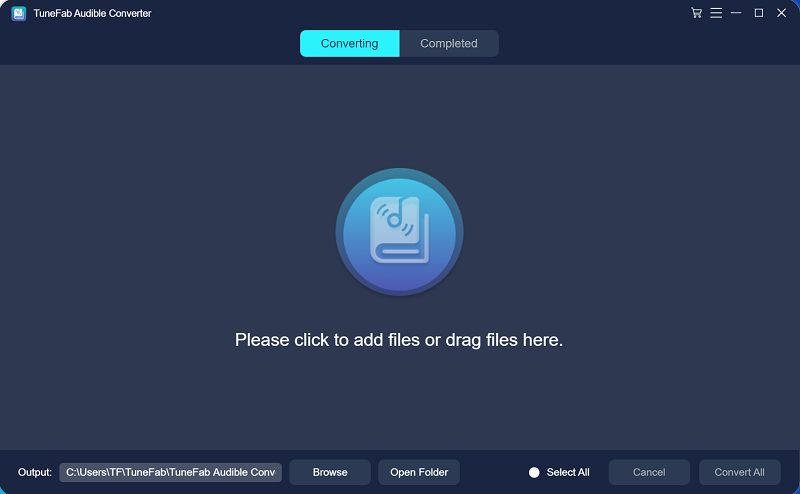 >>

Step 2. Add Your Own Audible Books to the Interface

1. After you download Audible books to your PC, you can locate the Audible books that you want to convert, and then click on the interface to add audiobooks to the waiting list. You may also drag and drop the .aax or .aa Audible files to the program's interface. Then you can see all ID3 information including book title, narrator, and audiobook cover are detailedly displayed.

2. When the Audible books are successfully imported, you can choose a desired output format from the drop-down menu. If you want to enjoy Audible books on different devices, usually it is recommended to convert Audible books to MP3 audio. To ensure keeping chapter info, you may select the M4A format for exporting.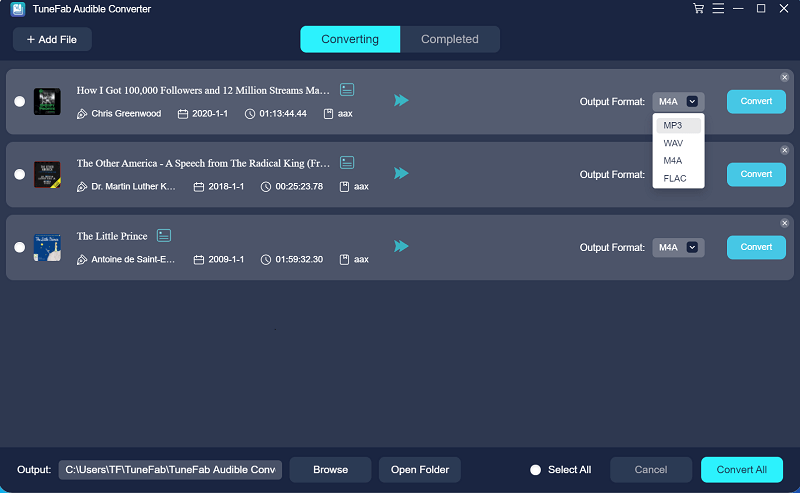 >>

Step 3. Convert Audible AA/AAX Files

Click the "Convert" button. After that, TuneFab Audible Converter will remove DRM from Audible books and convert AA/AAX to MP3/M4A in a few minutes. The duration time for the entire conversion process largely depends on the actual length of your audiobooks. Once the conversion is over, you can click on the "View File" button to check your converted Audible books.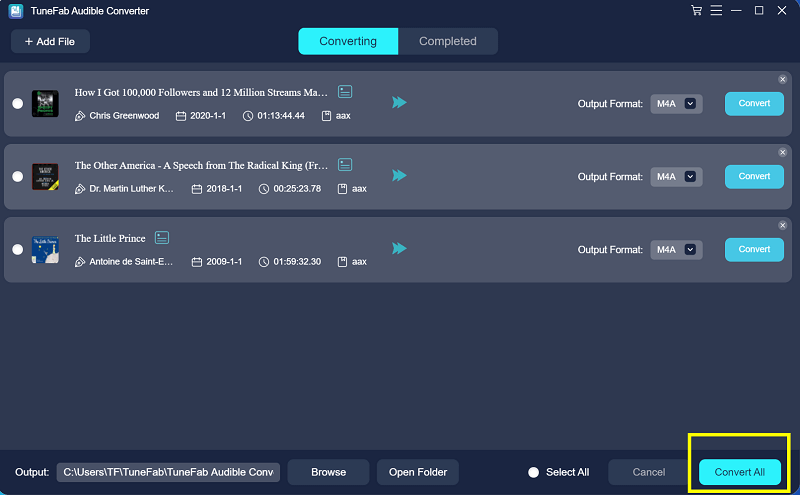 With DRM easily removed, now you can freely share Audible books with family members or your friends without any intractable restrictions. TuneFab Audible Converter will give you high-quality resultant files also pleasant Audible playback experiences without getting annoyed by DRM.
FAQs on Sharing Audible Books
>>

Can I Share My Audible Account with Family or Friends?

As long as you permit, you can share your Audible account with family or friends so that they can enjoy the audiobooks you bought. Audible allows you to log into your account on many devices at the same time. But audible sharing in this way can get your progress lost.
>>

Can You Share Audible Books with Others?

Yes. You can share Audible books with others through the Family Library, lend your Audible account to other for sharing or convert your audiobooks to MP3 via TuneFab Audible Converter and share it with others via email.
>>

Is Audible Send This Book Still Available?

No. This feature has been removed since April, 2021. But you can still use the Amazon Household to share Audible books with family or friends.
Conlusion
You can easily share audiobooks with your family or friends on Audible via the Family Library of Amazon Household. Also, you can use an easier and free method. That is converting your audiobooks to MP3 with TuneFab Audible Converter and send the audio file to them via email or a USB.
Was this information helpful?
TrustScore 4.3 | 6