In this digital age rife with screens and constant distractions, audiobooks have emerged as an indispensable resource for parents seeking to educate and entertain their children. These versatile audiobooks for kids serve not only as a time-saving alternative to traditional storytelling but also as a delightful means of introducing children to the world of literature.
With tons of audiobooks for kids available in the market, choosing the right ones can be a daunting task for parents and caregivers. In this article, we have handpicked the top 10 audiobooks for kids of 2023. These selections are sure to engage young listeners and provide both entertainment and educational value.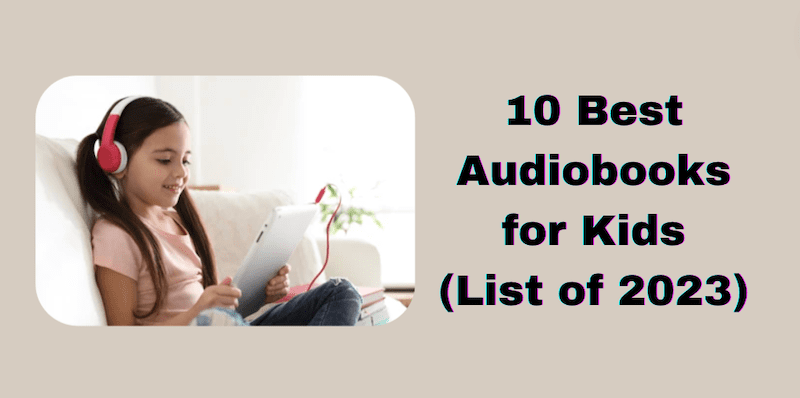 CONTENTS
#1. The Cat in the Hat (by Dr. Seuss)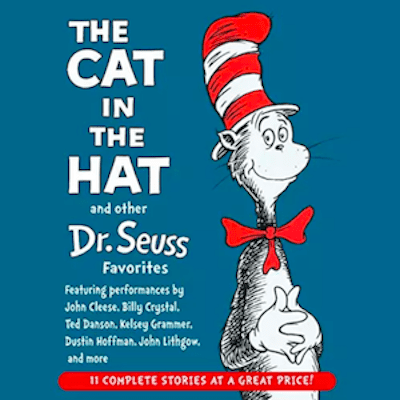 The Cat in the Hat is a timeless classic by the beloved children's author Dr. Seuss. This delightful book narrates the mischievous adventures that ensue when a zany cat in a tall striped hat pays a visit to Sally and her brother while their mother is away. Through the Cat's antics, the book teaches valuable lessons about creativity, responsibility, and the importance of balancing fun and responsibility.
The Cat in the Hat is not just a delightful story; it's also a valuable tool for early literacy development. Dr. Seuss's use of simple words and repetitive patterns helps young readers build essential reading skills while enjoying the playful narrative. It is ideal for children who are just starting their reading journey and will absolutely leave these young audiences giggling and inspired.
#2. Harry Potter and the Sorcerer's Stone, Book 1 (J.K Rowling)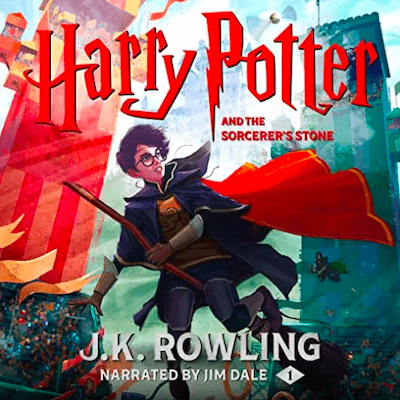 Harry Potter and the Sorcerer's Stone is the first installment in J.K. Rowling's iconic Harry Potter series. This fiction introduces us to the young wizard Harry Potter, who discovers his magical heritage on his 11th birthday and embarks on a thrilling journey to Hogwarts School of Witchcraft and Wizardry. Listeners will enter a world of wonder and danger as they accompany Harry as he unravels the mysteries of his past and fights the dark forces that threaten the wizarding world.
The audiobook is read by skilled performers who bring the wizarding world and its vivid characters to life in an immersive and unforgettable way. It is more than just a wizarding story; it is a timeless tale of friendship, courage, and the triumph of good over evil. It is a must-listen story for both young and adult audiences, and a gateway to the magical kingdom that has captured hearts and minds across the globe.
#3. Letters From Camp (Jamie Lee Curtis)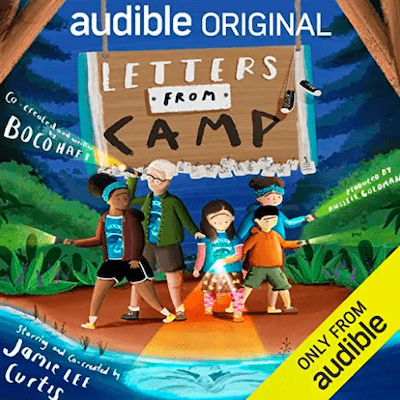 Letters from Summer Camp is a heartwarming story written by acclaimed actor and author Jamie Lee Curtis. This funny story centers around a young boy named Curtis who goes to summer camp for the first time and writes a series of humorous and imaginative letters to his parents documenting his adventures and experiences at summer camp.
Letters From Camp is not only entertaining but also highlights the importance of resilience, independence, and family bonds. Filled with funny observations, stories of camping life in the wilderness, and endearing moments of self-discovery, it is an ideal reading for anyone looking for a heartwarming and humorous coming-of-age story.
#4. Diary of a Wimpy Kid (Jeff Kinney)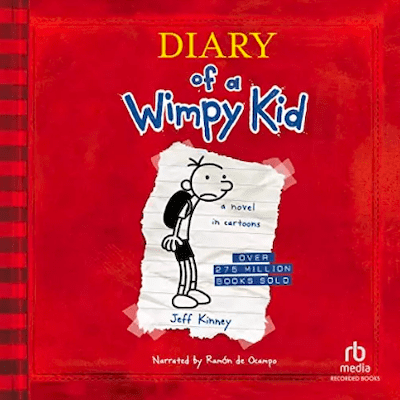 Diary of a Wimpy Kid is a popular series of humorous children's books created by Jeff Kinney. Presented in the form of a diary, the series chronicles the ups and downs of middle school student Greg Heffley's life and adventures as he navigates his way through adolescence.
Narrated with authenticity and humor, the audiobooks provide a window into the life of a typical adolescent dealing with family, friends, school, and the challenges of growing up. Jeff Kinney's writing captures the essence of middle school life, delivering laugh-out-loud moments and relatable anecdotes. Through Greg's escapades, the series not only provides endless laughs but also explores important themes of friendship, self-acceptance, and the challenges of growing up.
#5. Charlotte's Web (by E.B. White)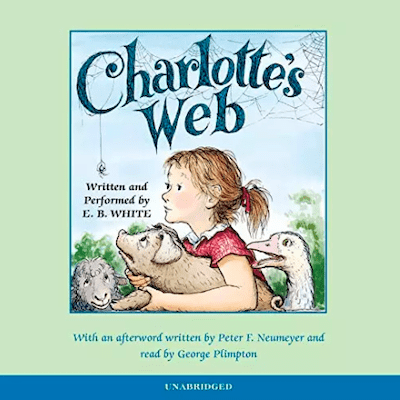 Charlotte's Web is a timeless and touching classic by acclaimed author E.B. White. This read tells the story of the extraordinary friendship between a young pig named Wilbur and a clever spider named Charlotte. When Wilbur is in danger of being made into bacon, Charlotte comes to the rescue, wowing the townspeople with the information she weaves into her web and ultimately saving Wilbur's life.
The author weaves a tale of love, loyalty, sacrifice, and the far-reaching effects of friendship. This cherished classic continues to resonate with listeners of all ages, reminding us of the everlasting power of friendship and the magic that exists even in the most unexpected places.
#6. Matilda (Roald Dahl)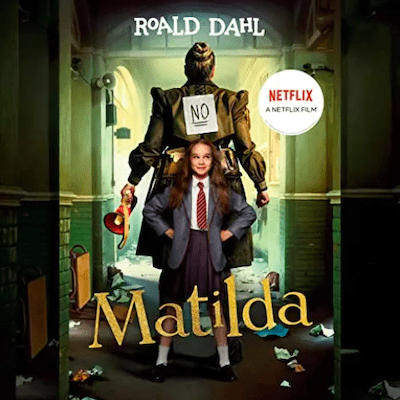 Matilda is a beloved classic by renowned author Roald Dahl, a story that tells the story of Matilda with humor and sincerity. Matilda is a young girl with exceptional intelligence and a love of books. Despite her challenging home life, her parents' negligence, and the tyrannical principal, Miss Trunchbull, Matilda discovers an extraordinary gift - telekinesis. This newfound ability becomes her armor against injustice, enabling her to seize control of her own destiny.
Matilda extends far beyond a mere tale of exceptional abilities; it serves as a resounding testament to resilience, courage, and the transformative might of knowledge. It remains an enduring inspiration for young listeners, showing them that intelligence and determination can conquer even the toughest challenges.
#7. Winnie the Pooh (A. A. Milne)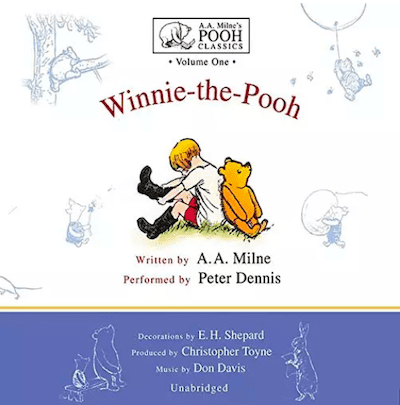 Winnie the Pooh is one of the best audiobooks for kindergarteners by author A. A. Milne that has captivated generations of young readers and listeners. This engaging read invites listeners into the enchanting world of the Hundred Acre Wood, where they are introduced to Winnie the Pooh, a lovable bear who can't get enough of honey, and his lovable friends, including Piglet, Eeyore, Tigger, and Rabbit.
With gentle humor and a heartwarming tone, this book tells a series of touching adventures that celebrate friendship, imagination, and the simple pleasures of life. Each character in the Hundred Acre Wood has his or her own unique quirks and personality, making them relatable and endearing to children and adults alike.
#8. Mercy Watson (by Kate DiCamillo)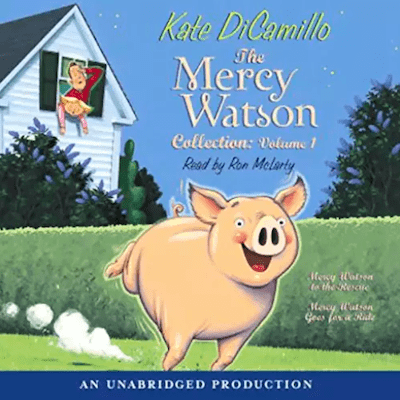 Mercy Watson is a charming series of children's books penned by the acclaimed author Kate DiCamillo. These endearing tales revolve around Mercy Watson, an irresistibly lovable pig who resides with the Watsons, her caring human family. Maisie Watson's mania for buttered toast often leads to a hilarious story, not only for her immediate family, but also for her neighbors, the Lincoln Sisters, Baby Lincoln and Eugenia, and their pet cat, Kitty.
This series is an ideal choice for young listeners and families in search of heartwarming, comical stories that are sure to evoke smiles and laughter.
#9. The Wonderful Wizard of Oz (by L. Frank Baum)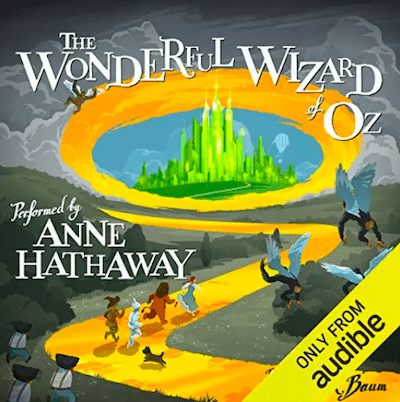 The Wonderful Wizard of Oz is a beloved literary classic from the pen of L. Frank Baum. This enchanting read transports listeners to the fantastical land of Oz, where we meet Dorothy, a young girl from Kansas. A whirlwind blows her to this magical land, and Dorothy begins a journey to find the Wizard of Oz, who can help her find her way home. On her journey, Dorothy forms strong friendships with memorable characters such as the Scarecrow, the Tin Man, and the Cowardly Lion. Together they face challenges, encounter evil wizards, and seek to fulfill their deepest desires.
The Wonderful Wizard of Oz is suitable for readers of all ages who enjoy magical adventures, timeless tales of friendship, and stories that inspire courage and self-discovery.
#10. Amelia Bedelia Audio Collection (Peggy Parish)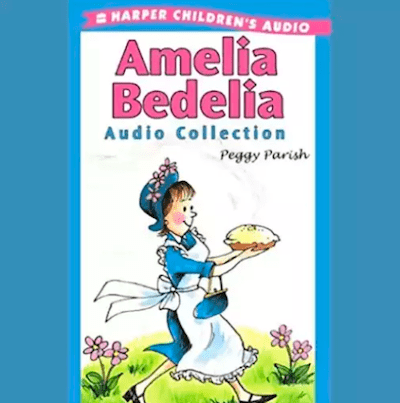 The Amelia Bedelia Audio Collection is a delightful series of audiobooks created by Peggy Parish. These audiobooks bring to life the iconic character of Amelia Bedelia, a lovable and quirky housekeeper known for her humorous misinterpretations of everyday expression while trying to fulfill her various job duties. Amelia Bedelia's literal interpretations of everyday phrases lead to a series of hilarious misadventures, making these stories a source of endless amusement for young listeners.
As one of the best children audio books, Amelia Bedelia Audio Collection is perfect for young listeners and families looking for entertaining stories that combine humor with language exploration.
FAQs About Audiobooks for Kids
Are Audiobooks Good for Toddlers?
In general, there are numerous benefits to incorporating audiobooks into a child's routine. Audiobooks expose young children to a diverse range of vocabulary and language patterns, thereby enhancing their language skills, vocabulary, and comprehension abilities. Some audiobooks, especially those featuring engaging narrators and captivating storylines, can assist toddlers in honing their attention spans, a skill that holds great value for their future learning endeavors. Furthermore, exploring a variety of audiobooks introduces young children to different cultures, settings, and perspectives, promoting cultural awareness and broadening their horizons.
However, it is crucial to carefully choose audiobooks that are appropriate for the child's age, ensuring they are both simple and comprehensible. Additionally, it's advisable to set reasonable time limits and engage in meaningful parent-child interactions while listening to audiobooks.
Can You Move Audiobooks for Children to Listen on Yoto?
Yes. However, please note that audiobooks purchased or downloaded from Audible are typically in the AAX format, while Yoto devices usually support MP3 audio files. To make them compatible, you'll need to convert AAX to MP3. Here's how to do it:
Step 1. Start by Downloading the audiobooks to your computer in AAX format.
Step 2. Download and install TuneFab Audible Converter on your computer. Follow the software&'s instructions for importing AAX files, selecting the output format as MP3, and starting the conversion. Once done, you can transfer the MP3 files to your phone.
Step 3. Create a new playlist on the Yoto app on your phone, and then upload the transferred MP3 files to the playlist from your phone. When finished, these audiobooks for children are accessible on Yoto.
Conclusion
In conclusion, this article has introduced the 10 best audiobooks for kids. These carefully selected audiobooks offer your kids engaging stories and valuable life lessons, making them an excellent choice for both entertainment and education.
Additionally, if you want to enable your kid to enjoy these audiobooks on MP3 players, Yoto, or other portable devices, you can use TuneFab Audible Converter to efficiently convert them into MP3 format. This conversion process ensures a seamless experience, allowing your child to easily access and enjoy these audiobooks on their preferred devices, thus enhancing their literary journey.
Was this information helpful?
TrustScore 5 | 49