Audiobooks could be a blessing as we will be able to enjoy them after a long day of work. For some people, it is better than a physical book because it frees people's eyes from watching and hands from holding. Besides, our understanding can be deepened if the book is read with emotion.
Nowadays, an audiobook has always been listed at the top of our gift-for-friends/family/colleague list. But sometimes, some fellows cannot put this idea into practice because they don't know how to gift an audiobook. And that's why we wrote this article. After reading this article, you should have a clearer picture of how to send audiobooks to others as a gift.
CONTENTS
Way 1. Amazon
You can purchase audiobooks on Amazon. Three options are available.
• If the book you want to purchase has a CD version, you can directly purchase it and get it nicely wrapped, then send it to your recipient.
• If your gift recipient has a Kindle, and the book is available in kindle with an audio format, you can simply buy it for his or her kindle account by subscribing to kindle unlimited and checking the box "This is a gift". Membership duration available: 6 months, 12 months, 24months )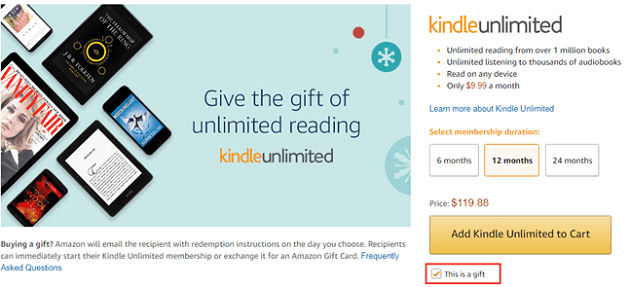 • If you only want to purchase the audio format, you need to go through Audible as amazon's audiobooks are handled by Audible, which we will talk about later.
Way 2. Audible
Although Audible doesn't allow you to gift a single audiobook, you can give a gift subscription. Go to the Audible Gift Center. Three membership are there for you, 3 months, 6 months, and 12 months. Click on the tag "Give As a Gift".

What benefit can your recipient get with an Audible subscription?
• If they're not an Audible subscriber, they'll get one free book per month, as well as discounts on other books.
• If they are a subscriber, they'll get all of the credits immediately, which means they'll get three, six, or twelve free audiobooks that they can redeem right away.
After choosing, you can pay for the subscription. Some thoughtful services are provided. You can pick a card as well as write a note to your beloved one.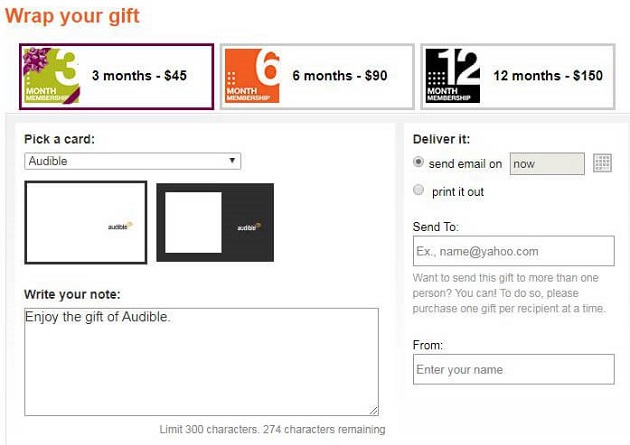 Way 3. Audiobooks.com
Similar to audible, Audiobooks.com doesn't come with an option of individual-book gift. But there are still several membership options for you. Go to Audiobooks.com Gift Center for further details. Membership durations available are 1 month, 3 months, 6 months, and 12 months.

Audiobooks.com can be a good choice for price consideration especially if your friend or family is actually a frequent user of Audible.
Way 4. AudiobooksNow
some of you may not be familiar with this website, but AudiobooksNow can be a preferable choice for an audiobook gift. One of the best it can offer you is you can gift an individual book. Go to the page of the books you decide to gift, click "Give as Gift" below "Add to Cart".

And still, you can purchase a membership to the Club Pricing Plan, which gives members 50% off of their first book each month and 35%-40% off of books after that. There are no credits for free books like other plans, but money-saving is still possible. They also offer a fully-featured app that allows you to search, browse, join, purchase, listen, and manage your account.
Go to AudiobooksNow Gift Center, there are three types of gifts for you to select: Gift individual book, Gift Plan, and Gift Certificates.
Way 5. Downpour
Even though no gift option is provided on Downpour, their books are DRM-free, you can simply buy one and sent it to your recipient. What makes its users love it more is that its users can listen to the book using their favorite audiobook app.
You can save more by joining their memberships.

Way 6. Apple iTunes
If your recipient has an Apple device and you just want to gift a single book, Apple iTunes is of much use for you. No subscription is necessary. Instructions are very simple and easy.
Open up iTunes and go to the Audiobooks section.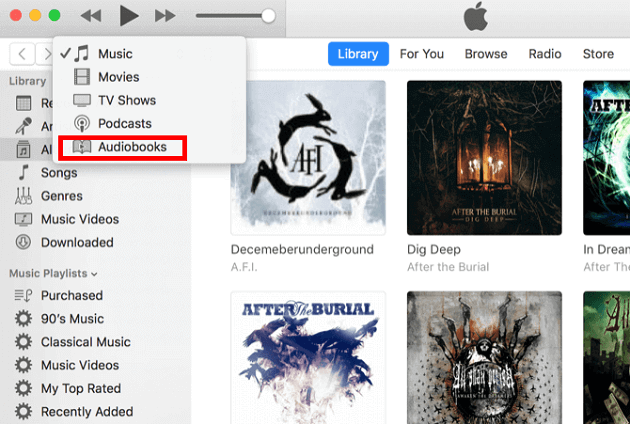 Click "Store" on the top menu bar, find the book you want, then click on the arrow next to "Buy Audiobook", select "Gift this Audiobook". Next, follow the given instruction to make the payment.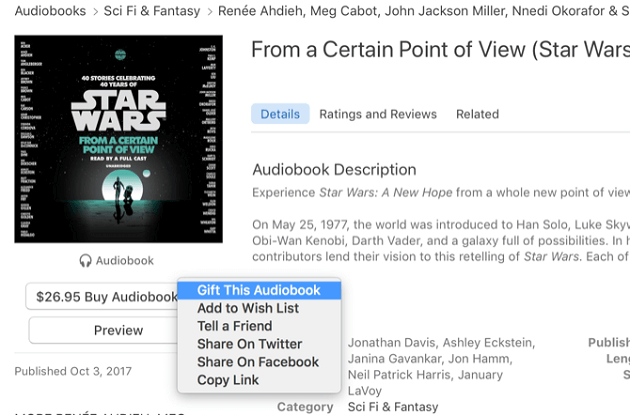 Wants more details? You can go to our post. (Link is here: Perfect Gift for Apple Music Fans - Apple Music Gift Card) to get more idea of how to gift a book on Apple.
Here comes a question. What happens if the subscription gets expired? Your recipient no longer gets access to the book as those books are DRM-ed files. He or she needs to re-subscribe to get authorized to listen to that book. But second-time subscription can be avoided if you send it with TuneFab Audible Converter, a tool that can convert Audible AA/AAX audiobooks to plain MP3, M4A, FLAC, etc and store those converted files to your local files. Your recipient will appreciate more for your thoughtfulness.
Way 7. Libro.fm
On Libro.fm, you can join their membership plan to buy the book. The first-month subscription only costs you $0.99. Or you can make it easy by just gifting independent books. No subscription is necessary and their books are also DRM-free, which allows your friends and families to listen to the book on multiple devices. By the way, every purchase is the support for independent book vendors. And it's very nice of it to think about that. Right?

Just go to the book you like, click "Gift this Audioboo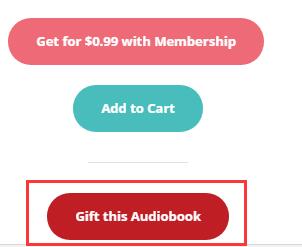 Next, follow subsequent instructions to fill up gift information.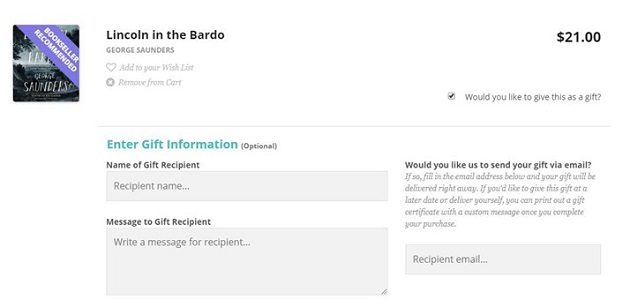 Way 8. Scribd
Similar to Audible, Scribd is a popular subscription service allowing you to get access to one audiobook per month in addition to three ebooks. No individual audiobook gifting is available. But you can purchase a membership for your recipient. Go to the Gift section and click on "Give A Gift"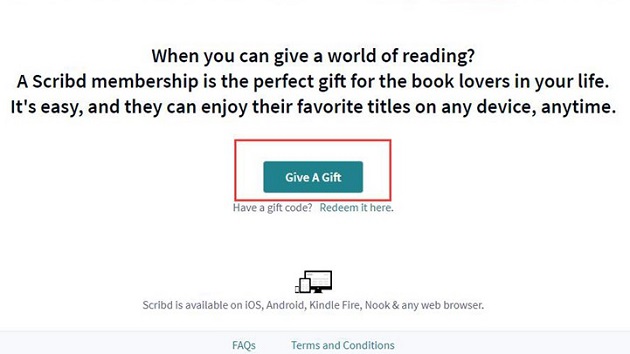 Choose the membership you want to purchase, 3 months, 6 months, or 12 months.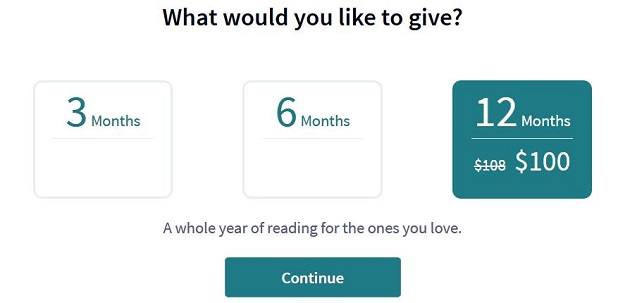 Finally, fill up the information and make the payment.
Now, are you still confused about how to gift an audiobook? I bet you are not. Go to one of the websites and get your beloved one a blessing gift - a nice and inspiring audiobook.
Was this information helpful?
TrustScore 4 | 4