Want to choose handpicked gifts for audiobook lovers, but have no idea how to gift an audiobook? Just take it easy. You can take a look at these 8 best audiobook sites and give an audiobook as a gift for your loved ones. Better yet, it's possible to download audiobooks from Audible and iTunes for flexible playback at any time. Now, let's kick in and pick a vivid story as a surprise gift.
CONTENTS
1. Gift an Audiobook from Amazon
You can buy an audiobook as a gift on Amazon. Three options are available.
● If the recipient has a CD player, the best way to gift an audiobook is to pick an audio CD of his/her favorite audiobook.
● You can consider exchanging a Kindle Unlimited membership as an Amazon audiobook gift card so that the recipient can enjoy thousands of audiobooks every month. Also, the recipient can listen to unlimited audiobooks in the Kindle app on any device if they don't have a Kindle.
● If you only want to purchase the audio format of audiobooks, you need to go through Audible as Amazon's audiobooks are handled by Audible, and see how to gift an audiobook on Amazon in the following.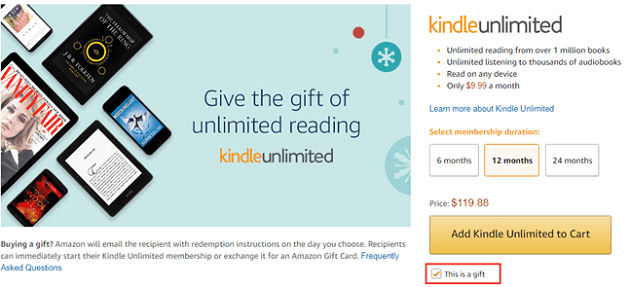 2. Gift an Audiobook from Audible
Audible is the right place to explore gifts for audiobook lovers. It allows you to gift an audiobook or give a membership (from 1 month to 12 months) to anyone. Now, you may wonder how to give an audiobook as a gift or gift audible to your loved ones. That's actually a piece of cake.
Just go to the Audible Gift Center. If you want to give a membership, click "Select gift" under a preferred plan and fill up the chart. If you want to buy audiobooks as a gift, scroll down and click a category for the best sellers. Or pick audiobook ideas in "Most-gifted listens". Then, click "Give as a gift" and fill up the chart.

What benefit can your recipient get with an Audible subscription?
● If they're not an Audible subscriber, they'll get one free book per month, as well as discounts on other books.
● If they are a subscriber, they'll get all of the credits immediately, which means they'll get three, six, or twelve free audiobooks that they can redeem right away.
How to Gift an Audible Book in MP3 Format
TuneFab Audible Converter is a great helper to strip off DRM protection of audiobooks on Audible and enable you to convert Audible AA/AAX books to MP3, M4A, FLAC, and WAV with the best quality.
Also, you can download Audible to an MP3 player or any device without restrictions, let alone gift audiobooks to anyone. You can even give a library of audiobooks as a gift to your loved ones.
Don't Miss More Amazing Features
● Batch Conversion- Convert unlimited audiobooks in bulk and enjoy the best listens anywhere.
● Super Fast Speed - Accelerate the conversion process at up to 60X faster than a flash.
● Audiobook Division - Split Audible audiobooks by time, chapter, or segments as you wish.
● Easy Management - Keep the chapters and metadata information of all downloaded audiobooks.
How to Convert Audible Books to MP3?
STEP 1. Download and install TuneFab Audible Converter on Windows/Mac. Then, launch the software.
STEP 2. Drag Audible AA/AAX files into the program and load the books.
STEP 3. Click the "Output Format" and choose "MP3". After that, click "Convert All" to start converting Audible books to MP3 files. It takes no time to complete and you can find DRM-free audiobooks in the "Completed" tab.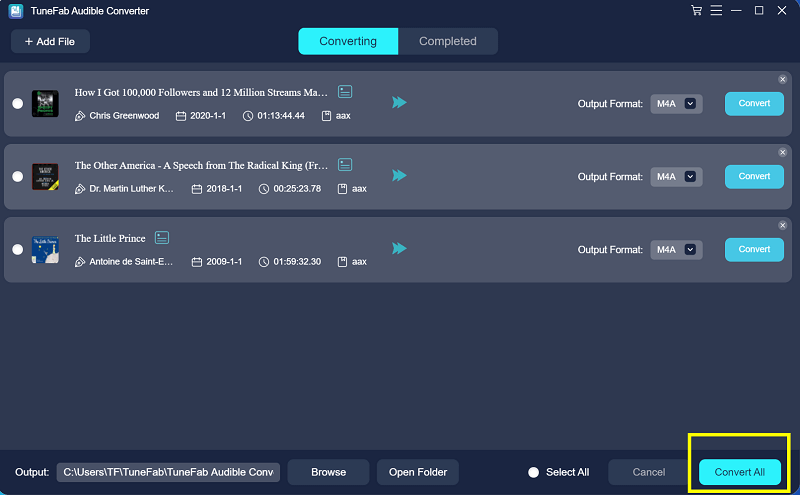 3. Send an Audiobook Membership from Audiobook.com
Although Audiobooks.com doesn't come with an option of individual-book gift, there are still several membership options for you to send an audiobook membership for enjoying endless books. Go to Audiobooks.com Gift Center for further details. Membership durations available are 1 month, 3 months, 6 months, and 12 months.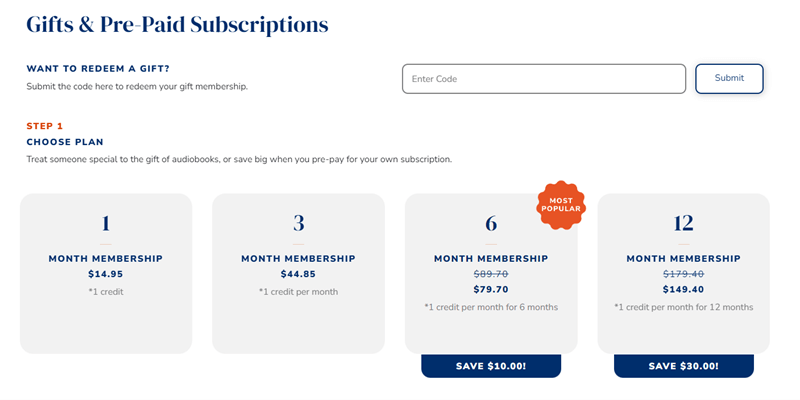 Audiobooks.com can be a good choice for price consideration especially if your friend or family is actually a frequent user of Audible.
4. Gift an Audiobook from AudiobooksNow
Some of you may not be familiar with this website, but AudiobooksNow can be a preferable choice to buy audiobooks as a gift. One of the best it can offer you is you can gift an individual book. Go to the page of the books you decide to gift, click "Give as Gift" below "Add to Cart".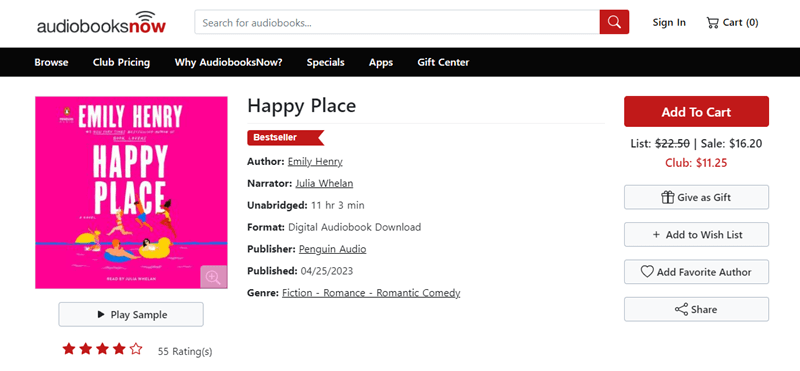 And still, you can purchase a membership to the Club Pricing Plan, which gives members 50% off of their first book each month and 35%-40% off of books after that. There are no credits for free books like other plans, but money-saving is still possible. They also offer a fully-featured app that allows you to search, browse, join, purchase, listen, and manage your account.
Go to AudiobooksNow Gift Center, there are three types of gifts for you to select: Gift individual book, Gift Plan, and Gift Certificates.
5. Gift an Audiobook from Downpour as a Gift
Even though no gift option is provided on Downpour, their books are DRM-free, you can simply buy one and sent it to your recipient. What makes its users love it more is that its users can listen to the book using their favorite audiobook app.
You can save more by joining their memberships.

6. Gift an Audiobook from Apple iTunes
If your recipient has an Apple device and you just want to gift a single book, Apple iTunes is of much use for you. No subscription is necessary. Let's see how to send an audiobook as a gift to your friends on iTunes.
Step 1. Open up iTunes and go to the Audiobooks section.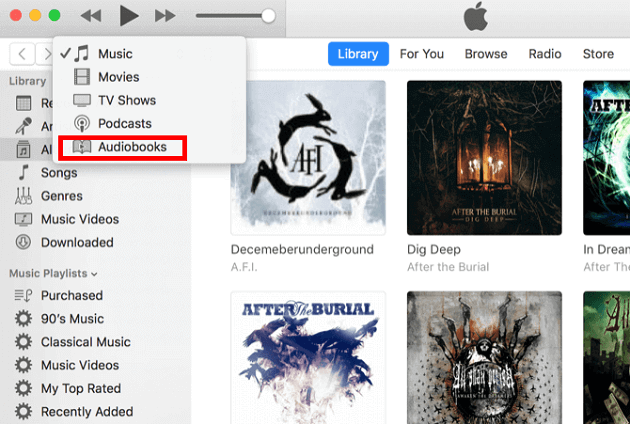 Step 2. Click "Store" on the top menu bar, find the book you want, then click on the arrow next to "Buy Audiobook", select "Gift this Audiobook". Next, follow the given instruction to make the payment.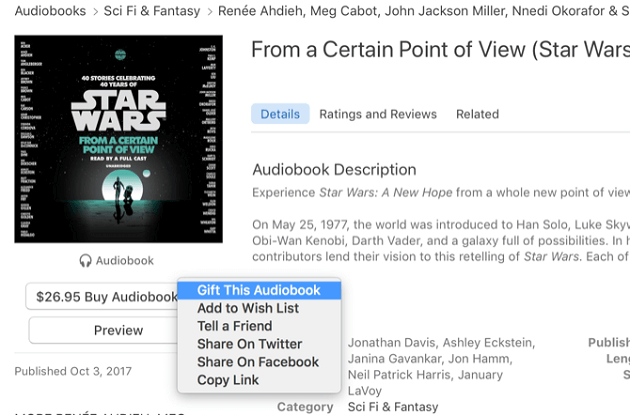 Wants more details? You can go to our post: Perfect Gift for Apple Music Fans - Apple Music Gift Card to get more ideas on how to gift a book on Apple.
How to Gift an Audiobook to Play on Any Device
You can directly send an audiobook gift card to your friends or families on iTunes. However, if you want to gift audiobooks that you've purchased on iTunes, you will fail because your downloads of iTunes audiobooks will be DRM-protected and unable to be played outside iTunes.
Therefore, you need to remove DRM from iTunes audiobooks in the first place if you are prone to make your gifted audiobooks play on any device. In this case, a handy tool comes into assistance.
TuneFab iTunes Music Converter utilizes its world's advanced decryption technology to convert everything in your iTunes. It's never easier to convert iTunes audiobooks to MP3, M4A, FLAC, AAC, AC3, MKA, and M4R with this dedicated software. All chapters and ID3 tags will be saved along the way. After that, you can gift audiobooks to anyone you love.
More Silver Linings to Explore
● Batch Conversion - Convert as many audiobooks to DRM-free formats as you want at the same time.
● Ultra-Fast Rate - Boost the entire conversion process up to 16X faster than ever.
● Offline Support - Convert all the selected files with or without an internet connection.
● All iTunes Library - Support audiobooks, iTunes songs, podcasts, music videos, M4V videos, etc.
How to Convert iTunes Audiobooks to MP3?
STEP 1. Open TuneFab iTunes Music Converter after you download and install it on Windows/Mac.
STEP 2. Then, iTunes will be launched automatically. Switch to the "Audiobook" and select desired audiobooks from the iTunes library.
STEP 3. Choose the profile, output format, output format, and advanced setting. Then, hit the "Convert" button on the left top and wait until the conversion finishes.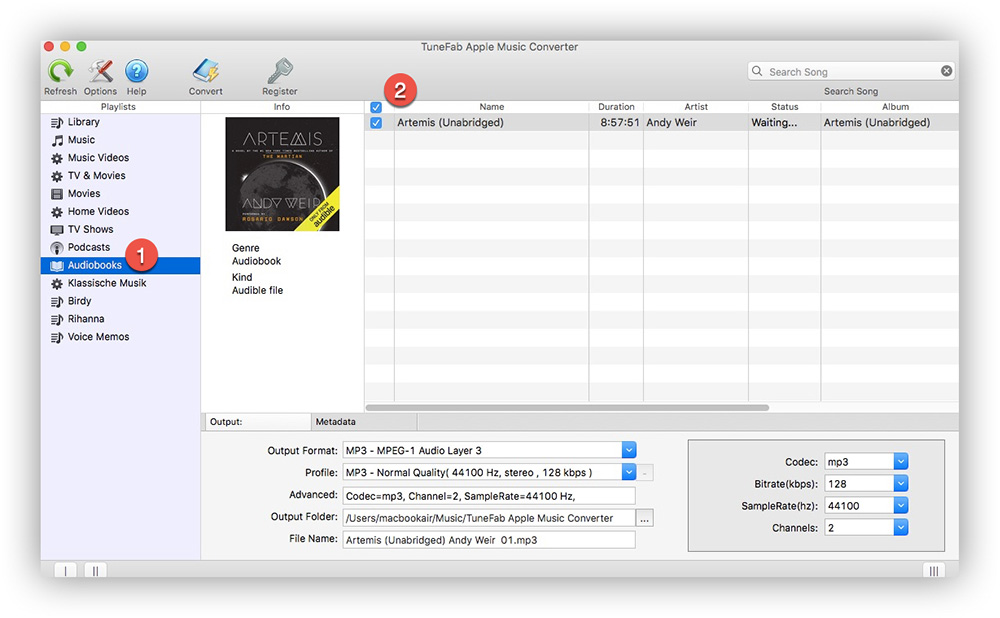 7. Gift an Audiobook Credit Bundle from Libro.fm
On Libro.fm, you can join their membership plan to buy the book. The first-month subscription only costs you $0.99. Or you can gift audiobooks directly to anyone. No subscription is necessary and their books are also DRM-free, which allows your friends and families to listen to the book on multiple devices.
By the way, every purchase is the support for independent book vendors. And it's very nice of it to think about that. Right? Here's how to gift an audiobook on Libro.fm.
Step 1. Just go to the book you like, and click "Send as gift".
Step 2. Next, follow subsequent instructions to fill up the gift information.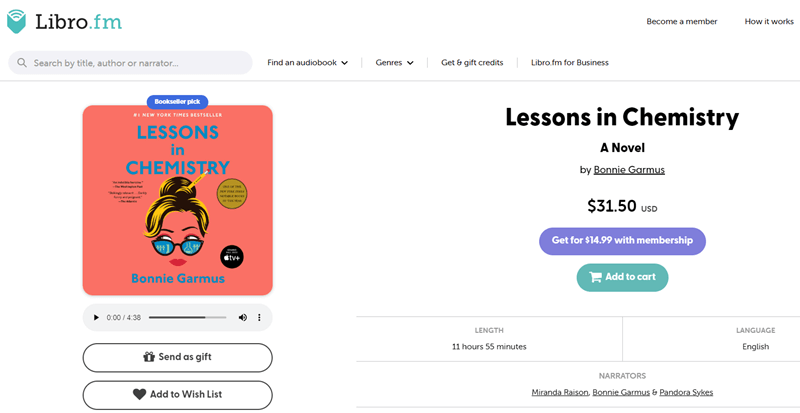 Besides, if you're afraid of having a wrong guess, it's always a good idea to gift audiobook credit bundles instead, and your recipient can choose whatever audiobook he/she likes. There are bundles of 2, 3, 6, 9, 12, and 24 credits to take into consideration. What a win-win game it is!
8. Send an Audiobook Membership from Scribd
Similar to Audible, Scribd is a popular subscription service that allows you to get access to one audiobook per month in addition to three ebooks. No individual audiobook gifting is available, but you can purchase a membership for your recipient as a gift.
Step 1. Go to the Gift section and click on "Give A Gift".
Step 2. Choose the membership you want to purchase 6 months or 12 months.
Step 3. Finally, fill up the information and make the payment.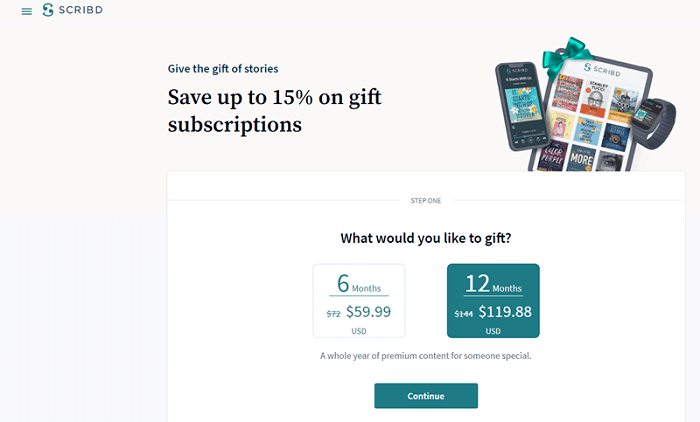 Conclusion
There are all about the best 8 audiobook sites in the market. If you have no idea what audiobooks make a perfect gift, the alternative plans are to gift an audiobook from the best sellers, give a membership, or send credits instead.
Moreover, you can download audiobooks from Audible with TuneFab Audible Converter or from iTunes with TuneFab iTunes Converter. Therefore, you can send a shelf of audiobooks as a big surprise for your loved ones.
Was this information helpful?
TrustScore 2.8 | 9
Copyright © 2022 TuneFab Software Inc. All rights reserved.