Apple Music boasts over 100 million songs in all catalogs and allows subscribers to download songs for offline playback. However, if you are more of a person who is used to listening to music on a portable MP3 player, you may wonder whether you can download and play Apple Music on MP3 Players. In this case, this post will show you how to play Apple Music on any MP3 player in 3 ways. You may want to pick a preferred way to try it out.
CONTENTS
Can I Play Apple Music on MP3 Player Directly?
To be honest, you cannot directly play Apple Music on MP3 players. Because of the Digital Rights Management (DRM) restriction, downloads from Apple Music are encrypted in M4P or AAC formats as well as restricted to playing back on Apple's authorized apps like the Apple Music app and iTunes.
After that, they will become playable on any MP3 player once you transfer the song to it. Even the old iPod models can have a chance to play back your Apple Music tracks. Therefore, it somehow resets the pity that iPod has no Internet access, which makes it incompatible with the Apple Music streaming service.
In addition, downloading Apple Music in MP3 format is more flexible for users who use MP3 players that support an extended microSD card. The Apple Music library now can save as extra backups on your portable MP3 devices.
Method 1. Put iTunes Music on a Non-Apple MP3 Player
In fact, iTunes also builds in with a converter to help you flexibly rip your music tracks and convert them to the common MP3 formats for playback on your old MP3 players. It is convenient, especially when your MP3 player cannot recognize purchased iTunes Music encoded in Apple's proprietary AAC format. More importantly, the entire conversion should not cause any quality loss.
If you have no idea how to make it, you may follow the below tutorail and transcode the iTunes Music tracks to MP3 and put them on your MP3 player for offline listening. These iTunes Music tracks are not just made for iPod. But do bear in mind that iTunes Music purchased before 2009 is embedded with DRM protection that iTunes App may fail to convert. You may also refer to this article to get help.
STEP 1. Open the latest version of iTunes on your Windows or Mac computer.
STEP 2. Navigate to Edit followed by Preferences.Then, click Import Settings in the General tab.
STEP 3. Change the Import Using option to MP3 Encoder and the Setting to the preferred quality. Don't forget to click OK to save the changes.
Note that iTunes supports the MP3 conversion of sound quality from 128kbps to 192kbps.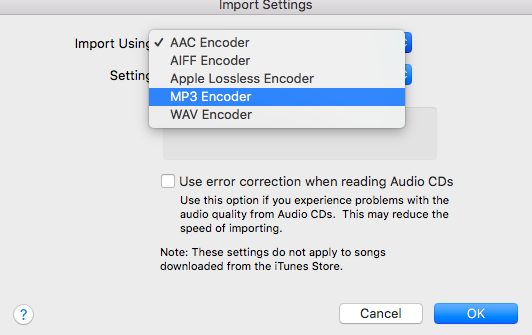 STEP 4. Now, go to your music library and select the song you want to convert to MP3.
STEP 5. Click the File menu and select Convert - Create MP3 Version. The conversion will start in no instant and the MP3 version will display under the original track.
STEP 6. Plug the microSD card into your computer and copy & paste Apple Music in mp3 format to it.
STEP 7. Insert the microSD card back into your MP3 player and you'll now be able to enjoy Apple Music offline.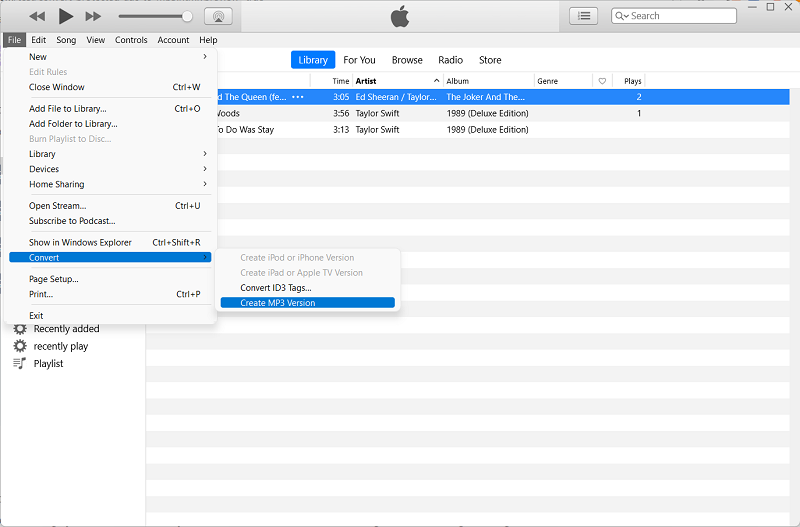 Method 2. Convert Apple Music to MP3 without iTunes via TuneFab
Purchased songs available on the iTunes Store can be directly converted via the iTunes app.However, if you want to convert a bunch of Apple Music songs, using iTunes would be a lot of work because iTunes can only convert tracks to MP3 one by one. So, why not try to download lossless Apple Music to MP3 directly instead of using iTunes?
TuneFab Apple Music Converter is a revolutionary Apple music downloader that can quickly read the contents of your Apple Music library, batch add as many songs as you want to convert at once, convert to MP3 directly and easily in 3 simple steps, and keep the original audio quality after conversion.The downloads are available for good even if your Apple Music subscription is canceled or expires. Moreover, you can play Apple Music on any device without restrictions.
Key Features of TuneFab Apple Music Converter:
● Remove DRM Restrictions - TuneFab Apple Music Converter leads the way in DRM decryption that can easily remove the DRM restrictions on Apple Music. Your favorite tunes will no longer be restricted to iTunes or the Apple Music app.
● Play Music on Any Device - The downloads are totally transferrable and playable offline on any device you want, including MP3 players, Audio Speakers, Smart Home kits, Car Audio, Gaming Consoles, and TVs.
● Support Lossless Audio Formats - The program enables users to download Apple Music to popular audio formats like MP3, MAV, M4A, and FLAC. The output quality can reach a lossless audio standard (up to 320kbps and 48kHZ).
● Download Multiple Songs - You can easily download the entire playlist or album with TuneFab Apple Music Converter at up to 5X fast speed. Better yet, the duplicates will be automatically removed.
● Keep ID3 Tags - TuneFab Apple Music Converter can save the ID3 tags and metadata information for easy management such as title, artist, album, and cover artwork along the way when downloading Apple Music.

TuneFab Apple Music Converter embeds the Apple Music web player inside the program, so it's easy and quick to download lossless Apple Music to your MP3 player in just 3 steps.
STEP 1. Log in with Apple ID
After you install TuneFab Apple Music Converter on your Windows/Mac, launch the program and open the Apple web player. Then, please log in with the Apple ID that has an Apple Music subscription. Since you want to play Apple Music on MP3 players, you should unplug the microSD card from your MP3 player and insert it into your computer.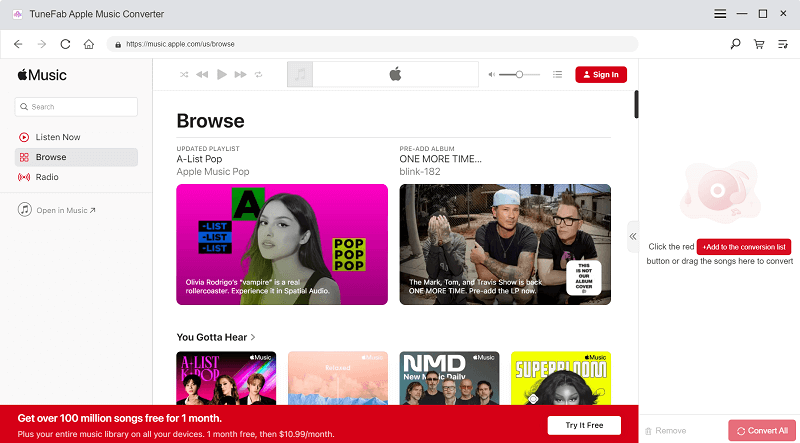 STEP 2. Ensure High-Quality Output
Go to the Dropdown menu on the right top and click the Preferences option. In the General tab, you should set the folder on your microSD card as the destination folder. Then, switch to the Advanced tab, and set the Output Format to MP3. Then, change the SampleRate (from 22050HZ to 48000HZ) and Bitrate (from 128kbps to 320kbps) to ensure the CD sound quality.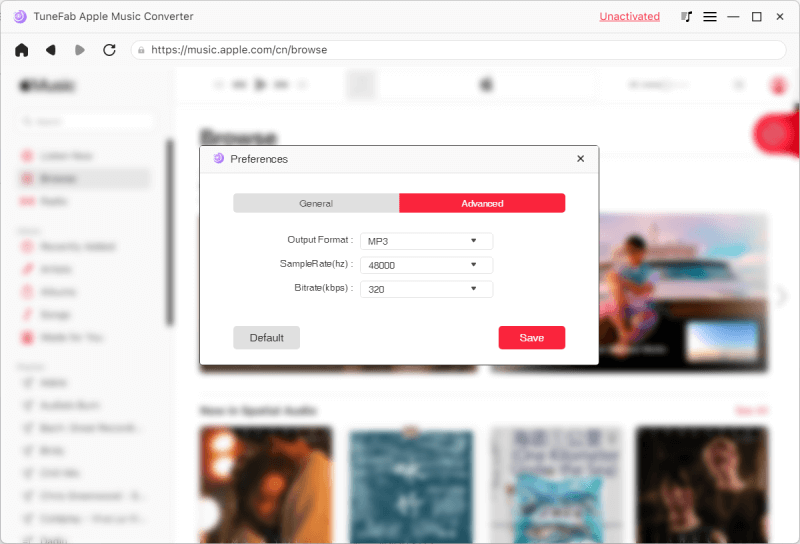 STEP 3. Download Apple Music to MP3
Now, you should go to your music library or search for a song you want to download. You can directly download a single song by dragging it to the Red Plus button. Or click the Red Plus button on the playlist/album page to download the entire playlist/album.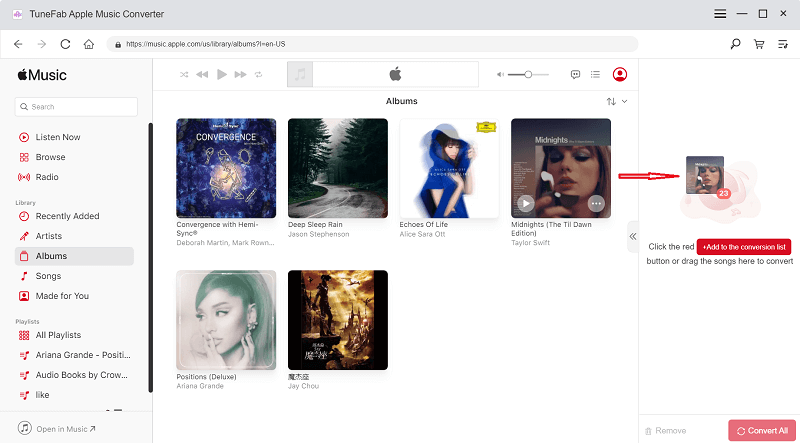 You'll see the feeds inside the program when it finishes extracting data from Apple Music. Make your selections and click Convert All to download Apple Music songs.
The downloads will be saved to the microSD card. You only need to plug the card into your MP3 player, and then you can freely play and listen to your favorite Apple Music tracks offline without any restriction.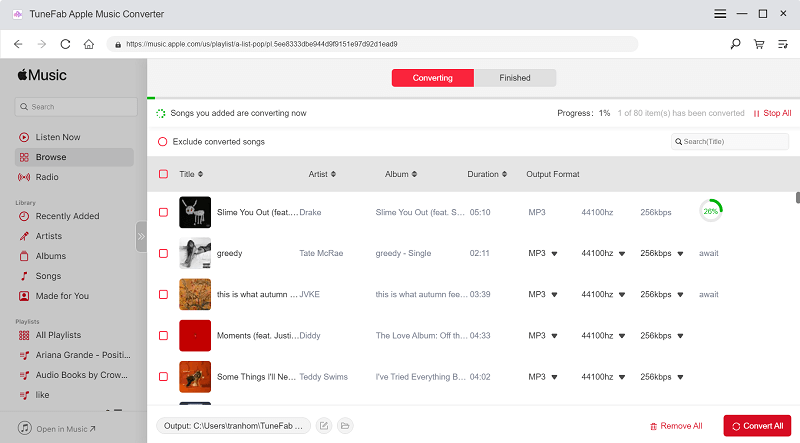 Method 3. Record Apple Music in MP3 Format Directly via FonePaw
Also, there is another way to get Apple Music. That is to say, you can record Apple Music in MP3 format using an audio recorder. Recorders can bypass the DRM restrictions and only record the system sound, so it's feasible to some extent. It may nevertheless take a great effort if you want to record multiple songs from Apple Music.
FonePaw Screen Recorder is an all-in-one recorder that can also work to record online streaming music from Apple Music, SoundCloud, Spotify, YouTube Music, and more. The recordings will remain up to lossless quality, the same as the source. Now, let's see how to record Apple Music in MP3.
STEP 1. Download and install FonePaw Screen Recorder from its official site on your computer.
STEP 2. Go to the Dropdown menu and click the Preferences option. Then, scroll down to the Output tab.
STEP 3. In the Audio Settings section, choose the Audio format and Codec as MP3 as well as set the Audio quality to Lossless.

STEP 4. Open Apple Music on your desktop and play the song you want to record in MP3.
STEP 5. Now, back to the Homepage and select Audio Recorder. You should keep the System Sound on while keeping others off.
STEP 6. Click the REC button to start recording Apple Music. After it's completed, you're able to trim the audio file to remove the redundant parts.

Comparison: Which way to convert Apple Music to MP3 is most efficient?
To have a clear comparison between the three methods, you might as well check out the following table to see the differences and determine which one is a better choice for you.
iTunes
TuneFab Apple Music Converter
FonePaw Screen Recorder
Batch Download
×
√
×
Sound Quality
128kbps to 192kbps
128kbps to 320kbps
Unspecific
Supported Formats
MP3, AAC, WAV, AIFF
MP3, MAV, M4A, FLAC
MP3, M4A, WMA, FLAC, WAV, AAC
Encoding Speed
Medium
Fastest
Slow
Ease of Use 
Medium
Easiest
Medium
That's the end of today's topic - how to play Apple Music on MP3 Players in 3 ways. If you have bought some hit songs in the iTunes Store or downloaded a few tracks from Apple Music on your Windows or Mac, iTunes would be a nice way to convert them to MP3. Or, if you prefer a straightforward way to download Apple Music to your MP3 player, TuneFab Apple Music Converter should be a top priority.
Was this information helpful?
TrustScore 2 | 4