"Can I use Apple Music on iPhone 4 (iOS 7)"? A growing number of iPhone 4 users asked this question on many forums.
Though we know that Apple Music requires iOS 8.4 or iTunes 12.2 for a computer, we still look forward to a miracle when we asked such a question.
It is clear that the lacking of an Apple Music app on the iPhone 4 is a pity. Although iPhone has launched many versions after iPhone 4 (now iPhones X, iPhone XS, iPhone XR, etc. ), there are still many users holding their iPhone 4 as a walkman. So they even still try to jailbreak their iPhone to get the Apple Music App for enjoying Apple Music instead of storing the songs on their new iPhone X or iPhone XS. Here I want to show you an easy way by using TuneFab Apple Music Converter, to get Apple Music songs playable on iPhone 4 without jailbreak.
CONTENTS
Part 1. Why Can't We Use Apple Music on iPhone 4?
Apple Music Format
Before showing the detailed guide, we should know what format Apple Music tracks applied. Apple hasn't announced Apple music format officially, but we know it when we check the song's information. Apple Music uses 256kbps AAC (Advanced Audio Coding), which is the same with 320kbps MP3 in quality. More precisely, Apple Music songs are in the M4P format, which uses Apple's Fairplay DRM (digital rights management).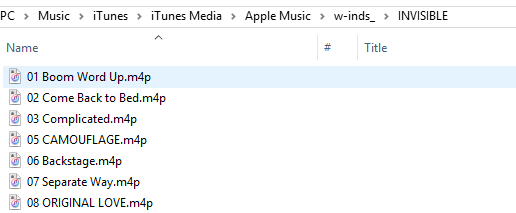 The Possible Way to Play Apple Music on iPhone 4
It is impossible to upgraded iPhone 4 to iOS 8.4 or the later, but it is easy for everyone to download iTunes 12.2 or the later on a computer. With iTunes 12.2 or the later, we can subscribe and listen to Apple Music easily. So can we transfer the Apple Music from iTunes to iPhone 4? Sure, you can if you are able to bypass the DRM protection on Apple Music tracks. TuneFab Apple Music Converter can help you remove DRM from Apple Music. Apart from iTunes, we will like to introduce a super easy way for you to transfer Apple Music to iPhone 4 directly, you can find more details on Part 2.
Part 2. The Full Guide for Using Apple Music on iPhone 4
What You Need:
• iTunes 12.2 or the later;
• Apple Music subscription;
• TuneFab Apple Music Converter
• TuneFab WeTrans (Optional)
Apple Music tracks are protected by Apple's Fairplay DRM, that's why you are restricted to play Apple Music tracks on selected devices. TuneFab Apple Music Converter is a professional tool to help you strip DRM from Apple Music tracks. Also, it supports converting Apple Music tracks, iTunes M4P music and iTunes & Audible audiobooks to popular audio formats like MP3, AC3, FLAC, and AIFF. In a word, with this program, you can play Apple Music on almost any device, including iPhone 4, iPad 1, iPod nano, iPod classic, iPod shuffle, MP3 payers and more.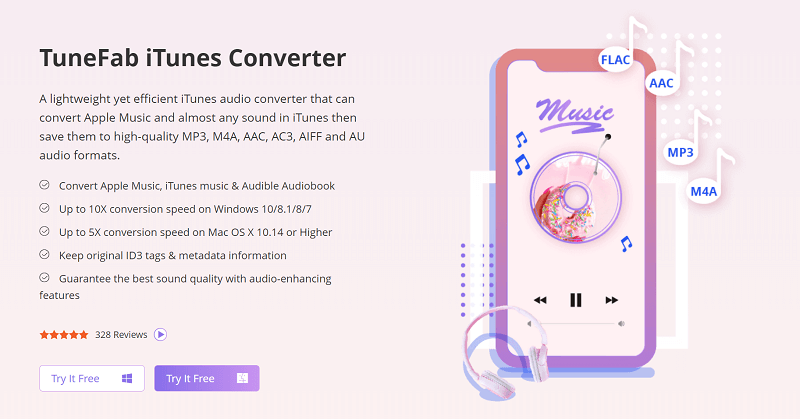 Step 1. Install and Open TuneFab Apple Music Converter
Click the "Download" button to download the program on your computer. Then click installation package to install it on your computer. When you fire up the software, iTunes will be opened automatically.
Step 2. Select Apple Music Tracks
Go to Music section in Playlist, and you can see all your iTunes library playlists on the left side of the program. If you haven't found the music you want, please add the Apple music tracks or playlists to iTunes library first. Then, refresh the program. Just click the playlist that contains the Apple Music songs you want to play on iPhone 4. Tick the box before each tracks to select them.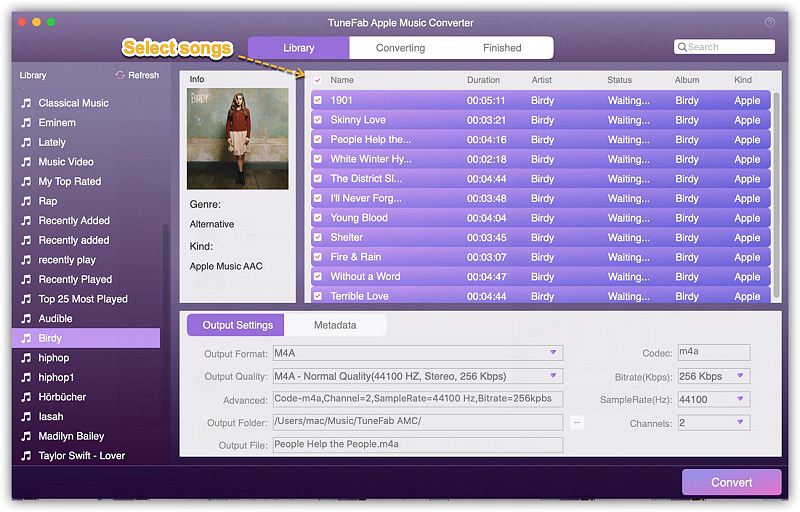 Step 3. Adjust Output Settings
In the bottom of the program, you can select the output format. Here, MP3 and M4A are recommended. Then, you can adjust the bitrate, sample rate, etc. according to your preference. To keep Apple Music's original quality, you can set bitrate as 256 Kbps, and sample rate as 44,100 Hz.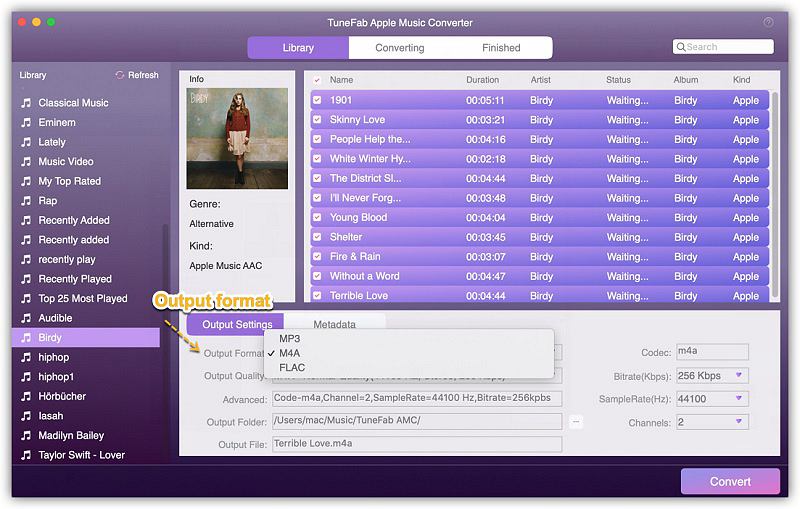 Step 4. Convert Apple Music Tracks
When everything is ready, click on the "Convert" icon at the top-left corner. Then, the program will start to strip DRM from Apple Music tracks and convert them to MP3.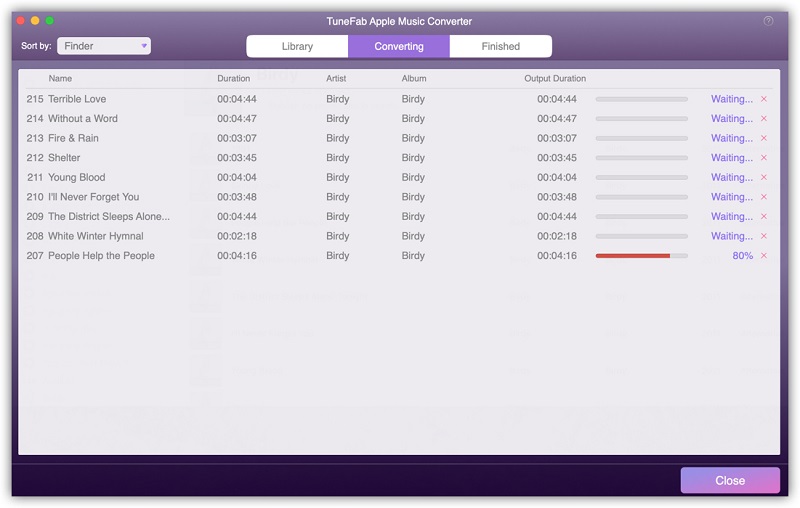 Step 5. Sync Apple Music Songs to iPhone 4
After conversion, add the converted Apple music tracks to iTunes library and sync them to your iPhone 4. And now, you can play Apple Music on iPhone 4.
TuneFab Apple Music Converter is a good helper if you want to:
• Play Apple Music on old Apple devices, such as iPhone 4, iPad 1, iPod nano/classic/shuffle
• Play Apple Music on unlimited devices;
• Play Apple Music on Xbox, Roku, Chromecast, Chromebook, etc.

Part 3. Learn More: Apple Music Compatible Devices
Computers
Mac: On Mac, you'll need iTunes 12.2 for Apple Music. Also, you need OS X 10.9.5 or newer, which means you need to have OS X Mavericks or OS X Yosemite installed to play Apple Music tracks through streaming or as downloads.
Windows: Windows PC users need iTunes 12.2, too, just like Mac users. You need Windows 7 or newer for Apple Music support.
iOS Devices
You need an iOS 8-compatible iPhone, iPad, or iPod touch to get Apple Music App installed.
iPhone: iPhone 4s and newer
iPad: iPad 2 and newer, iPad mini and newer
iPod touch: 5th and 6th generation iPod touch
iPod nano: NO
iPod shuffle: NO
Android Devices
Apple Music app is available for devices running Android 4.3 and up, and doesn't appear to work on tablets right now.
Some supported device
Samsung Galaxy S8/S7/S6: YES
Samsung Galaxy Note 7/5/4/3: YES
Samsung Galaxy A7/A5/A3: YES
LG G6/5/4/3: YES
Huawei P10/9/8: YES
Huawei Mate 9/8/7: YES
Moto Z/E/G: YES
Was this information helpful?
TrustScore 5 | 49