Generally speaking, Spotify offers 320 kbps bitrate, the highest streaming quality for its music lover. However, 320 kbps is not the best quality that you can truly get from Spotify since it is a digital edition and some details of the music may be unexpectedly missed. Thus, an equalizer becomes very important for music enthusiasts because it helps enhance the music beats for better sound quality when you listen to music on Spotify. Although equalizer can play such an important role in music listening, many Spotify Free or Premium users may not know how to use Spotify equalizer on their devices.
Don't worry. In this post, I will teach you how to use Spotify equalizer to improve your listening experience on Spotify across all the platforms, from Windows to macOS system and from iOS devices and Android devices. Read on and you are bound to be amazed by the high-quality music after using a Spotify equalizer.
CONTENTS
1. How to Use Spotify Equalizer on iOS & Android Devices
In fact, Spotify has an in-built equalizer but it is only available on iOS & Android devices. This part will teach you how to turn on Spotify equalizer on both iOS and Andriod devices only in 2 quick steps. As long as you have the Spotify app installed on your device, everything will be easy as pie.
Two Steps to Open Spotify Equalizer on iOS devices
The following will show how to turn on Spotify Equalizer using iPhone 7 for demonstration. If you are using iOS devices, you can keep reading and follow the instructions below.
Step 1. Enter the Setting Pages of Spotify

- Put out your iPhone and then launch the Spotify app on your phone, then you will see the main interface of Spotify. On the main interface of Spotify, tap the "Gear" button to enter the Settings Page. On the Setting Page, choose the "Playback" setting.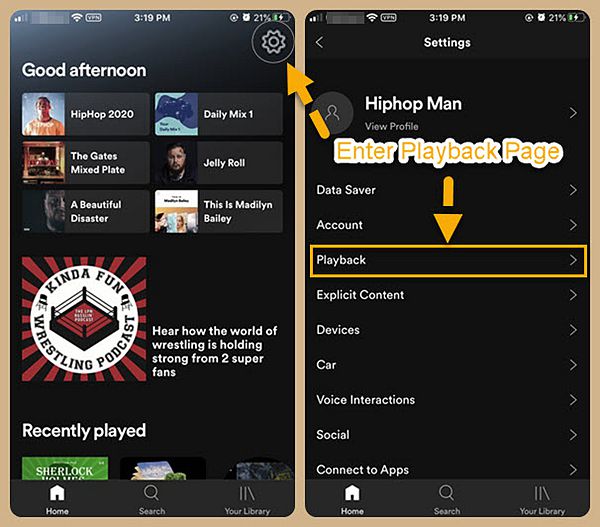 Step 2. Press Button to Open Spotify Equalizer on Your iPhone
- Scroll down to the "Equalizer" on the "Playback" settings page, where you can see lots of music playback setting for enjoying your Spotify music. Enter to "Equalizer" page and press the button to choose your favorite effector. Up till now, you can enjoy Spotify equalizer on your iPhone.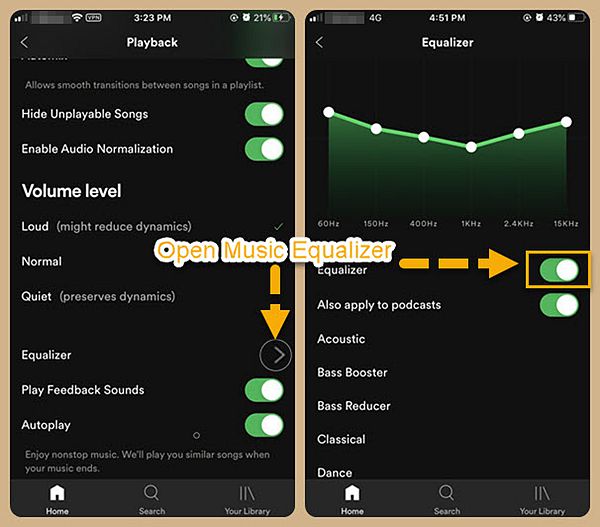 Two Steps to Enable Spotify Equalizer on Android
Step 1. Enter Equalizer on Spotify on Your Android Device
- On the main interface of Spotify, tap the "Gear" button to enter the Settings Page. On the main interface of the Spotify settings page, scroll down to "Equalizer" to enter the equalizer control panel.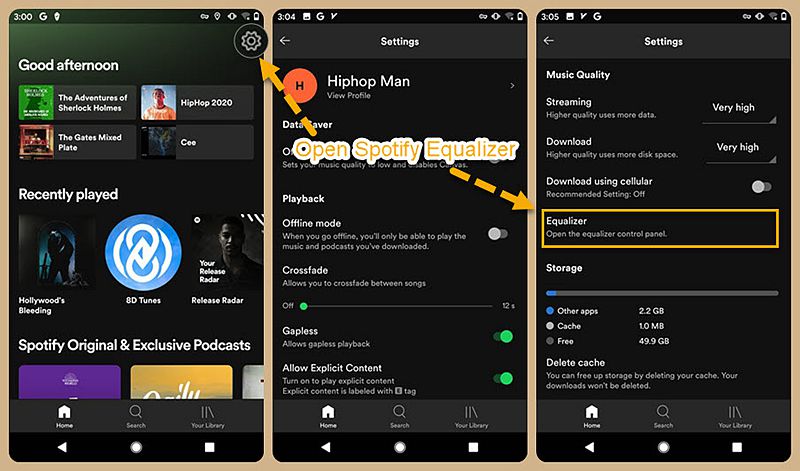 Step 2. Choose Your Favorite Equalizer on Android
- Now, you will enter the control panel to pick up a preset Spotify equalizer as your will. Just press the "OK" button to turn on the Spotify equalizer. You can choose the Spotify equalizer on the right drop-down lists or you can adjust the equalizer by tuning the button.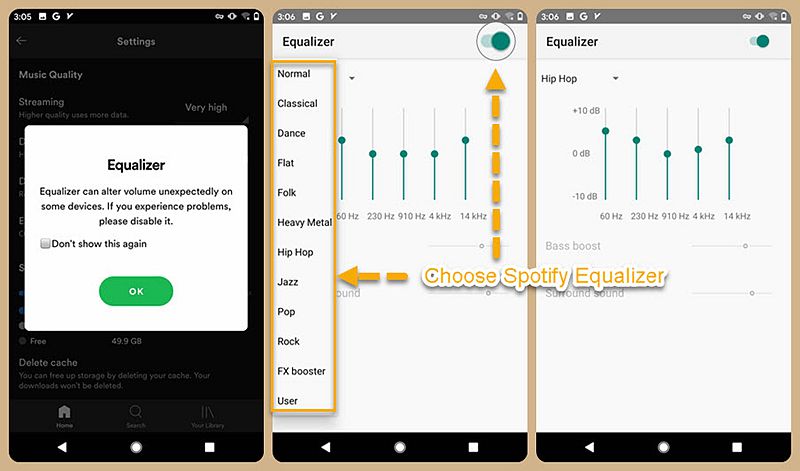 Easy, right? Now you have learned how to set Spotify equalizer on your mobile devices. As it is mentioned above, Spotify only offers the Spotify equalizer on mobile devices. Are there any practical solutions to adjust Spotify EQ on your Windows and Mac PCs? You will know more about the steps in the next part.
2. How to Enjoy Spotify Equalizer on Windows & Mac with Boom 3D
To set up a Spotify Equalizer on PCs, you will need:

#1 Spotify app: Fully downloaded and installed on your computer. You may also need to log in to your Spotify Free or Premium account for the following guide.
#2 Boom 3D: This is a third party equalizer for Spotify users to enjoy various sound effects. Here are the main features of this cool tool.
Main Feature of Boom 3D:
#1 Various equalizers are supported on Boom 3D, such as Vocal, Treble Boost, Hip-hop, RNB, and more.
#2 High-class equalizers are also available on Boom 3D, like 3D surround, ambiance, fidelity, night mode, and more.
#3 Fully compatible with your sound devices, from System speaker to external speaker and more.
#4 Support Drag and drop the music to the Boom to enjoy the equalizer.
#5 Allow advanced adjustment for your equalizer.
#6 Compatible with macOS 10.10.3 and above and Windows 10.
#7 30 days of free trial for a full evaluation.
Since the operation on both Windows and Mac is quite similar, we will show how Boom 3D works and enhance the listening experience on macOS system for illustration.
Step 1. Run Boom 3D on Your Computer
- Download and install Boom 3D on your computer. When it is successfully downloaded, sign up for a new account via your E-mail or Google account to enter the Boom 3D. After login to your account, you will see the main interface as it shows below.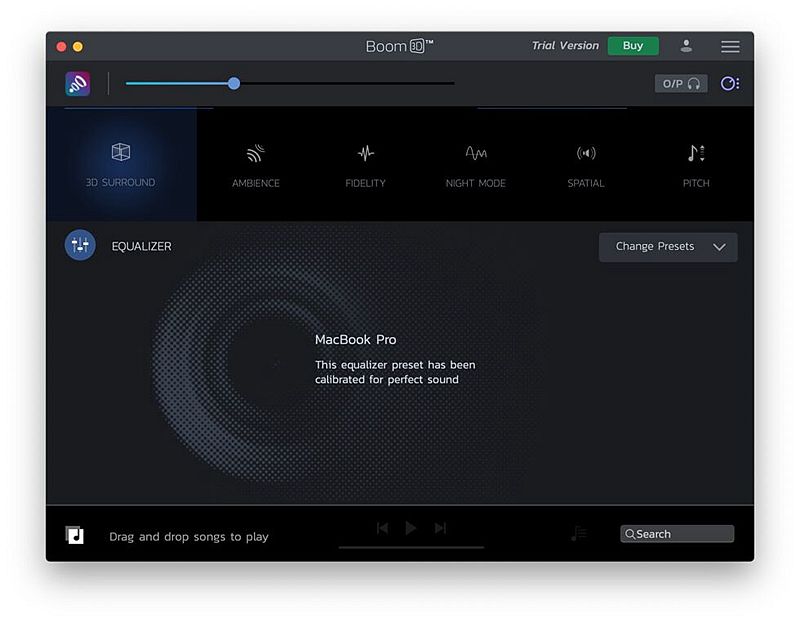 Step 2. Choose Audio Device on Boom
- Hit to the earphone-shaped like button to choose your Audio Devices and Speaker. As you can see, you can select various headphone types according to your needs. As for me, I will choose Headphones with ON Ear to enjoy high-quality music.
Once you selected, the music from the Spotify will be playing via the Boom 3D app.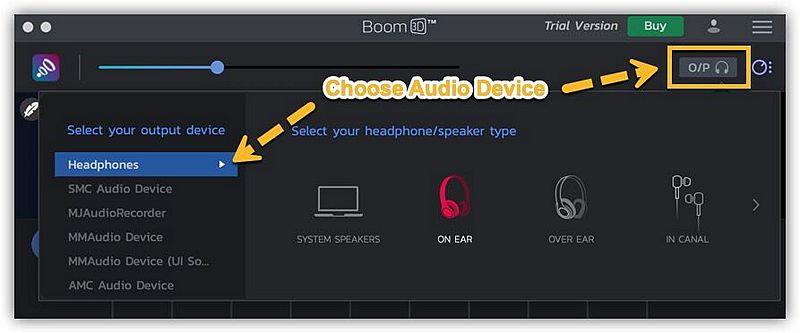 Step 3. Run Boom 3D on Your Computer
- Now, on the right side, there is a down button. Click on this button and then select your favorite equalizer from the drop-down list. Also, I would like to choose a Hip-hop music equalizer.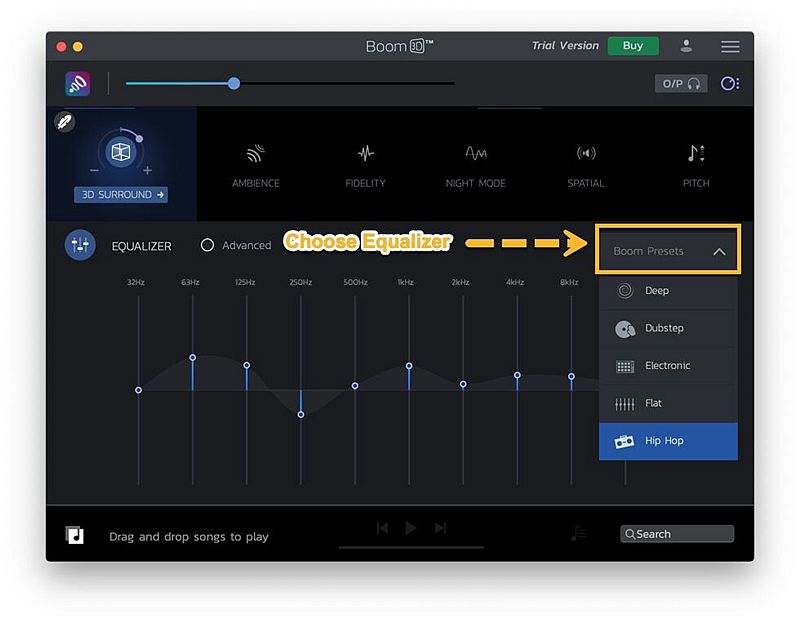 Besides the common equalizer for options to choose, you can select the high-level music equalizer for customization your Spotify music listening settings and alter the Music intensity and Bass control.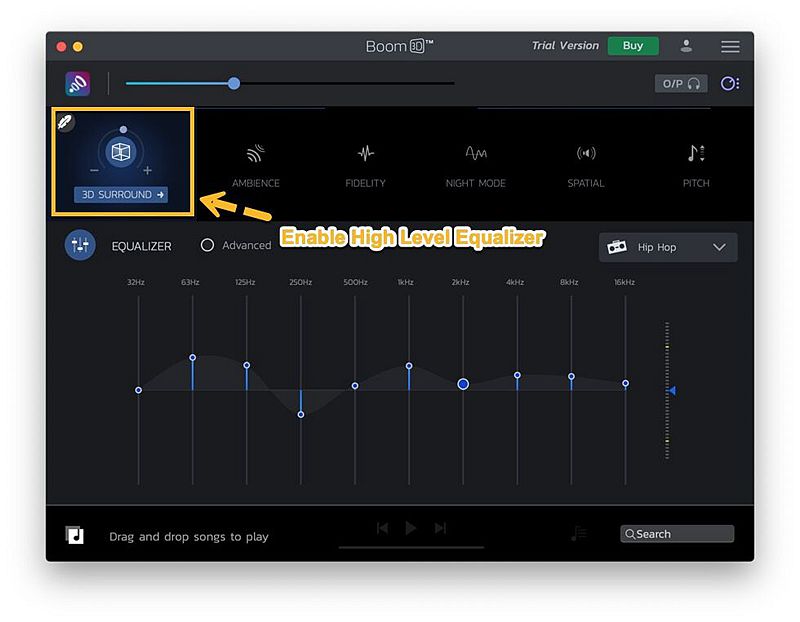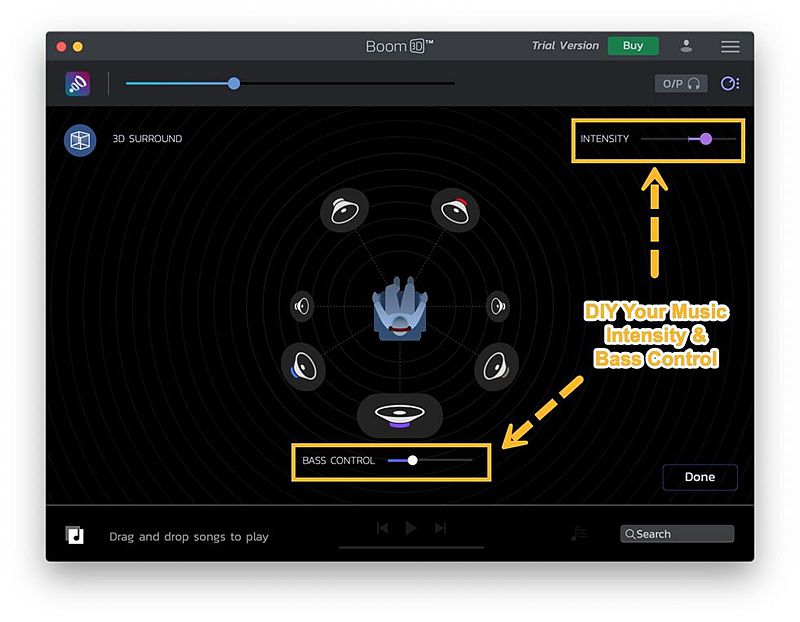 See? It is not a difficult job for you to enjoy Spotify music with equalizer. You can just pick up a suitable way according to your preferences and go ahead to enjoy Spotify with the magical and perfect Spotify equalizer. Sounds interesting, right? Don't forget to share this post with your friends if you find it useful. Any comments are welcome below. Seeya!
Was this information helpful?
TrustScore 1.6 | 10