Nowadays, Spotify has taken up a large amount of market share, attracting millions of users from all over the world to enjoy its advanced music streaming service, with countless resources provided in the music library. But when you stream Spotify songs within the platform, you may notice that Spotify has added some limitations to stop you from playing the songs freely. For example, you can't download Spotify songs or listen to them elsewhere but only within Spotify platforms.
Such limitations have been added to Spotify OGG Vorbis, the format used to save Spotify songs, but with DRM protection. As a result, some of you may want to convert Spotify OGG Vorbis to MP3 and get Spotify songs free of protection for enjoying offline freely. Is it possible? This answer will be given to you in the article. Now, just keep on reading.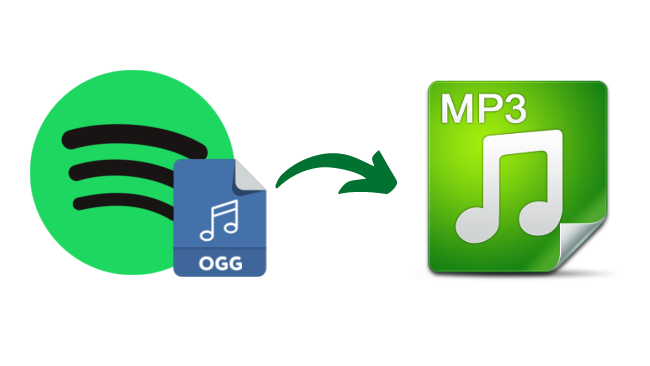 CONTENTS
Part 1. Why Does Spotify Use Ogg Vorbis?
To provide the music quality at the best condition, OGG Vorbis has been the best choice for Spotify to encode its music resources, because the format can bring top-quality quality to make sure that the music streaming can bring you the most enjoyable experience. Compared with MP3, the compression method used by OGG format is smarter. Although it still uses lossy compression while encoding the Spotify songs, OGG will keep a good balance so that make the music quality to be better but keep the music files with smaller sizes than MP3.
Originally, OGG is a free encoder. But as it is used by Spotify, the official has added the DRM protection to the format, as a way to limit the Spotify music streaming greatly. For example, free Spotify users are not allowed to download Spotify songs for playback offline, or you can get the music saved off Spotify platform and play in other media players.
All of these limitations are brought by the DRM protection added on Spotify OGG format. That's also why many people would try to find a way to convert Spotify OGG to DRM-free MP3 files - because they can play Spotify songs in more convenient ways without being limited by the official. But to do it, you will need extra help.
Part 2. How to Spotify OGG Vorbis to MP3 Format
Actually, converting Spotify OGG to MP3 can be quite easy, only if you can find the right tool to help you get the format out of DRM protection. To do it, TuneFab Spotify Music Converter is strongly recommended.
TuneFab Spotify Music Converter is provided for Windows and Mac users to process the Spotify OGG to Vorbis to MP3 conversion with lossless quality, which can be selected at up to 320 kbps, with customized SampleRate from 22050hz to 48000hz, making sure that you can have the same music playback experience after getting the converted songs offline.
Other Key Features:
● Provides common formats such as MP3, M4A, WAV, and FLAC to convert Spotify OGG Vorbis
● Removes DRM to let you play Spotify songs everywhere you want
● Supports to adjust output quality before converting Spotify OGG Vorbis
● Saves the ID3 information for Spotify songs after converting them to common music files
● Supports 5X or even 6X faster speed to batch convert Spotify playlists and saves your time
Steps to Convert Spotify OGG Vorbis to MP3
Step 1. Sign in In-built Spotify Web Player
Fristly, you need to install TuneFab Spotify Music Converter on your Windows/Mac computer. Then open it and enter the in-built Spotify Web Player to sign in using your own Spotify account.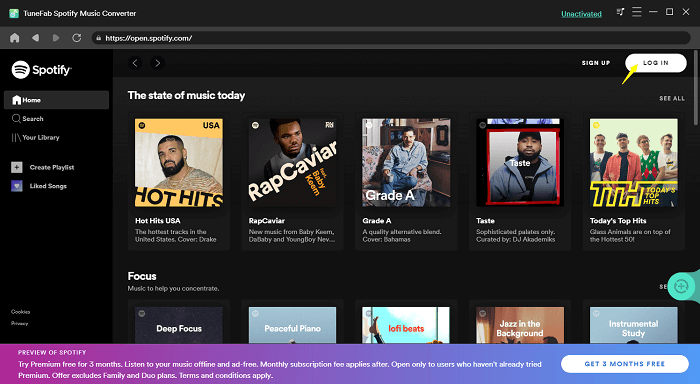 Step 2. Select Spotify Playlists to Convert
Then you can directly use the Spotify Web Player to search and add the Spotify playlists you want to convert to MP3 to the "+" button.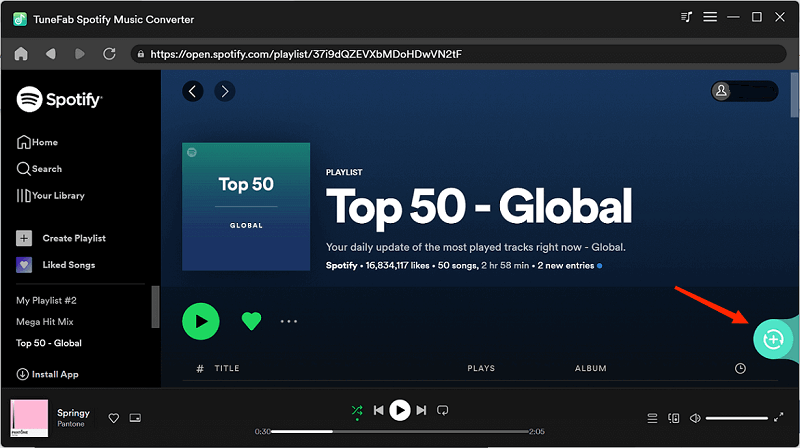 Step 3. Select MP3 Format and Adjust Quality
When the Spotify OGG Vorbis songs are added, you can directly choose an output format from the "Convert all files to" menu in the top-right corner for them all.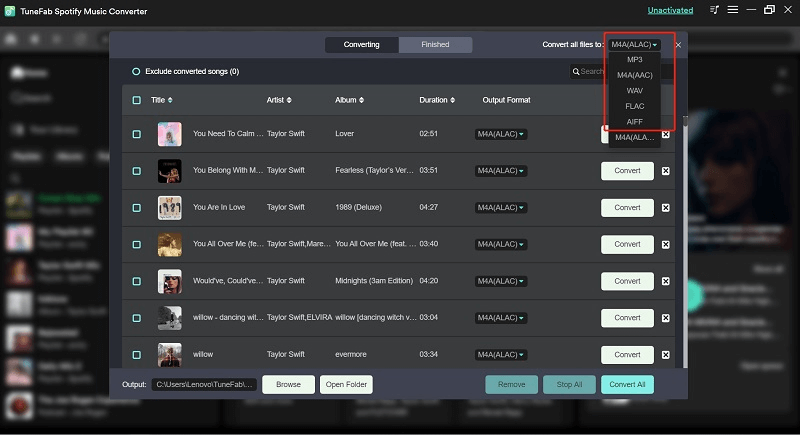 To keep the converted Spotify MP3 songs with the best quality as its original condition, you can go to "Preferences" in "Menu", then switch to the "Advanced" tab and change the "SampleRate" as well as "Bitrate" based on your needs.
Tip:
By default, the output quality will be set at 44.1kHz and to 256 kbps bitrate. If you consider better quality, you can adjust both settings to be the highest 44.8kHz at 320 kbps.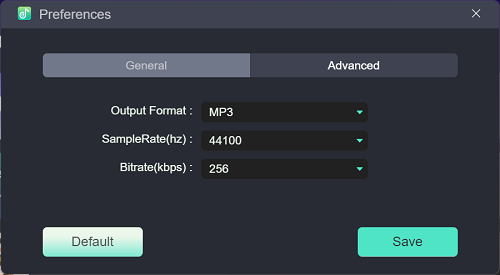 Step 4. Convert Spotify OGG Vorbis to MP3
Finally, when the format and quality are both set, directly click the "Convert All" button to start converting Spotify OGG Vorbis to MP3. The conversion will be finished within a short time for you.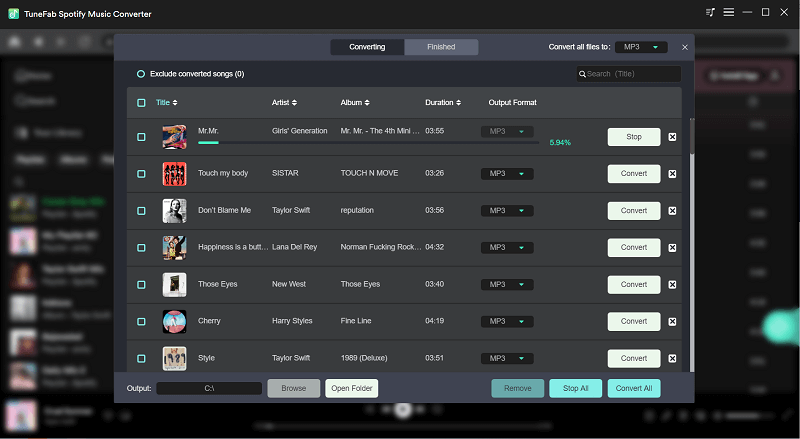 Part 3. Know More About OGG and MP3
What Is OGG (OGG Vorbis)
OGG Vorbis is an audio format that was developed by Viph.Org Foundation since 2002. It is also known as Ogg Vorbis because it uses the OGG container. Like MP3 and AAC, OGG is an open source audio format that allows users to freely download and use it because it is not encumbered by patents. It's chosen because of the superior sound quality and it's also used in game development industry. OGG has a smaller file size without sacrificing the sound quality. It's much awesome that if you record a 5 minutes' silent audio, the file size will be extremely small or no size at all.
What Is MP3 (MPEG-1 Audio Layer 3)
MP3, is short for MPEG-1 Audio Layer 3. It's developed by Thompson Multimedia and Fraunhofer-Gesellchaft. MP3 format is especially designed for easily download and store on the internet. So it is the most popular audio format because it takes up less file size with high sound quality (Over 100 MP3 music tracks can be added into a CD disk). A 10MB WAV file can be converted into a 3~5 MB MP3 file. That's why is widely used to attached in email for sharing or embbed into webpage for downloading.
However, MP3 is a patented, royalty-charging format that has some restriction because of patent issue. Though MP3 is not the perfect audio format, it's quite excellent because it's the best well-supported one that has become our first choice.
Comparison of OGG Vorbis and MP3
It the previous parts, we've learned some general information about the two audio formats, OGG Vorbis and MP3. Now, let's compare them to see what are the similarities and what are the differences.
Similarities between OGG Vorbis and MP3

1. OGG and MP3 are both commonly used audio formats.
2. OGG and MP3 are both lossy compression audio formats.
3. OGG and MP3 are both small size.
4. OGG and MP3 are both good choices to download, copy and store.
Differences between OGG Vorbis and MP3
1. MP3 is more popular and familiar than OGG Vorbis.
2. OGG has a better sound quality compares to MP3 (At 192kbps, encoding OGG is better than MP3, but at 128kbps both are the same)
3. OGG is an open audio encoding format (open source), while MP3 is a proprietary media encoding one, constrained by patents.
4. OGG Vorbis was developed by Viph.Org Foundation, while MP3 by Thompson Multimedia and Fraunhofer-Gesellschaft.
5. OGG Vorbis compressed files are smaller than that of MP3 format, even if MP3 is small enough.
6. OGG Vorbis compression bit rate can be varied based on different needs. MP3 bit rate can't be varied and can only remain constant.
7. OGG supports more than two channels (<256). MP3 supports "Joint Stereo" as well as two discrete channels.
Summary & Which to Choose:
To keep it straight forward and easy-understanding, I will display the difference in a table.
| | | |
| --- | --- | --- |
| | OGG | MP3 |
| Short for | OGG Vorbis | MPEG-1 Audio Layer 3 |
| Developed by | Viph. Org Foundation | Thompson Multimedia and Fraunhofer-Gesellschaft |
| Popularity | | More Popular |
| Sound Quality | Better (Especially at 192kbps) | |
| Patent Constrained | Patent-free | Constrained |
| Size | Smaller | |
| Bit Rate | Varied for Different Needs | Constant |
As you can see, even though OGG Vorbis and MP3 are both popular music formats, there are many obvious differences between them. Which one is the ideal option as a music format? OGG Vorbis or MP3? That depends: To download or attach the music for sharing - OGG (small size) To get high audio fidelity - OGG (The higher the bit rate is, the better the fidelity will be). To play on almost every player - MP3 (Much more universally used).
Part 4. In Conclusion
When Spotify has added DRM to protect all its OGG Vorbis songs, it becomes inconvenient for us to play Spotify Music in a free way as we want. This is also why so many people would want to convert Spotify OGG Vorbis to MP3 and unlock the DRM protection. To do it, TuneFab Spotify Music Converter provides the easy help. You can try the software for free by installing it now.
Was this information helpful?
TrustScore 3.7 | 3