There are many different types of audio files such as MP3, WVA, FLAC, OGG and M4A. If you want to change the music format, you need to know the difference between them. Today, we would like to present you an ultimate comparison guide of OGG Vorbis and MP3. Both OGG and MP3 are well-known lossy compression format that are commonly use. But of course, there are differences between them. In this article, we will go as the following 4 parts: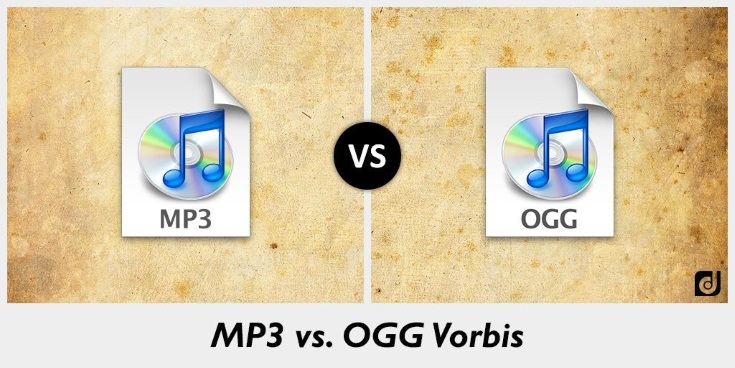 CONTENTS
Part 1. OGG (OGG Vorbis)
OGG Vorbis is an audio format that was developed by Viph.Org Foundation since 2002. It is also known as Ogg Vorbis because it uses the OGG container. Like MP3 and AAC, OGG is an open source audio format that allows users to freely download and use it because it is not encumbered by patents. It's chosen because of the superior sound quality and it's also used in game development industry. OGG has a smaller file size without sacrificing the sound quality. It's much awesome that if you record a 5 minutes' silent audio, the file size will be extremely small or no size at all.
Part 2. MP3 (MPEG-1 Audio Layer 3)
MP3, is short for MPEG-1 Audio Layer 3. It's developed by Thompson Multimedia and Fraunhofer-Gesellchaft. MP3 format is especially designed for easily download and store on the internet. So it is the most popular audio format because it takes up less file size with high sound quality (Over 100 MP3 music tracks can be added into a CD disk). A 10MB WAV file can be converted into a 3~5 MB MP3 file. That's why is widely used to attached in email for sharing or embbed into webpage for downloading. However, MP3 is a patented, royalty-charging format that has some restriction because of patent issue. Though MP3 is not the perfect audio format, it's quite excellent because it's the best well-supported one that has become our first choice.
Part 3. Comparison of OGG Vorbis and MP3
It the previous parts, we've learned some general information about the two audio formats, OGG Vorbis and MP3. Now, let's compare them to see what are the similarities and what are the differences.
Similarities between OGG Vorbis and MP3

1. OGG and MP3 are both commonly used audio formats.
2. OGG and MP3 are both lossy compression audio formats.
3. OGG and MP3 are both small size.
4. OGG and MP3 are both good choices to download, copy and store.
Differences between OGG Vorbis and MP3
1. MP3 is more popular and familiar than OGG Vorbis.
2. OGG has a better sound quality compares to MP3 (At 192kbps, encoding OGG is better than MP3, but at 128kbps both are the same)
3. OGG is an open audio encoding format (open source), while MP3 is a proprietary media encoding one, constrained by patents.
4. OGG Vorbis was developed by Viph.Org Foundation, while MP3 by Thompson Multimedia and Fraunhofer-Gesellschaft.
5. OGG Vorbis compressed files are smaller than that of MP3 format, even if MP3 is small enough.
6. OGG Vorbis compression bit rate can be varied based on different needs. MP3 bit rate can't be varied and can only remain constant.
7. OGG supports more than two channels (<256). MP3 supports "Joint Stereo" as well as two discrete channels.
Summary & Which to Choose:
To keep it straight forward and easy-understanding, I will display the difference in a table.
| | | |
| --- | --- | --- |
| | OGG | MP3 |
| Short for | OGG Vorbis | MPEG-1 Audio Layer 3 |
| Developed by | Viph. Org Foundation | Thompson Multimedia and Fraunhofer-Gesellschaft |
| Popularity | | More Popular |
| Sound Quality | Better (Especially at 192kbps) | |
| Patent Constrained | Patent-free | Constrained |
| Size | Smaller | |
| Bit Rate | Varied for Different Needs | Constant |
As you can see, even though OGG Vorbis and MP3 are both popular music formats, there are many obvious differences between them. Which one is the ideal option as a music format? OGG Vorbis or MP3? That depends: To download or attach the music for sharing - OGG (small size) To get high audio fidelity - OGG (The higher the bit rate is, the better the fidelity will be). To play on almost every player - MP3 (Much more universally used).
Part 4. How to Convert OGG Vorbis to MP3
Now that you know the difference between OGG and MP3. They both have their own pros and cons. You can choose your favorite audio format according to your specific needs which is more comfortable for you. MP3 are more popular and commonly used. For example, there are many video visualizers or video editors that supports MP3 files rather than OGG files. What if you want to play Spotify music on video editors that only supports MP3? To solve this, we need to convert OGG Vorbis music to MP3. What we need is TuneFab Spotify Music Converter .
TuneFab Spotify Music Converter enables us to convert Spotify OGG music to MP3. Of course, other audio formats such as WAV, M4V and FLAC are supported as well. The process requires simply drag-and-drop and with few seconds, audio files will be converted into the format you want.
Step 1. Download and Install TuneFab Spotify Music Converter
Download TuneFab Spotify Music Converter and follow the installation instruction. After installation is done, you can see the interface like this. Both Windows OS and Mac OS are supported.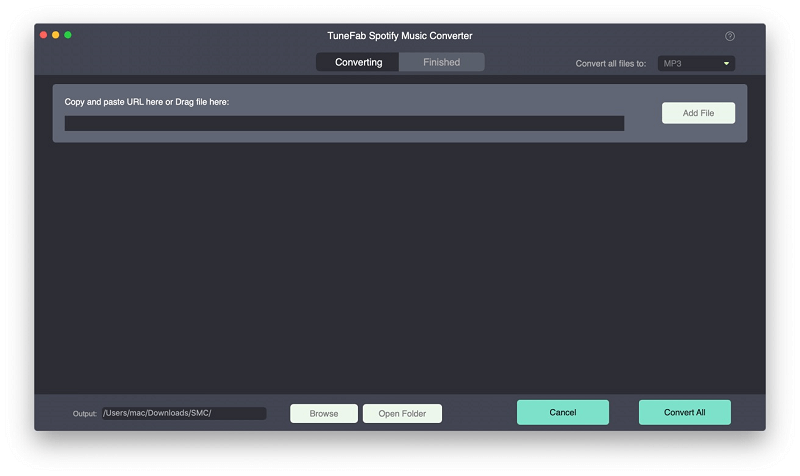 Step 2. Add Spotify Songs to Converter
To offer users more conveniences, the converter enables simply drag-and-drop to import music from Spotify music library to the program.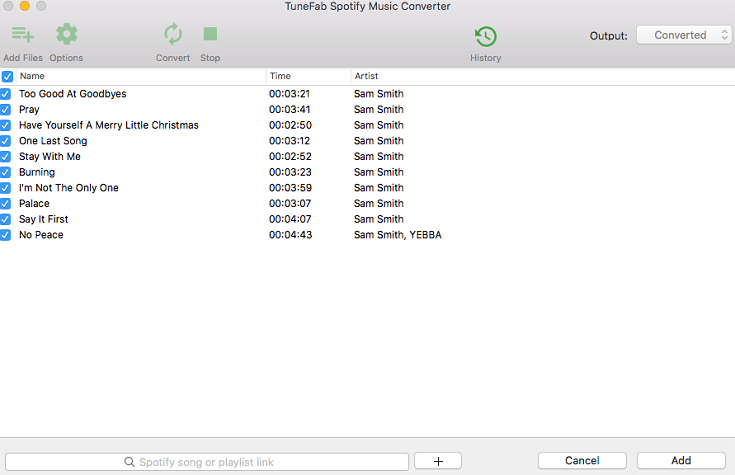 Step 3. Choose Output Format and Convert Songs
After choosing all your Spotify OGG songs you would like to convert, click "Options" > "Advanced" on the top. In the pop-up interface, choose "MP3" from the drop-down list to set MP3 as the output audio format.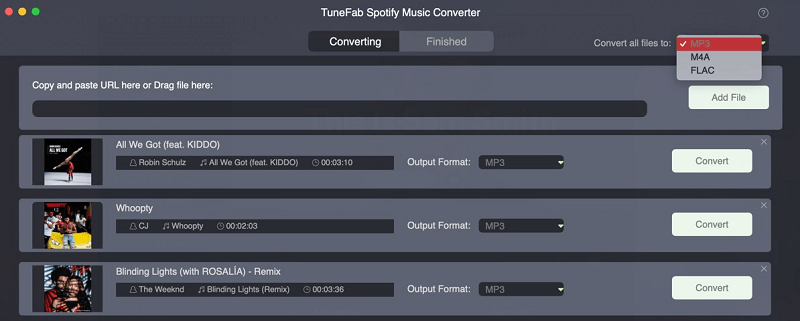 Step 4. Select Output Folder
To easily find your MP3 after the converting, you need to set up output folder beforehand. Click on "Options" > "General" > "Select...". and browse the folder or add new folder to output.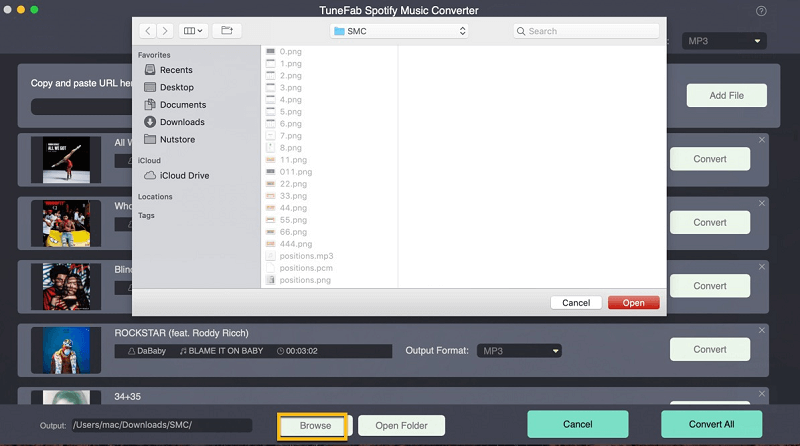 Step 5. Start Converting Spotify Songs
Here comes the last step, hit on the green "Convert" button on the top and wait for few seconds.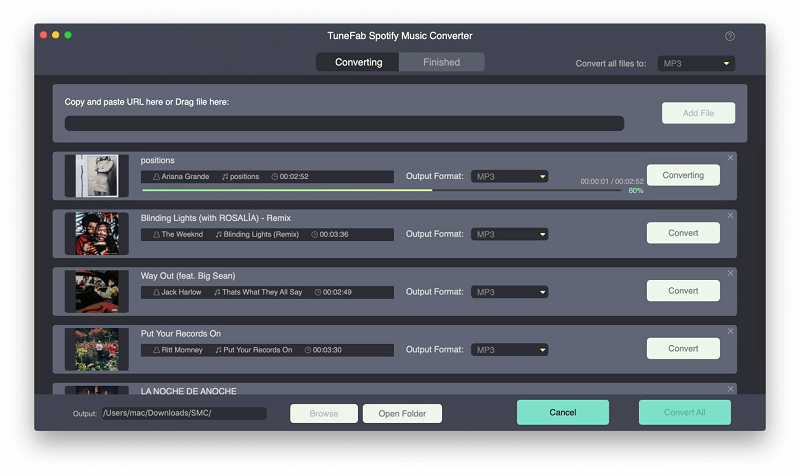 Note: You can check the conversion history by hitting on "History" on the top menu.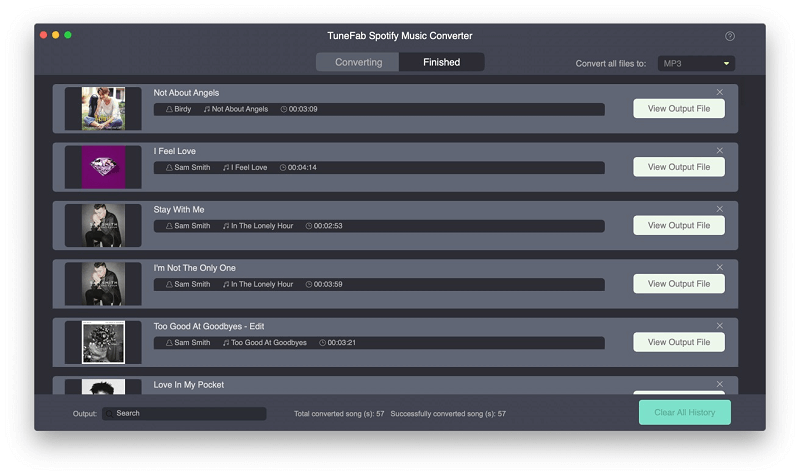 And now, you can enjoy your MP3 music with ease. To convert music into other formats like M4V, WAV, FLAC and more, you just need to apply with the same steps. After converting OGG music into MP3, you can play the music on Spotify visualizers, video projects, Amazon Fire TV or even back up on Onedrive and other external hard drives. Check the related post below if you are interested.
Was this information helpful?
TrustScore 5 | 49