"I am the user of Spotify Music, is it possible to sync Spotify Music to iPod Shuffle? Then I can enjoy Spotify on iPod Shuffle when I am running?"
"My girlfriend and I always prefer to go to the library for preparing the exam and doing some reading together with listening music. I don't want other things to bother the time just the two of us, so I just want to listen Spotify(I am the Spotify User) on iPod Shuffle. Is there any solution?"
Problems of syncing Spotify Music to iPod Shuffle or streaming Spotify Music on iPod Shuffle have happened in our daily life. Such an excellent exercise partner, Spotify Music have already met the needs of syncing Spotify Music on iPod. However, it is only available for Premium Member. In other words, Free Member has no ability to get Spotify playable on iPod Shuffle. Hence, in order to meet your need, this article will introduce the way to sync Spotify to iPod Shuffle for 2 users, Premium Member and Free User. Pick up the way depending on the membership you have subscribed.
CONTENTS
Part 1. Premium Users: Sync by Connecting iPod with Spotify Music App
Since you've purchased a premium account, you must be aware of what kind of service you are entitled to, such as, downloading songs for offline playback, skipping track and blocking ads. In this case, downloading songs is the most important for syncing.
Followings are the necessary steps for syncing.
Step 1. Open Your Spotify App
To start with, you need to connect your iPod Shuffle via the USB cable. Next, run the Spotify app on your computer. If you haven't downloaded the app, you should download it because the only way you can sync with a premium account is through Spotify app.
Note: If the iTunes is activated, you are supposed to shut it down or there is going to be some conflicts between iTunes and Spotify.
Step 2. Erase Your iPod and Sync with Spotify
After being connected to your computer, your iPod will be detected by the Spotify app and there will be an iPod icon under "Device". Click on it.
The interface will be replaced with one having "Erase iPod & Sync with Spotify" button in the middle. But it only appears when it is your first time to connect your iPod to Spotify Music app. In the next-times' syncing, you won't be asked again as long as you continue using Spotify for syncing.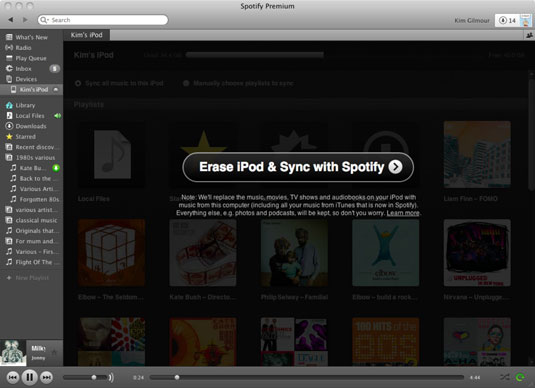 Step 3. Start Syncing
The syncing process will begin as soon as you click on the button. But the songs you get synced to your iPod are those you have actually downloaded and selected.
Your iPod will have a copy of your Spotify music right away when the syncing is done. From then, you can take your iPod with your earphone, wear comfortable jogging shoes, and start enjoying your running.
Part 2. Free Users: Convert the Music before Syncing to iPod Shuffle
I guess the way that interests you most is how to sync the songs without subscribing premium account or after your premium qualification gets lifted. Here is what we can offer you: our product TuneFab Spotify Music Converter. It has the ability to download and convert the songs into any other popular music formats and the converted songs can be recognized by iTunes so as to be synced to your iPod Shuffle under iTunes.
The benefits you can get from TuneFab Spotify Music Converter are that besides you are able to download the songs, the program will smartly save the ID3 information for you, the instruction is clear and simple---only dragging & dropping the music file. Also, you can customize audio parameter for sample rate and bitrate. What's new, you can convert Spotify Music to MP3 or other file formats in 5X faster conversion speed.
Next, I will show you how to use TuneFab Spotify Music Converter for syncing Spotify to iPod Shuffle.
Step 1. Launch TuneFab Spotify Music Converter
Click on "Try It Free" button to download the program. The free trial version is available for your purchasing consideration. You can use it for 30 days.
After installation, launch the program and Spotify will be launched automatically.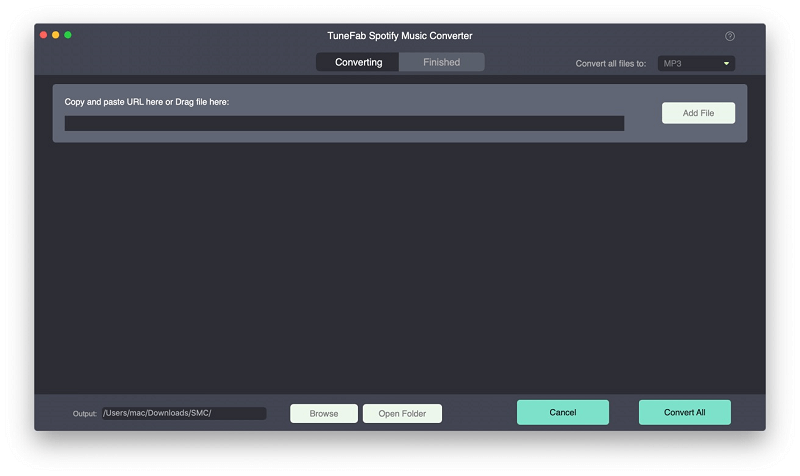 Step 2. Add Spotify Songs
Click "Add Files", a sub-interface will pop up. Next drag and drop songs, playlists, or album etc. from Spotify to the program interface. Or you can directly go to Spotify, find the songs you want to convert, hit the button"..." to paste the song link to the search bar, and click "Add".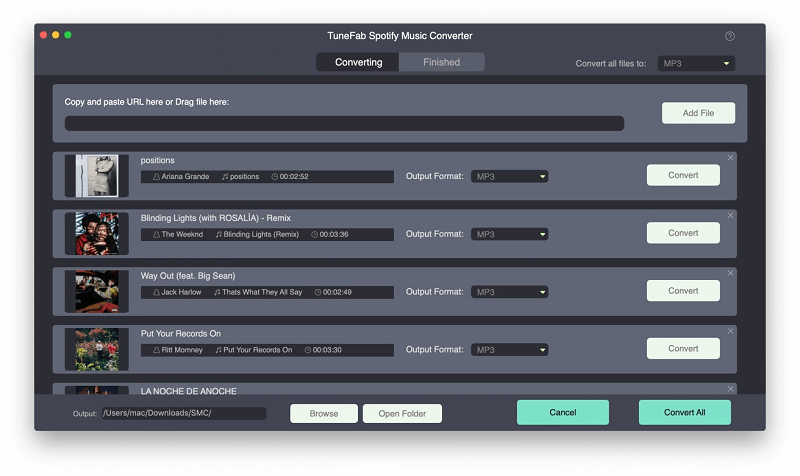 Step 3. Customize Your Exported Music File
Click "Options" and go to "Advanced" section, and customize your to-be converted music file by selecting its output format, sample rate, and bitrate.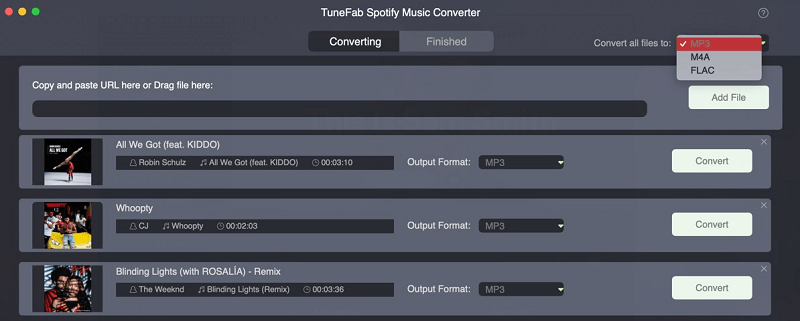 Also if you want to save the file to another file except for default output folder, go to "General", and select the folder you want to put your converted music in.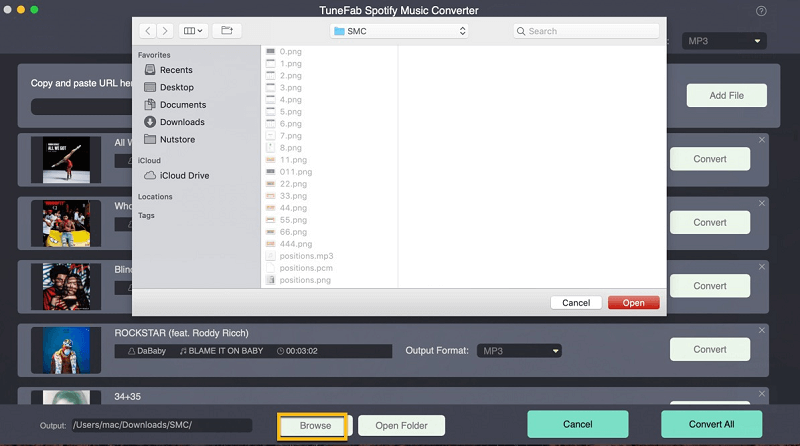 Step 4. Convert Spotify Music
Hit "Convert" and let TuneFab Spotify Music Converter do its part. Be patient and wait for a finished conversion.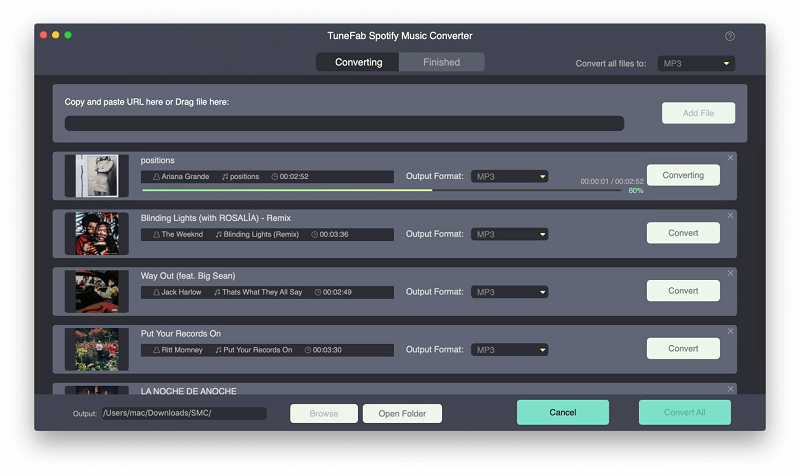 If you still have some confusion about what you should do, take 90 seconds to watch a tutorial video.
Step 5. Sync Music to iPod via iTunes
Now that the songs are transferred as a popular music format to your local files, it won't be a problem to sync all songs to your iPod by the channel of iTunes.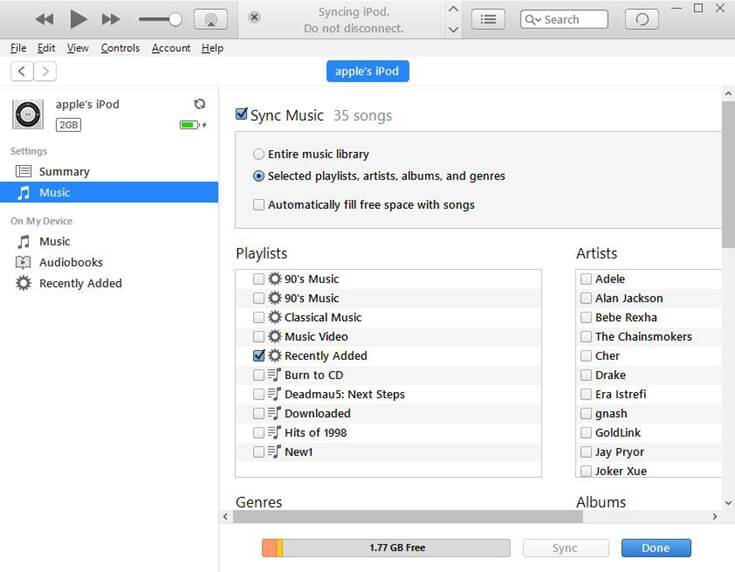 Does it become more clear to you how to sync the songs from Spotify to iPod Shuffle? To sum up, you can directly download the songs and sync to your iPod Shuffle assisted by Spotify Music app. Under the condition that you are a free user or your Premium gets expired, you can use TuneFab Spotify Music Converter as a tool to convert songs and sync them with the help of iTunes.
Was this information helpful?
TrustScore 2.7 | 7