It's finally available for you to play Spotify on Apple Watch. As long as you build your Spotify music Library, you can play Spotify music directly from your wrist, and don't even need to take out your phone when you go out for a jog or a hike.
To help you better understand the flexibility of playing Spotify Music on Apple Watch and enjoy the convenience, this complete guide will demonstrate the steps. Moreover, it will also offer you a great method to play Spotify on Apple Watch even without phone and Premium. Read on and start your work!
CONTENTS
Part 1: How to Get Spotify on Apple Watch
Before you can freely listen to music from Spotify on your Apple Watch, installing the Spotify App on your Apple Watch will be an essential preparation. The Spotify Apple Watch app is as easy to use as the iOS mobile version. The process of installing the App is simple and can be done using either the iPhone or the Apple Watch itself. Follow the steps below.
Get Spotify via the iPhone Watch App
As long as you pair your iPhone with the Apple Watch using the same Apple ID and they both connect to the network, you can install Spotify and more available apps directly on the Apple Watch via your iPhone.
Step 1. Locate the Watch app on your iPhone and launch it.
Step 2. Open the My Watch tab and find Spotify in the Available Apps section and tap the Install button next to it.
Step 3. After it's installed, you can select the Spotify app from your Apple Watch's Home screen. Or you can open the Spotify app on your iPhone and it can automatically launch on your wrist.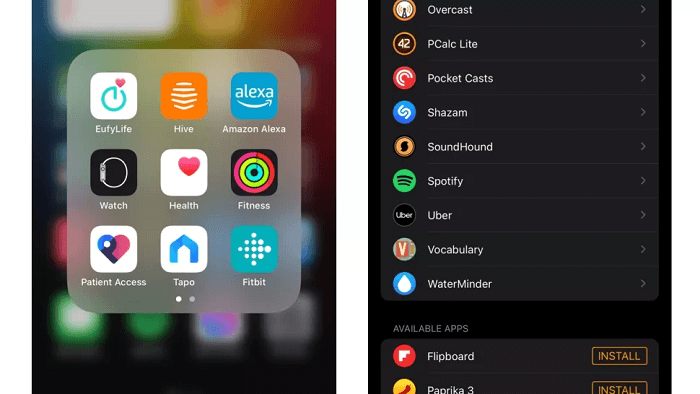 Get Spotify from watchOS App Store
You can also download and install Spotify directly on watchOS App Store. But before you start, please make sure your Apple Watch is a Series 3 or newer model and the watchOS version has been updated to at least 7.0.
Step 1. Open the App Store on your Apple Watch and tap the Search bar.
Step 2. Search for Spotify and tap Search in the top-right corner.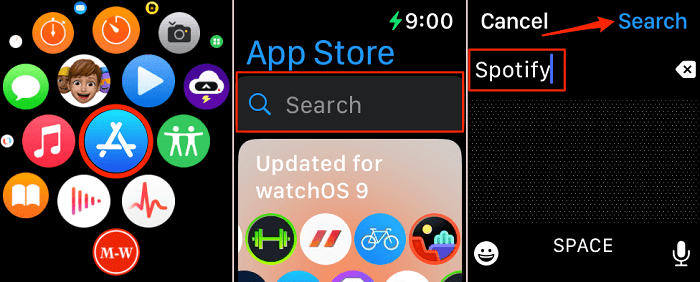 Step 3. Select Spotify and tap the Get icon. After waiting for its downloading, tap Open when the installation is complete.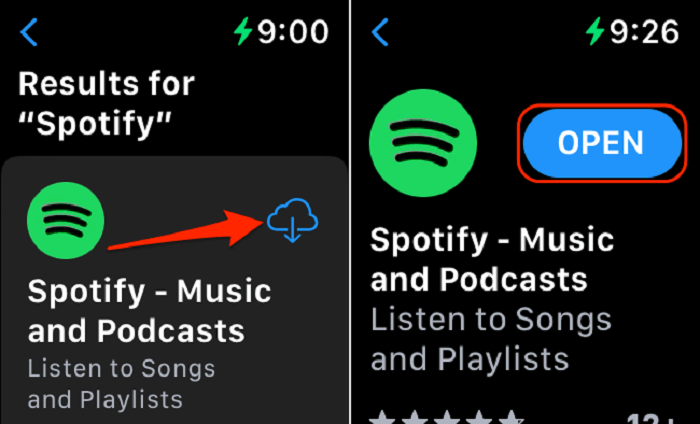 Part 2: How to Play Spotify on Apple Watch Without Phone for Subscribers
With the Spotify App installed on your Apple Watch, you can enjoy Spotify music online or download Spotify songs for offline listening with your Apple Watch without your phone. But to do that, you'll need an account with a Spotify Premium subscription and sign it into your Spotify App.
The steps below will show you how to play or download Spotify on Apple Watch for subscribers without phone.
Play Spotify on Apple Watch without Phone
Step 1. Launch Spotify App on your Apple Watch, and tap into Library.
Step 2. Select your songs and tap the Start icon to play. You can also swipe left on the screen to check the current playlist or album.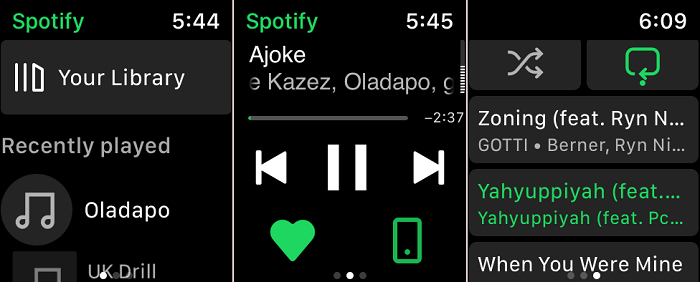 Bonus: If you want to listen to Spotify music on your Apple Watch in better sound quality without disturbing others, you can use the Spotify Connect feature to stream songs and remotely control playback from your Apple Watch to your Bluetooth headphones, speakers, etc. linked to your Spotify account.
Download Spotify Songs to Apple Watch
Step 1. Run Spotify App on your Apple Watch, and find the music playlists or podcasts you'd like to download.
Step 2. Tap the Three-dots icon to start downloading them to Apple Watch.
Step 3. Wait for the download to finish. Once the items are successfully downloaded, you will see the green arrow near each of them. Then, it's time for you to enjoy Spotify playlists and podcasts on Apple Watch offline without phone.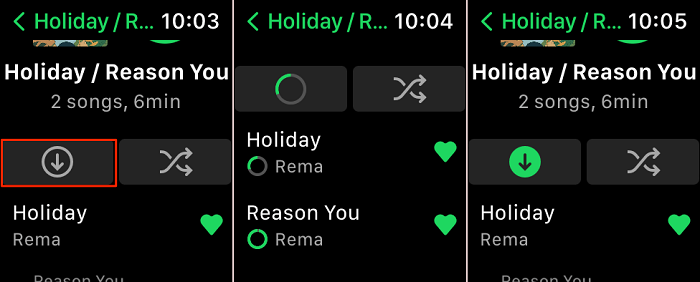 Note: The Spotify App only allows you to download playlists/podcasts to Apple Watch, but not individual songs. Besides, the number of songs you can download will vary depending on your Apple Watch series/model and its storage size.
Part 3: How to Play Spotify on Apple Watch Without Phone and Premium🔥
So far you have known how to install and use Spotify on Apple Watch in a common way with the Premium Subscription. It's not hard, but you may also wonder if it can even be easier. After all, you always need an available Spotify Premium account to keep enjoying Spotify on your Apple Watch.
"Does Spotify work on apple watch without phone? Can I continue to listen to Spotify offline even without the premium?"
We will tell you that the answer is definitely YES. In the following part, we will help you achieve it, and there's a useful tool you need to have: TuneFab Spotify Music Converter.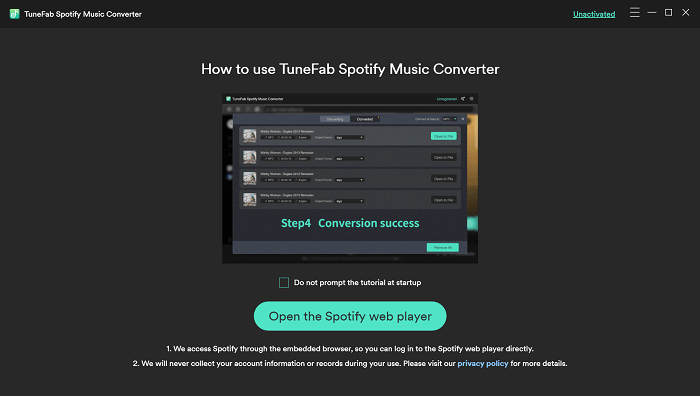 Tool You Need: TuneFab Spotify Music Converter
TuneFab Spotify Music Converter is a computer program that works on Windows and Mac to help you download songs/playlists/albums from Spotify without Premium and limitations. The powerful functions can make it possible to convert Spotify Music to MP3 or other common media formats while keeping the original media quality. After that, you can transfer the downloaded music files to Apple Watch and any other devices for free offline listening.
More key features of TuneFab Spotify Music Converter:
• Practical output formats to meet your expectation (MP3, M4A, FLAC, or WAV audio)
• Useful customization settings for saving music to improve your listening experience
• 5X faster conversion speed to save your waiting time (with embedded acceleration tech)
• Preserve and edit ID3 tags and metadata info for better music management
• User-friendly interface and good compatibility for Windows and Mac
Steps to Play Spotify on Apple Watch Without Phone via Spotify Music Converter
You can follow the guide to simply begin your journey to convert Spotify music and enjoy them on your Apple Watch. More details will be shown in the guide.
Step 1. Install and Sign in to Spotify Account
Click the button below to download TuneFab Spotify Music Converter. Install it on your computer, and launch it to enter its main interface. Remember to sign in to your Spotify account otherwise the conversion may fail.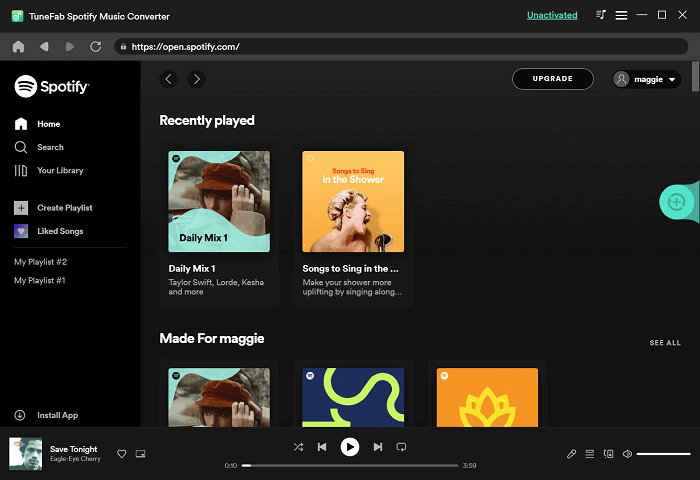 Step 2: Select Your Personal Settings
After running the program, you can tweak your preferred settings by clicking the menu button on the upper right. Preference, Languages, and more information can be found there.
In Advanced, you can select the default output format, quality, and location of your converted Spotify songs.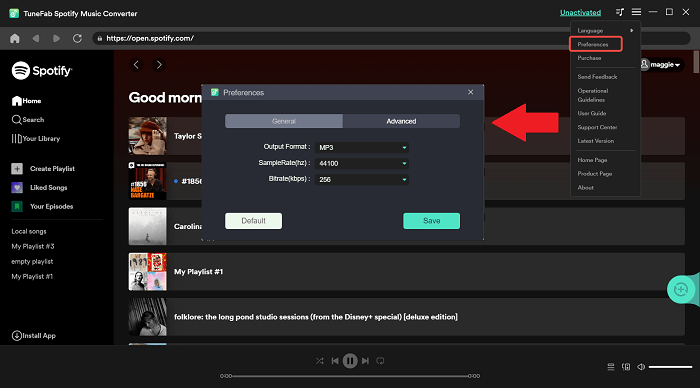 In General, you can change the default output location of your converted files.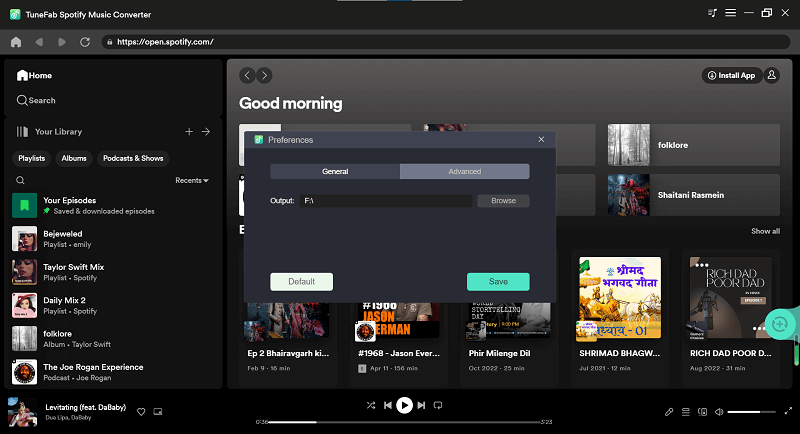 Step 3. Add Spotify Songs to the Converter
TuneFab Spotify Music Converter allows you to add Spotify Music to convert in 2 ways: drag and drop or click the green icon + in the down-right corner. You just need to pick the songs, playlists, and albums you want to convert and add them to the converting list.
On the converting page, you can see basic information like album, artist, and length of each song, which will also be retained in ID3 tags after conversion. This feature helps you better manage the output files.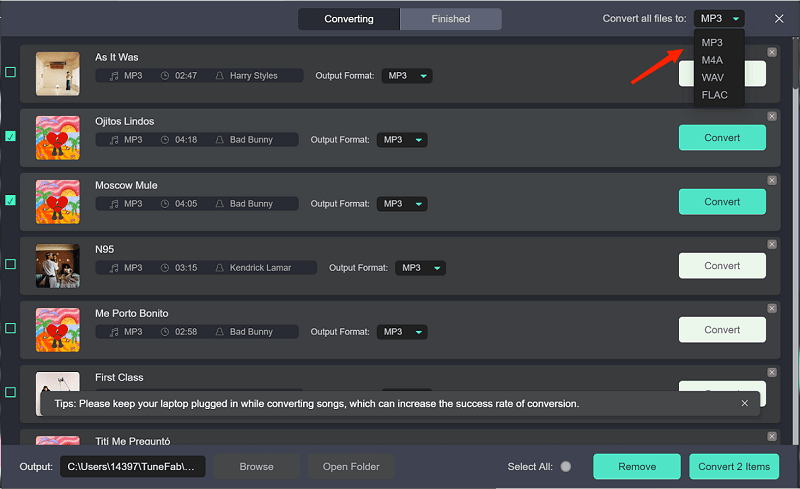 Step 4. Wait for Conversion Completed
After choosing formats, you can start to convert them by clicking Convert All. When the music has fully converted, just click on Finished to view all the converted music.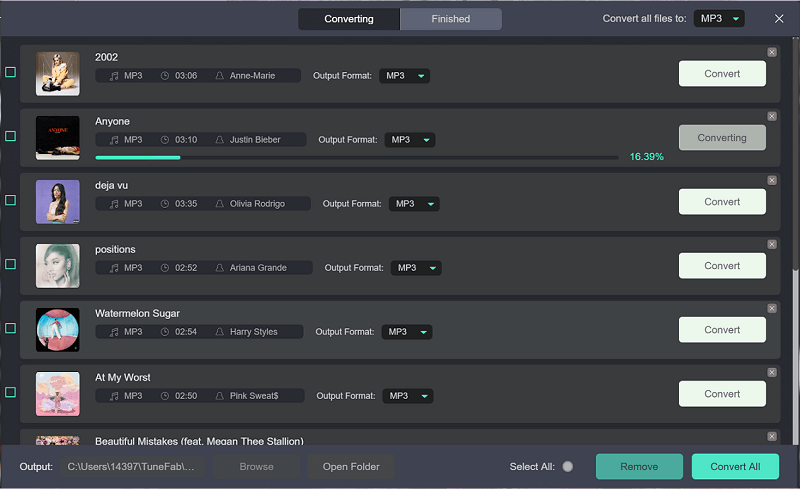 Step 5. Transfer Downloaded Songs to iPhone
Download and install the latest version of iTunes on your computer, then connect your iPhone to the computer using a USB cable. After iTunes recognized your device, tap Trust on your iPhone to continue. Click the iPhone icon on the left corner of the iTunes screen. Import music into iTunes Library from your computer by clicking File, and then Add to Library.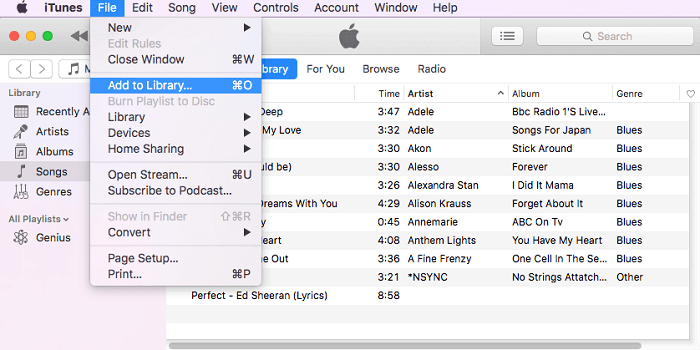 Next, choose the Music option, then check the Sync Music option. Choose the Entire music library or Selected playlists, artists, albums, and genres. Click Apply to sync music from iTunes to iPhone.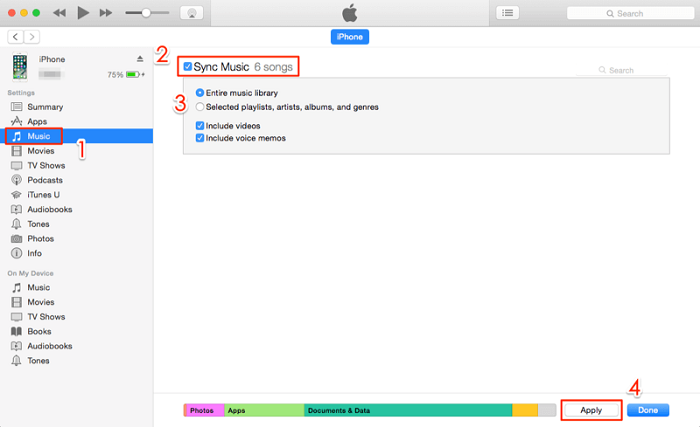 Step 6. Add Downloaded Spotify Songs to Apple Watch
After transferring downloaded files to iPhone, you can go back to the Watch App on your iPhone, find the paired Apple Watch, then tap Music > Add Music to add downloaded Spotify Songs to Apple Watch for offline playback.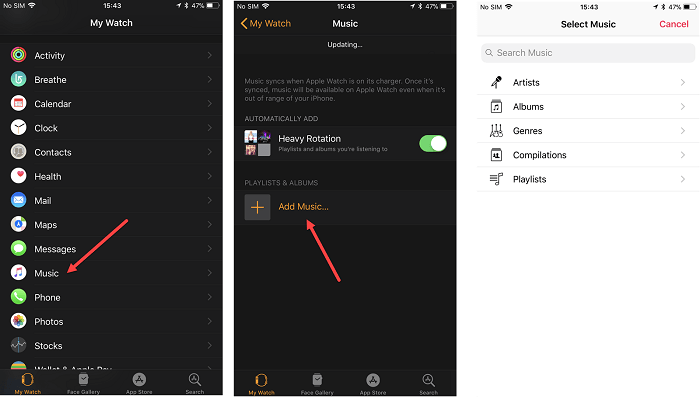 FAQs About Playing Spotify on Apple Watch
In this part, we'd like to offer some other information you may be interested in, including features of Spotify on Apple Watch, using Spotify on Apple Watch without Premium, and the solution of Spotify playback not working on Apple Watch.
Q1. What Features Does Spotify Have on Apple Watch?
Here are some extra features of the Spotify Apple Watch app that you may want to know:
• Play, pause, and skip music and podcasts (also available to view the playlists)
• Save your favorites directly on Apple Watch
• Control what plays on another device with Spotify connected
• Use Siri to voice control your music and podcasts
Q2. How to Control Spotify Playback on Apple Watch without Premium?
To control Spotify playback on Apple Watch, you need to prepare your iPhone and the network to install Spotify app on the watch (same steps mentioned above in Part 1 and Part 2). Unfortunately, only Spotify Premium users can stream Spotify Music from Apple Watch and also download them. If you are one of the Spotify free users, you can only control the playback on Apple Watch but cannot directly listen to Spotify on Apple Watch unless you have a premium account.
So to achieve your goal of freely enjoying Spotify playback and controlling it, we highly suggest you to download TuneFab Spotify Music Converter to download Spotify songs to widely supported formats, then transfer them to Apple Watch for easier and limitless management.
Q3. Why Can't I Play Spotify on My Apple Watch?
If Spotify stops working or doesn't play on your Apple Watch, you can try the following methods to resume listening.
Method 1: Make sure your Apple Watch is connected to Wi-Fi. You must connect the Watch to the same Wi-Fi network as your iPhone. If not, then your Spotify app won't work on your Watch.
Method 2: Make sure Bluetooth is enabled on your Apple Watch and iPhone, or the Spotify app may not work the way you expect.
Method 3: Turn off the Spotify app on your Apple Watch and then restart it. Alternatively, restart the Apple Watch to restore service again.
Method 4: Check if your Apple Watch and the Spotify App are updated to the latest version. Once everything is updated, try resyncing your Apple Watch and then try the Spotify App again.
If you've tried all the methods above and it still doesn't work, you can visit Apple's official support website for more information or consider making a Genius Bar appointment to solve your problems.
Conclusion
After reading this article, you have learned many workable ways to play Spotify on Apple Watch. But since in most cases this will require a Premium subscription, we highly recommend you use TuneFab Spotify Music Converter to download Spotify music to your computer freely and transfer it to your Apple Watch for unlimited offline listening. Hit the button below and try this amazing program, and all your needs will be satisfied in one click.
TuneFab Spotify Music Converter
Batch convert Spotify to MP3 320kbps in lossless quality
Was this information helpful?
TrustScore 4.3 | 6