One can never imagine the magic of Hip Hop in the moving and passionate rhythm. 2018 has thus witnessed the growing favor for Hip Hop powers. Simply, this niche music has carved out energetic numbers of Hip Hop creations and clicks in the media mainstreams. Somehow, a selective Hip Hop collection will certainly help you keep track of the latest updates. In the post, let's see the top 10 best Hip Hop playlists on Spotify we've gathered for you.
CONTENTS
Part 1. [Collection] Top 10 Best Hip Hop Playlists on Spotify
1. Gold School
Track: 40
Why we love it: This is a perfect place where a great line-up of Hip Hop classics gathers. Gold School really plays a nice work to lend these superior sounds to the mass. Most 2Pac and Biggie lovers can get their favorites here.
2. GOOD Music
Track: 50
Why we love it: Founded by Kanye West, GOOD Music actually is an artist management and record production cooperation with good fame in rap music. Kanye West, John Legend, Common, and Travis Scott all share works in this Hip Hop playlist on Spotify.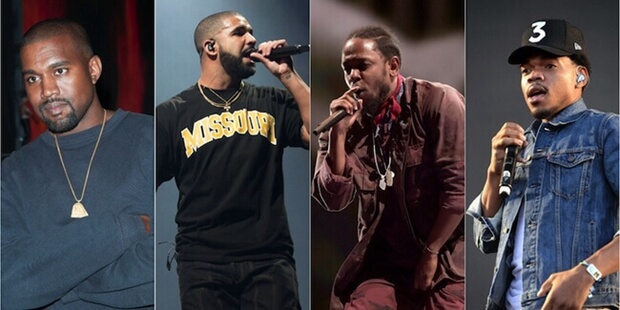 3. Grime Shutdown
Track: 52
Why we love it: Britain's Grime, in essence, should not on the list of Hip Hop playlist. More exactly, it is another unique music culture that has drawn some influence from Hip Hop. But where does Grime's distinctive charm lie? That's why we put it differently in Hip Hop group.
4. Hip Hop Club Bangers
Track: 79
Why we love it: Tracks here feature rap game performance with the hard-hitting beats technique included. This is a fresh glimpse of the recent evolvement in Hip Hop market. You are expected to see favorites from Kanye West, Drake, Rae Sremmurd and Future.
5. I Love My '90s R&B
Track: 50
Why we love it: The flexible tongue-in-cheek motion soon throws you back into the era of Lauryn Hill, II Men Boyz and TLC. I bet it most of you enjoy dancing with friends along the infectious sound.
6. Instrumental Hip-Hop
Track: 200
Why we love it: A large collection of classic Hip Hop playlists. Immerse yourself in the great sound hall following hip-hop classics from J Dilla, Pete Rock to other outstanding producers.
7. Kendrick Lamar's The Making of 'good kid m.A.A.d. city'
Track: 10
Why we love it: Oh, a bonus for Kendrick Lamar addicts. A small selection for this pugnacious rapper as it is, this Hip Hop playlist keeps spreading Kung Fu Kenny's inspirations and influences in lyric originality.
8. Mellow Bars
Track: 100
Why we love it: Then what about meeting the open opportunity of the chill and cool Mellow Bars mix on Spotify? Hip Hop artists perform rap tunes in a profoundly genuine way that lyricism is the highly appreciated product.
9. RapCaviar
Track: 50
Why we love it: RapCaviar is said to be the 2nd largest worldwide media playlist on Spotify, merely behind Today's Top Hits. That means it is an easy entrance to the masterpiece and emerging power of Hip Hop. At the end of 2017, Spotify even held hands with Live Nation to launch a six days' RapCaviar Live.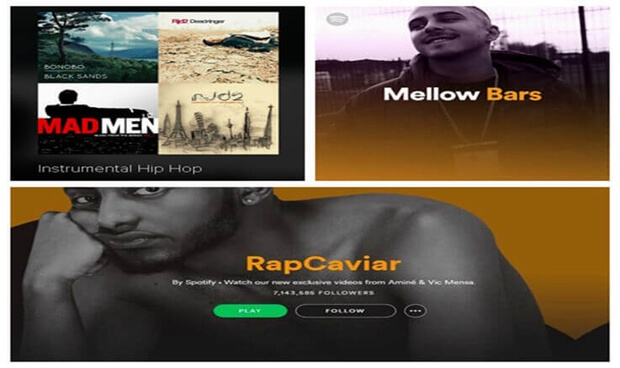 10. This is: Drake
Track: 50
Why we love it: For Drake buffs, you are on the right way. Drake in the recent years has really picked up a good time with most of his Hip Hop songs popular in public. Find this hip hop playlist on Spotify, you will surprisingly find his latest issues and the biggest hits are involved.
These are the recommended top 10 best Hip Hop playlists on Spotify. Rapping element is a passionate part of Hip Hop culture. Kendrick Lamar, Drake, Jay Z and etc. are all great musicians in the current Hip Hop circle. Turn around these excellent hip hop playlists on Spotify, and you will certainly get your favorites in the end.
Part 2. Best Spotify Music Converter: Get A Convenient Hip Hop Listening
Sometimes, you may find you are restricted to get higher Hip Hop listening due to the free trial version or less available format. This issue is easy to work out, just with the help of TuneFab Spotify Music Converter. In this way, you can effortlessly free Spotify music from format limitations by converting them into more available form with a simple and user-friendly operation (as the guidance image below shows). Therefore, you can listen to the top 10 best Hip Hop playlists on Spotify at any time and anywhere.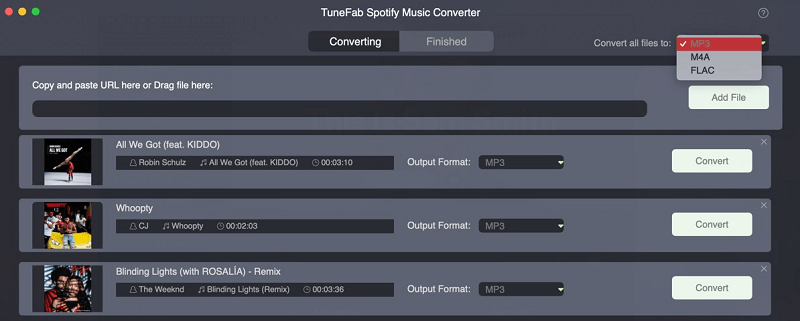 In this post, we have a detailed look at the top 10 best Hip Hop playlists on Spotify for you to choose a favored one. Plus, a nice TuneFab Spotify Music Converter will be a feasible preparation to make hip hop playlist listening more convenient and practical.
Was this information helpful?
TrustScore 5 | 49