"Though I sure my device has connected to WiFi, I get a message that saying I'm in offline mode on Spotify. Any advice?"
Normally, all Spotify users can play music from Spotify once they have connected to WiFi, however some subscribers complain that they receive a message indicating "No internet connection available" on Spotify when WiFi connected. If you are also annoyed with that problem, you can totally try the below solutions to fix the issue.
CONTENTS
Part 1. How to Solve Spotify Says Offline Issue
Here we offer you 4 ordinary ways, and you can check all of them to ensure the problem is fixed successfully.
Solution 1. Re-login to Spotify
Though you don't know why Spotify saying offline happens, you can try to re-login to Spotify at first.
#1. On Desktop:
Click in the top-right corner or the screen and select "Log Out", then enter your ID and password to back in again.
#2. On Web Player:
Click on your profile at the bottom of the left side menu and select "LOG OUT", then back in by entering your ID and password.
#3. On Mobile and Tablet:
Tap Home > Your Library > Settings and scroll to the bottom, then tap "Log out" and back in.
Solution 2. Check the Network and Firewall
If you can't solve your problem after trying solution 1, then you can try to check the network and firewall as your firewall - the software might wrongly think that Spotify likely poses a threat to your computer. Therefore, try the below solution.
On Windows:
Step 1: First click on Change Settings.
Step 2: Then tick the box next to Spotify.
Step 3: At last, click on OK.
On Mac:
Step 1: Click on Firewall option to open it.
Step 2: Click on lock icon in the bottom-left corner of the screen. You might be asked to enter your administrator username and password.
Step 3: Click on Advanced to bring up a firewall security dialog box and click on + icon below Block All Incoming Connections.
Step 4: Select Spotify from the Browse dialog box and click on Add.
Solution 3. Check if VPN is Correctly Connected
As Spotify might be not available for your country or region, you need to access Spotify with VPN. If so, you should check if VPN is correctly connected. To do that, you can try to see if you can browse through some limited web pages that can't be accessed without a VPN connection. If the VPN is incorrectly connected, then you are supposed to see what happens to your VPN.
Solution 4. Make Sure You've Turned Off Offline Mode
When you turn on Offline mode, you can have access to tracks that you mark as available in Offline mode, but it might result in Spotify saying no internet connection when you connect to WiFi, so if you have turned on Offline mode on Spotify, then you should follow below guides to turn off Offline mode.
#1. On iPhone:
Tap Settings button, then swipe the Offline Mode switch to Off position in the Settings screen.
#2. On Android:
Go to More > Settings, then disable the Offline Mode in the Settings screen.
Solution 5. Clear Cache & Data
This is also a way to fix the problem. But remember: if you clear the Spotify cache, you will lose all your downloaded songs, but your library and playlists will be untouched. Besides, do not forget to save your login credentials to access the account later.
On Android:
Step 1: Open the Spotify app and choose the setting section.
Step 2: Tap on the Apps option and select Spotify.
Step 3: Choose Storage and find the Cache option. It's to clear the cache of your Spotify account.
Step 4: Close and re-open Spotify.
On iPhone:
Step 1: Head to your mobile Settings and select the General option.
Step 2: Tap iPhone Storage.
Step 3: Search for the Spotify app and choose it.
Step 4: Tap on the Offload app to clear the cache.
Solution 6. Reinstall Spotify
Finally, reinstalling might be helpful for fixing many common issues you are experiencing. So for those who have a problem that Spotify says offline, you can try to reinstall Spotify on your computer or portable devices.
On Mac:
Step 1: Click on Spotify in the menu bar and then Quit Spotify.
Step 2: Open Finder and then click on Go > Library in the menu bar.
Step 3: Open Caches and then delete the com.spotify.Client folder and click on the back arrow.
Step 4: Open Application Support and delete the Spotify folder. After that, download and install Spotify.
On Windows:
Step 1: Close Spotify and go to the Control Panel.
Step 2: Click on Programs and Features and select Spotify in the list.
Step 3: Then click on uninstall and follow the instructions on the screen.
Step 4: Download and install Spotify.
On iPhone:
Step 1: On the home screen, tap and hold Spotify app icon until it shakes.
Step 2: Tap the X symbol on the icon to uninstall Spotify.
Step 3 Open the App Store, then search for and install the Spotify Music app.
If Spotify keeps saying "Offline" even when you are connected to WiFi, you can try the above six solutions to solve your problem.
However, the problem can appear again and again though you may know how to deal with it every time the notification pops up, which is quite annoying. Why not learn about the best solution – downloading music from Spotify to enjoy Spotify tracks whether you have an internet connection or not.
The following part will show you how to download Spotify songs for offline playback even without having a Premium subscription.
Part 2. How to Listen to Spotify Offline without Premium
Even if you are Spotify Free users, you can download Spotify for offline playback, but you need to download TuneFab Spotify Music Converter on your computer. It is an efficient Spotify DRM removal tool that enables you to download Spotify tracks without payment and convert them to common formats such as MP3, M4A, WAV, and FLAC.
The following guide will detailedly show you how this special music converter works.
Step 1.
Download and Install TuneFab Spotify Music Converter
Download TuneFab Spotify Music Converter by clicking on either of the below download buttons, then install it on your computer.
Step 2. Login Spotify Web Player
After prompting to the built-in Spotify web player in TuneFab Spotify Music Converter, you need to log in to your Spotify account.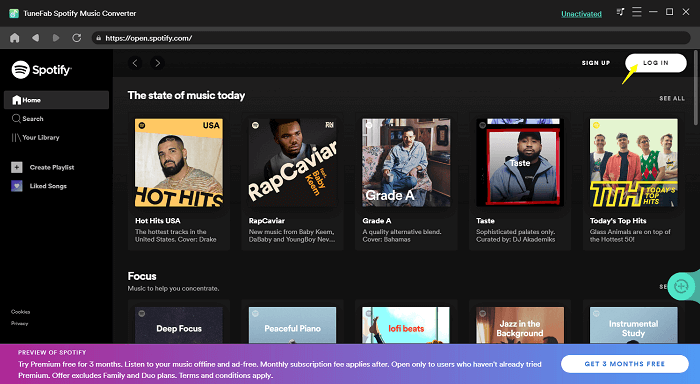 Step 3. Add Spotify Playlist for Music Conversion
After the account login, directly open a Spotify playlist and TuneFab will automatically detect the music tracks and provide download options for you. In just a minute, all tracks from the playlist will be listed for you with the basic song info displayed on the screen.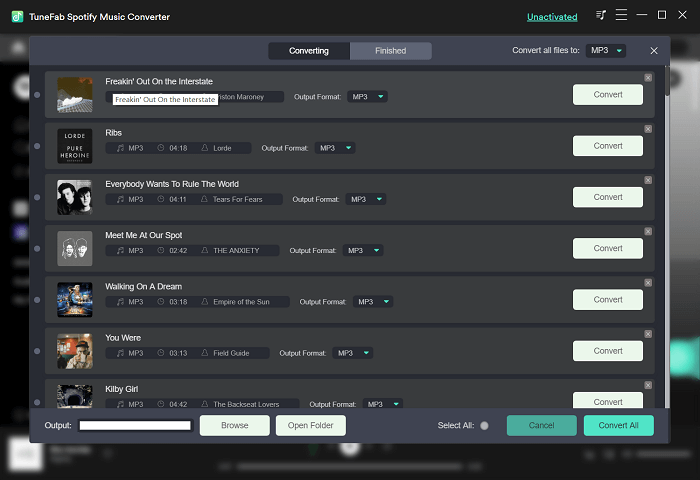 Step 4. Select Output Format
Move up to the upper-right corner to select an output format such as MP3 for converting all the selected Spotify songs.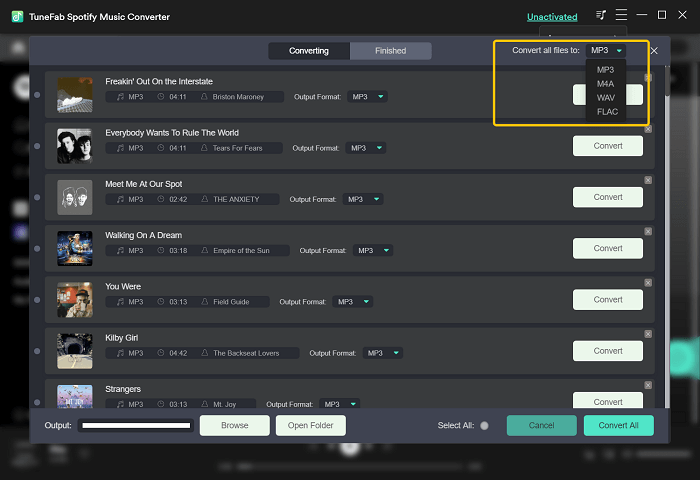 Step 5. Start Converting
Then click on the "Convert" button on the menu bar to start downloading Spotify songs to PC. After you download all songs from Spotify, you can listen to the music on any device online or offline.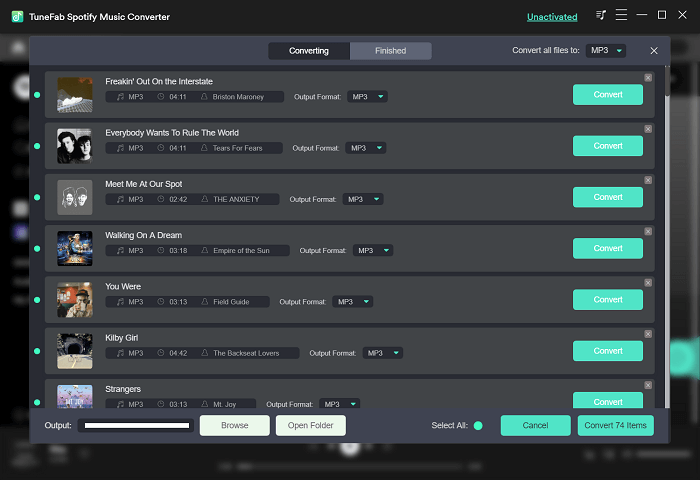 After all the steps, the converted Spotify songs have been stored in your selected output folder. And you can transfer the songs to any device and listen to them whenever you want without being bothered by the "Spotify says offline when Wi-Fi connected" issue.
Final Words
Altogether 6 methods are provided to fix the problem that Spotify says offline. If you have another efficient method, welcome to share it with us. For convenience, you can directly choose the last way - download Spotify files via TuneFab Spotify Music Converter so that you can play Spotify anytime and anywhere.
Was this information helpful?
TrustScore 1.5 | 47