Sometimes when you are streaming your created Spotify playlists, suddenly you hear the songs that are not added to them before. Why would this happen? How to fix Spotify playing songs not on playlist? In this article, the reason resulting in this problem and all ways to solve it will be introduced. If you also meet such a problem while enjoying Spotify Music playback, just keep reading!
Why Spotify Plays Random Songs That Aren't on My Playlist?
Actually, the reasons causing Spotify playing songs not on playlist problem include different ones. By knowing them in advance, it would be easier for you to find suitable methods to fix it. Here are the most possible causes of this problem:
You have turned on the Spotify Autoplay mode, which will automatically recommend some songs to play for you based on your listening habits when a song, playlist, or album ends.

The Spotify app you are using is a little outdated, so this sudden error occurs.

Spotify has stored too much cache so an error happens because Spotify works wrongly to play these cache songs for you.

The shuffle mode may also work wrongly so letting the app to play the songs not added to your playlists before.

Your account also logs in to other devices or connects your Spotify account with other apps, so the music playback control on them affects your original music playback list.
So what can you do when you meet these errors and are facing the Spotify keeps playing songs, not my list problem? Keep reading and there will be ways provided to help you fix it.
How to Stop Spotify Playing Songs Not on Playlist
But don't worry when you find Spotify playing songs not on the playlist and seem out of control, there are still different methods to get it fixed. Now based on the problems causing this error, you can try any of them to make Spotify play the right songs for you. Have a look.
Solution 1: Turn off Autoplay on Spotify
Brief Introduction: What Is Spotify Autoplay?
Spotify Autoplay is a general function for Spotify Free and Premium to enjoy and dig out more music that is not on their playlists. With this function turned on, users are able to enjoy similar songs when their music, playlists, or albums ends, which might suit their taste. However, this humanized function maybe cause some bad feelings and music experiences, like automatically playing Spotify songs that are not on the playlists.
If you have turned on Autoplay mode on Spotify, it can be the direct reason leading to Spotify playlist songs on playlist problem. You only need to follow 2 steps below to turn it off, the problem can be easily fixed.
Step 1. Open the Spotify app on your Windows or Mac. Hit the Spotify app to run it on your computer. Click on the Down-Arrow buttons to pick up the Settings options. On the Settings page, you are allowed to make any changes when using Spotify Music.
Step 2. Now, scroll down to the bottom of General Settings, there is an option called AutoPlay. Now just press the button to turn off Spotify Autoplay, then you fix the problem of "Spotify Keeps Playing Songs not on my playlist".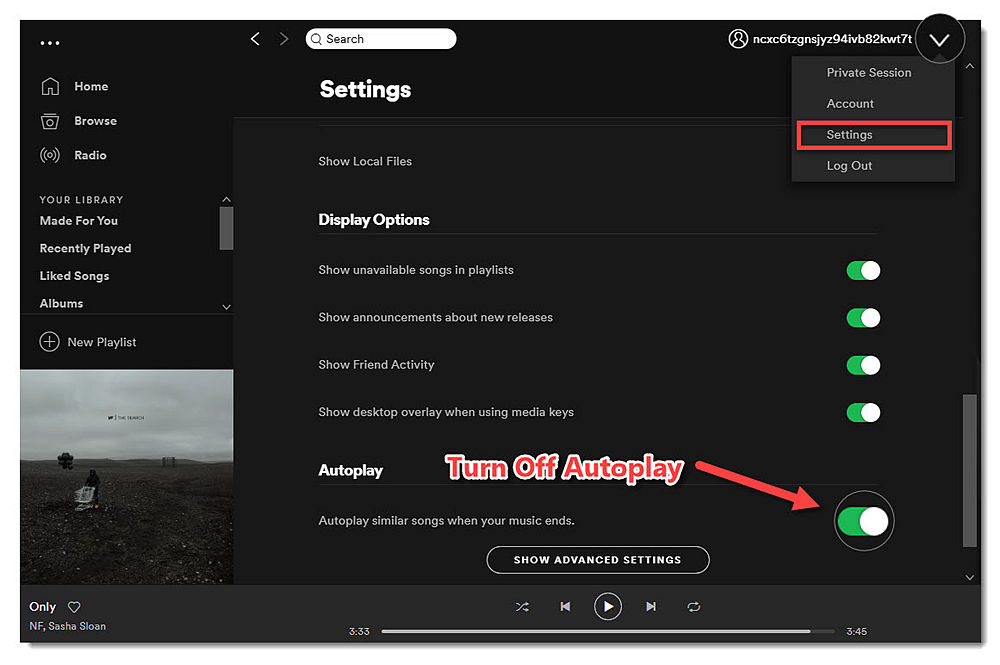 Solution 2: Turn Off Enhance Feature on Spotify
Except for the Autoplay mode, the Enhance feature may be also another reason causing Spotify playing songs not on playlist for you. So if you have turned of the Autoplay mode but only find Spotify doesn't fix the problem for you, you can continue disabling the Enhance feature to try as well.
To turn off the Enhance feature on Spotify, you only need to open a playlist you want to stream within Spotify app, then click the "ENHANCE" button next to the download icon to turn it off. Then try playing Spotify playlist again to see if the problem is now fixed.

Solution 3: Disable Shuffle Mode on Spotify
Some of you may use the Shuffle mode to let Spotify play songs in random order for you, but this function sometimes may work wrongly so it leads to Spotify playing random songs not on the playlist. To disable Shuffle mode and make Spotify playlists play in order once again, you only need to click the green "Shuffle" icon on the playback bar at the bottom of the playing music to turn it grey. When Spotify songs are playing in order again, the error of Spotify playlist songs not on playlist will be fixed.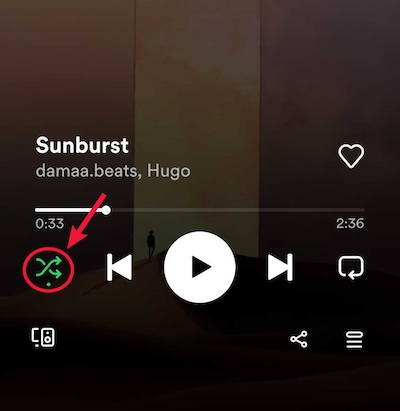 Solution 4: Remove Random Songs from Queue
You also need to consider whether you have added some random songs to the Spotify playlist so that Spotify just keeps playing them for you. So, you are actually possible to check the playback queue by clicking the "Queue" icon on the playback bar. When you find there has inserted the "Next in Queue" section, which has brought some songs that are not originally added to the playlist by yourself, click "Clear queue" and then you can remove them and solve Spotify playings songs not on playlist problem.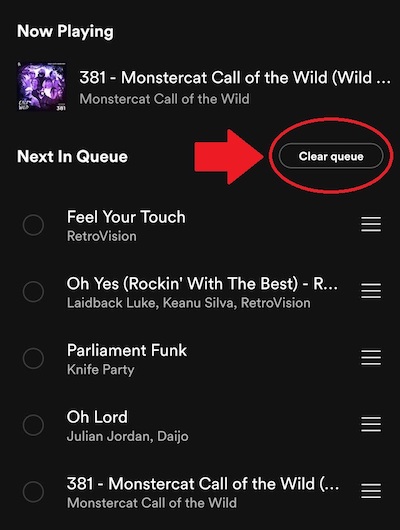 Solution 5: Clear Spotify Cache Files
Spotify will automatically load and store cache so that it would enhance the performance of the app and lets everything loads faster for you. However, sometimes the cache data may lead to some Spotify problems, including the Spotify playing songs not on playlist error. So, you can try to clear all Spotify cache files to try to fix the problem. Here are the steps for you.
For Windows
If you are using a Windows computer, you should go to "File Explore" and open "Disk C". Find the "Users" folder and go to "App Data" to find "Load" then "Spotify". Just by selecting all files and settling them, the cache is cleared.

For Mobile
To clear Spotify cache on a mobile phone like an Android or iPhone device, you only need to open "Settings" in Spotify and scroll to "Storage". There will be a clear cache button provided to let you delete all Spotify cache data immediately.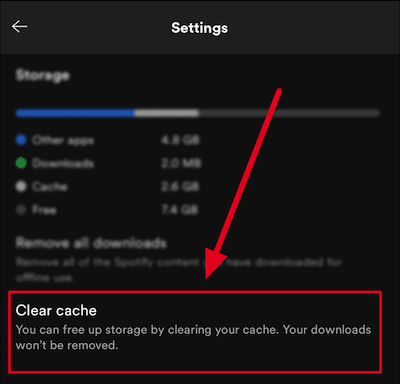 Solution 6: Reinstall Spotify App
If you have tried different methods above but still find Spotify playing songs not on playlist for you, try deleting the app and reinstalling it again. This way can directly solve some bugs that happened because of wrong programming because reinstalling is actually getting the app to run properly again. So just delete it and then install it from the official website or app stores again. After getting it done, reopen the app and you may find the problem has been fixed.
Solution 7: Update Spotify App
Finally, remember to check whether you haven't updated Spotify app for a long time. Because Spotify would always update to the latest versions with some bugs fixed and functions improved. So actually, it is possible that your Spotify app version is outdated, so many old bugs exist, causing Spotify not to play songs on the playlist problem. So to fix it, you can go to app stores and click to update Spotify to the latest version. This error may automatically be fixed.
Tip: Download Spotify to MP3 to Avoid Spotify Playing Songs Not on Playlist
If you have tried all mentioned methods above but still find it can't fix Spotify playing songs not on the playlist for you, an extra way to avoid it and keep playing Spotify songs you want only is by downloading all Spotify playlists you need to MP3 offline. By saving them to your offline library, you don't even need to connect to the network to play Spotify songs!
To download Spotify to MP3, TuneFab Spotify Music Converter is the best Spotify playlist downloader for you. Because the software has directly added Spotify Web Player inside, you can use it to play Spotify Music and also download them even without subscribing to Spotify Premium. When you meet the Spotify playing songs not on the playlist error, directly by downloading them as MP3 files and add to your offline music library, the playback will not be controlled by Spotify and this error can be avoided.
Key Features:
Provides in-built Spotify Web Player to download all Spotify songs, playlists, albums, and podcasts to MP3, M4A, FLAC, WAV, AIFF, AAC, and ALAC formats as you need

Keeps original high quality at the best 320Kbps for you

Allows to edit file name by selecting tags as you need

Keeps all ID3 information for the songs while downloading them offline

Sorts downloaded Spotify songs for you by setting a category

Keeps up to 35X faster speed to download Spotify playlists for you in batch
Finally, you can slo see how to use TuneFab Spotify Music Converter to download Spotify to MP3 and avoid Spotify keeps playing songs not on the playlist for you.
Step 1. Sign in Spotify Web Player
When you have installed TuneFab Spotify Music Converter, open it and then click into the Spotify Web Player. You will need to sign in it with your Spotify account.
Step 2. Select Spotify Songs or Playlists to Download
When you have signed in, search the Spotify songs or playlists you want to download and enjoy offline to avoid the Spotify keeps playing songs not on my playlist error. By adding them to the "+" button and get ready to start the downloading process.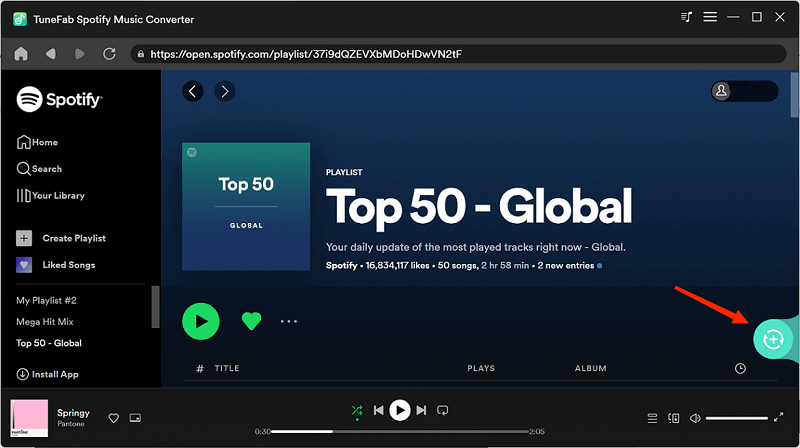 Step 3. Choose Format and Quality
Then you can click the "Convert all files to" menu in the top-right corner to select the format you need. Here will recommend MP3 as the best option because the format is supported on almost all devices and media players.
If you need to change the quality settings, simply go to "Preferences" and select the "Advanced" tab. Here you can adjust both the "SampleRate" and "Bitrate" as you need.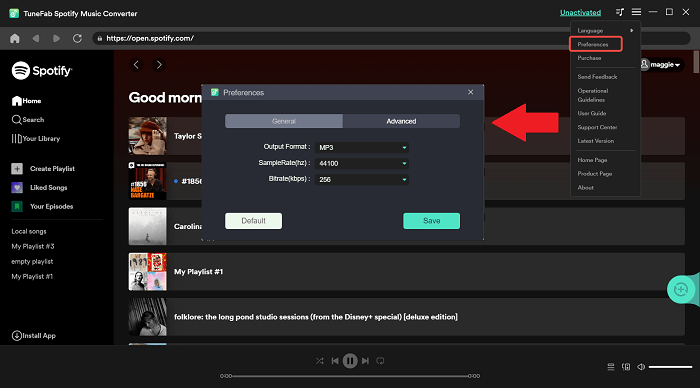 Step 4. Set Output Settings
Also switch to "General" to further adjust the downloading settings too. You can add tags in ways you like to name the downloaded Spotify songs. Also, you can select a tag as the rule to create folders and save all songs of the same tags into them automatically.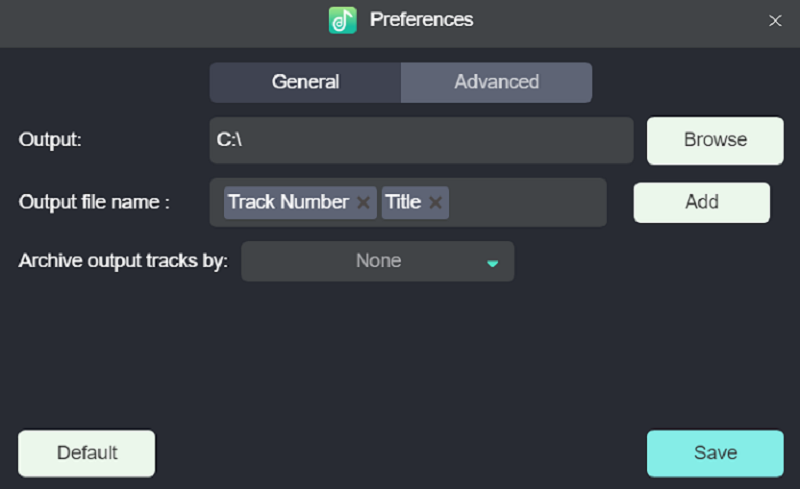 Step 5. Download Spotify Playlists Offline
Finally, if all the settings are finished, just click the "Convert All" button to start downloading Spotify playlists offline. When it is done, you can get all Spotify downloads saved in the created folders for you in order.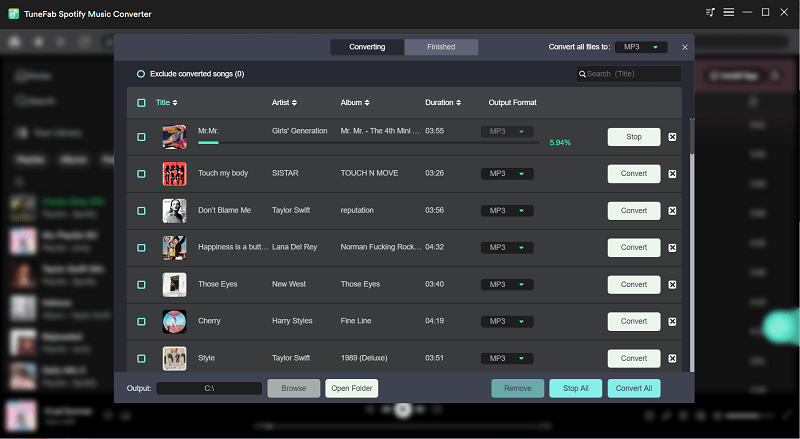 In Conclusion
There are different reasons that can cause Spotify keeps playing songs not on playlists error. With the 7 helpful methods, you can easily get it fixed just by several easy clicks. However, if you want to avoid Spotify errors like this or more than it, it is recommended that you download Spotify to MP3 or other formats as local music files with reliable software like TuneFab Spotify Music Converter, so you can easily fix Spotify problems like Spotify no sound and don't need to worry about anything wrong while playing Spotify Music offline.
Was this information helpful?
TrustScore 2.1 | 903
Copyright © 2022 TuneFab Software Inc. All rights reserved.