You probably have also come across some Spotify errors while playing songs with it. Recently, we notice that many users would report the problem like Spotify playing but no sound can be heard. Why will this happen? How to fix Spotify no sound when we actually meet this error while playing Spotify Music? Don't worry! Here we bring all the ways to fix it for you. Now, keep reading and try fixing the error immediately.
Contents
Some Efficient Solutions for Spotify Playing But No Sound
Actually, Spotify no sound error can occur under different situations. Based on different causes, you can try different methods to solve it. Here are the 12 most frequently-used ways to fix Spotify playing but no sound problem.
Method 1: Check if You Turn Off the Volume
The first thing you can do when you find Spotify playing but no sound is to check the volume settings. When you mute the audio system or just set the volume level low, the problem can be easily fixed by unmuting or raising it.
To check the volume settings on Windows, you will need to open the "Volume Mixer" to make sure that you haven't muted the Spotify app.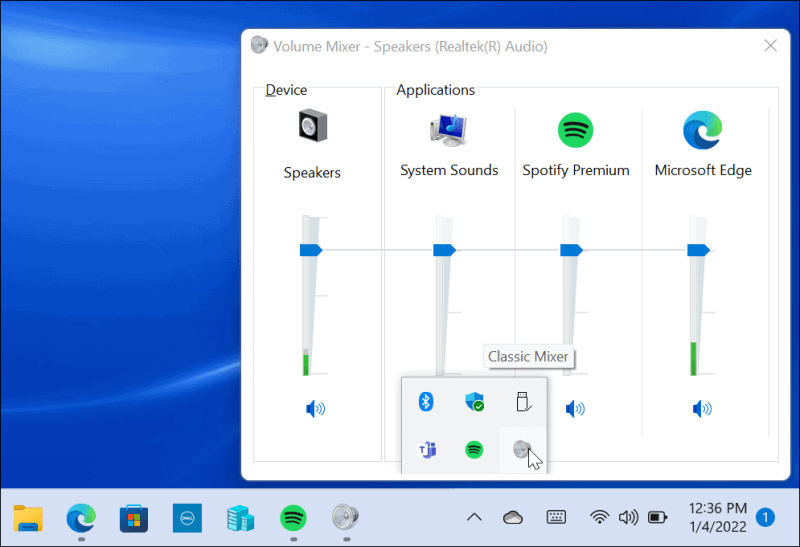 For Mac users, the volume settings condition can be checked in "Sound Control". You can go to it from the menu bar directly.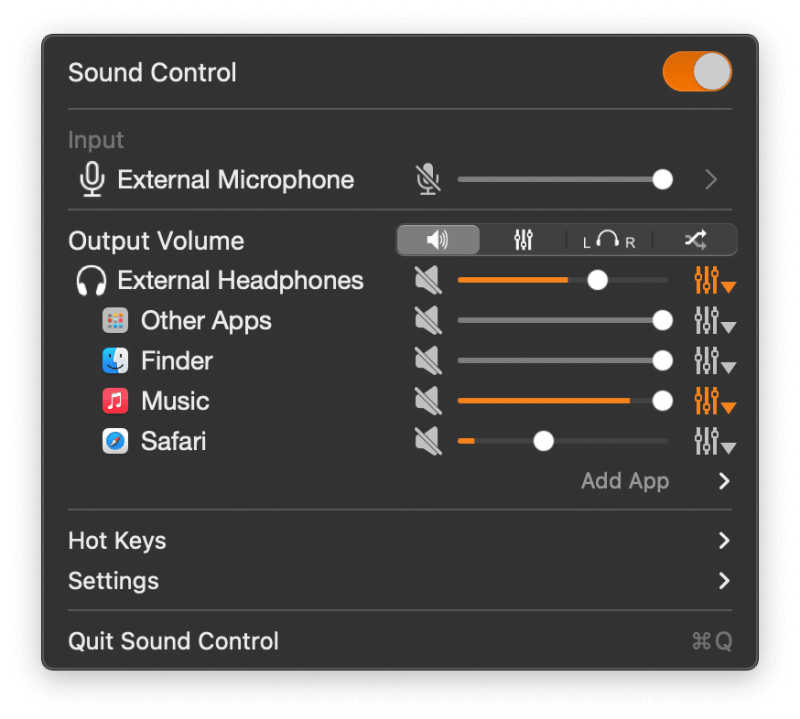 If you are using a mobile device, simply press the volume up button to raise up the volume level and see if you can now hear sound when Spotify plays music.
Method 2: Unmute the Spotify
When you have double-checked that your device volume system has been turned on and works well, also consider whether you have muted Spotify playback independently. So you can directly open the Spotify app and then check the volume setting option on the music playback bar. If it's been muted or the volume level is set at the lowest, for sure the Spotify no sound problem will occur. So simply by unmuting Spotify volume and the problem can be easily fixed.
Method 3: Play Another Song
Another possible cause leading to Spotify playing but no sound problem may be the song you are playing is actually a silent one, then there is no doubt you won't hear any sound from Spotify. To make sure the situation is caused by this reason, you can try playing another song to see if the sound can be heard normally.
Method 4: Check Your Internet Connection
It is noted that Spotify's online music streaming experience can be greatly affected when your devices are connected to an unstable network. This can lead to data delays when Spotify tries to transfer music resources from its servers to your local devices. So when you find Spotify doesn't work well and just play music without sound, check if your Internet connection is not stable right now. Under this condition, changing to another faster Wifi or using mobile data can directly fix the problem.
Method 5: Clear Cookies & Cache
If your Spotify software or the web browser (if you are using Spotify Web Player) has loaded and stored too many cookies or cache data, they may get corrupted so that affect your Spotify Music playback experience by interrupting the normal streaming process. Therefore, trying to clean up cookies and cache may let Spotify work well again. When you run into a problem like Spotify playing but no sound can be heard, try this way and see if the error can be solved.
In the Spotify app, simply go to "Settings" and there will provide the "Clear Cache" option to let you clear cookies and cached data directly. If you are using web browsers to play Spotify Music online, then you need to clean up from browsers' settings. In most cases, it is a workable way to help many users to fix the problem.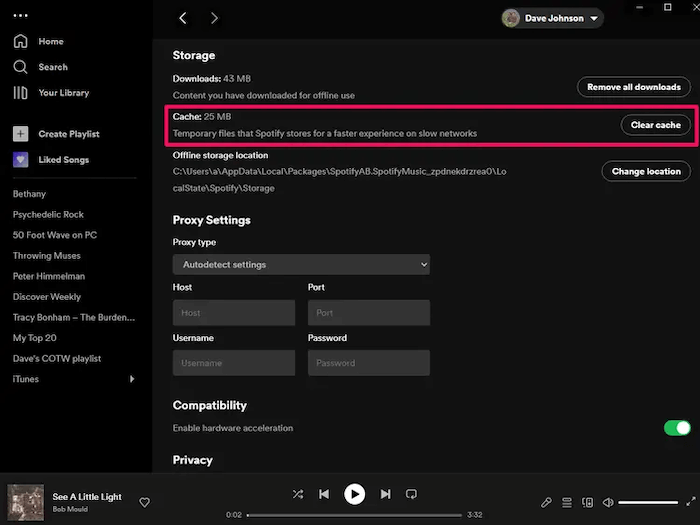 Method 6: Re-login to Spotify
When you have logged in to Spotify with the same account on different devices, the Spotify no sound error can also easily happen because Spotify would misbehave to play the songs on another device for you. So to fix it, you need to log out of your account on all devices and then re-login again.
To process it, open Spotify app and click your profile icon. There will be the "Log out" option provided. Click it to sign out and then re-login again to see if Spotify can play music normally now.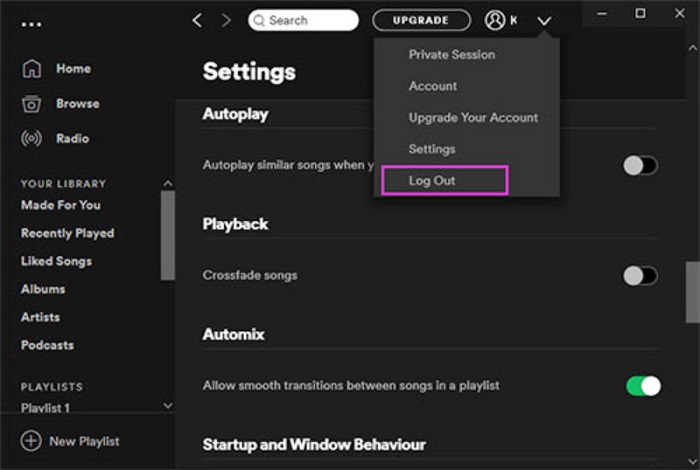 Method 7: Restart Your Device or Relaunch Spotify
Sometimes if you are running too many apps on your devices, the systems can get overloaded so causing some apps to perform in the wrong ways. So to get your device system working properly again, the simplest method is to force stop Spotify and shut down the device. When you restart it, the system can run well again, so Spotify's no sound error can automatically be fixed.
Method 8: Check the Current Device on Spotify
Spotify Connect is a music playback controlling feature provided by Spotify, which lets you stream music to other devices seamlessly. So when you find Spotify playing but no sound can be heard, consider whether the feature has streamed the songs to other devices connected to this service.
To check it, you can go to the "Now Playing" window and tap the "Device" button in the lower-left corner of the screen. If you find that the Spotify app has linked with another device and is playing music now, that's the problem causing Spotify no sound on your current device. Simply by switching the music playback device and the problem can be fixed.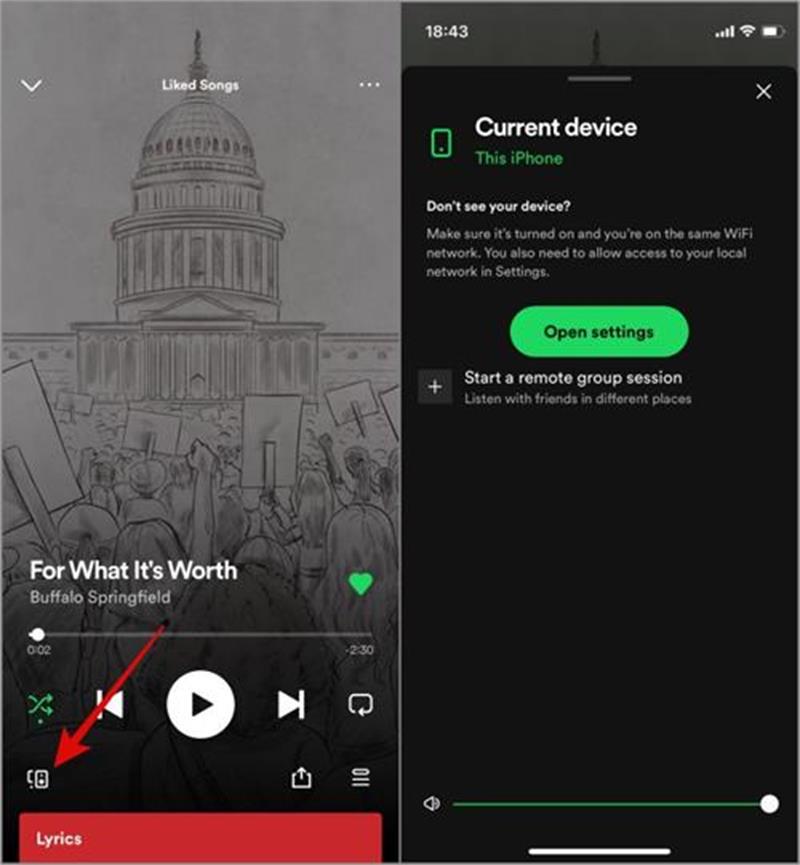 Method 9: Reset the Default Audio Output Device
If your device is connecting with more than one audio output device, you also need to check whether you are using the correct one to stream Spotify Music when the Spotify no sound error shows up. For example, if Spotify is streaming through a connected Bluetooth speaker but you are using another headphone, you would definitely find Spotify playing but no sound comes out. Just by changing the audio device to the one you are using and the problem will be solved. Here shows you the steps on how to do it on Windows.
Step 1. Click the "Windows" icon and open "Settings" on your computer.
Step 2. Go to "System" and enter the "Sound" section.
Step 3. Here, scroll down to "Advanced" and click "More sound setting". You need to choose "Sound properties" and turn to "Playback" to select the audio device you want to play Spotify with.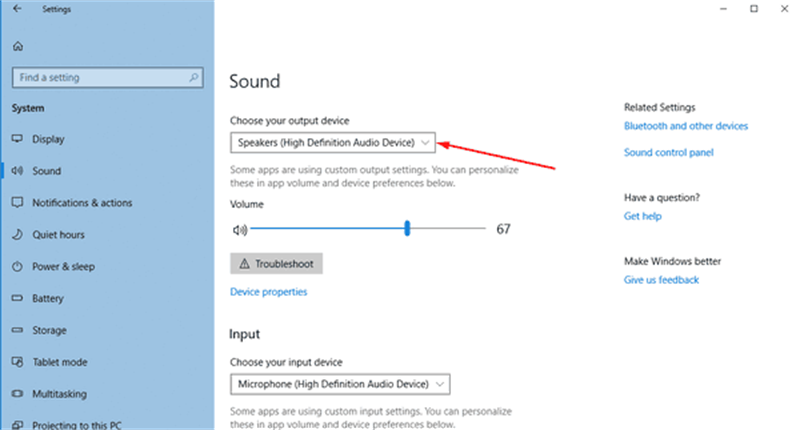 Step 4. When you have set it as the default device, save the change and try playing Spotify songs again to see if the sound can be heard now.
Method 10: Update Spotify to the Latest Version
We know that Spotify will keep updating the app versions to keep updated to support running on the latest device systems. In the updated Spotify versions, they would always get some known bugs fixed and improve the app-using experience. So when you are using an outdated Spotify app, some bugs may occur because of system incompatibility, including the Spotify no sound issue. As a result, you can check whether your Spotify app hasn't been updated for a long time so it works worse and worse. Simply by upgrading it to the latest version and the problem will automatically be overcome.
Method 11: Turn Off Ad-Blockers (For Web Players)
If you use Spotify Web Player to play Spotify Music online, to avoid some sudden ads interrupting the playback, you may install some ad-blocker extensions in your browser. But when such extensions can filter ads for you, they are actually changing the ways Spotify Web Player works so leading to some errors. So when you use Spotify Web Player with an ad-blocker turned on and only find Spotify playing but no sound, try disabling the extension and the music playback in the web player may be normal again.
Method 12: Turn to Another Browser (For Web Players)
You need to know that not all web browsers can work to use Spotify Web Player to play music, because Spotify doesn't make it support all of them. For example, Safari is not compatible with Spotify at present, so for sure you can't play Spotify Music in it. Under such a situation, only by changing to use another browser can you fix the Spotify playback error successfully.
Ultimate Way to Fix Spotify No Sound
If you have tried all mentioned methods above but still find Spotify playing without sound at all, the ultimate way you to fix the error and enjoy Spotify playback normally can be to download them as common music files, getting them outside the Spotify platform. To do it, TuneFab Spotify Music Converter is the software that can bring you professional help.
Why Choose TuneFab Spotify Music Converter?
When TuneFab Spotify Music Converter has added the official Spotify Web Player into the software, you can directly sign in and search for any music, playlists, or podcasts to stream as well as download offline. You will find TuneFab Spotify Music Converter quite helpful with the following advantages brought to you:
• Works to hack Spotify Premium for free, letting Spotify Free subscribers download Spotify tracks for free as well

• Supports various formats including MP3, WMV, M4A, FLAC, ALAC, and AIFF so that you can transfer Spotify music to generic MP3 players in supported formats as you need

• Runs at 35X faster speed to batch convert Spotify playlists at once without wasting much of your time

• Keeps the best 320Kbps quality to ensure the best music playback experience after downloading Spotify songs offline

• Supports keeping ID3 tags and flexibly editing the file names for easier music management

• Provides classifying songs feature to save Spotify downloads of the same category to one folder automatically
Step 1. Login Spotify Web Player in the Program
First of all, launch TuneFab Spotify Music Converter and enter its embedded Spotify Web Player. Then login with your Spotify account.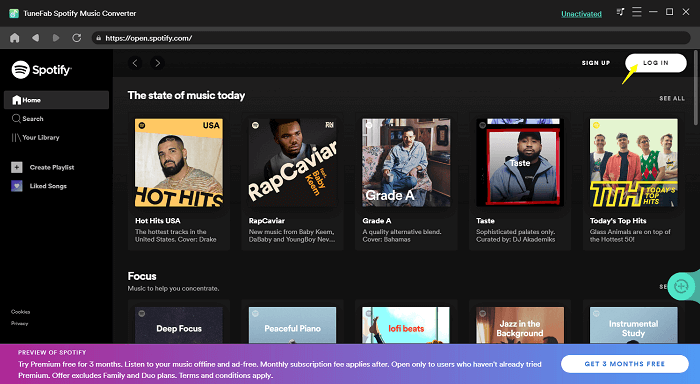 Step 2. Select Spotify Music to Download
Directly open a Spotify playlist and click the "Add" button, TuneFab Spotify Music Converter will initiate to analyze it. You can also manually drag the songs and drop to the button for adding to the converting list.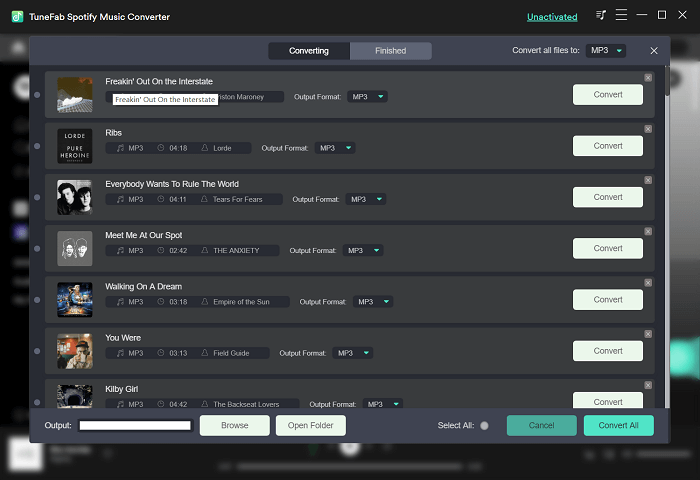 Step 3. Adjust the Output Parameters
In terms of the output parameters, you can select the output format and adjust music quality freely as you need.
To select the output format, by going to the top-right corner and click the "Convert all files to" menu, you can directly choose one audio format to save Spotify downloads for you.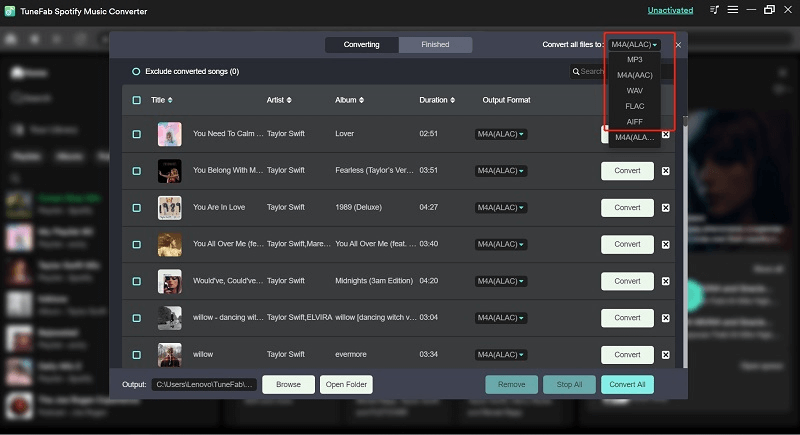 If you need to select quality to download Spotify songs, then go to "Preferences" and then select "Advanced" section. Here you can change the output quality by adjust both "SampleRate" and "Bitrate" as you need.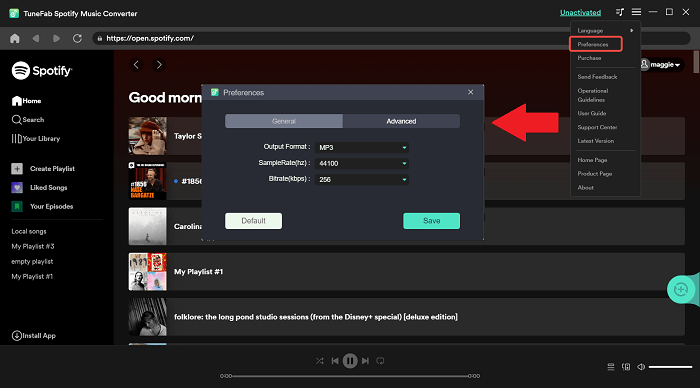 Step 4. Start the Conversion
After all is settled, the last thing you need to do is to click on "Convert All" button to start downloading Spotify songs offline. When the conversion is completed, you can access the downloaded songs in "Finished" and click the "View Output File" to find them. Now you can use any media player to play them without worrying about the Spotify no sound error happening!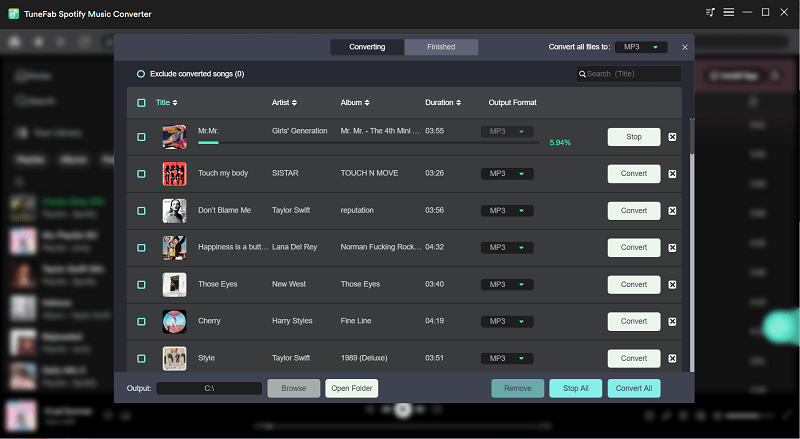 In Conclusion
When you find Spotify playing but no sound comes out, don't worry as you now get 12 common methods and one ultimate solution to fix it. By downloading Spotify songs with TuneFab Spotify Music Converter, you can completely avoid this error and have a fluent as well as enjoyable Spotify Music playback experience offline. Now, fix the error and get Spotify worked normally again with the help above!
Was this information helpful?
TrustScore 1.6 | 25