As a Spotify subscriber, how do you like Spotify? I think most of you may find Spotify amazing as it enables you to listen to millions of music, whether the golden oldies or new & hot music. What's more, subscribers can enjoy Spotify music on many modern devices such as Windows, Mac and Linux computers, iOS, Android and Windows mobile phone and tablets. But nothing is perfect, some Spotify subscribers find that sometimes Spotify app is playing the song but they can't hear any sound. Considering that most of you may be confused about that, too, so I'd like to provide some efficient solutions for you to solve the issue.
CONTENTS
Part 1. Some Efficient Solutions for Spotify Playing But No Sound
For those who find no sound from Spotify, the below solutions are worthy of trying.
Method 1: Restart Your Device or Relaunch Spotify
Well, when your problems on using a software, you can always try to restart your device or relaunch the software. Therefore the first method is to restart your device and then relaunch Spotify app.
Method 2: Update to the Latest Version
Though Spotify has some defects, it is improved all the time. That means if your Spotify version is not the newest one, you may have some troubles in playing music on Spotify such as no sound from Spotify. Therefore you may solve the problem by getting the latest Spotify version. Just have a try.
Method 3: Re-login to Spotify
If the above two methods can't fix your problem, then you need to try to log out of Spotify and then re-login your account.
Method 4: Check if You Turn Off the Volume
If you have turned off the volume, then of course you will find Spotify playing but no sound. Therefore I advise you to check whether you turn off the volume slider of Spotify.
Method 5: Unmute the Spotify
Except for that, also make sure you haven't turned off your device volume. That means you need to launch Spotify and click on "Speaker" icon, then unmute the Spotify.
Method 6: Play Another Song
If the song you are playing has no sound, then there is no doubt you won't hear any sound from Spotify. So you had better play another song on Spotify to see if there is yet no sound.
I hope you can solve your problem by trying the above solution. But if unfortunately they are not helpful, then you can try the ultimate way to fix Spotify no sound. That is to backup Spotify tracks to your computer.
Part 2. Ultimate Way to Fix Spotify No Sound
If you have downloaded songs from Spotify, then you won't need to worry about the problem of Spotify no sound. However, even if you are Spotify Premium subscribers, you can't transfer the downloaded Spotify songs to unauthorized devices for listening because of DRM protection. Therefore to download Spotify music for listening on multiple devices offline, you need a Spotify music downloader and converter. Here comes an all-in-one tool, TuneFab Spotify Music Converter.
Why Choose TuneFab Spotify Music Converter?
#1. It can hack Spotify Premium for free, so Spotify Free subscribers can download Spotify tracks for free.
#2. It does well in converting Spotify music to various formats including MP3, WMV, M4A and FLAC so that you can transfer Spotify music to generic MP3 players.
#3. The conversion speed can be 16X than other common Spotify music converter, but the converted files will have the same quality of the original tracks.
#4. There are three language versions of the software including English, Traditional Chinese and Simplified Chinese.
How Does It work?
Step 1. Login Spotify Web Player in the Program
First of all, launch TuneFab Spotify Music Converter and enter its embedded Spotify Web Player. Then login with your Spotify account.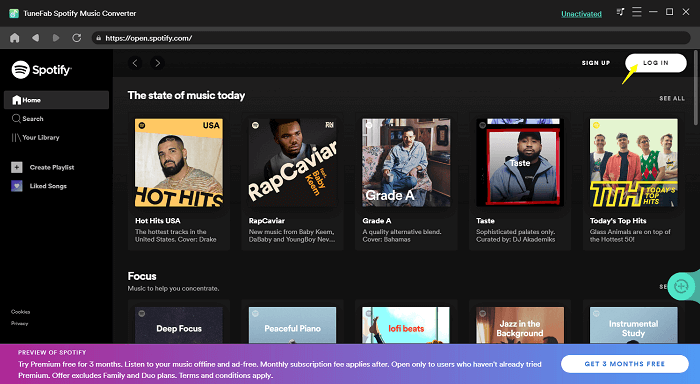 Step 2. Step 2. Analyze A Spotify Playlist
Directly open a Spotify playlist and TuneFab Spotify Music Converter will initiate to analyze it. In the pop-up playlist list, select the Spotify songs you need to convert.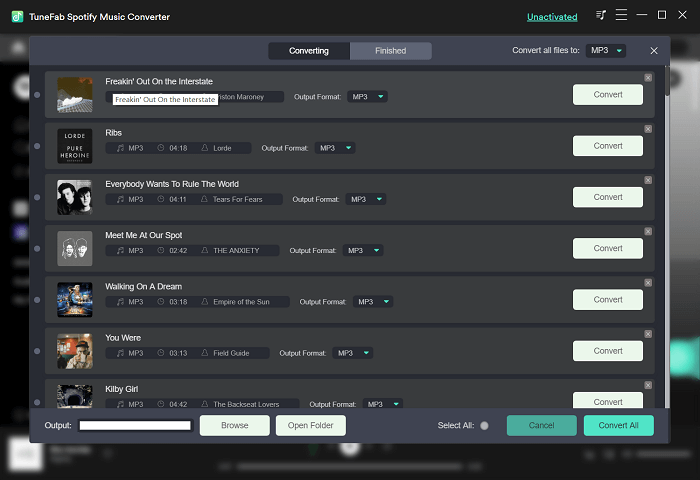 Step 3. Adjust the Output Parameters
In terms of the output parameters, you can select the output format, output file, etc.
To select the output format, you need to go to "Preferences" and then select "Advanced" section. As you can see, you can select the output format as MP3, M4A, WAV and FLAC and change sample rate, conversion speed and birate.
To change the output destination, you need to select "General" section near "Advanced" section. Then select an output folder as you like by clicking on "Select..." button.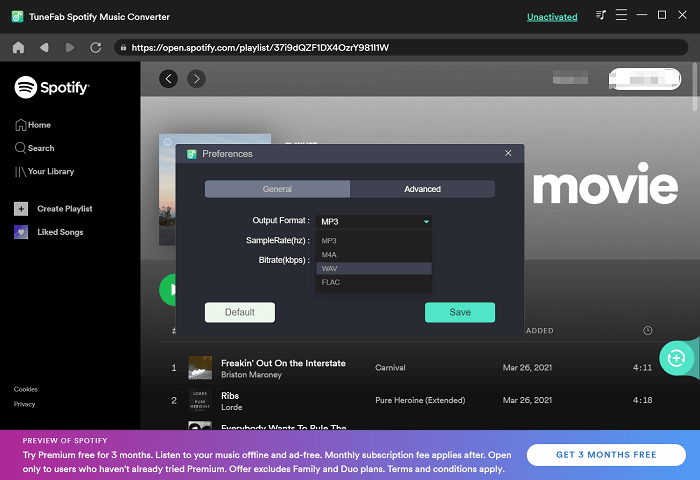 Step 4. Start the Conversion
After all is settled, the last thing you need to do is to click on "Convert" button on the menu bar. When the conversion is completed, you will find the DRM-free Spotify music on the output file you set.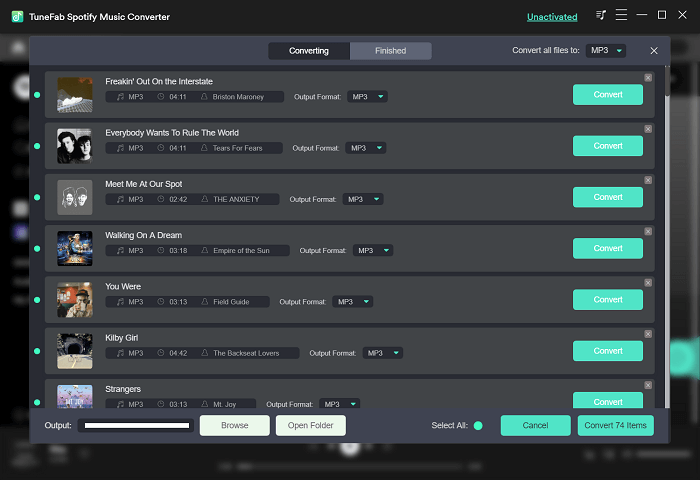 Note: If you haven't got the chargeable registration version, then you are only allowed to convert the first 3 minutes of the tracks. To remove this restriction, you need to purchase the software and then enter the registration code you received into the registration window to get the completed version.
Therefore if you have the problem of Spotify playing but no sound, then you can try to restart Spotify, re-login your account, update to the latest version, etc. But the ultimate method should be backuping Spotify tracks to your computer by downloading TuneFab Spotify Music Converter so that you can listen to them on multiple devices anytime.
Was this information helpful?
TrustScore 1.5 | 20