Despite streaming Pandora music online, sometimes you may have demands in grasping audio clips from Pandora songs or podcasts to preserve independently as collections or use for video editing personally. Hence, this blog is mainly written to introduce 3 ways to record music from Pandora on computer, iPhone, and Android to you. With them, you are able to grasp any Pandora audio clips as personal collections for offline streaming or use you desire freely!
CONTENTS
Record Music from Pandora on Computer
On desktops, instead of installing extra software, it would be more convenient to use an online record to process Pandora record without hassle. Screenapp.io is a trustworthy online platform, provided with smooth online recording functionality to capture screens, audios, and even webcam for you. Only via a web browser, you are able to process Pandora recordings and save the recorded Pandora clips to MP3 offline.
Now, this brief guide will lead you to go through how to record music from Pandora online via Screenapp.io:
STEP 1. In browser, open a new tab and navigate to Screenapp.io.
STEP 2. Select a recording mode with "Browser Audio" option enabled to avoid recording any noise from the microphone.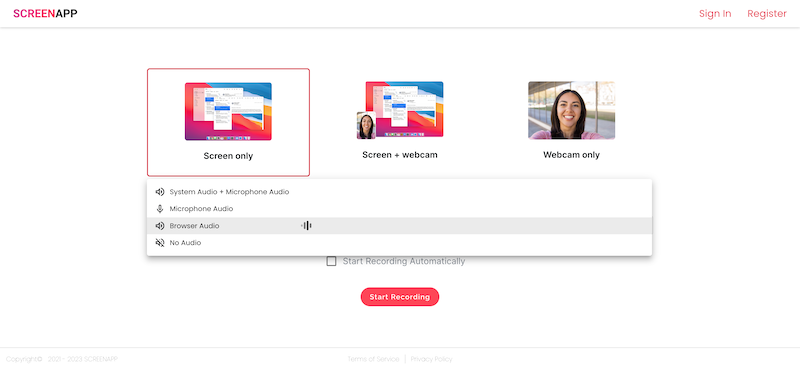 STEP 3. Next, start playing a Pandora song in browser using its web player. Meanwhile, hit the "Start Recording" icon on Screenapp.io to process capturing the music simultaneously.
STEP 4. Once the music ends playing, stop the recording and the online recorder will generate the recording and turn to the previewing window for you to check.
STEP 5. Finally, download the recorded Pandora music and preserve it offline.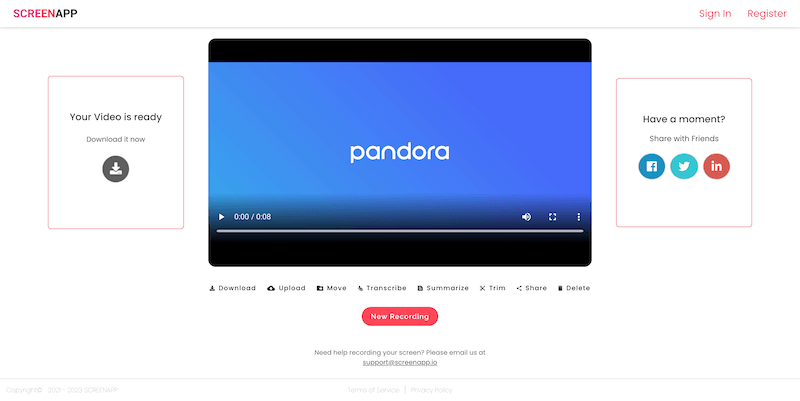 Disadvantages:
● It is not possible to record audio only;
● Unavailable to adjust the parameters of the recordings as you desire;
● The recording efficiency is low;
● Bad network stability would lead to less fluent Pandora music recording outcomes.
Record Music from Pandora on iPhone
On iPhone, many of you would firstly consider the built-in iOS recording feature provided in the control center to record music from Pandora mobile app. However, as this recording feature forces you to capture the sound with the screen, it would be inconvenient if you only desire to save Pandora audio clips as MP3 music files. Hence, you are recommended to try an extra application, Voice Record Pro with smooth recording process available to help you capture Pandora record with ease. Meanwhile, the application offers advanced settings to customize the output quality and parameter settings in requirements, enabling you to get the best Pandora audio clips for preserving on your iPhone devices.
Now, simply grasp the tool and see how it works:
STEP 1. Firstly, you are required to install Voice Record Pro from the App Store, then launch it on your iPhone.
STEP 2. Hit the "RECORD" icon and also navigate to the "Advanced" tab and customize all parameter settings before processing Pandora music recording. Press "DONE" to apply all changes.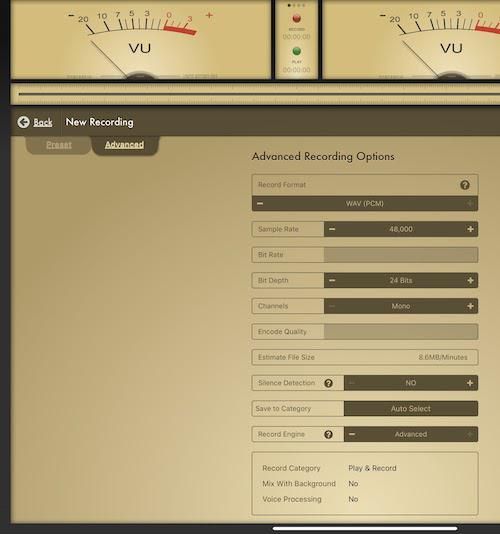 STEP 3. Now, start playing Pandora music and hit the "Record" icon in Voice Record Pro to enable the recording mode on.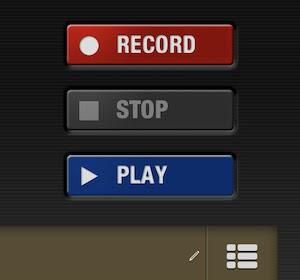 STEP 4. Once the recording is over, stop it and you are able to edit the ID3 tags of the music file to save it. You then can check the recording history to stream offline or back up to cloud in no time.
Record Music from Pandora on Android
As for Android, AZ Recorder is absolutely the best Pandora recorder that is able to help you record music from Pandora freely without hassle. When the application is launched on Google Play Store, you are able to install it for free and access its easy-to-grasp feature to record Pandora in good quality and with smooth performance. Now, take a moment and grasp the way to use it:
STEP 1. After installing AZ Recorder from Google Play Store, the icon of the recorder will show up on the screen on your Android device.
STEP 2. Before processing the audio capturing, you are able to customize the quality settings by tapping the icon and select "Videos & Settings".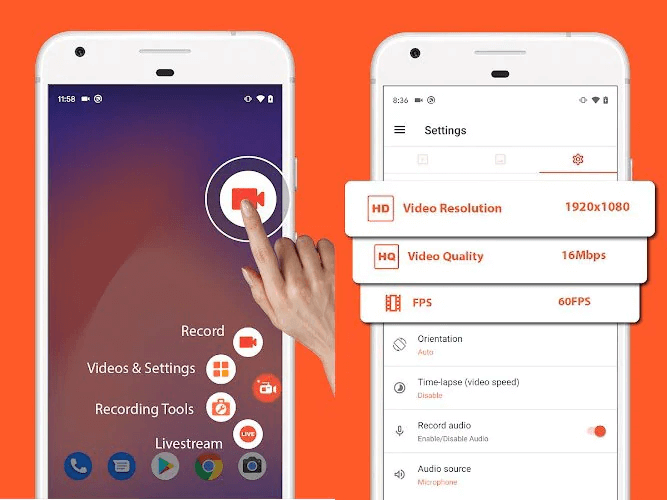 STEP 3. Then, process Pandora music recording after starting paying the song.
STEP 4. When the music playback ends, stop the recording and the recorded Pandora music file will be preserved on your Android device right away.
Bonus Tip: Download Pandora to MP3 Instead of Recording
Although saving Pandora music as audio clips through recording is more flexible and convenient, it is still time-consuming work as you have to process the recordings one-by-one without any acceleration method applied. Hence, if you desire a more efficient way to save Pandora music, downloading them via a powerful music downloader is recommended. Here would like to introduce TuneFab Pandora Music Converter to you.
TuneFab Pandora Music Converter has integrated with Pandora music web player, enabling you to download Pandora singles, playlists, or podcasts from the web player directly even without its desktop software installed. The software allows downloading Pandora music to MP3, M4A, and other mainstream formats to select, greatly improving the compatibility of the local Pandora music files, allowing you to stream them on more devices using different media players. Via TuneFab Pandora Music Converter, you are able to grasp Pandora music downloads more efficiently and with better quality preserved.
Great Features Brought By TuneFab Pandora Music Converter
● Integration of Pandora music web player to download all Pandora content directly;
● Mainstream formats such as MP3 support outputting Pandora songs offline;
● Customized settings to adjust audio quality as you desire;
● ID3 tags preservation for easier music sorting offline;
● Up to 10X faster accelerated speed to batch download Pandora songs efficiently.
Now, also grasp how to process batch Pandora music download via TuneFab Pandora Music Converter to save time instead of recording Pandora:
STEP 1. Log in Pandora Music Web Player
Launch the well-installed TuneFab Pandora Music Converter on desktop. After hitting the "Open the Pandora web player" on the welcome page, you are able to enter the Pandora music web player and submit logging in via your Pandora account.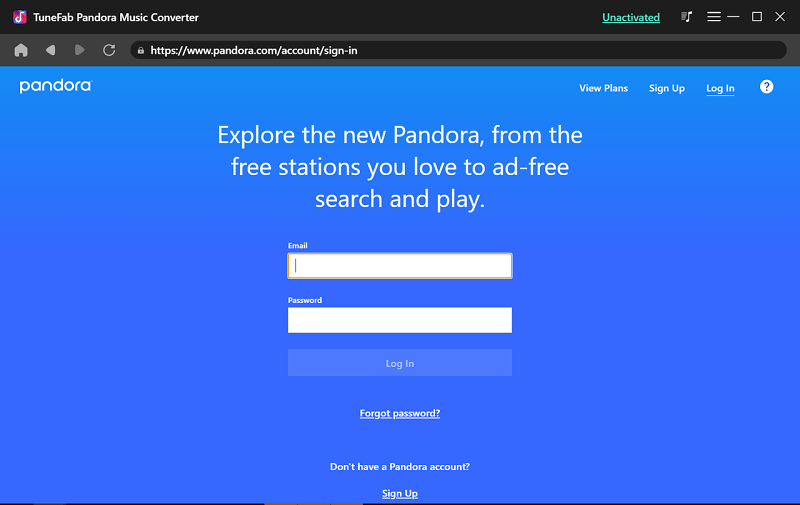 STEP 2. Select Pandora Songs to Download
Then, you are able to begin browsing the singles or playlists you desire to download. Simply drag them to the "+" icon and the songs will be added to the conversion queue.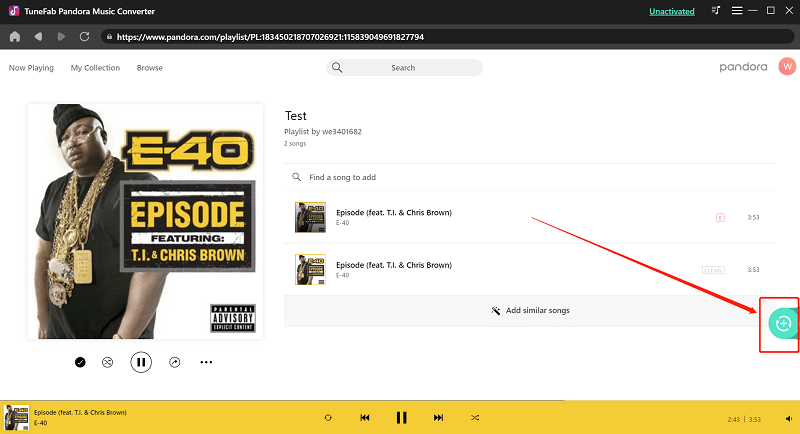 STEP 3. Customize Audio Parameters
After that, navigate to "Menu" > "Preferences" > "Advanced" to customize format and also the quality settings like sample rate as well as bitrate to define what Pandora songs would listen like based on your needs. Remember to tap "Save" to apply the changes.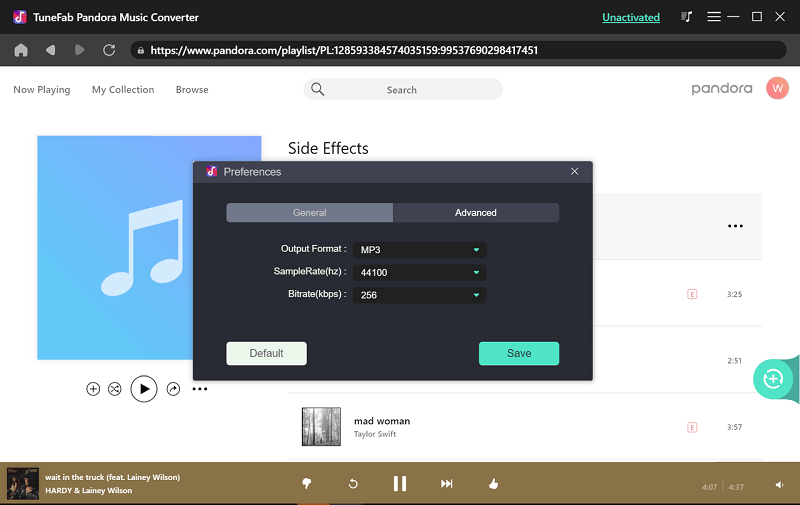 STEP 4. Download Pandora Songs in Batch
Once all settings are completed, process the music download immediately simply by giving a go on the "Convert All" icon. Just wait for seconds, the Pandora songs will be downloaded offline, which saves more time than recording them one-by-one.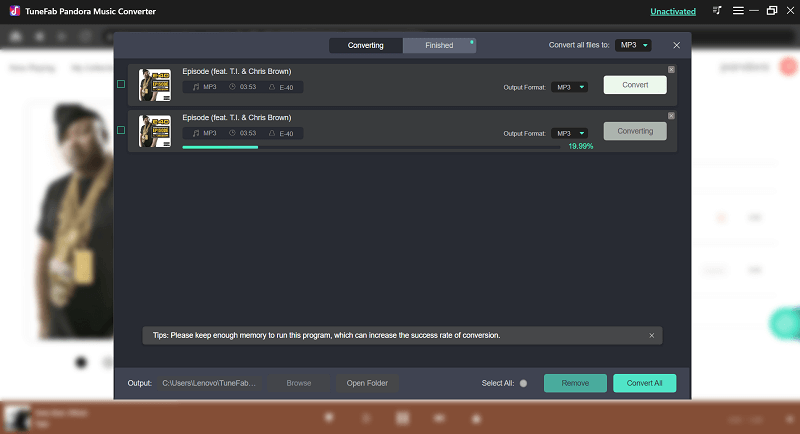 Conclusion
It is easy to record music from Pandora no matter on what devices you are using. But if you desire a more effective way to save Pandora music to MP3, TuneFab Pandora Music Converter brings powerful help. Now, give it a try without paying a penny by freely installing it on your desktop!
Was this information helpful?
TrustScore 5 | 49