As one of the most popular American music services, Pandora, also known as Pandora Internet Radio, provides listeners with access to up to 1 million tracks. Pandora is primarily a radio service, where users can create their own radio stations by inputting their favorite songs. The Music Genome Project technology of Pandora can create personalized radio stations and recommends songs for users based on their listening preferences. This particular service appeals to many music lovers.
So, have you tried downloading music from Pandora for offline playback? If you're familiar with Pandora, you may know that songs in this app are not free to download. So, that's why we are here. This article aims to provide you with three ways to effectively help you get Pandora songs for free. Now, please read on.
CONTENTS
Method 1. Download Pandora Songs for Free with TuneFab Pandora Music Converter
Normally, if you want to download Pandora songs, you need to pay for a Pandora premium plan. Those who don't want to pay for listening can listen to the music station without a premium (but can't download it) by watching ads. What's more, the download feature is only available on Pandora's mobile app. Thus, you're unable to download Pandora songs on your computer even with a premium account. In this case, the first and best option is to use a handy third-party tool.
TuneFab Pandora Music Converter is an intuitive Pandora music downloader with versatile features and powerful performance that can easily help you download songs, podcasts, and playlists to common digital formats such as MP3, M4A, and FLAC on your computer without quality loss. With its help, you can freely play music offline on your MP3 player, car player, or other devices and keep them permanently.
The app is considerate that it can retain Pandora music ID3 Tags and metadata information after the conversion, thus you are able to easily search and manage the songs. Different from most converters, TuneFab Pandora Music Converter comes with the Pandora web player. So, what you need to do is just log into your Pandora account on this app and then you can search for stations directly.
Highlights
● Free download Pandora songs/playlists/stations for permanently stored.
● Output Pandora tracks to common forms like MP3, M4A, FLAC, and WAV.
● Freely play downloaded music on various devices such as smartphones and cars.
● Batch download Pandora songs/podcasts/albums/playlists at 10X.
● Preserve original song quality and retain music ID3 Tags information.
● Embed a Pandora web player and stupid-simple UI.
Now, let's move on to the detailed steps, which will instruct you how to download Pandora music for Free with TuneFab Pandora Music Converter.
Step 1. Download and run the app
Free download TuneFab Pandora Music Converter and launch it on your computer. Click "Open the Pandora web player" on the welcome page.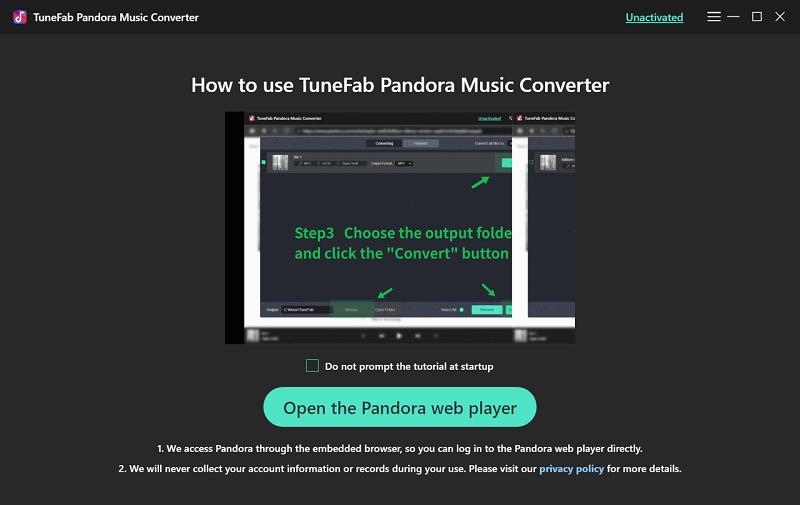 Step 2. Sign in with your Pandora account
Before you can start to search for songs, enter your email and password to log into your Pandora account.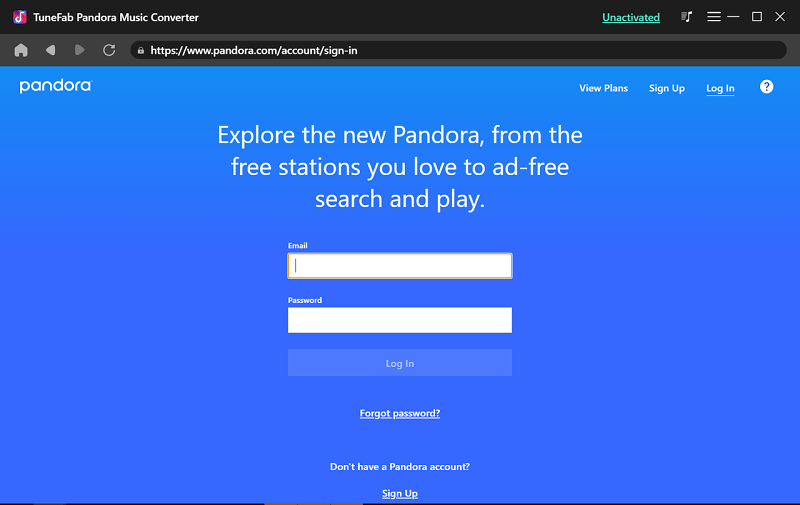 Step 3. Add songs to the conversion list
Then, you can browse and search for songs or stations you like from the embedded web player. Click on one and drag it to the floating "+" icon on the middle right side of the screen to add it to the conversion list.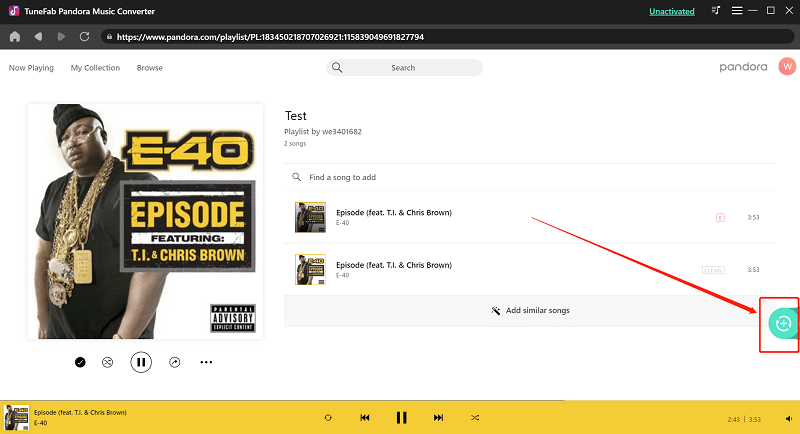 Step 4. Select output format and location
You can click the arrow button to choose an output format in the conversion list. If you want to have more general and advanced settings such as output path and sample rate, you can click the "three-line" icon on the upper right side of the screen.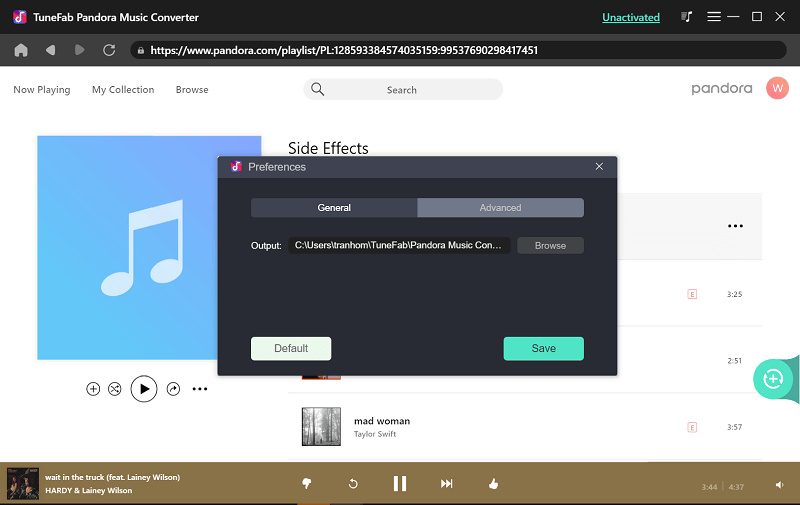 Step 5. Start the song conversion
When the setup is done, click on the "Convert All" button to start converting Pandora songs. When the process is complete, click the "Finish" button to view the output files.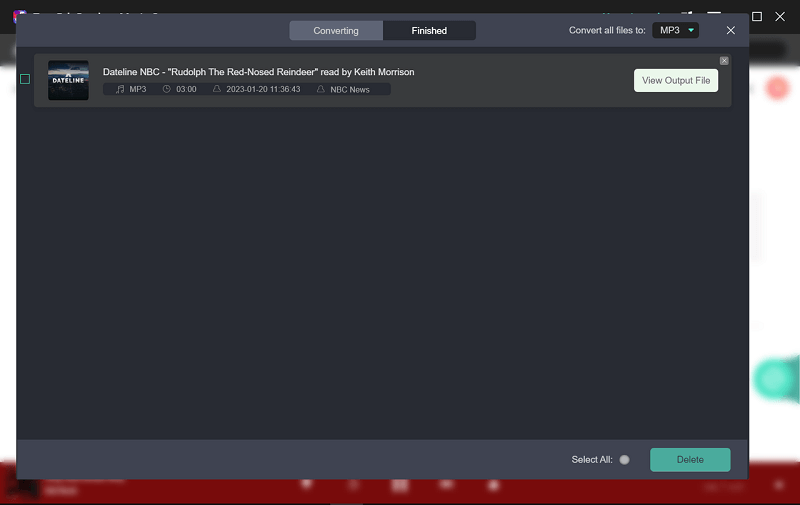 Method 2. Download Songs from Pandora Free with Chrome Extension
Aside from the third-party app, another useful way to free download Pnaodra is through a browser extension. VideoDownloadHelper is a free browser extension that you can easily add from Google or Firefox. This tool can most directly meet your need to download Pandora songs without premium with simple steps and do not need to install the software.
While convenient, this browser extension also has some significant drawbacks compared to the desktop app introduced previously. For example, you're only able to get Pandora songs in M4A format without other output options. It only downloads the song you are currently listening to and does not support bulk downloads. In addition, this extension can not save the song title, artist, and other ID3 Tags information after the conversion.
Thus, if you don't care about these problems, you can follow the instructions below to free download Pandora songs with the browser extension Video DownloadHelper.
Step 1. Copy the link below and paste it to the corresponding browser. Then, add this browser extension to your websites.
Chrome: https://chrome.google.com/webstore/detail/video-downloadhelper/lmjnegcaeklhafolokijcfjliaokphfk
Firefox: https://addons.mozilla.org/firefox/addon/video-downloadhelper
Step 2. When the installation is complete, restart your browser and open Pandora's webpage. Select one song that you want to download and go to the playback page.
Step 3. Then, click the extension icon at the upper right corner of the screen. You can see several options on the list. Choose the "Download" button to save music from Pandora.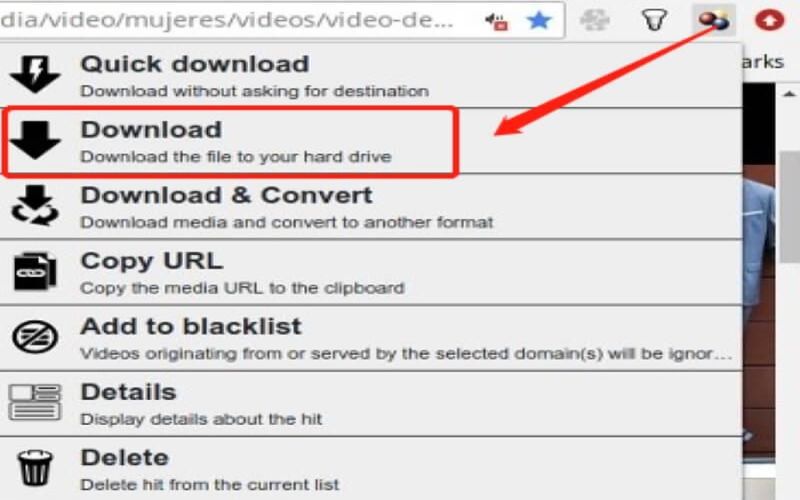 Method 3. Download Pandora Music for Free with Browser Inspect Element
Using the browser inspect element is the last but not least way to download Pandora music to a computer. It is a great tool that many people overlook. This built-in developer tool is also free to use and has no requirement for downloading any app. With it, you can free download Pandora music. It can both work on Google and Firefox. But in the Google browser, when you enable "Inspect", it may be easily recognized as a mobile end and then you can not continue the operation. So it is better to use Firefox and set the window view to "Dock to Bottom" mode.
However, the browser inspect element may fail to find the download links of the Pandora music files sometimes and it can only detect the Pandora music in MP4 format. You need to go to another music player and download the song as MP3. So, compared with the previous methods, it is more difficult to operate, especially for users who are not so familiar with the computer. Here is how it works.
Step 1. Open Firefox on your computer and then go to Pandora. Log into your account and select a song to play. Then, open "Inspect/Inspect Element" by right-clicking any blank area.
Step 2. Click the "three-dot" on the right side of the screen and choose "Dock to Bottom". Then click the "Network" option on the menu bar and select "Media" on the right side.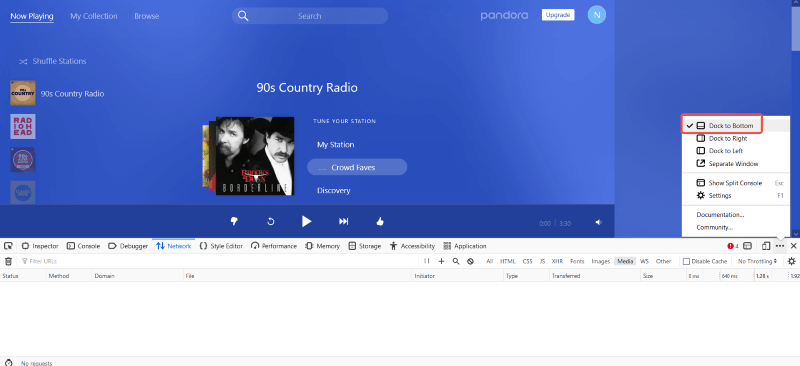 Step 3. Refresh the page and play music. You can see the download link displayed under the "Media" tab.
Step 4. Right-click the link and choose "Open in New Tab". Then it will go to a music player page. Then, click the "three-dot" button and select "Save audio as" to download Pandora songs to MP3.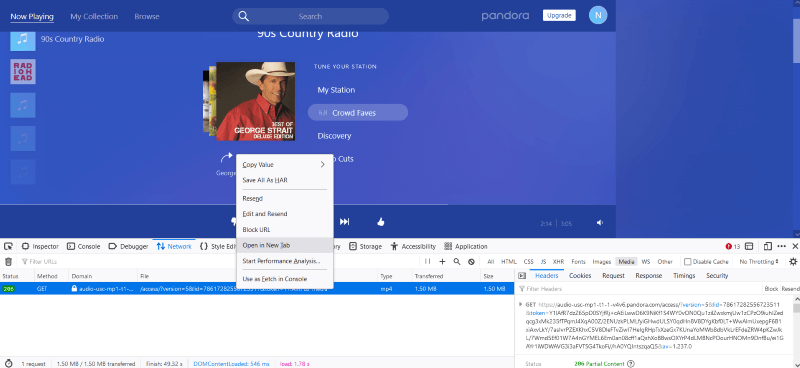 Conclusion
While all three of these methods allow you to download Pandora music for free, the latter two free browser tools have obvious drawbacks, such as cumbersome download steps, few output formats, and sometimes even no successful download.
Therefore, the first desktop app TuneFab Pandora Music Converter is still our most recommended. Not only does it give you easy access to Pandora tracks for free, but it also offers a variety of audio formats, supports bulk downloading of radio stations, and is easy to download. So, if you are seeking a way to download Pandora songs for free, try TuneFab Pandora Music Converter.
Was this information helpful?
TrustScore 5 | 49