In an age where we are overwhelmed by various music platforms, a great solution for easier music management is to download and upload all your music to your iTunes. On iTunes, you can create personalized playlists that can be synced across all your Apple devices. This also means no more worries about expired memberships, forgotten music platforms, or dreadful loading times. And if you're a Pandora user worrying about your favorite songs being taken down or looking for a better place to organize your sweet tunes, the solution is just perfect for you!
But even as a Pandora subscriber, the songs you download are encrypted, preventing you from directly uploading them to iTunes. To address the issue, this post suggests a third-party tool named TuneFab Pandora Music Converterto easily transform your Pandora music and podcasts into the most commonly used audio formats supported by iTunes.
CONTENTS
Can You Transfer Songs from Pandora to iTunes Directly?
Unfortunately, the answer is no.
Pandora and iTunes are not compatible. Although it would have been ideal to have a feature that automatically syncs audio from Pandora to iTunes, there isn't one available.
You might wonder if you can just download music from the Pandora app directly and manually transfer the files into iTunes. But the answer is still negative because of Pandora's security restrictions. In other words, the songs downloaded directly from Pandora are encrypted with DRM (Digital Rights Management), so they can only be played on the Pandora app and can't be accessed by other media players, including iTunes.
Fortunately, there is a way around it. By using third-party software like TuneFab Pandora Music Converter, you can convert audio from Pandora into MP3 files on your Windows/Mac. This makes it possible to upload the audio right onto your iTunes. Below are more details about the tool and the process of transferring Pandora music to iTunes.

How to Download and Sync Pandora Music to iTunes
As mentioned, you can turn to third-party software to help you convert Pandora songs before you upload them to your iTunes library. The key to success, however, lies in choosing the right software - one that's reliable and trustworthy. Luckily, this article has done the research for you and found TuneFab Pandora Music Converter to be the best helper out there. With its easy-to-use interface and stable performance, it's definitely worth considering.
Best Pandora to iTunes Downloader Introduced
Reliable and efficient, TuneFab Pandora Music Converter is praised as the best Pandora-to-iTunes downloader. Its operation is simple, only requiring a few steps to download Pandora music to DRM-free MP3, M4A, WAV, or FLAC files on your PC. Its 5X conversion speed is also greatly praised for being a time-saver.
Additionally, the software is flexible enough to allow you to customize settings such as output formats, bitrate, and sample rate. At the same time, it offers full ID3 preservation that can help you track and manage downloaded music. Based on the market research and its proven success, TuneFab Pandora Music Converter is an excellent product that you can rely on.
Key Features of TuneFab Pandora Music Converter
Reliable music downloader – with the DRM encryption removed, the songs, playlists, albums, and podcasts on Pandora are free for you to choose from.
Mainstream audio formats – Pandora music can be downloaded to your PC as MP3, M4A, WAV, or FLAC and played on any device or media player you want.
Incredible download speed – 5X conversion speed and batch conversion capabilities allow you to download music to local files in just a few seconds.
Customized output settings – you're free to decide the output bitrate, sample rate, and location to suit your storage space or needs.
Full ID3 preservation – the advanced technologies will guarantee wiser and better music collection management.
Download Music from Pandora to MP3
TuneFab Pandora Music Converter is not only powerful but also very user-friendly. To download music from Pandora through the tool, you only need to follow four simple steps:
Step 1. Download and Install TuneFab Pandora Music Converter
Click on the link below and download the converter to your Windows/Mac.
After the installment, you can log in to your Pandora account. Please note that you will be able to download music only after you log into your Pandora account. Whether you're a free user or a Pandora subscriber, after logging in, you can download songs for free on the tool's built-in web player.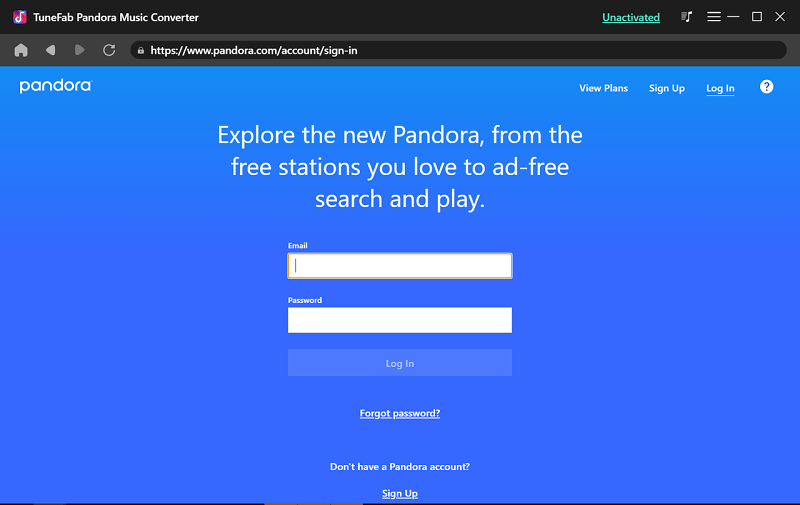 Step 2. Select Songs from Pandora to Convert
Open the playlist you love, and you can simply drag and drop the songs to the "+" button on the right to download. You can also click on the "+" button directly and choose to convert any sweet tunes you like.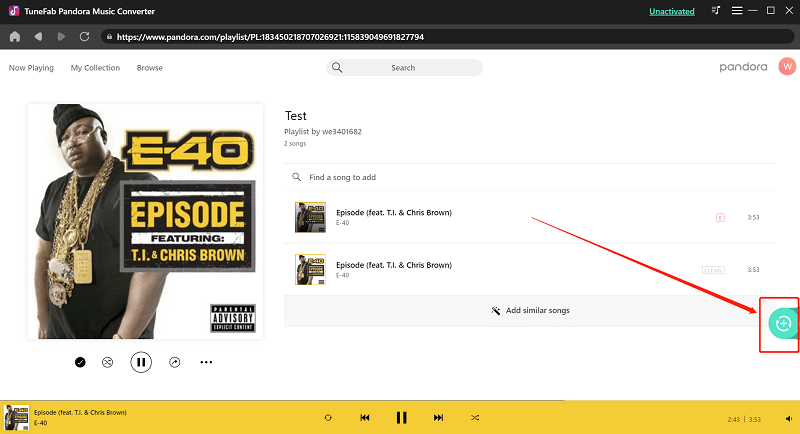 Step 3. Choose Output Format and Define Other Parameters
You can change the output formats, sample rate, bitrate, or location before the conversion starts. You can decide the output format directly from the box on the right of each song. MP3 is recommended because it is supported by almost all media players.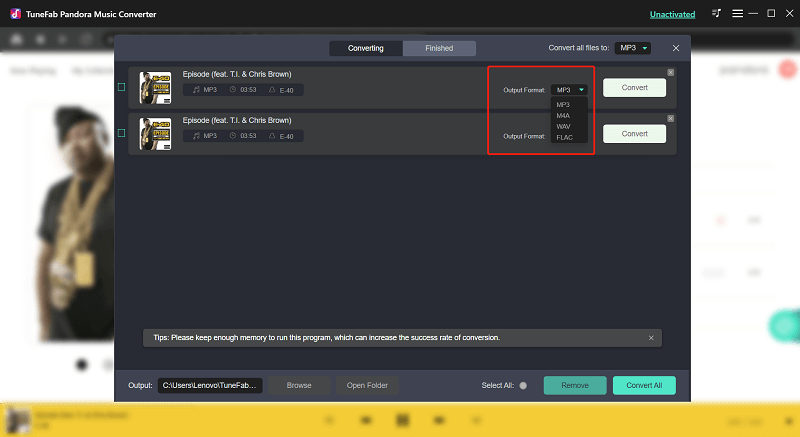 If you need more changes on the parameters, click on the Menu (the "≡" on the upper left of the home page) -> Preference -> General/Advanced. You can even download music with a bitrate of up to 320kbps.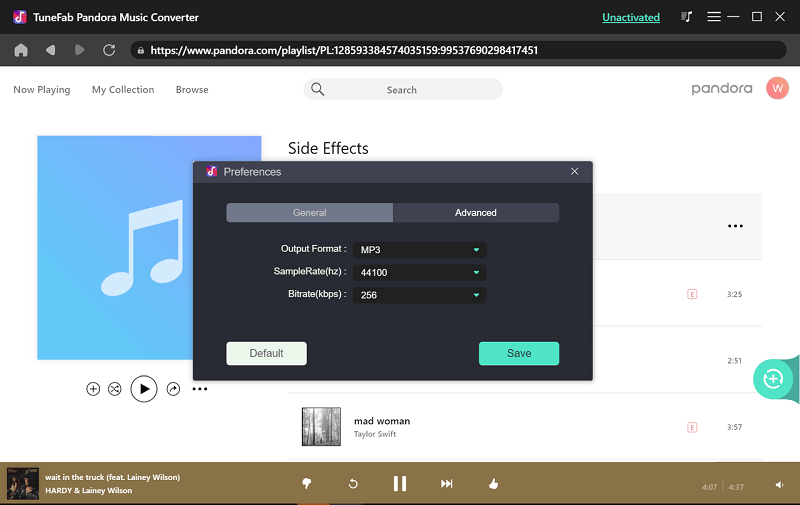 Step 4. Begin Converting Pandora Songs/Playlists
Once you're satisfied with the output formats and other parameters, click on the white "Convert" at the end of each song. Or you can convert all selected songs all at once by clicking the green "Convert All" on the lower right.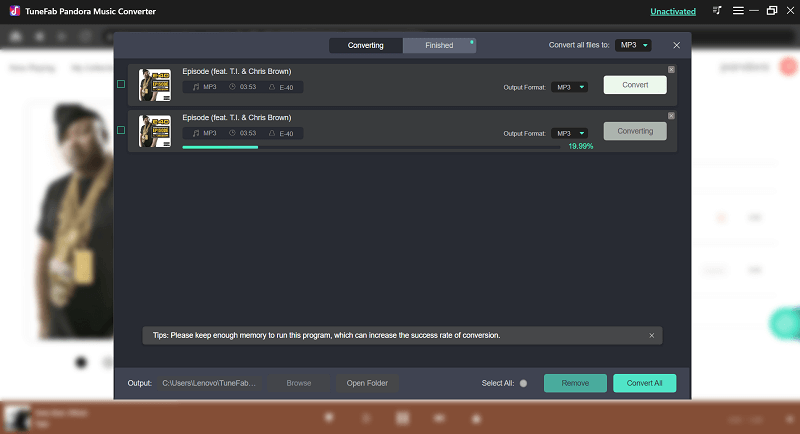 Thanks to the fast conversion speed, you won't have to wait for too long before you find the downloaded music on the "Finished" page. Click "View Output File", and you can locate the downloaded MP3s on your PC.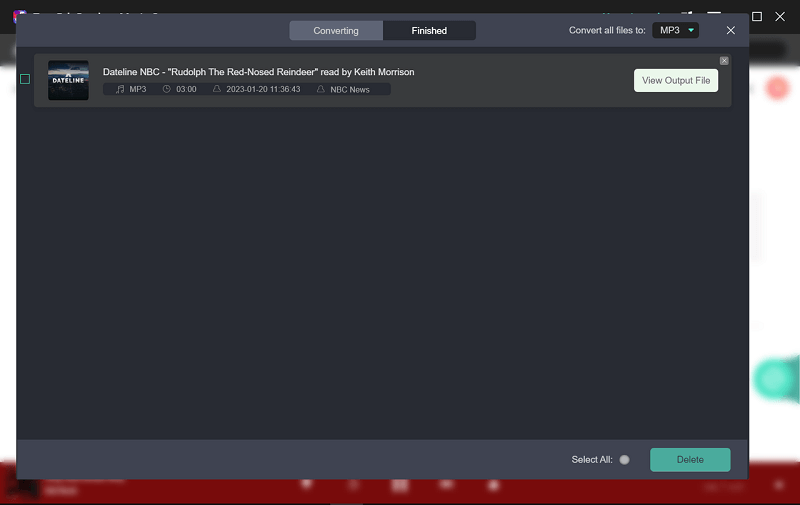 Transfer Pandora Downloader Music to iTunes
After downloading Pandora music as your local MP3 files, you can upload them to iTunes directly. This process is also simple and only requires two steps:

Step 1. Open iTunes and Add File (Folder)
After launching iTunes on your PC, select "File" -> "Add File to Library" or "Add Folder to Library". After that, a small window will pop out for you to decide which file/folder to upload.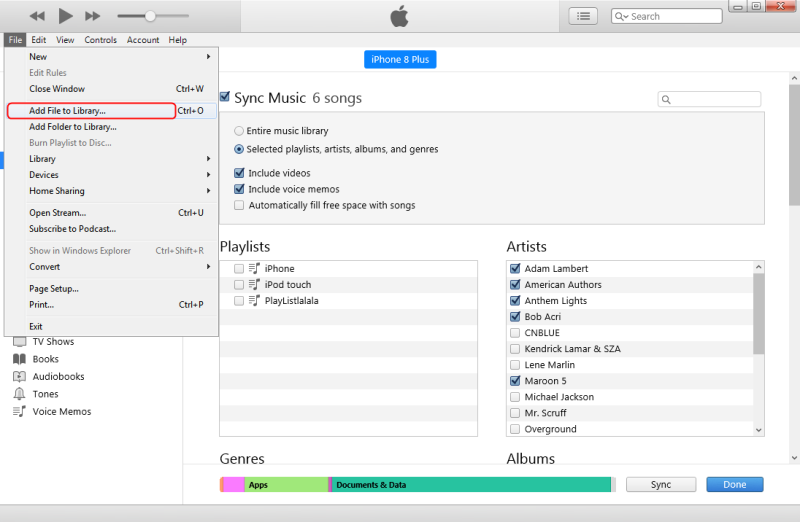 Step 2. Choose the File (Folder)
Choose the MP3s you've just downloaded through TuneFab Pandora Music Converter. You can also select the entire folder to upload all the MP3s at the same time.
Wait for a short while. Once the process is done, you can find the music in your iTunes library. Now you can manage your playlist and sync the music to your Apple devices.

Conclusion
Due to the incompatibility between iTunes and Pandora, and the encryption of music downloaded from the Pandora app, it's not possible to transfer Pandora music right onto iTunes. But with the help of TuneFab Pandora Music Converter, you can solve the issues all at once and transfer Pandora music to iTunes effortlessly.
Reliable and user-friendly, the converter is praised for its flexible output settings, support for a maximum bitrate of 320kbps, and 5X download speed. With all of these features combined, TuneFab Pandora Music Converter is truly the best Pandora music downloader. Install it now, and you will find it very helpful!
Was this information helpful?
TrustScore 5 | 49