"I want to purchase Adele's album and rent some movies from iTunes Store for the coming holidays. But an alert message pops up, telling me that 'Cannot connect to iTunes Store'…I've tried a thousand times and the response is always negative. It really drives me crazy, what can I do to fix it?"
Frankly, cannot connect to iTunes Store on iPhone/iPad/iPod touch, Mac/PC, or Apple TV is quite a normal error which will piss you off especially when you have something urgent to do with iTunes Store. Well, when you encounter the error, just take your time, there is no need to rush because this post will provide you with an ultimate guide on how to fix it thoroughly.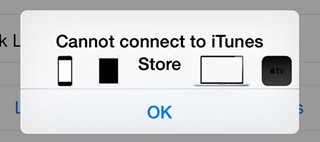 Don't Miss:
How to Download TV Shows or Free Movies on iTunes
How Can I Watch iTunes Rented/Purchased Movies Offline?
CONTENTS
Part 1. How to Fix "Cannot connect to iTunes Store" Error on iPhone/iPad/iPod touch
Step 1. Check Network Connection on iPhone/iPad/iPod touch
Since these three devices are able to access the internet, so you can use either Wi-Fi or cellular data.
#1. If you connect your device to Wi-Fi, please make sure that the Wi-Fi is workable and stable. Other device or some apps can help you find out whether the network connection is working or not.
#2. If you want to use cellular data, make sure the "Cellular Data" button is on and don't forget enabling "USE CELLULAR DATA FOR" for iTunes Store. You can check it by tapping into "Settings" > "Cellular". Please note that large items will fail to be downloaded, so you'd better connect to Wi-Fi for a better experience.
Step 2. Update to the Latest iOS System
Some unknown bugs may cause the failure of connecting to iTunes Store, and you solve the bugs by updating iOS system. Normally, less bugs will exist in the latest version of system.
Step 3. Properly Set Date & Time
Believe it or not, even date and time setting will devote to the problem. To check it out, you can go to "Settings" > "General" > "Date & Time" and enable "Set Automatically". Then launch iTunes on iPhone, iPad, or iPod touch again.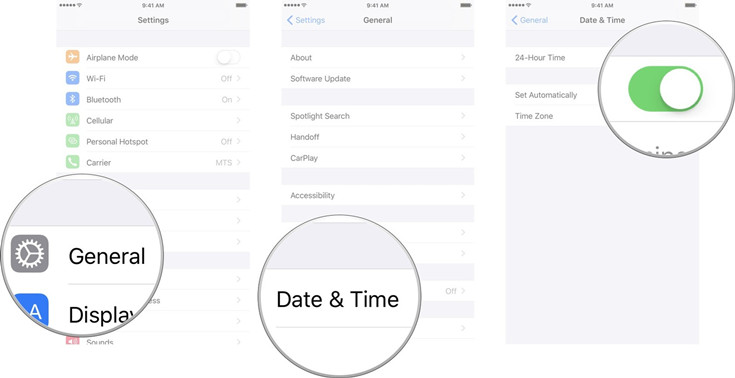 Part 2. How to Fix "Cannot connect to iTunes Store" Error on Mac/PC
Check whether you see error -45054 in iTunes Store, if not, follow the steps below to fix the problem. There is a lot that Mac and PC share in common in terms of checking cannot connect to iTunes Store issue, here are something that you can try first.
• Internet Connection: Check whether Wi-Fi is available, otherwise reset a Wi-Fi router.
• iTunes Upgradation: Upgrade your iTunes to the latest version and in this way, you are able to compromise some errors.
• VPN: Sometimes VPN may cause error in connecting iTunes Store. If you are using one, disconnect it to see whether iTunes can work normally.
• Firewall Block: Check whether the firewall on your Mac or PC block the iTunes connection. You can go to firewall options and configure the firewall to ensure that it allows your Mac/PC to access iTunes.
To be specific, we are going to offer information about firewall on both Mac and PC.
# On Mac
If you adjust the firewall setting for your applications, and the problem can't be solved yet, then you need to reset the cache of accepted certificates.
Step 1. Make sure that you're in Finder by clicking the desktop.
Step 2. Click "Go" > "Go to Folder" from the menu at the top of the screen.
Step 3. Type "/var/db/crls" into the box and then click "Go".
Step 4. Drag the files ended up with "crlcache.db" and "ocspcache.db" to the Trash.
Step 5. Enter your administrator password if asked.
Step 6. Final step: restart Mac and then you are able to connect iTunes Store.
# On Windows PC
Go to see whether you have installed any third-party security software which might block iTunes Store because of misidentification. As a result, you can never find anything wrong with it. It's time to change it.
Step 1. Check the "Windows proxy server settings".
Step 2. If you can only see the words "iTunes Store" on the blank white screen, then a confliction between software that supervises Internet traffic and Apple software.
Part 3. How to Fix "Cannot connect to iTunes Store" Error on Apple TV
Now let's move to the error on Apple TV. Similarly, some basic and simple examinations should be done at the very beginning, so that you can get the connection problem solved as fast as possible.
• Set Date & Time: Go to "Settings" >"General" > "Set Automatically" under "DATE AND TIME" section to correctly set the date and time on Apple TV.
• Check Network Connection: Without internet, you are not able to access iTunes Store. Just check whether network is stable.
• Update Apple TV Software: Some errors will be fixed at the latest version of software, and if you upgrade it, you can have a better service. Go to "Settings" > "System" > "Software Updates" and then choose "Update Software".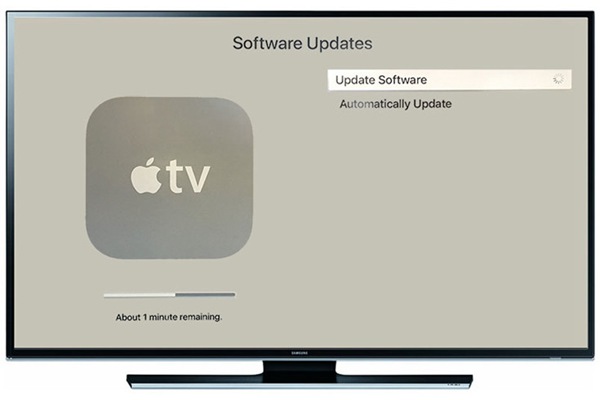 Now you must know how to fix "Cannot connect to iTunes Store" error on iPhone/iPad/iPod touch, Mac/PC, or Apple TV. After you have the problem solved, you are free to enjoy and download Apple Music, iTunes movies, audiobooks, etc. Try to fix the problem yourself!
Was this information helpful?
TrustScore 1 | 2