Vizio Inc. is known as a competitive manufacturer of HDTVs for its attractive pricing and high-quality products. The Vizio Smart TV is the name for a television set as well as a flat-screen TV. Its price varies from the lowest $119.99 to the highest $3499.99, which is suitable for the customers with different budgets and demands. With this intelligent Smart TV, you can enjoy the outstanding 4K Ultra HD quality when playing movies.
Based on such a decent picture quality, you cannot help but put your iTunes Purchased or Rented movie collection into this TV for playing and make the best use of this awfully marvelous TV set. But it is likely to fail because of the DRM. In this post, I will put forward the best solutions to settle the problem down.
CONTENTS
Part 1. Why Choose Vizio Smart TV Rather Than Apple TV?
Response: As it is stated above, Vizio Smart TV is an economic and decent television set with a flat-screen TV which is a stunning alternative for most people. It is always considered to be the perfect substitute for the Apple TV. And when we compare it with Apple TV, it is not hard to see that Vizio Smart TV is more worthy for the users in that Apple TV just a tiny streaming box but not a TV set while Vizio can be watched through HDTV. Out of this shinning point, even if Vizio smart TV doesn't have as many apps as the Apple TV is available, it still gets its place in the market.
Part 2. What Kind of Contents Can You Get from Vizio Smart TV?
Response: The following is a list of entertainment apps you can obtain from Vizio Smart TV:
TV, Movies & Videos: Netflix, XUMO, Amazon, Google Play Movies & TV, Vudu, Hulu, YouTube, Yahoo! SCREEN, Plex, YUPPTY, CHUCKLE, and so forth.
Music: iHeartRadio, Pandora, YouTube, Plex, PLUTO.
Apps with UHD Material: TG, YouTube, Netflix, Vudu, Amazon, UltraFilx.
For more available apps, please visit this website: VIZIO Internet Apps
But what if you have a bunch of downloaded iTunes Movies and you want to play them on your Vizio smart TV, is it possible to do so? Then what should you do? Keep reading and I will let you know.
Part 3. Can iTunes M4V Movies Compatible with Vizio Smart TV?
Response:
By now, there is no direct way to get your iTunes M4V videos playing on Vizio Smart TV. However, a feasible trick that you can apply is to get rid of Apple's FairPlay DRM and make your iTunes purchased and rented movies playable on your Vizio TV. You can use a professional tool to convert your iTunes M4V videos into a common MP4 video, that is, TuneFab M4V Converter.
Update: The Apple TV app is now available on Vizio Smart TV. Now you can directly buy or rent movies from the app and even stream iTunes movies to your Vizio smart TV!
For more tips to play iTunes movies on TV, here I recommend you to read: How Can You Watch iTunes Movies on TV? (5 Easy Methods)
Now read the following step-by-step guide to know how to play iTunes movies on Vizio TV.
Step 1. Launch and Run the TuneFab M4V Converter
Note: With the Windows trial version, your rental iTunes M4V videos aren't allowed to convert.
Step 2. Click the "Add file" button and further to select your output files
After clicking the "Add File", you can select your videos which you want to convert and display on your Vizio Smart TV. Then you can select your subtitles and audio tracks by clicking the Settings button to get your favorite output files.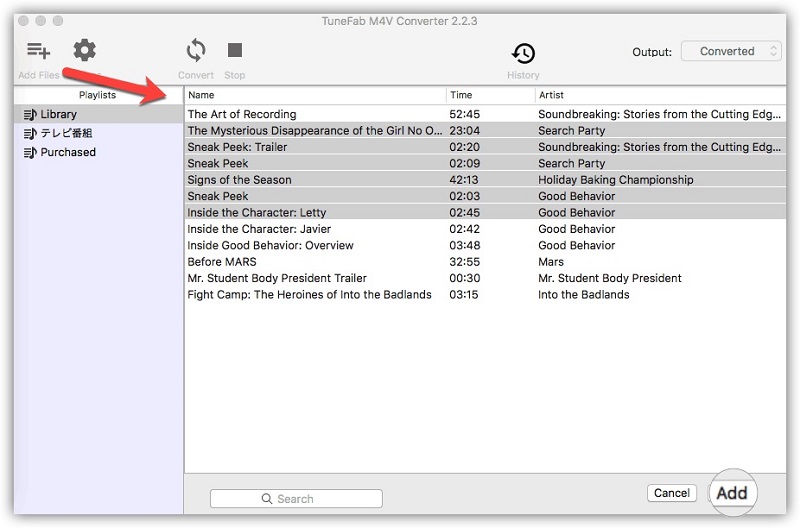 Step 3. Click the "Convert" Button
After all the preparing works get ready, you can click the Convert button to get your iTunes purchased and rental videos converted and after the conversion finished, you can get free converted videos in the output folder.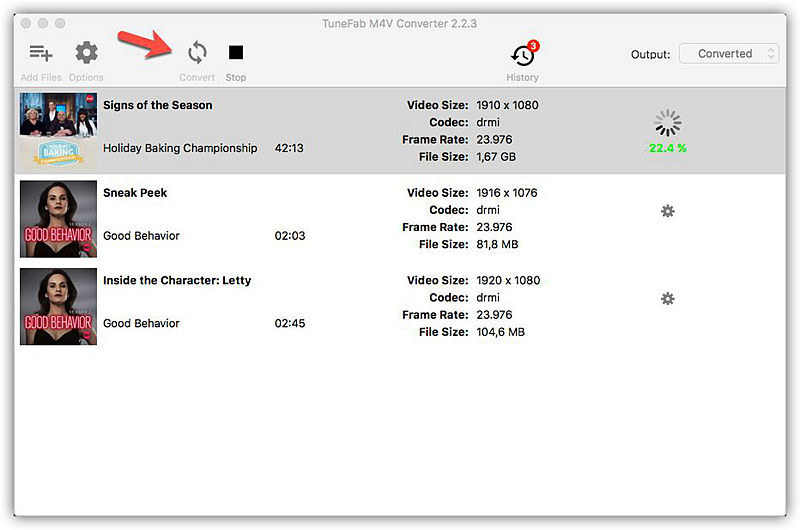 Step 4. Three Methods to Watch your iTunes M4V videos on your Vizio Smart TV
Way 1. Use Plex Media Server
According to the former part, we have already known that your Vizio Smart TV can compatible with Plex Media Player. That is to say, you can select and upload the converted iTunes M4V videos to Plex servers, and watch your iTunes M4V videos by this app. And the solution is born at the right time.
You can install Plex Media Server on your PC, and create your own account. After that, name your server and skim all your videos files. Back to your Vizio Smart TV, find the Plex app, and then install and launch it. Now you can log in with the newly created account to find your converted files to watch the iTunes M4V videos conveniently.
Way 2. Transfer to a USB Flash Drive
If you don't want to apple a new Plex account, you can just put your iTunes M4V videos to a USB Flash Drive, and connect this USB Flash Drive to your Vizio Smart TV and then you are able to watch your iTunes M4V movies handily.
Way 3. Take Advantage of the HDMI Port
Besides the above skills to watch your iTunes M4V videos on your Vizio Smart TV, you can also connect your computer with an HDMI cable so that you can just play your converted iTunes M4V videos on the computer and select the signal source of Vizio Smart TV as HDMI. And thus you can watch your iTunes M4V videos successful.
Up to now, you can easily watch iTunes M4V movies on your Vizio Smart TV. The TV is even compatible with 4K Ultra HD quality. If you have other problems, please let me know by leaving a comment!
Recommended Readings:
▪ Take A Quick Tip: How to Rent Movie on iTunes
▪ 2 Ways to Redeem iTunes Movies Through Redeem Code
Was this information helpful?
TrustScore 5 | 49