It is a well-known fact that rented iTunes Movies are required to be watched within 48 hours after you clicked the play button. And if the iTunes rental is left forgotten after 30 days you rent it or the 48 hours you start playing it, you need to extend the duration of your rental by purchasing a new rental duration.
In fact, it is quite common that you miss the deadline if you prefer to rent a lot of movies at a time. What's worse, if you go to a place with a bad internet environment for a couple of days, you may even fail to play the movie. In this case, you may be regretted and wishing you could have downloaded and saved the iTunes rental. Since you've been here, we have some good news for you. In this article, you can not only learn about how to download the rented iTunes Movies but also get to know a helpful tool that lets you save iTunes movie rentals forever. Keep reading to learn more details.
How to Download a Rented Movie From iTunes?
About iTunes Movie Rentals
iTunes Movies are encoded in the protected M4V video format. Apple provides two different versions of iTunes movies for customers to choose to rent. One is the HD version and the other is the SD version. You can learn more details about the differences between iTunes HD and SD movies from this article. >>iTunes Movies: HD vs. SD - Tell Apart the Difference
As stated above, rented iTunes Movies are required to be watched before its expiry date. In addition, iTunes Movies are also under the protection of Digital Rights Management (DRM), a technology to protect Apple's digital content from being pirated. To be more specific, you can only play the rented iTunes movie on Apple devices or authorized computers. Also, when your iTunes movie rental becomes unavailable, it will be automatically deleted from your library even if you've already downloaded it.
To help you keep your rented iTunes movies for a longer time and watch them freely on different devices without the compatibility restriction, here I recommend a professional tool to help you remove the digital right management so that you can keep the rented iTunes movies all the way. That is TuneFab M4V Converter.
Quick Tutorial to Download iTunes Movie Rentals on Different Devices
To know more information about downloading iTunes movies, you can navigate to the below tutorial which contains everything you need to know about downloading movies from iTunes or the Apple TV app. You will get to know all the detailed steps on how to download rented iTunes movies to Mac, Windows PCs, and iOS devices. >>How to Download Movies From iTunes? Guides & FAQs
What is TuneFab M4V Converter?
TuneFab M4V Converter is designed for breaking Apple's Fairplay DRM and converting the protected M4V files to MP4 at a quite faster speed. It has an easy-to-use interface. It allows you to export protected iTunes M4V movies to a high output quality in 1080/720 HD resolution almost the same as the original file. After removing the DRM from iTunes movies, you can keep the DRM-free movies on your computer or smartphone and see the movies whenever you like.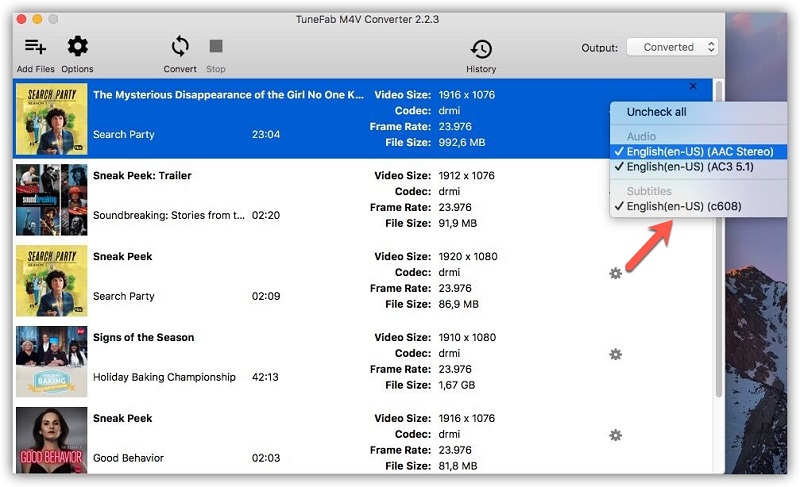 TuneFab M4V Converter - Allow You Download Your Rented Movies Freely
▪ Killing the FairPlay DRM from your iTunes M4V movies;
▪ Converting the iTunes M4V movies files to MP4;
▪ Providing 10X faster conversion speed;
▪ Supporting Mac;(Windows version can only convert iTunes movie purchases)
How to Use TuneFab M4V Converter to Download and Save iTunes Rentals?
In terms of how to use this useful converter, you can move to read a full tutorial that we have posted before or watch the following tutorial video.
Read the post here: How to Remove DRM from iTunes Movies?
Video Tutorial: How to Download A Rented Movie From iTunes!
The Bottom Line
Now, you have known how to smoothly download your rented iTunes Movies, and know how to use this convenient tool created by TuneFab.When enjoying the converted DRM-free iTunes movie with your heart and soul, please don't forget to share this tool with your friends.
Was this information helpful?
TrustScore 3 | 6