What is known to us all in recently is that Apple 4K TV the new generation of Apple TV is on the market. You are perhaps ready to purchase such a multifunctional TV box for upgrading your material life as well as spiritual life. As a matter of fact, you may confuse about this tiny HDMI-compliant source device. Here, you are lucky to know about your awfully wonderful Apple 4K TV in all directions for further entertainments.
CONTENTS
Part 1. What is Apple 4K TV?
All the information about Apple 4K TV is divided into several points so that you can better comprehend it.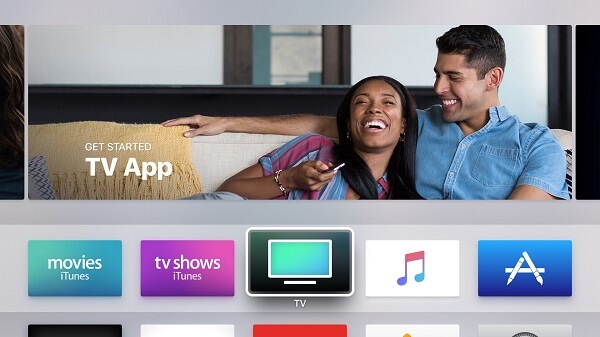 A. Definition: Apple 4K TV is the fifth generation of Apple TV, a digital media player and internet TV set-top box developed and brought to market by Apple Inc., in which you can enjoy awfully multitudinous recreation. It only connects to your Wi-Fi network so that you can get a multitude of digital resources and present it on your television. It supports 2160p output, HDR10, Dolby Vision, with a faster Apple A10X Fusion processor.
B. Activities: Apple 4K TV is such a network appliance and entertainment device that allow users who purchased the Apple 4K TV to watch your iTunes Movies or others stream videos in the tvOS App Store like YouTube and Amazon Video with 4K and high Dynamic Range supported. Apart from the essential use above, a buyer can not only listen to your Apple Music and other stream music and Podcasts but also display your beautiful photos and even play your games from App Store with the game controllers.
C. Formats: Apple 4K TV allows a good deal of formats in the accordance with activities. The basis files formats are all allowed in the Apple 4K TV.
● For video, it supports the video coded with HEVC, H.264, MPEG-4, and also supports the Motion JPEG, and in other words, it supports video files, such as M4V, MP4, MOV, AVI. Tips: How to Play iTunes M4V on Android Phone and Tablet
● With regard to music, it supports the audio files, such as AAC, MP3, AIFF, WAV and the like. Notes: Flash Tip: How to Convert Apple Music to MP3
● As to your pretty photos, it supports the files with the formats of JPEG, GIF, TIFF, which means you can put your PNG photos to Apple TV for display.
● Last but not least, it is compatible with high-definition TVs with HDMI and capable of the TV with 1080p or 720p at 60/50 Hz.
D. Prices: Certainly, you shall know the prices of your Apple 4K TV. The prices of Apple 4K TV vary from $179 to $199. The height of prices is in the accordance with your storage. If you want the primary usage of the TV box, you can cost $179 to have a 32 GB one. However, you want the high-level usage of it, you'd better cost $199, a little bit higher than that of 32 GB to have a 64 GB one which double that of the $179.
However, after learning the common knowledge of Apple 4K TV, you may wonder where the new of the Apple 4K TV is. Don't be hurry and come to study the second part, where you can see the details of the new features of Apple 4K TV.
Part 2. New and Main features of Apple 4K TV
As stated above, the Apple 4K TV is supported by 4K and HDR. Thus the first new features certainly belong to 4K and HDR.
No.1 4K and HDR
Apple 4K TV is unprecedented adopted the technologies of 4K and HDR. Let's have a look at the following picture. With the combination of 4K with HDR and breakthrough of applying A10X Fusion chip, the user can watch the TV and movies with the lifelike effect and detailed and fuller images. It provides a high quality of visual feast when you watching the Apple 4K TV.
No.2 Siri Remote
As the fifth generation of Apple TV, Siri Remote are indispensable in Apple 4K TV, which plays a fundamental, convenient and intellectual role in your Apple TV. When you are crossed in love, you can ask Siri to play the music and movies which have something to do with being disappointed in a love affair to heal your broken heart. When you are boring, you can ask Siri to play something to amuse you. In this way, you are likely to process a communicate-with-you TV.
No.3 Apple Music
You may wonder whether Apple Music can be played on your Apple 4K TV or not. The answer to this question is certainly yes. You can listen to Apple Music with stated above format and have a shocked auditory carnival. Also, you can play your Apple Music Video on the Apple 4K TV under the 4K and HDR sustentation.
Nevertheless, faced with numerous marvelous functions, you may wonder how you can get the utmost out of the Apple 4K TV. Here is what I am going to tell you about. If you want to make the best of Apple 4K TV, the following tool you could not miss.
Part 3. Convert Apple Music to Apple TV
Here, I am going to recommend the wise way to use your Apple 4K TV which you can apply a powerful and effective tool to your Apple 4K TV, that is TuneFab Apple Music Converter.
Why? When you listening to the Apple Music in your Apple 4K TV, you may want to share your music to your friends and unfortunately, he or she is not the user of Apple products, which cause inconvenience and break your entertainment. As we all known, Apple Music songs are all protected under the Digital Right Management, and this tool is designed to break the forbidden bridge from the Apple Music songs to your friends.
Features! You can convert the Apple Music song into the plain MP3, AAC to send it to your friends who can enjoy your Apple Music together simultaneously. It won't waste your time for converting music for it has 16X conversion speed. So click the bottom to try it and take full advantage of Apple 4K TV right now.
What's more! As for your movies or other videos you can also employ another tool of the same brand, the TuneFab M4V Converter which assists you with converting the DRM-ed videos into 100% output quality also in faster conversion speed reach up to 30X conversion speed.
Part 4. FAQs of Apple 4K TV
Q1: What's 4K and HDR?
Answer: 4K and HDR are both the high-resolution ratios of the quality of TV image. 4K is the higher resolution with 3840x2160, which provide the user more detailed and richer images and compatible with your TV videos. While HDR in Apple 4K TV supports the HDR10, means High Dynamic Range, and also compatible with your TV videos. It offers the user with a wide range of color and luminance.
Q2: How the 4K TV compatible with my TV?
Answer: It is compatible with your TV if your TV is an HDMI available TV so that you can smoothly watch your own Apple TV.
You can get more ideas from the article below.
Was this information helpful?
TrustScore 5 | 49