Have you encountered the problem of insomnia? Is that an uninviting problem when you are tired and dying for having a good sleep to get your body refreshed? Maybe you have tried on a host of ways, such as using white noise machines, wearing earplugs, and even taking sleeping pills. Lucky for you, here we have 5 best audiobooks especially recommending for you. They are of different genres and suitable for listening before asleep. Hopefully, these audiobooks may help ease your worry and get you out of trouble sleeping.
CONTENTS
The following audiobooks are listed based on the narrator's voices. All the audiobooks read by the most distinctive narrators in the world. Come and try to listen to these 5 Audiobooks to help you fight against sleeplessness.
NO.1 William Golding's The Spire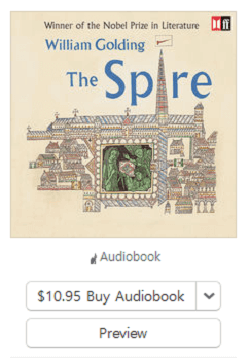 Narrator: Benedict Cumberbatch
Length: 6 hr 49 min
The Spire is an old novel written by English writer William Golding, the winner of the Nobel Prize in Literature. It is a story that a fictional Dean Jocelin tried to build a 400-foot spire on Salisbury Cathedral which is lossless foundations. With his abundant British accents, Benedict Cumberbatch tries to retell this novel in his deep, pleasant, and sexy voices which make you get relaxed and comfortable when sleeping at night. You can get the audiobook on iTunes Stores by paying $10.95.
NO.2 Harry Potter and the Sorcerer's Stone, Book 1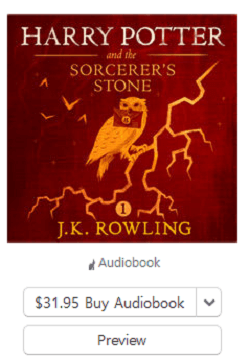 Narrator: Jim Dale
Length: 8 hr 33 min
Harry Potter and the Sorcerer's Stone, Book 1 is the classic novel written by J.K Rowling, which is suit for kids or young adults to listen to. Most importantly, it is fitted for those Harry Potter manias. It is the first book of Harry Potter which you can start here and get to know more about the well-known Harry Potter stories. The narrator Jim Dale has created his own 134 different voices on Harry Potter, who is the best storyteller about Harry Potter. You will get rid of the work troubles or sleep disorders with his excellent of reading Harry Potter. It costs $31.95 to get this audiobook on iTunes Store.
NO.3 A Mercy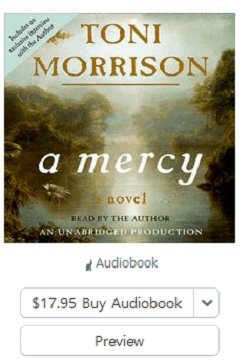 Narrator: Toni Morrison
Length: 6 hr 26 min
A Mercy is a tragedy written by Toni Morrison, also the winner of the Nobel Prize in Literature in 1993. It is a story of mothers and daughters and primitive America, having enrolled in the list of "10 Best Books of 2008" in the New York Times Book Review. It is the luckiest thing that the novel is read by its author Toni Morrison, who will be closer to the characters and better understanding the characters. By listening to Toni Morrison's soft mother-like and honey-soaked voices, it will make you feeling reassuring under the mother embrace to have a sweet dream. Try to pay $17.95 to get the audiobooks which like mother tells stories.
NO.4 Letter To My Daughter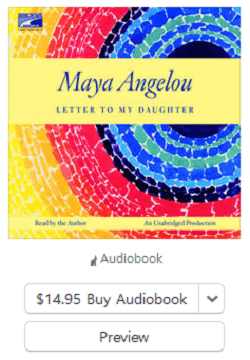 Narrator: Maya Angelou
Length: 2 hr 32 min
Letter to My Daughter is a 28 short essay written by Maya Angelou, an African-American writer. It is the third book of essays of Maya Angelou, who wrote it to share her wisdom gained in her life and has no daughter herself. Like Morrison, Angelou also read its essay on her own voices. With her slow and heavy motherly voice, it will be easy to fall asleep and get rid of the heavy workload. It costs $14.95 to purchase this audiobook to listen to.
NO.5 A Christmas Blizzard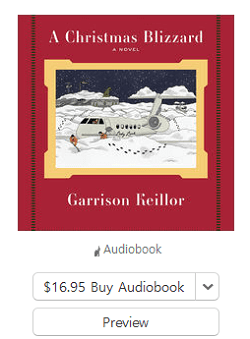 Narrator: Garrison Keillor
Length: 4 hr 56 min
A Christmas Blizzard is a novel and a Christmas tale written by Garrison Keillor, who is the American's favorite storyteller. It is a witty, offbeat, original, classic literature of Keillor about a funny holiday about a wealthy and depressed man. It is suited for Keillor's fans as well as those who love strange stories to listen to. This novel is written and read by the author Garrison Keillor. When listening to this audiobook, you can hear the storytelling along with the piano music, and to some extent, you can sleep in an enjoyable way. To purchase this audiobook, $16.95 is supposed to pay from the iTunes Store.
Tips: How to Remove DRM Off Audiobooks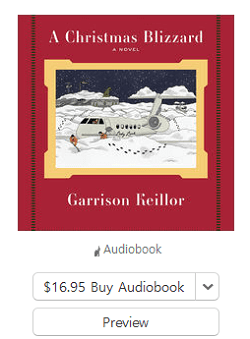 You can also choose another masterwork of the narrator above to get more audiobooks to make you sleep well at night. However, it is inconvenient for you to listen to these audiobooks by using iTunes all the time. What's more, you are likely to want to listen to these audiobooks on your MP3 player. But unfortunately, the audiobooks in iTunes Store are all protected by the Digital Right Management and prohibited to be used on other non-Apple mobile devices or unauthorized computers.
Facing the problem above, all you need is a tool to assist you with breaking this DRM from these audiobooks, that is TuneFab Audiobook Converter. It is a software program designed for breaking the DRM from your Audiobooks by converting these M4B audiobook files into MP3 format so that you can listen to audiobooks without device restrictions.
Bonus Tip: If the audiobooks you purchased are from Audible, you may also take advantage of TuneFab Audible Converter, a professional audiobook converter that has the ability to remove Audible DRM and convert protected AAX files to MP3.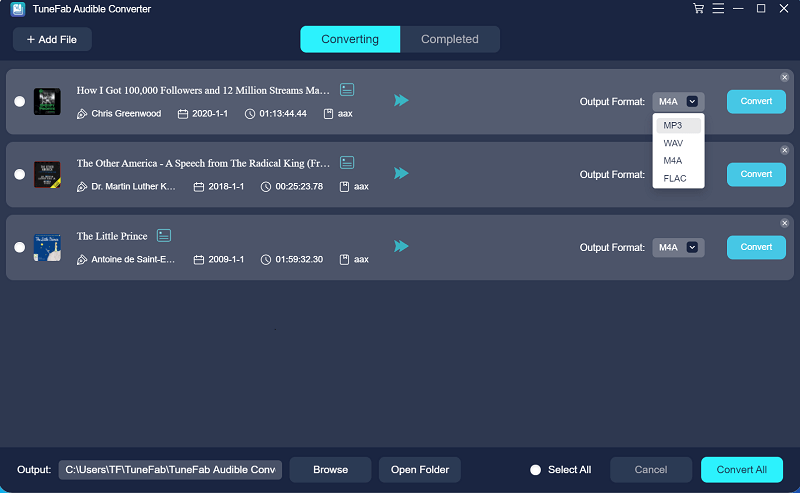 If you have already had the apple watch, there is another way to listen to these audiobooks below.
Read related:
Direct Way to Play Audible Audiobooks on Apple Watch
Hope you will have a sweet dream of enjoying listening to these audiobooks in distinctive voices from now. Also if you have another best audiobook to fall asleep on, you can comment below and we are happy to know.
Was this information helpful?
TrustScore 5 | 49