Have you encountered the problem of insomnia? Is that an uninviting problem when you are tired and dying to have a good sleep to get your body refreshed? Maybe you have tried a host of ways, such as using white noise machines, wearing earplugs, and even taking sleeping pills. But they seem to have frustrating feedback, and some are even harmful to your health, so why not take a chance on listening to audiobooks to fall asleep faster?
Lucky for you, here we have 5 best audiobooks especially recommending for you. They are of different genres and suitable for listening to before being asleep. Moreover, this post will further tell you how to convert audiobooks to MP3 format offline, so that it can be more convenient when you using. Hopefully, these converted audiobooks may help ease your worry and get you out of trouble sleeping.
CONTENTS
Top 5 Audiobooks to Make Your Sleep Better
The following audiobooks are listed based on the narrator's voices. All the audiobooks are read by the most distinctive narrators in the world. Come and try to listen to these 5 Audiobooks to help you fight against sleeplessness.
NO.1 Mythos
Narrator: Stephen Fry
Length: 15 hrs and 25 mins
Shivering when Pandora opens her jar of evils, lamenting when you see the entangled legendary love affairs between gods in ancient times, as a modern collection of ancient Greek myths, Mythos astonishingly unravels a world brimming with magic, mayhem, monsters, and maniac gods to readers. The narrator, Stephen Fry, by his sexy as well as unique sound, gave the familiar stories a more gorgeous, attractive, and immersing tint, leading you into a world with thrills and grandeur. In the meantime, the story-telling tone will make you feel sleepy more easily, suitable for people who have problems falling asleep. On Audible, the audiobook is $19.45 for you to get it.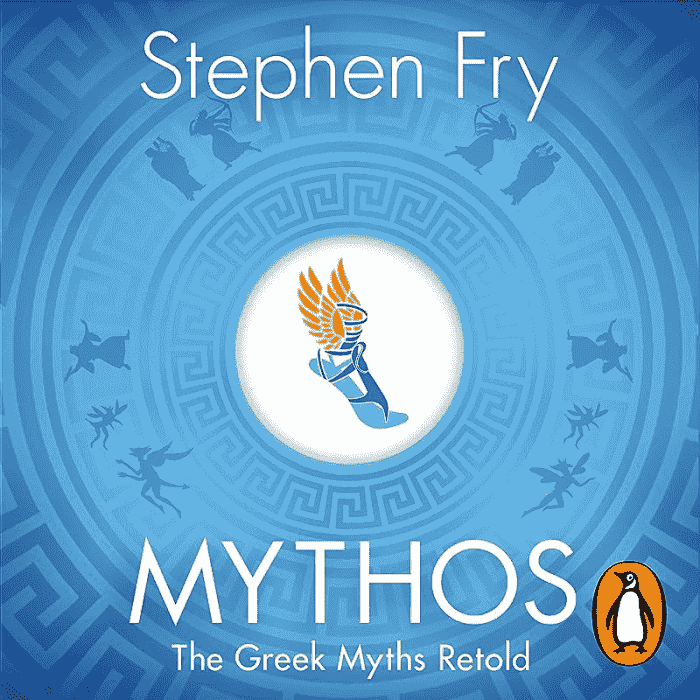 NO.2 Harry Potter and the Sorcerer's Stone, Book 1
Narrator: Jim Dale
Length: 8 hrs 33 mins
Harry Potter and the Sorcerer's Stone, Book 1 is a classic novel written by J.K Rowling, which is suitable for kids or young adults to listen to. Most importantly, it is fitted for those Harry Potter manias. It is the first book of Harry Potter which you can start here and get to know more about the well-known Harry Potter stories. The narrator Jim Dale has created his own 134 different voices for Harry Potter, and he is also the best storyteller of it. You will get rid of work troubles or sleep disorders with his excellent reading of Harry Potter. It costs $29.99 to get this audiobook on Audible.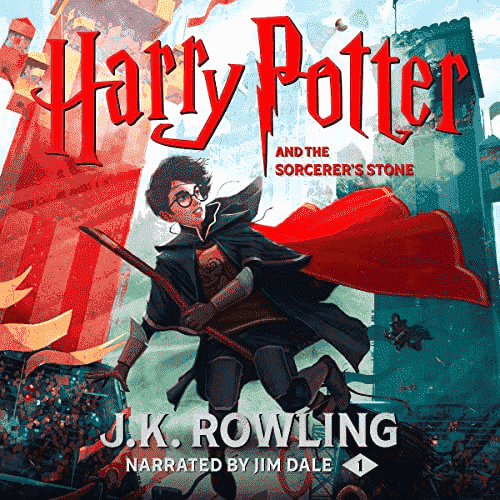 NO.3 Becoming
Narrator: Michelle Obama
Length: 19 hrs and 3 mins
Everyone must know the former First Lady of the United States, who is known as a powerful advocate for women's rights and benefits. In this memoir, Becoming, Michelle Obama like an old friend, shares with you her triumphs as well as disappointments; successes as well as breakdowns. She reflected deeply from her childhood time on the South Side of Chicago to being an executive balancing work and motherhood, even to the years when she was prominent in the White House. Her soft, comforting tone, just like a close friend in your life, soothes your anxiety and sleeping disorder effectively, giving inspiration in a peaceful way. You can get it by paying $22.50 on Audible.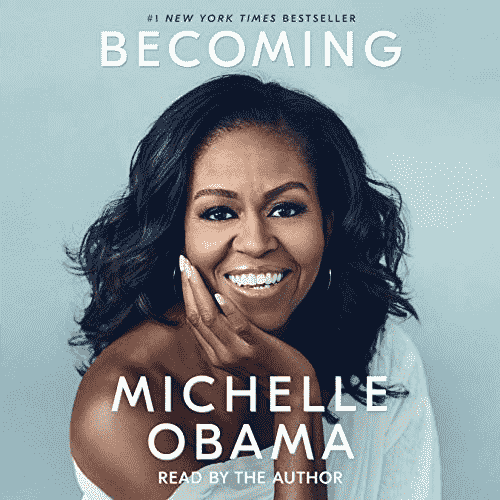 NO.4 Nothing Much Happens
Narrator: Kathryn Nicolai
Length:10 hrs and 6 mins
Different from other books, this is a work specially designed for people who are vulnerable to sleeplessness. As stated in Nothing Much Happens, our mind needs a place to rest. And Kathryn Nicolai also offers a healthy way to help you get to sleep, that is by the timeless appeal of classic bedtime stories. From appreciating the tree lighting in a park with friends to sneaking lilacs on a farm, these small sweet moments help console our intense nerves and so as to relax us into deep sleep. The price of it is $18 on Audible.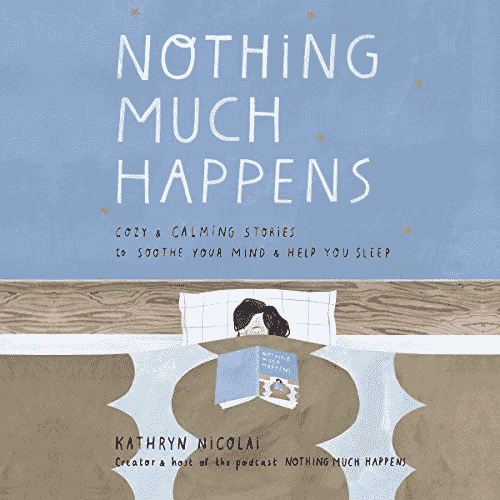 NO.5 Sherlock Holmes: The Definitive Collection
Narrator: Stephen Fry
Length: 62 hrs and 52 mins
Sherlock Holmes is a world-famous classic work, which has enthralled millions of fans for its mystery and suspense. As a lifelong fan of Sherlock Holmes, the narrator Stephen Fry has infused the freshest vigor into Doyle's detective fiction. What's more, Fry is an English actor, screenwriter, author, playwright, journalist, comedian, film director, and all-around national treasure. His deep voice makes the already popular series even more captivating. It really suits people to listen to at night, guiding them to dream gradually. You may spend $82.77 buying it.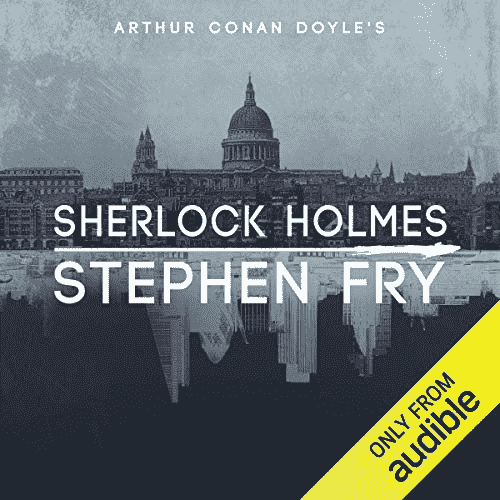 Bonus: How to Get Local MP3 Audiobooks for Flexible Playback
You may often encounter such a problem as there is no or bad Internet connection when you go out for fun or on a plane, so listening to audiobooks online with an app can't fully satisfy your needs. In this situation, downloading these audiobooks offline is the best choice for you to handle such a problem. After searching and trialing, the TuneFab Audible Converter is highly recommended for its powerful functions and the convenience it brings to you.
As a professional converting tool, TuneFab Audible Converter assists in removing the DRM protection of the official Audible app and converting the audiobooks to a more compatible MP3 format, so as to get the audiobooks burned to CD or transferred to other MP3 players. After these steps, you can then freely play the audiobooks in any place, at any time, without any restrictions.
With the help of TuneFab Audible Converter, there are multiple output formats available to choose from, just select one according to your demands. The speedy conversion as well as the original sound quality make it an absolutely ideal chocie for you.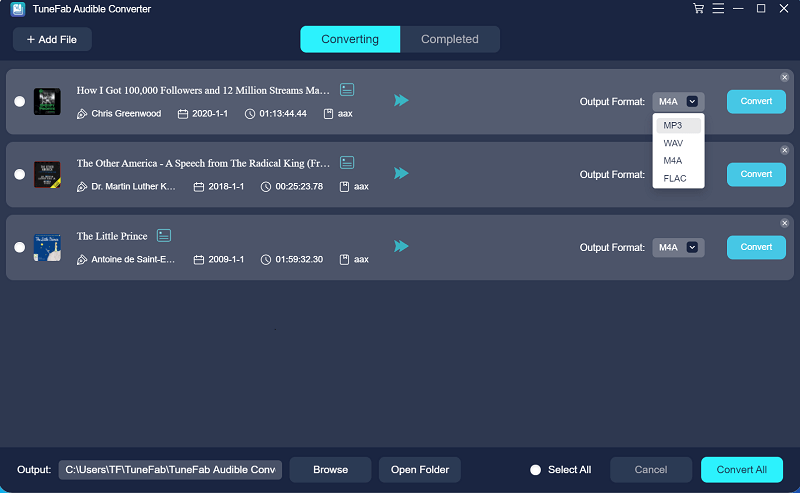 If you want to know more about how to operate the TuneFab Audible Converter, please click this for reference: How to Remove Audible DRM from AAX or AA Format.
Conclusion
All in all, here we have recommended 5 audiobooks to help solve your insomnia problem and also shared with you how to get the MP3 format of those audiobooks, so that you can listen to them whenever you want. Hope you will have a sweet dream of enjoying listening to these audiobooks in distinctive voices from now. Also if you have another best audiobook to fall asleep on, you can comment below and we are happy to know.
Was this information helpful?
TrustScore 5 | 49