Apple Music has unique advantages that set it apart. With a vast and high-quality music library as well as personalized recommendations, users can enjoy unlimited streaming and offline downloads. It is also compatible with various devices, providing convenience and personalized features for a rich music experience.
A lot of music enthusiasts often wonder if there is a maximum download limit when it comes to songs, playlists, and albums on Apple Music. Additionally, they may also question whether it is feasible to download an unlimited amount of Apple lossless music without any cost. If you're intrigued by these inquiries, you're in luck because we're about to delve into the subject and unravel the mystery for you. Keep reading to find out more!
CONTENTS
Part 1. Get an Apple Music Subscription
Getting an Apple Music Subscription offers a range of advantages. The option to download unlimited music for offline listening ensures you can enjoy your favorite tracks anytime, even without an internet connection.
Additionally, Apple Music provides an ad-free experience and cross-platform compatibility, allowing you to listen seamlessly across devices. Plus, as a new subscriber, you can take advantage of the free trial period to experience all these benefits before committing to a subscription.
Get an Apple Music Free Trial
If you are a new Apple Music subscriber, you will receive a 1-month free trial before your subscription is officially charged. Also, if your Apple device meets certain qualifications, you can get a 6-month trial period.
Whether it's a 1-month or 6-month trial, Apple Music will be automatically charged at the end of the trial period. If you cancel your trial before your subscription expires, the songs you downloaded will not be accessible.
Get a 1-month Free Trial as a New Subscriber
How to get a 1-month free trial of Apple Music? You just need a few clicks:
1. Visit Apple Music in your browser.
2. Click the Try 1 month free button in the middle or top-right corner of the screen.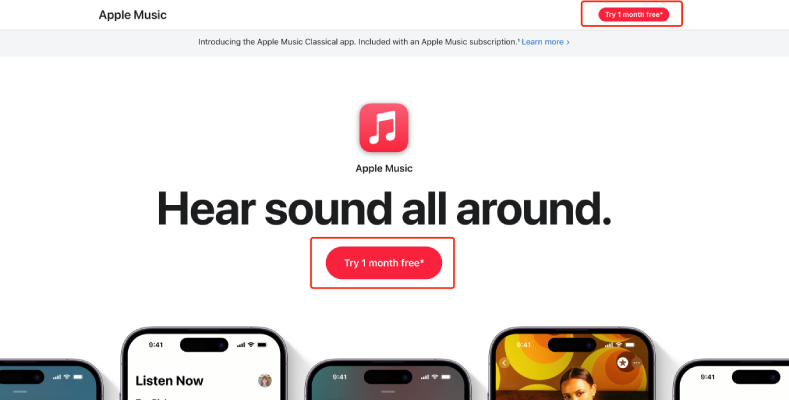 3. Click the Create button and then follow the instructions to complete the corresponding operation step by step.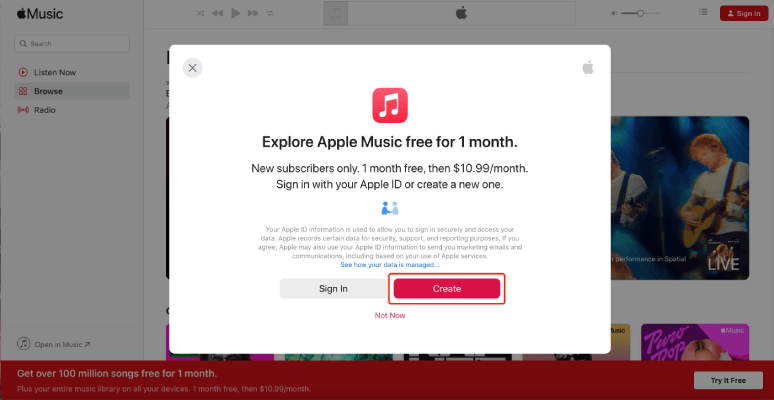 Get a 6-month Free Trial for Purchasing Apple Devices
If you think a 1-month trial is too short, and you happen to have recently purchased an Apple product, then congratulations, you're likely to get a 6-month long trial of Apple Music!
Which devices are eligible to receive 6 months of Apple Music for free?
• AirPods Pro
• AirPods (2nd generation and 3rd generation)
• AirPods Max
• HomePod, HomePod mini
• Beats Studio Buds, Powerbeats, Powerbeats Pro, Beats Solo Pro, Beats Fit Pro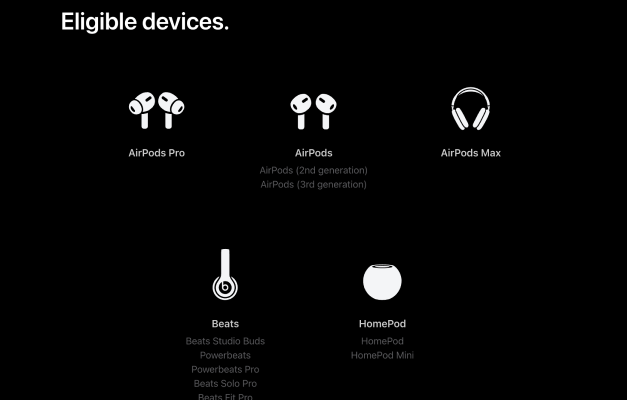 Note: AirPods (1st generation), Beats Solo3 Wireless, Beats Studio3 Wireless, Beats EP, and Beats Flex are not eligible for a 6-month trial period.
How to get a 6-month trial?
1. Ensure that your iPhone or iPad is up-to-date with the latest version of iOS or iPadOS.
2. Connect your eligible audio device with your iPhone or iPad.
3. Launch the Apple Music app on your device and log in with your Apple ID. If the offer does not show up right away, head to the Listen Now tab where it should appear.
4. Click on Try it Free.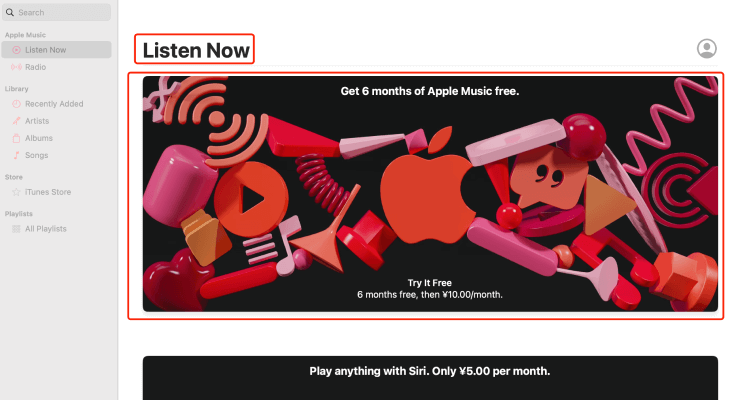 Subscribe to Apple Music
You may be curious: After enjoying the free trial, why would users want to continue to subscribe to Apple Music? According to the comments online, they choose to stay with Apple Music for several reasons. One key factor is the audio quality in Apple Music, including lossless and hi-res options, ensuring them a premium listening experience. They also appreciate being able to upload their own music and enjoy radio shows.
Additionally, Apple Music goes the extra mile in metadata management, allowing users to customize and edit metadata based on their preferences. This attention to detail enhances the overall music streaming experience, making Apple Music a top choice for audio enthusiasts.
To Get an Apple Music Subscription, You can Follow These Steps:
Step 1. Visit Apple Musicin your browser.
Step 2. Scroll down to find some information about different subscription plans.
Step 3. Choose a suitable plan for you and tap the Try It free button.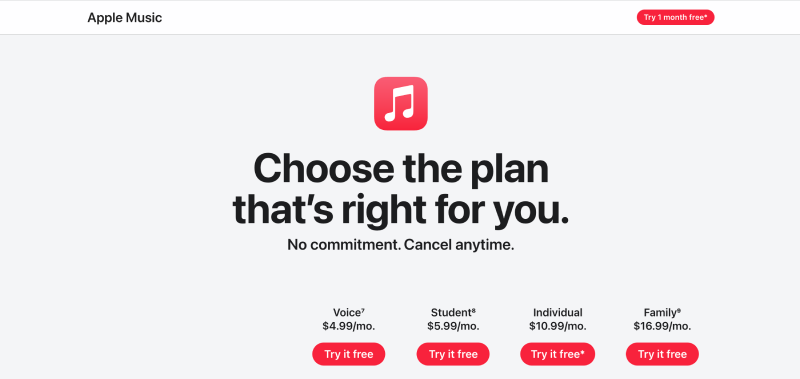 Step 4. Follow the instructions to complete the corresponding operation.
Note: After subscribing to Apple Music, you need to keep the subscription valid, otherwise the downloaded songs will be invalid. Also, you need to connect to wifi at least once every 30 days, or the music you saved will be lost.
What is the difference between these four plans of Apple Music?
Subscribing to any of the plans of Apple Music offers an immersive and convenient music listening experience. The main difference between each plan of Apple Music is the pricing and the number of users that can share the account.
Voice - $4.99/mo.
The voice plan is designed to only play music by using Siri. With the voice plan, you can use Siri to request songs, albums, or playlists, create custom stations, and even control playback. Additionally, the voice plan offers ad-free listening, offline playback, and personalized recommendations based on your listening habits.
Student - $5.99/mo.
You need to be a college or university student studying in a qualified institution. When you sign up, Apple may ask you to verify your enrollment status using a third-party verification service called UNiDAYS. UNiDAYS will confirm your eligibility based on the information you provide, such as your name, date of birth, and email address, as well as information about your educational institution. Once you're verified, you can enjoy all the benefits of a regular Apple Music subscription at a discounted student rate.
Individual - $10.99/mo.
The individual plan is priced for a single user. You can still share your account with up to five other people through Apple's Family Sharing feature, making it a great option for sharing with close family and friends.
Family - $16.99/mo.
With the family plan, you can share a single subscription with up to six members, allowing everyone in the family to enjoy unlimited access to Apple Music at a more affordable cost compared to individual plans. Each member can have their own personal library, playlists, and recommendations, ensuring a personalized music experience.
Part 2. Download Unlimited Songs on iTunes/Apple Music App
Once you get the free trial period, or successfully subscribe to any Apple Music Plan(except for Voice Plan), you can download an unlimited number of Apple Music! However, due to DRM copyright restrictions, the Apple Music you download can only be played on the official app, and cannot be transferred to other devices.
Additionally, if you don't want to subscribe to Apple Music but still want to download the music on Apple Music, you can buy the songs or albums you prefer from iTunes at once, and then download the purchased songs to your device.
Here are 3 simple steps to download music on iTunes or on Apple Music:
Note: Windows users and macOS users below version 10.15 can download songs directly through iTunes, while macOS users above version 10.15 can download songs through the Apple Music app.
Step 1. Open iTunes or Apple Music app on your devices.
Step 2. Put the song/album you want to download into your Library by clicking on the "+" button.
Step 3. To download the song, click on the download button (a cloud with an arrow pointing downward) next to the song or album.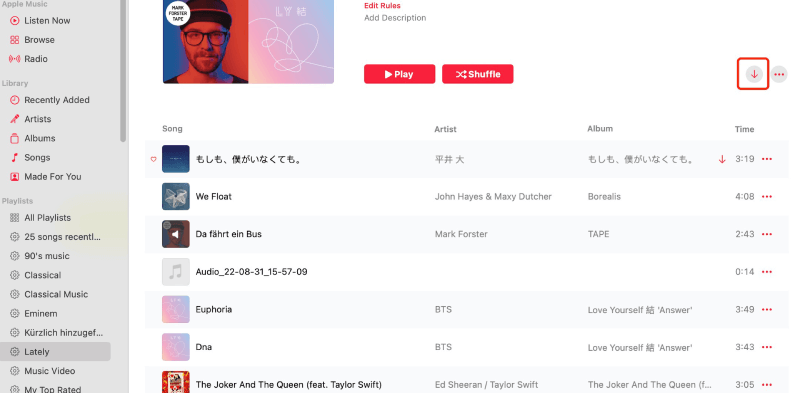 After starting downloading, you will see a progress bar indicating how much time is remaining for the download to complete. Once the download is complete, you can access the song or album from your library and listen to it offline at any time.
Please keep in mind that you will need an active subscription to Apple Music and have the songs you want to download added to your Library before you can download them.
Part 3. Download Unlimited Apple Music Songs to MP3 and Keep Them Forever
As mentioned above, to download unlimited Apple Music songs, you need to have a subscription. Also, the songs you download are encrypted files, which means that once your subscription expires, gets canceled, or if you don't connect to Wi-Fi within 30 days, you will lose access to them. But don't worry, there's a solution to deal with this! You can use an old version of TuneFab Apple Music Converter to download unlimited music in MP3 format from Apple Music during your subscription period. Once you have the MP3 files, you can keep them forever!
TuneFab Apple Music Converter is a powerful software that allows you to convert your favorite Apple Music tracks to various audio formats on your PC. In simple terms, its working principle is as follows: you first add the music you want to download to the Library of Apple Music. Then, you open TuneFab Apple Music Converter which integrates with iTunes, so it can access the content within iTunes. At this point, TuneFab Apple Music Converter will retrieve the songs from the Apple Music Library on your computer's iTunes. From there, you can download the music as MP3 files, which are DRM-free, based on your needs.
Main Functions of TuneFab Apple Music Converter
1. Convert Apple Music audio files.
2. Convert Apple Music songs, playlists, and albums to MP3/M4A/FLAC format effortlessly.
3. Maintain the original quality of the music during the conversion process.
4. Retain important ID3 tags and metadata information for better organization.
5. Enjoy a 5X faster conversion speed, making it quick and convenient to convert multiple tracks at once.
Download Unlimited Apple Music Songs in 5 Simple Steps
TuneFab Apple Music Converter is compatible with both Windows and Mac operating systems, making it a versatile tool for music lovers. In the following steps, we will show you how to use TuneFab Apple Music Converter to download unlimited Apple Music songs and keep them forever.
Step 1. Open TuneFab Apple Music Converter
Download and install TuneFab Apple Music Converter on your Windows or Mac computer. After installation, launch the program and navigate to the welcome page. At this time, you will find that Apple Music has also been automatically opened at the same time.
Step 2. Log into Apple Music
Click on the "Account" button on the function bar at the top of the page, and then click "Sign in" to log into Apple Music with your Apple ID. Once you have successfully logged in, you will notice that TuneFab Apple Music Converter automatically logs you in and displays all your Apple Music songs in the Library section on its home page.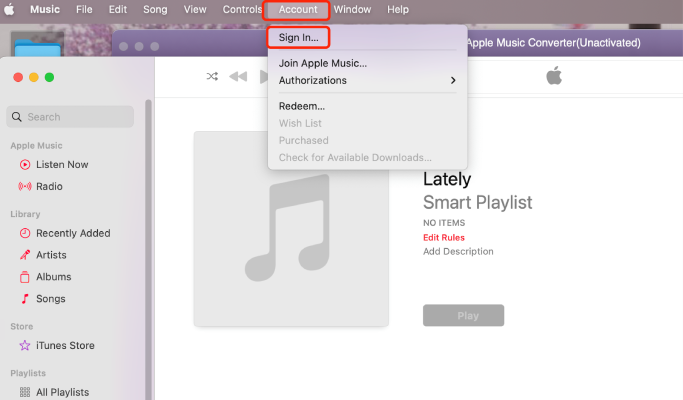 Step 3. Select the Appropriate Output Settings
Choose the music you want to keep and then adjust the output settings. Normally, we recommend that you choose the MP3 format. In addition, you can change the sound quality of downloaded music by adjusting Bitrate, SampleRate, Output Quality, etc.
Of course, different parameters will also affect the size of your downloaded music files. For example, MP3 High Quality has a file size of about 8.43 MB while MP3 Normal Quality has a file size of about 3.4 MB.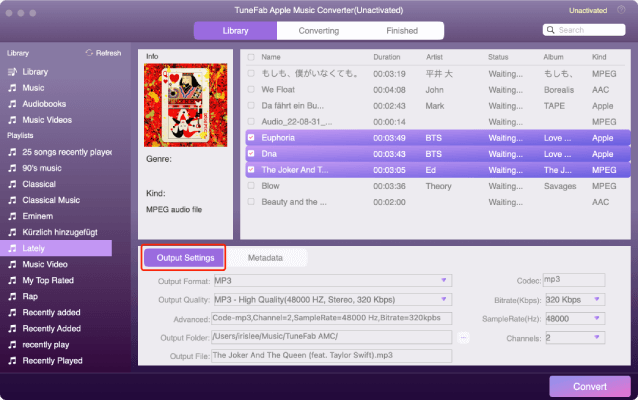 Step 4. Unlimited Downloading of Apple Music
After adjusting the output parameters, you only need to check the songs you want to download, then click "Convert" at the bottom right of the page, and you can download Apple Music successfully! You can check the progress of the song downloaded on the "Converting" page.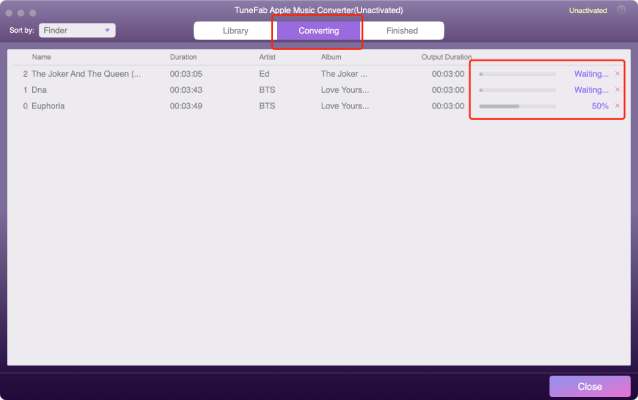 Step 5. Listen to Unlimited Downloaded Apple Music
Once the download is complete, you will see all the songs you have downloaded and their information on the "Finished" page. You can find the song by clicking on the "View Output File" to the right of the song and play it whenever you want!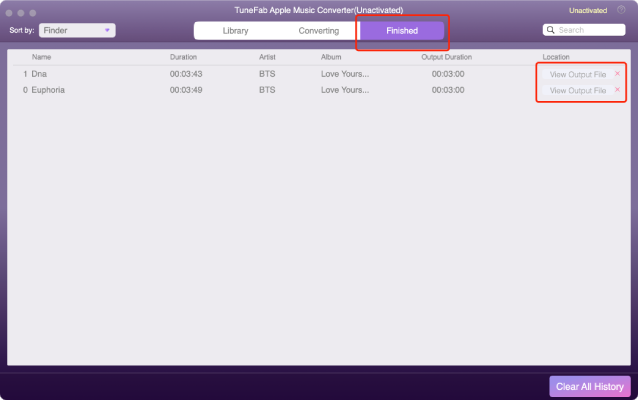 Say goodbye to the worries of subscription expirations, as you can now enjoy your favorite songs without interruptions. With just a few simple steps, TuneFab Apple Music Converter ensures a seamless and convenient process for downloading and enjoying your preferred tracks. Don't miss out on this opportunity to enhance your Apple Music experience and have complete control over your music library!
Conclusion
After reading today's article, do you have a clearer understanding of how to download unlimited Apple Music songs? You can get a one-month or six-month free trial of Apple Music based on your actual situation, and then subscribe to Apple Music plans that meet your needs to achieve the goal of downloading unlimited music.
Of course, a better way is to use TuneFab Apple Music Converter to download unlimited music from Apple Music. In this way, even if you no longer subscribe to Apple Music, you can still keep your unlimited Apple Music forever!
Was this information helpful?
TrustScore 1.7 | 3