Which streaming music service do you like the best, Apple Music, Spotify or Google Play Music? All of them are wonderful streaming music services, but I guess for most of Apple users, they would use Apple Music rather than other music services as Apple devices can play downloaded Apple Music songs without worrying about DRM protection. However, recently, some users complained about that they couldn't find the shuffle button on iPhone. Does the shuffle button not working? Of course not, it just be hidden by Apple Inc. Then how to turn on or off Apple Music shuffle on iPhone? Follow me and I would show you some simple options. Before that, let me introduce you some features of Apple Music.
Don't Miss:
How to Set Apple Music Songs as iPhone Ringtone
Backup Your Apple Music Before Songs Disappeared
CONTENTS
Part 1. Features of Apple Music
As one of the most Popular streaming music services, Apple music has some amazing features which are shown as below.
A. Large Music Library or 45 Million songs. Compared with other streaming music services, Apple Music has the largest music library. You are allowed to stream 45 Million songs , along with everything in your iTunes library.
B. Always Ad-Free. Whether streaming any song, album, mix, playlist or music video, you won't be interrupted by ads.
C. Play Every Song Offline. In case you don't want to use your cellular data, you can download anything from Apple Music for listening on Apple devices offline.
D. Find New Songs With a Little Help From Your Friends. Except finding latest music recommended by Apple Music, you can also find some new songs with a little help from your friends. All you need to do is to create a profile to tell your friends what your are checking out.
Part 2. How to Turn On or Off Apple Music Shuffle on iPhone
There is no doubt Apple Music is such a wonderful music service. In the past few years, Apple has been continually making subtle tweaks to introduce new functionality and features, it should be a good news, but these changes also means that other functions have been relocated or replaced in the overall UI of Apple Music. Therefore some users might have a problem about how to turn on or off Apple Music shuffle on iPhone. Actually, it is very easy to shuffle songs on iPhone, here comes with the easy guide for your reference.
Option 1:
Step 1. Open Apple Music application on your iPhone and then go to any playlist of music from your library.
Step 2. In order to find the primary music player view of basic operation including album, art, pause, play, forward and back buttons, you need to click on the currently playing song.
Step 3. Next swipe from the bottom of the screen to discover the extra buttons for Shuffle and Repeat.
Step 4. To turn on or off the shuffle, just click on the "shuffle" button. Then you can return to music playing view and swipe up to toggle the shuffle switch.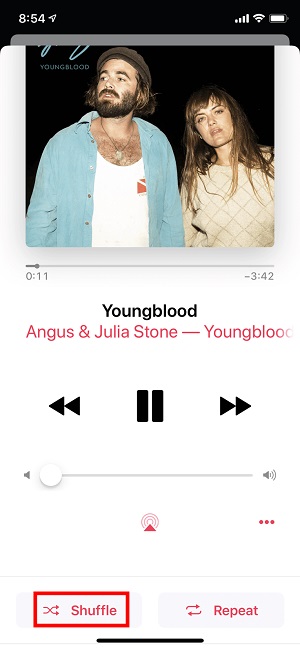 Option 2:
Except that, you can also access Shuffle Music button on iPhone from Library Song view.
Step 1. Open Apple Music application on your iPhone and then go to any playlist of music from your library.
Step 2. Click on "Library" button and then tap "Songs" button.
Step 3. You can see "Shuffle All" option at the upper-left corner of the screen, click on that option to start shuffling all music in the library.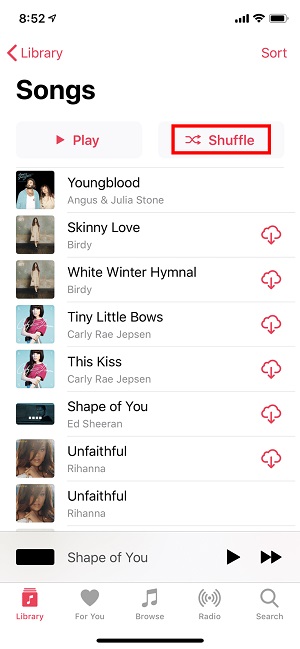 Option 3:
Moreover, another easier method is to use Siri as Siri can operate all applications on your iPhone according to your instructions. But don't forget to say "Hey Siri before your instruction, so what you need to say is "Hey Siri, shuffle". Then you can listen to the current playing music again and again.
Part 3. Recommended DRM Removal Tool
Listening to Apple Music offline on Apple devices is very simple, but what about non-Apple devices? Well, it is difficult because Apple Music includes DRM protection which means you are not allowed to play Apple Music songs on third-party devices. In order to do that, you need a DRM removal tool. Here comes with the best one, TuneFab Apple Music Converter.
TuneFab Apple Music Converter is a reliable Apple Music downloader which is designed to download Apple Music, convert M4P to MP3 and extracts audio from iTunes video. It can support Windows 10/8.1/8/7 and macOS 10.9, 10.10, 10.11, 10.12 and 10.13.
Supported Input Formats:
All iTunes supported audio formats;
Protected M4V from iTunes Store (Music Videos, Movies & TV Shows);
Unprotected M4V, MP4, MOV including Podcast, iTunes U, etc.
Supported Output Formats:
MP3, AC3, M4R, AIFF, FLAC, AU and MKA.
If you want to convert Apple Music to MP3 or other popular formats for playing on non-Apple devices, then just click here to download TuneFab Apple Music Converter.
Therefore, it's easy to turn on or off Apple Music shuffle on iPhone by following one of the methods mentioned above. But if you want to add Apple Music songs to PowerPoint or upload Apple music songs to Google Drive, then just download TuneFab Apple Music Converter right now, it really does a good job.
Was this information helpful?
TrustScore 5 | 49