Music is a kind of enchanting ingredient in life, and streaming media make it convenient to listen to music. For instance, Amazon once rolled out a service of online music storage, allowing customers to upload their local music to Amazon music freely.
But according to Amazon's announcement, the service has been shut down since January 2019. That is, users can't upload their music to Amazon Music any longer. And due to music downloaded from various music software, people will always wonder how they can upload or import their music to Amazon Music.
If you have the same thought like them, please do not feel annoyed, not now. In fact, it is viable to add your music to Amazon Music, be it from Windows Media Player or iTunes. But how's that possible, you may wonder. Don't worry about it. In this article, you will find the details on uploading and importing music to Amazon, and vice versa. Also, tips and tricks on syncing music from other streaming services to Amazon Music are included.
Contents
Part 1. How to Import Local Music to Amazon Music from WMP/iTunes
It is very likely that your digital music purchases or downloads are saved in different folders that may propel you to add music from your computer to Amazon Music. Therefore, you can add your music to Window Media Player or iTunes, which will streamline the importing process. And now you can follow the next steps to import music.
Step 1. Add your music files to the Windows Media Player or iTunes first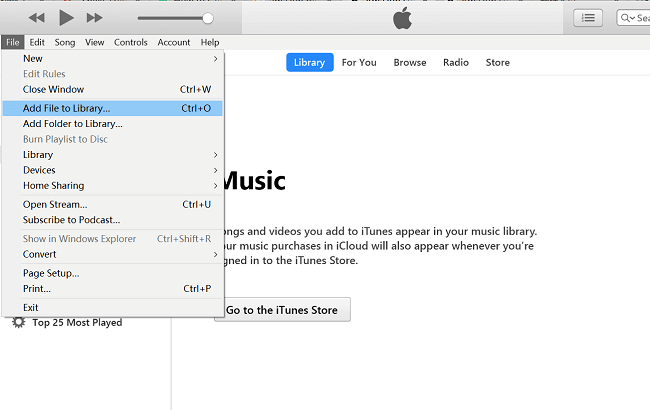 Step 2. Launch Amazon Music and log into your Amazon account
Step 3. Click the head portrait in the right-hand corner to find "Setting" and click it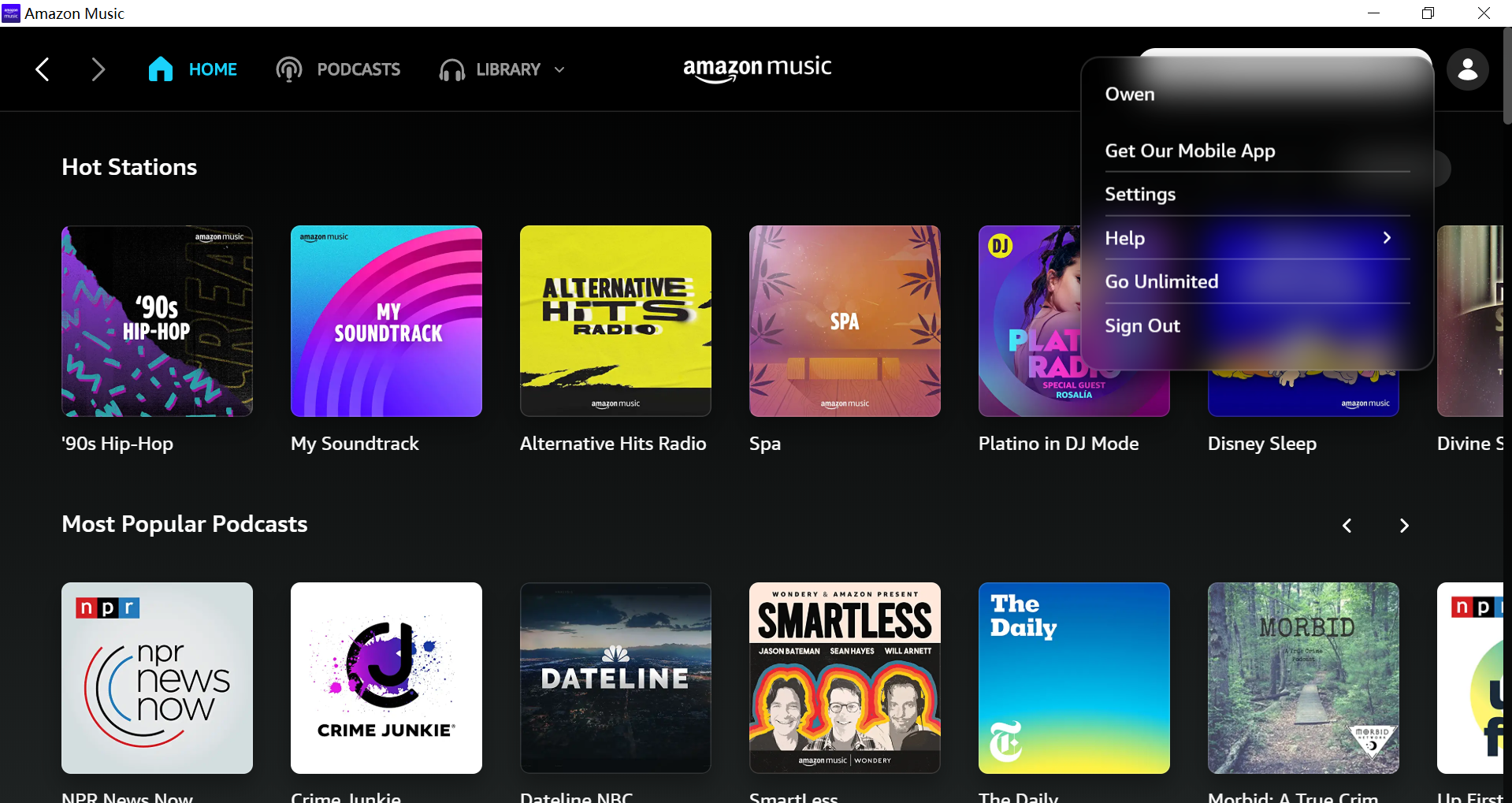 Step 4. Scroll down your mouse to find the "Automatically Import Music" and click it
Step 5. Turn on the buttons related to the Windows Media Player and iTunes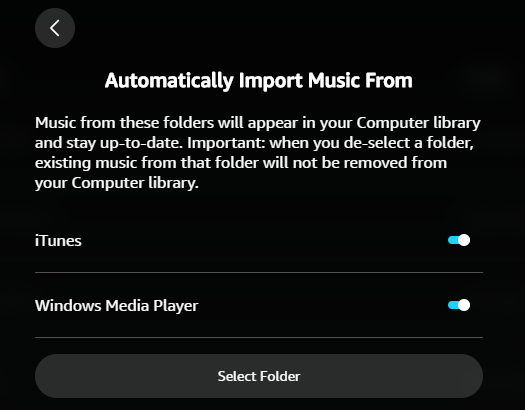 Step 6. Go back to Amazon Music home, click "Library" and you can find imported music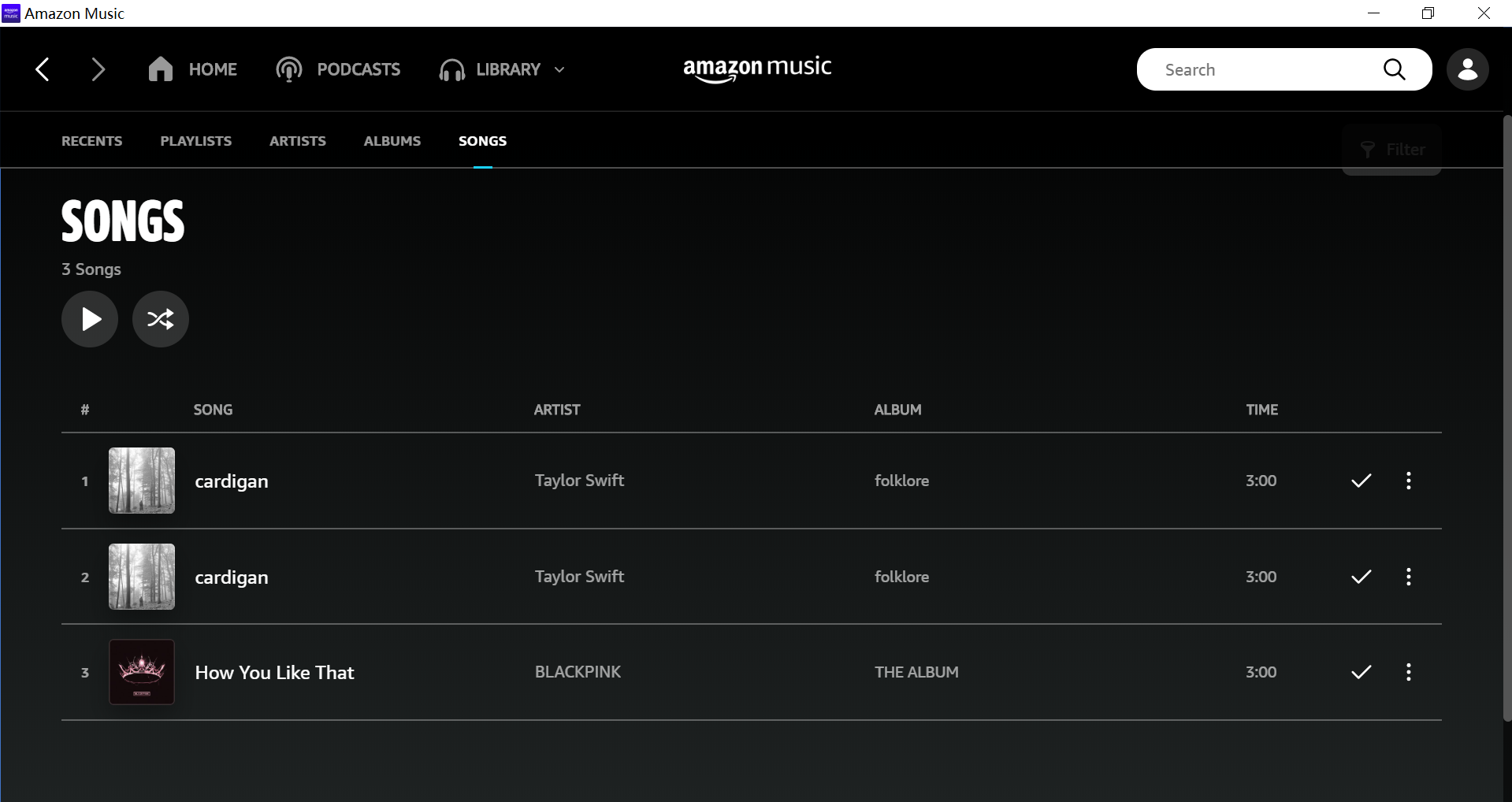 Part 2. How to Import Amazon Music to Library
There is no doubt that the Internet and streaming services literally enrich people's spiritual life, but right now the network hasn't penetrated people's lives everywhere. When people go outside for hiking, cycling, or traveling, they want to download Amazon Music in MP3 and keep it in a library to listen to, which seems a little difficult because of service restrictions. Don't worry, there is a way to fix it.
The Limitations of Amazon Music
Amazon Music provides users with three subscriptions including Amazon music free, Amazon music Prime, and Amazon Music Unlimited. Prime and Unlimited services are not free, as their names imply. Meanwhile, high-quality and offline music can only be experienced by purchasing Amazon Music Unlimited. Therefore, you add music to the library, but you can't enjoy them offline, and it is out of the question that you listen to your Amazon music in MP3 format on a PC or Mac.
How to Download Music from Amazon Music Prime Free
You have figured out the restrictions of Amazon Music, and what you can do is to take technology to defeat technology. It doesn't matter that you don't know any technology, a professional Amazon Music converter - TuneFab Amazon Music Converter- can do you a favor.
TuneFab Amazon Music Converter is a powerful software that can help you download and convert songs and podcasts from Amazon Prime Music, Unlimited, and Amazon HD Music to MP3.
Main Features of Amazon Music Downloader
Unrestricted download: You can use the software to freely download songs, albums, and podcasts from Amazon Music HD, Prime & Unlimited.
Various Output Formats: MP3, M4A, WAV, and FLAC are supported to encode the downloaded Amazon Music.
5X Speed Conversion: 5X faster speed to get music and podcast episodes downloaded in batch
Easy to Use: The converter can convert music by dragging songs or playlists.
High Flexibility: It can preserve original sound quality, keep ID3 metadata, and customizable audio parameters.
With all-around functions, TuneFab Amazon Music Converter is pretty easy for beginners to use. The following procedures will generally show the ways to download music from Amazon Music Prime/Unlimited.
Step 1. Install TuneFab Amazon Music Converter on your computer
Install the latest version of TuneFab Amazon Music Converter on your computer and launch it. After that, you can see the basic tutorial demonstrated on the surface.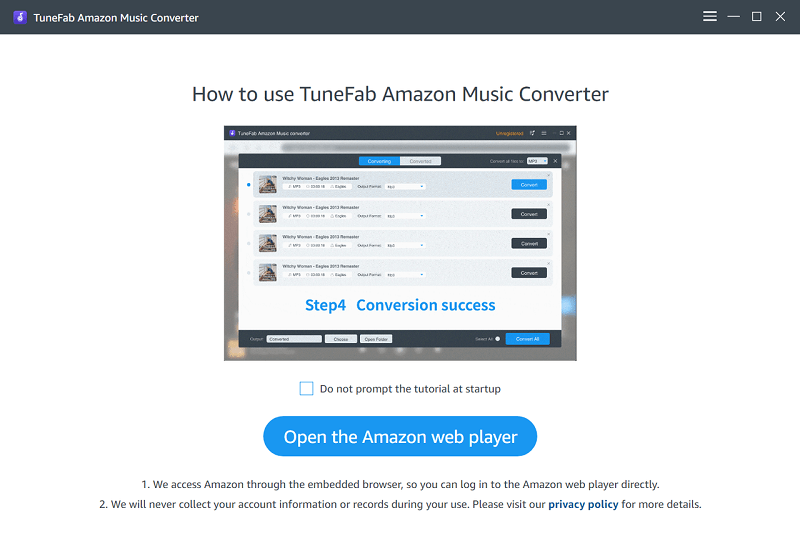 Step 2. Log in to your Amazon Music account
You can click the "Open the Amazon web player" to enter the software, and you need to log in to your Amazon Music account, which is indispensable for you to download and convert music. If you don't log in, you can't practice the next procedures.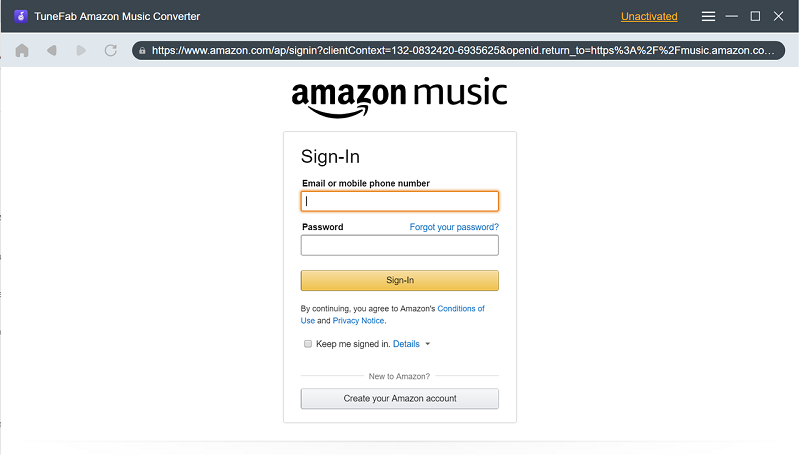 Step 3. Choose songs or playlists you want to convert to MP3
You can enter the search page and search your desirable songs or playlists, and then you can directly drag them to the blue "Add" button for converting.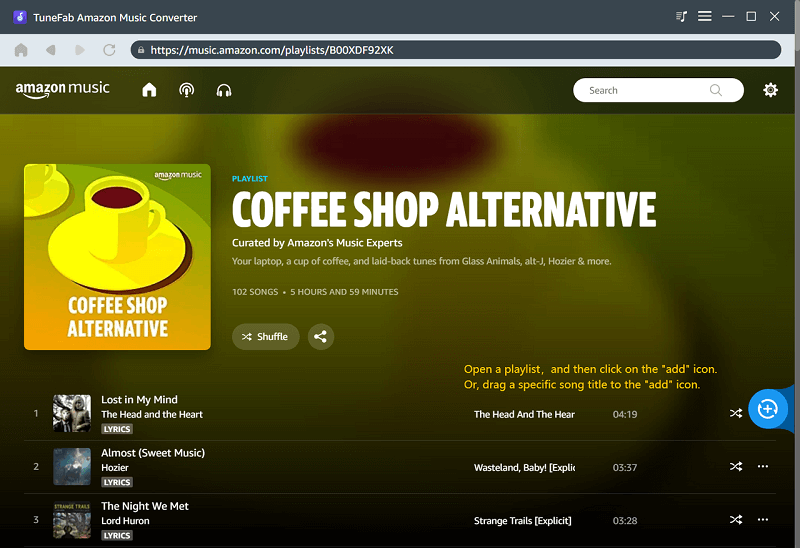 Step 4. Choose the output format and folder
After you drag songs or playlists to convert, you will enter a converting page. On the page, you can select MP3, M4A, WAV, and FLAC formats in the right-hand corner. At the bottom, you can also change the output folder.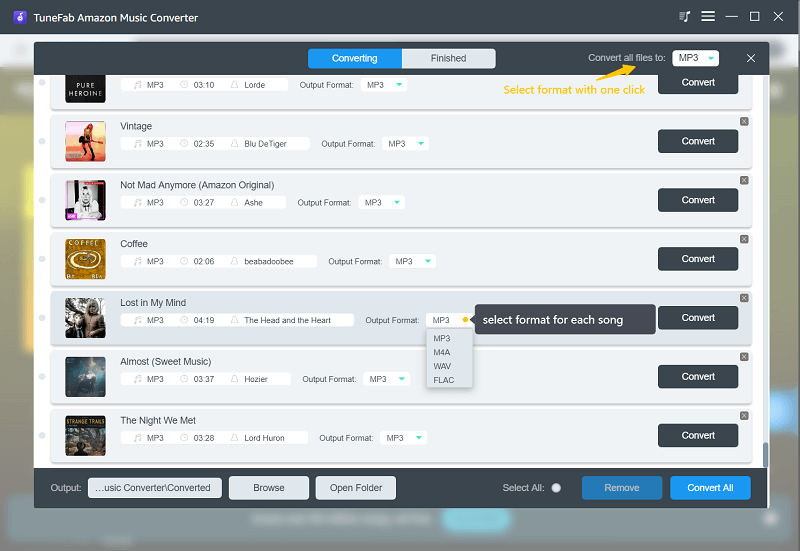 Step 5. Convert music to common formats and check the music
When you finish the output setting, you can click the button "Convert All", and all songs you have chosen will be converted. Then you can check your songs on the finished page. Also, you can find these converted music in the corresponding output folder.
Then, feel free to import these Amazon Music files to your frequently-used music management apps such as iTunes or Windows Media Player for a convenient playback. You can also upload the converted Amazon Music to cloud services for storage and sync between your music playback devices.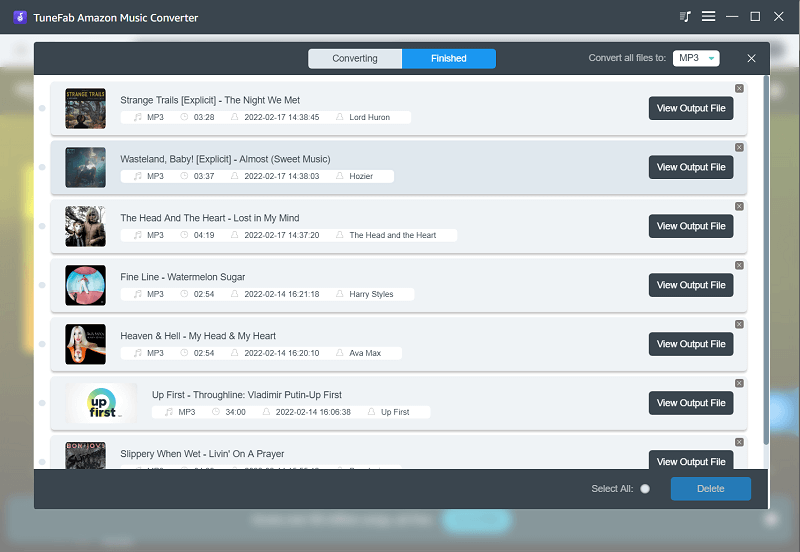 3. How to Sync Spotify and Apple Music to Amazon Music
For many people, using different music software is a challenge for device storage, and a debate on the pros and cons of diversified software. Therefore, a tool that can help people sync or transfer music can go viral. Perhaps you have been considering trying a different music service and moving your songs and playlists.
The switch isn't difficult as you think. It is no better than an easy and direct tool that helps you move your music collections between Amazon Music and other popular streaming services such as Spotify and Apple Music. The swap can be done with simple clicks, and it is Tunemymusic that can help you make music transfer come true.
Migrate Music Playlist via Tunemymusic
Tunemymusic is a web tool that transfers your music library from one music service to another. It is worth noting that the tool is not hard to use. The following 4 steps can assist you to handle it.
Step 1. Click on "Get started", then follow the service prompts.
Step 2. Choose Amazon Music as your destination.
Step 3. Follow the instructions to configure your existing playlist/s for export.
Step 4. Find imported playlists in your Amazon Music Library, under the "Playlists" tab.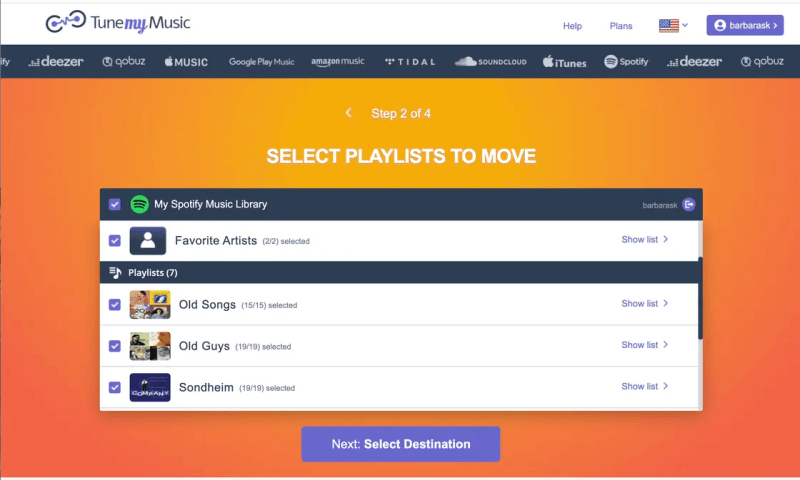 Notes: Tunemymusic is a compatible tool that can transfer your music library from any music service to any other you want! Supports Spotify, Deezer, YouTube, and many more.
As mentioned, you can sync music with Tunemymusic conveniently. And a premium service has been launched, which will cost you $4.5 one month to get unlimited conversions. So if you want to transfer music between different services, just do it.
Conclusion
Although the uploading function has been shut down, we still can find different ways to import music to Amazon Music. And when we have trouble with Amazon Music, we can turn to TuneFab Amazon Music Converter for help. With this software, we can freely enjoy listening to music. Try it first, and your music library may be stuffed full.
Was this information helpful?
TrustScore 2 | 2