When you encounter troubles in streaming Audible books offline, extra software is required to help get rid of existing limitations and download audiobooks from Audible to preserve DRM-free audio files for boosting the playback experience in a hassle-free way.
TuneFab Audible Converter, an industry-leading software, is able to deal with Audible DRM removal, enabling users to convert audiobooks to files of mainstream formats for streaming on all devices. But is TuneFab Audible Converter worth trying? Through careful testing and comparison, we have concluded all features of the software in this review. Now, check through it and conclude whether the TuneFab Audible Converter is what you need.
TuneFab Audible Converter Review: Is It Worth It?
Overall, TuneFab Audible Converter realizes offline audiobook streaming without limitations by decrypting the DRM encryption added on Audible books. Through pretty simple clicks, users are able to convert the protected Audible AA/AAX books to DRM-free MP3, WAV, FLAC, and M4A formats with original quality and chapters preserved. Now, go further to grasp what enlightening features have made TuneFab Audible Converter stand out.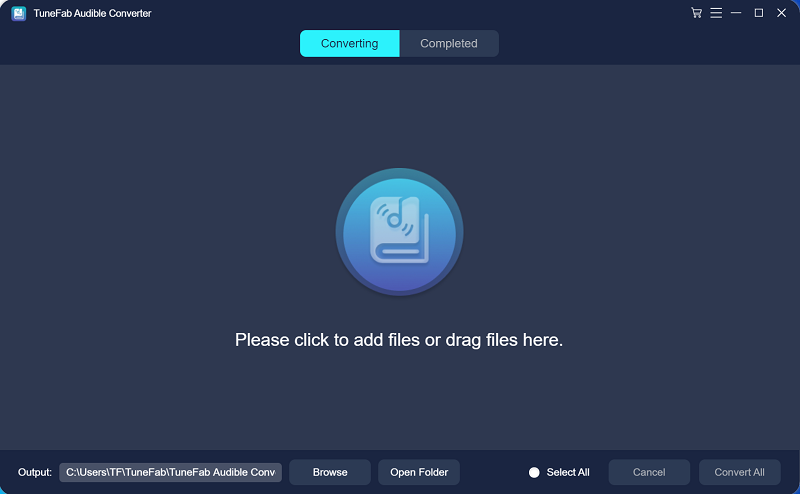 Original Output Sound Quality
For audiobook streaming, of course, the audio quality is an essential factor that most people would care about. Hence, TuneFab Audible Converter has developed with advanced techs to maintain lossless quality while processing the Audible books' decryption and download. Users are able to grasp the same quality streaming experience as on Audible platforms.

Meanwhile, the software has provided customized options available for users to adjust the audio parameters as they need. By choosing the ideal sample rate or bitrate, users are able to preserve the Audible books offline in their preferred quality freely.

Effective Conversion Process
Although Audible books mostly last for hours, TuneFab Audible Converter is able to speed up the conversion to 60X faster with the embedded acceleration techs. That means you will only take minutes to complete a long Audible book download. Additionally, its batch download feature is also able to help you save much time. Even if you get multiple hour-long audiobooks required to convert, TuneFab Audible Converter will process them simultaneously for you!
Chapter / Custom Length Splitter
TuneFab Audible Converter also provides a built-in audiobook splitting tool available for users to customize the duration of the output files by chapter, segment, or time. If you desire to preserve a long Audible book into smaller parts for streaming more conveniently, you are able to enable the splitting feature, then TuneFab Audible Converter will split them for you while processing the audiobook download automatically.
Multiple Output Formats
To increase the compatibility of the downloaded Audible books, TuneFab Audible Converter has enabled 4 DRM-free mainstream output formats, including MP3, M4A, FLAC, and WAV to output the audiobooks. Hence, you are able to transfer them to any device and stream them back via all media players supporting these 4 audio encoders. Via TuneFab Audible Converter, you are able to enjoy the Audible books playback without DRM or format limitations anymore.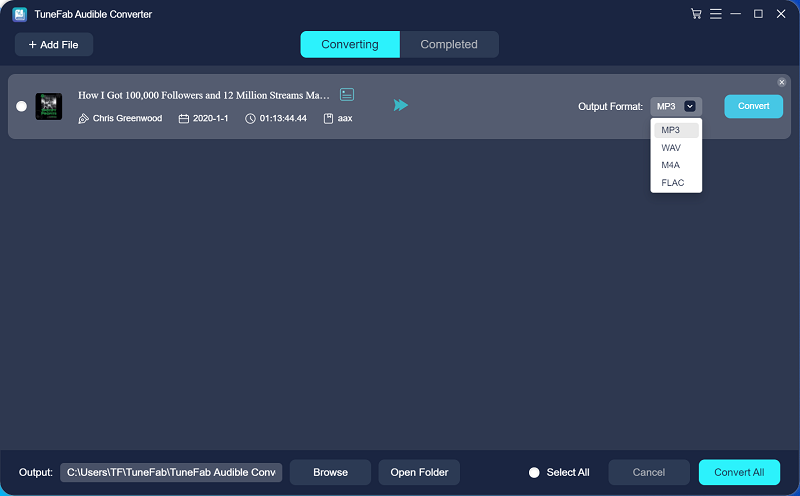 ID3 Metadata Preservation
To boost more convenient Audible books streaming and management locally, TuneFab Audible Converter will preserve the full chapter and ID3 info via the downloaded audiobooks. Additionally, you are even allowed to customize the info such as the title, artist, genre, cover, etc. before processing the Audible books download. Hence, you are able to check them back and organize the audiobook library on all devices. It would be much easier for you to locate the exact Audible books for streaming by checking back the metadata information in one click.
How to Use TuneFab Audible Converter?
Despite the above sparkling features, TuneFab Audible Converter is also able to serve users via its easy-to-grasp functionality. In this brief guide, you are able to grasp how the software works to decrypt Audible DRM and convert the protected AAX audiobooks to MP3 without hassle. Check and get started now:
STEP 1. Prepare and Import Audible Books
Once you have installed TuneFab Audible Converter and also preserve the Audible books from the Audible platform offline, you are able to launch the software on your desktop and directly drag the audiobooks to its interface for importing.
STEP 2. Customize Audiobook Parameters
When the Audible books are imported to TuneFab Audible Converter, it is available for you to select an output format option for each of them. To further customize the quality settings such as the sample rate or bitrate, you are required to navigate to "Menu" > "Output Setting" and open the "Preferences" setting window.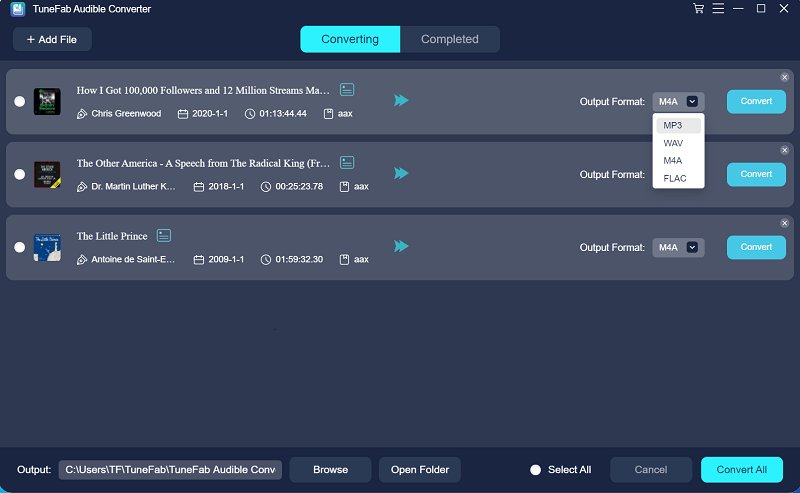 (Optional) STEP 3. Split Audible Books
In "Preferences", if you desire to preserve the Audible books in smaller audio clips, you are able to select a splitting mode here to split a long audiobook into parts by chapter, segment, and time base on your requirements.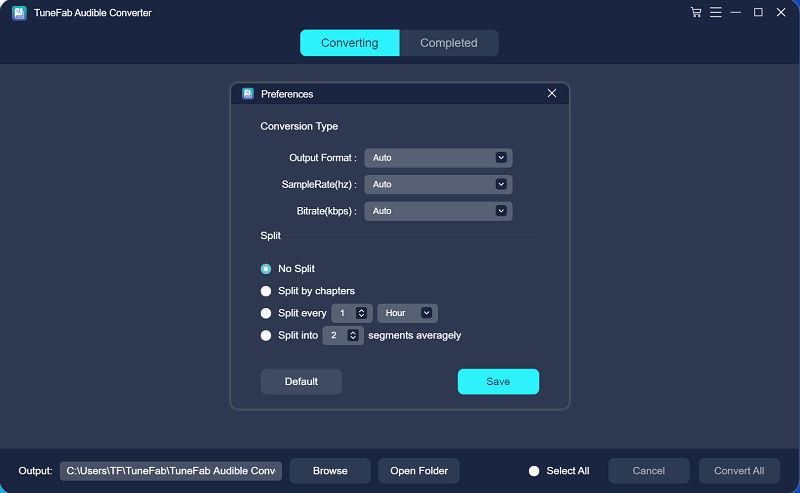 (Optional) STEP 4. Edit ID3 Tags of Audible Books
After that, return to the interface and click the edit icon after the Audible book title, then you are available to check the ID3 info of the audiobook and edit it flexibly as you desire.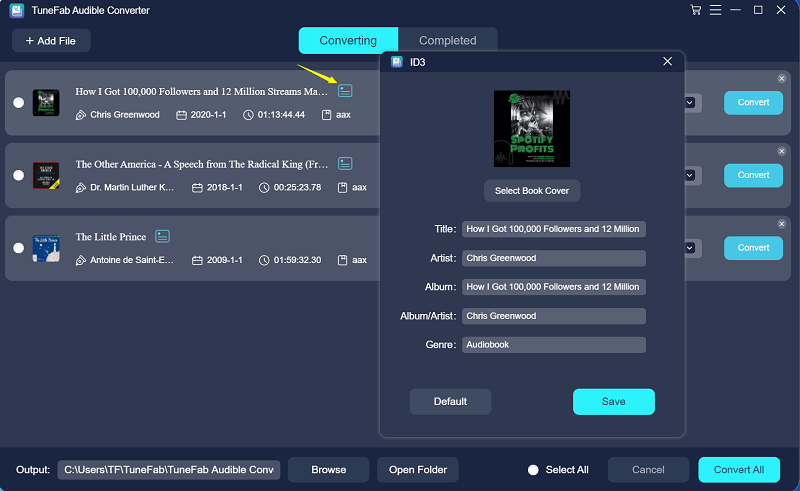 STEP 5. Decrypt and Download Audible Books
Finally, tap on the "Convert All" button to process the Audible books download, then TuneFab Audible Converter will start converting them for you in batches. Just wait for the download completed patiently.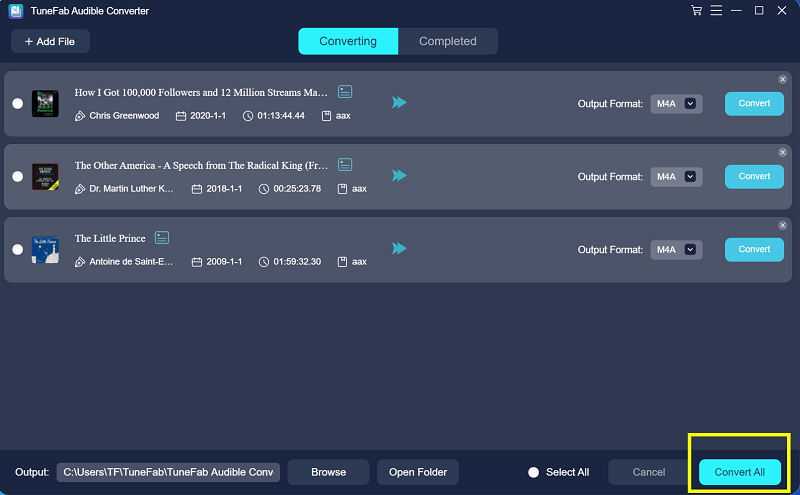 Price and Plans
For those who are new to using TuneFab Audible Converter, this best AAX to MP3 converter will provide you with 15 days to convert 2 complete Audible books for free. After you get acquainted with the program and find it's worth switching to its full version, then you can purchase the license to fully relish all the goodies of TuneFab Audio Converter.
Currently, TuneFab provides 3 plans for you to register the full TuneFab Audible Converter version by month, year, or process a one-time purchase for lifetime usage:
● 1-month subscription: US$12.99
● 1-year subscription: US$24.99
● Single Lifetime: US$45.99

Specification
So, whether you are able to enjoy the advanced service brought by TuneFab Audible Converter? Check through these system requirements to see if your device is well-compatible with the software:
Operating System
Windows 11/10/8.1/8/7 (64-bit)
Mac OS X 10.12 or higher
Processor
1GHz Intel/AMD processor or above
Resolution
1024×768 display or above
RAM
512 MB or above
FAQs About TuneFab Audible Converter
Finally, grasp these frequently asked questions raised by others to know more about TuneFab Audible Converter (mainly from the software security and the reasons leading to its popularity).
Q: Is TuneFab Apple Music Converter Safe?
A: TuneFab Audible Converter highly values data and privacy security. Hence, the software will not collect any of your personal data without permission. Additionally, as you can see, there are no ads or pop-ups inside the software, so you don't need to worry about the adware, virus, or bundled malware at all! The in-app environment of TuneFab Audible Converter is 100% secure!
In addition, both the technical and customer support teams of TuneFab will stand by to deliver the best services, both doing the software enhancement and delivering instant help to all users. Hence, TuneFab Audible Converter is a highly secured software deserving of your trust!
Q: What I Like About TuneFab Apple Music Converter
A: In general, all these features have attracted me and more TuneFab Audible Converter users over years:
● Intuitive interface with an easy-to-grasp function;
● Fast Audible books batch converting speed;
● The ability to strip DRM from protected Audible books;
● Original quality, capture, and ID3 info preservation;
● Splitting mode available to save Audible books in shorter clips;
● Responsive customer support helps solve all problems instantly.

Conclusion
No matter the usage, security, performance, or customized setting options, TuneFab Audible Converter all brings out-performing experience. Hence, if you are considering bringing freedom to your Audible books streaming journey, the software is a highly recommended option you should not miss. Now, why not get started via TuneFab Audible Converter for free?
Was this information helpful?
TrustScore 1 | 1