1. Overview of Features
Let's take a quick look at its features to better understand what it can do for you.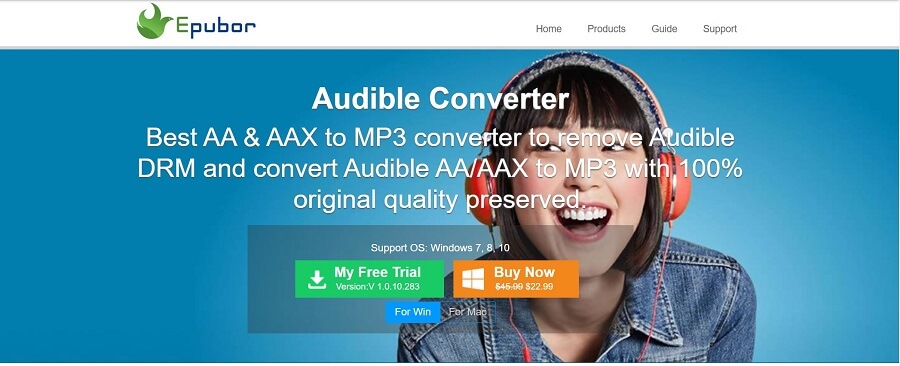 Ease of Use
Epubor Audible Converter is a simple and straightforward software that can decrypt DRM-ed Audible file in 2 clicks. With an intuitive interface and clear layout, it's easy for you to find the function you need without having to look it up on Help. For beginners, Epubor is a great tool to start out with because you don't need to have technical skills and knowledge to properly use the software.
Lossless Audible DRM Removal
Most of the DRM removal software require your authorization to access the protected media files and play them in background in order to record, transcode and save them as DRM-free audio file.
Epubor, however, is built with the technology that can directly decrypting the file instead of decoding and re-encoding it, to make sure that the DRM removal is lossless. The best part of using this software is that you can remove DRM from any protected Audible AA or AAX files without connecting to your Audible account, saving you from the authorization problems.
Convert Audible to MP3/M4B
At the moment, Epubor Audible Converter supports 2 output formats including MP3 and M4B. MP3 is an audio format supported by almost any devices while M4B is an audiobook file format allowing for chapter navigation when listening to audiobook. If you want to save the entire audiobook with chapter info, you can choose M4B as output format.
After converting, you can play audiobook on your favorite MP3 player or smart audiobook player which offers more playback features and customization options.
Split Audiobooks by Chapters
The splitting feature is definitely a plus point when converting hours-long audiobooks to MP3 which doesn't support chapter markers. Audiobooks tend to be long, so if you are going to convert an extra-long audiobook that is mostly up to 10 to 20 hours to a single, long file, you will end up getting a giant file which is not easy for you to transfer, upload or listen to.
Epubor's audiobook splitter will perfectly solve this problem. It can effortlessly divide your Audible audiobook into separate parts based on Chapter, Minute or Segment accordingly. After splitting, you can easily search for and import the desired chapters into your devices for enjoyment.
60X Faster Speed & High-quality Output
It feels like a waste of time to spend hours staring at a computer screen, waiting for the software to complete the conversion task. That's exactly why fast speed is a must-have feature when choosing an Audible audiobook converter. Epubor Audible Converter promises to bring you 60X faster speed without degrading the quality of your favorite audiobook. In our test, Epubor successfully converted a 2-hour long audiobook within 1 minute, while some other audiobook converters might take half an hour or more to complete the conversion process.
Edit Audiobook Metadata & Preserve Parameters
To help you better manage audiobook tags, Epubor allows you to edit title, album, artist, year, genre, copyright, etc. in a separate window. And all the original parameters, including the codec, bit rate, channel, etc. will be automatically retained.
Batch Conversion
Epubor Audible Converter can convert multiple audiobooks at the same time. With this batch processing feature, you can convert a large collection of audiobooks from AA/AAX format to MP3/M4B conveniently.
2. How to Use Epubor Audible Converter
Getting Ready:
Before you get started, make sure you've downloaded your purchased Audible audiobooks to your computer to store them locally. To make sure that the chapter information will be preserved in the converted M4B file, please download your Audible audiobook in AAX format instead of AA.
If you have troubles in downloading Audible book, you can follow the step in this guide – How to Download Audible Audiobook to Computer.
Now follow the instructions and see how to convert Audible books with Epubor:
Download the proper version of Epubor Audible Converter based on your operating system. It is compatible with both Windows and Mac system.
Download Epubor Audible Converter
Drag and drop the Audible AAX file to the main window. You can also click the "Add" button to import the file from your local folder on your PC.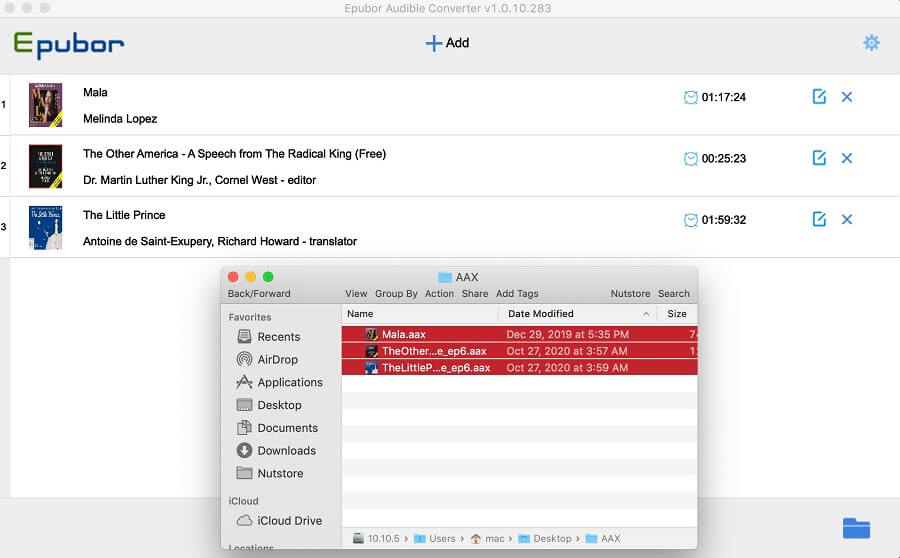 You can select MP3 or M4B as the output format. The major difference is that M4B will contain audiobook chapter info while MP3 doesn't.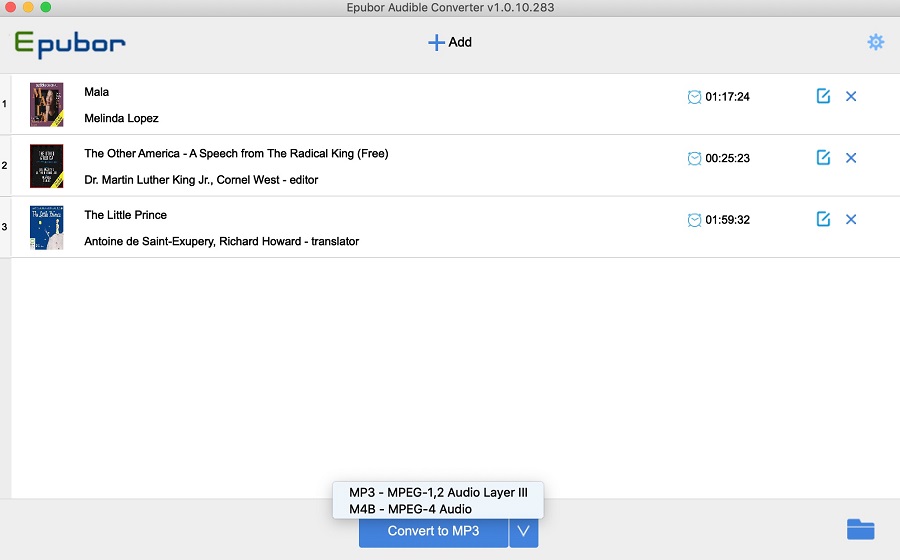 When all is set, click the Convert to MP3 (or Convert to M4B) button to start converting.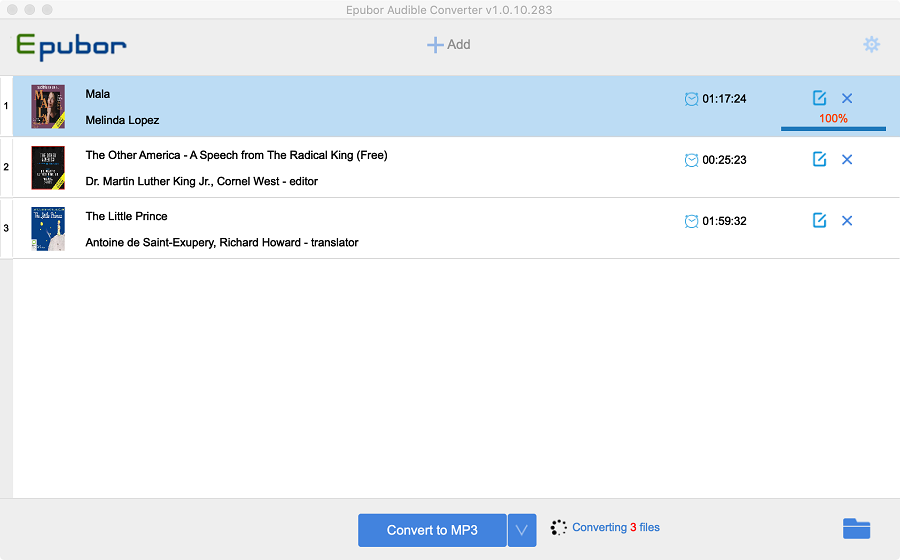 When the conversion is done, you can click the "Open Output Folder" button at the bottom right corner to view all the converted audiobooks.

You can import the converted M4B/MP3 audiobook into iTunes or other media players for playback. All original chapter info will be preserved in the converted M4B files. When you play the M4B audiobook in iTunes, you will see the "Chapter" option available for navigating to the specific chapter of the audiobook.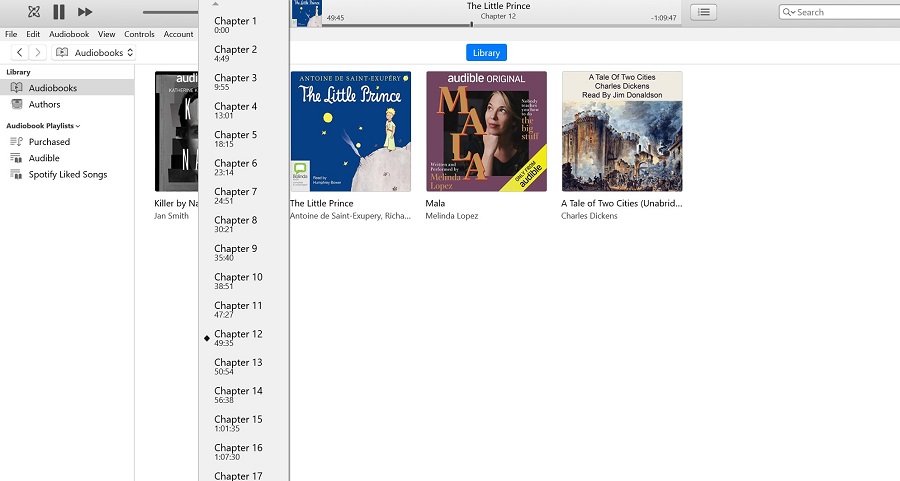 Advanced Tip - How to Slit Audible into Chapters
Click the "Options" button to configure the advanced settings based on your need, then click "OK" to save the changes.

Audiobook Splitting Settings:
No Split
Split every () minute(s)
Split into () segments averagely
Split by chapters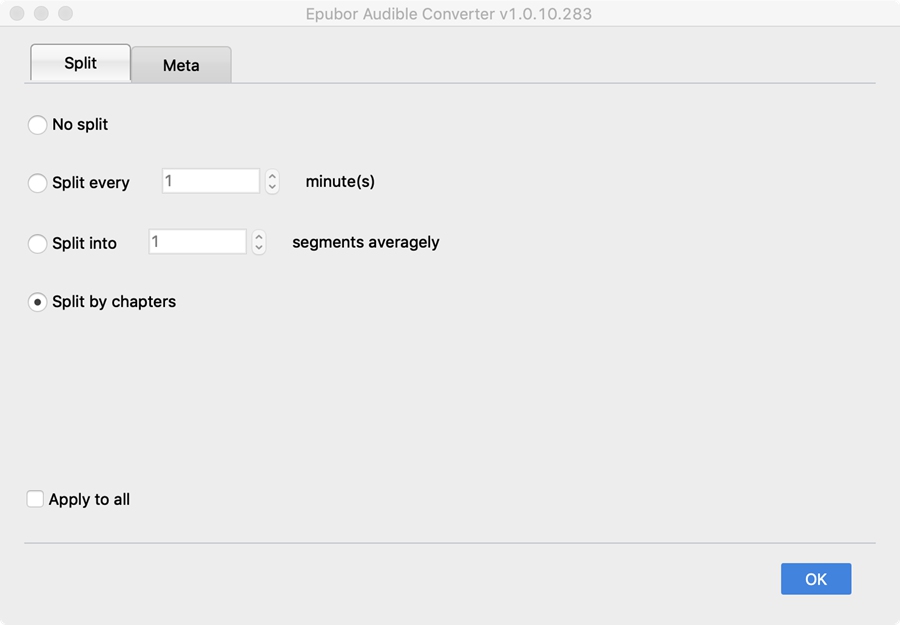 Metadata Editing Function
You can edit title, album, artist, copyright, year, genre, comments, and album artwork.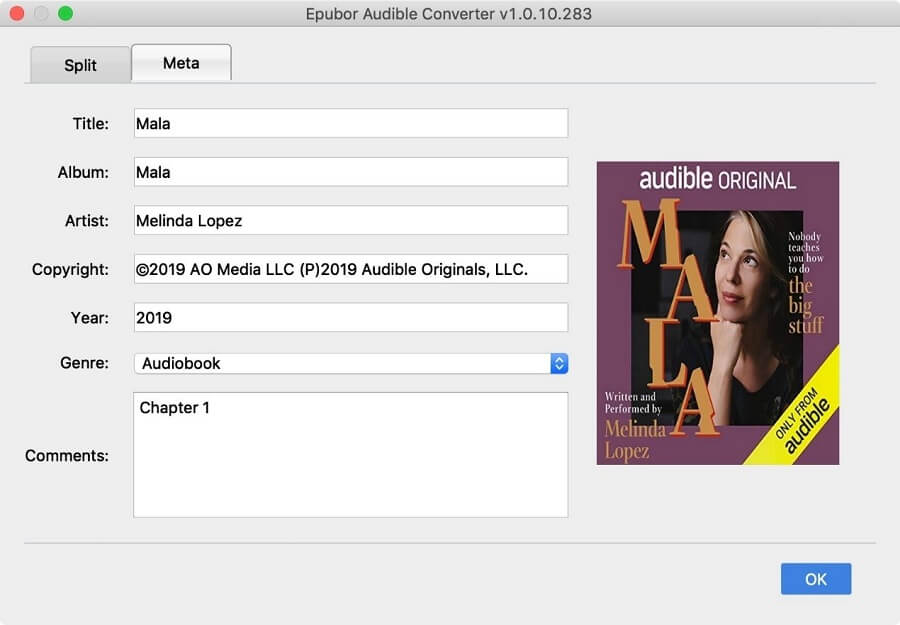 Once the conversion is completed, all separated Audible files will be saved in a folder named the same as the Audible audiobook title.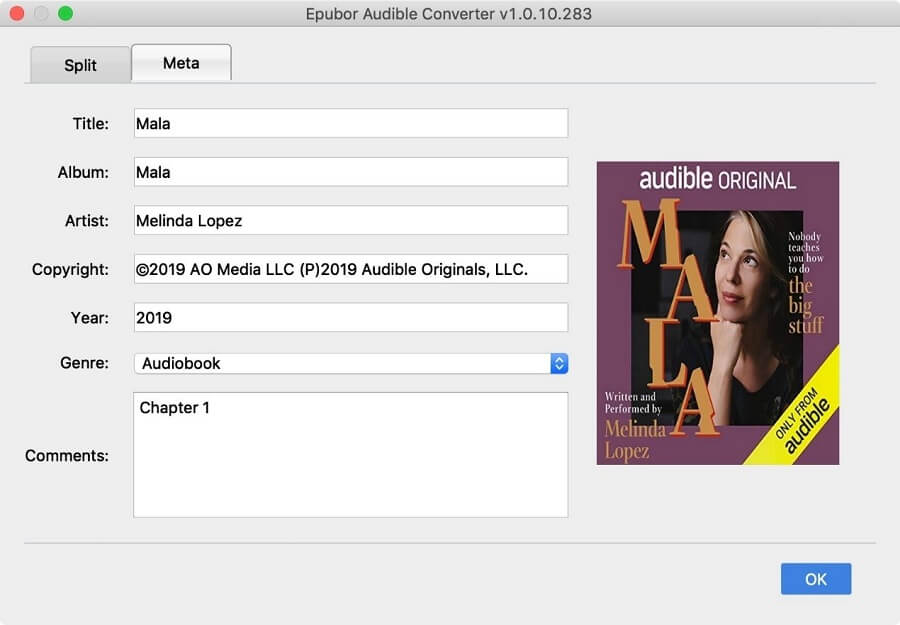 3. Pricing Plans
It's important to note that Epubor Audible Converter is not a freeware program. It provides a free trial version that lets you convert 10 minutes of each Audible book, but the audiobook splitting feature is not available for the free trial version.
By reading this far, if you believe that Epubor is exactly the solution you are looking for, you can go from trial to the paid version to unlock all features. Here are several buying options available at the time of writing:
EPUBOR PRICING
Family License (Win)
$59.99
Family License (Mac)
$59.99
4. Specification
System Requirements
Windows 7, 8, 10; Mac OS X 10.8 or higher
Language support
English, Japanese, French, Italian, German and Simplified Chinese
Support Services
Email, Live Chat, Submit a ticket and Skype
Money Back Guarantee
30 Days
5. Frequently Asked Questions
Is Epubor Audible Converter safe?
Epubor Audible Converter is a clean and malware-free program that is 100% safe to download, install and use.
What're the limitations of a free trial version?
With the free trial version, you can only convert 10 minutes of each Audible book. And the feature - splitting Audible audiobook into chapter is not available for trial version.
What kind of files does Audible use?
Before June 2020, Audible audiobooks can be downloaded in two formats: Audible Format 4 (.aa) or Enhanced Format (.aax). But after 30 June 2020, Audible will no longer support Format 4(.aa) and will use Enhanced Format (.aax) as the default format for Audible audiobook downloads.
6. Final Verdict
Epubor Audible Converter, a beginner-friendly audiobook converter that is packed with cool features including the ability to decrypt Audible DRM, convert Audible audiobook to popular format at 60X faster speed, preserve original quality and parameters, etc. You can benefit from all its features and listen to your Audible audiobook with more freedom and fun. What's more, it offers a 30-day money-back guarantee and reliable customer service to ensure you have the best experience. Why not download the free trial version now and evaluate the software by yourself to see if it is worth spending money on?
Pros
Simple to use
Drop-and-drop support
Fast conversion speed, up to 60X
Split Audible books into multiple chapters
Both annual and lifetime license options
Cons
Cannot convert iTunes M4B audiobook
Doesn't support M4A output format
Buy on Epubor