As a music lover, you may not miss Spotify. If you are the new user of Spotify, you may have no idea to choose Spotify playlists. Or in other cases when a loyal Spotify user want to try listening to other playlists from Spotify, what kind of playlists can promote them to make a decision? So, in this article, 5 best Spotify playlists are listed for reference. Don't miss them if you happen to look for Spotify playlists. In addition, we listed top 10 Spotify songs for you to choose.
CONTENTS
Part 1. 5 Best Spotify Playlists
Here we will recommend you 5 best Spotify playlists. All these 5 playlists are in different genres and themes. If you love them, you can follow them in Spotify.
1.This Is: Max Martin
In this playlist, you can see the curator Max Martin who tends to focus on the pop stars of the past 20 years, from Backstreet Boys to Taylor Swift. So if you are keen on pop songs, you should really listen to this playlist.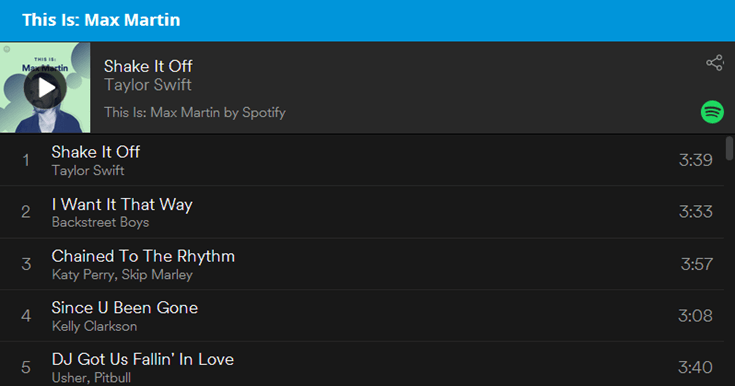 2. Family Road Trip
Classic songs will live forever. So in this playlist, you won't miss the legendary band the Beatles, Queen, and Blondie and so on. I am sure no matter how time flies, people will still love these songs. A very good playlist for you to play in the car.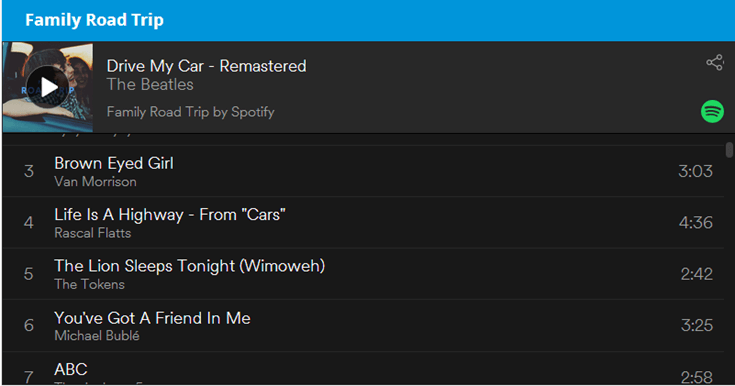 3. Grimy Rap
It is so cool to see people rap, no matter their wonderful beat or lyrics. If your heart is pounding for rap, come and listen to this playlist.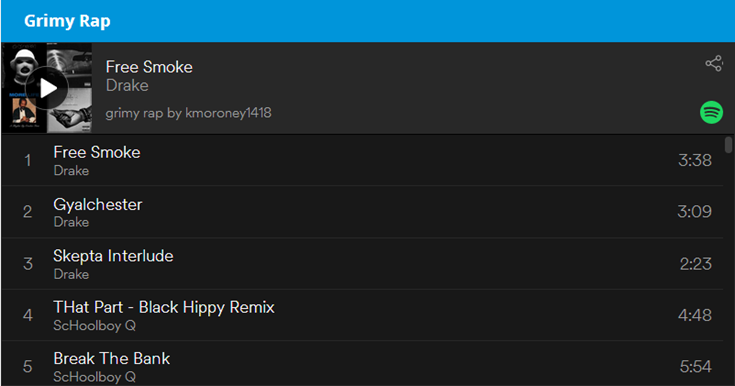 4. Snoop Dogg's Merry Jane Playlist
Merry Jane Playlist is curated by the singer Snoop Dogg. To him, this playlist can make him relaxed. And you can listen to this one and find out if it really does.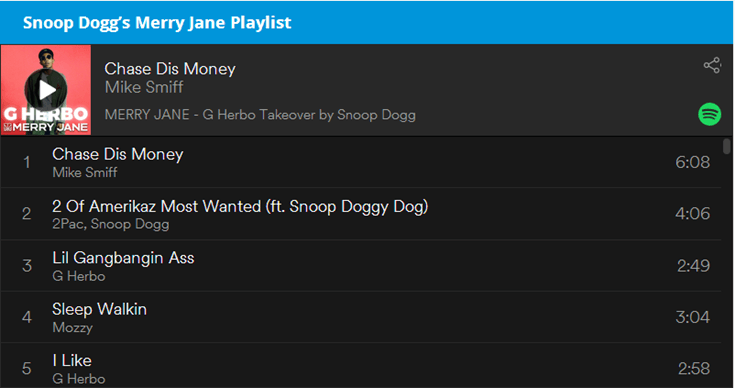 5. This is: Disney
Most of us grow up with Disney movies. And the music in the film also reminds us of childhood. Thus, this playlist can be a great one to bring you back to the past.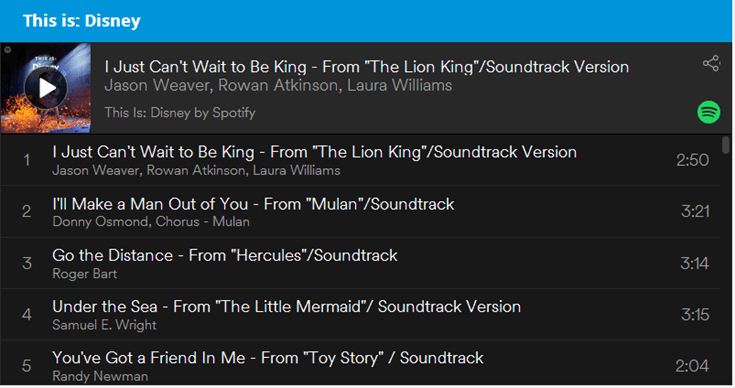 Part 2. Top 10 Spotify Songs
In this part, we will also recommend you 10 top Spotify songs for you. Though the singers are not that famous, it won't be the reason for you to miss them.
1. With You Here
'With you here' is an alternative folk song from Tender Glue, which comes from his new album the 'Closet Leftovers'. When the sweet vibrant hazy guitar combines with a soft tapping beat, it totally makes luscious melodies. And people say it is totally an ethereal majestic song from Tender Glue. And I think it would be great if you listen to the song quietly, I am sure the song will get you into thinking about your experiences.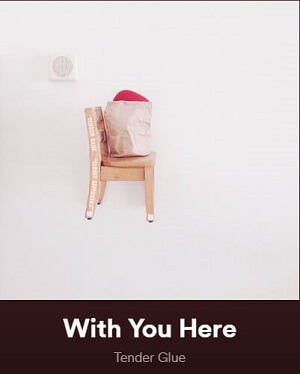 2. So Little Time
This song is sung by Pining For Sunshine. At the beginning of the song, you will feel kind of peace by hearing the acoustic guitar. Actually, this song reveals not only melancholy but also fascination. Thus, as the music goes on playing, you will feel the song is not that sad anymore.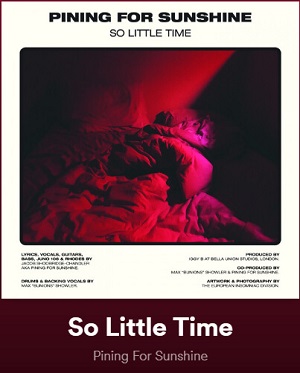 3. Bothersome
This song is from Ex Okay. This band was started in 2009. And the song is different from the above two songs, the drums try to make people not to be down but to keep up his spirits towards love.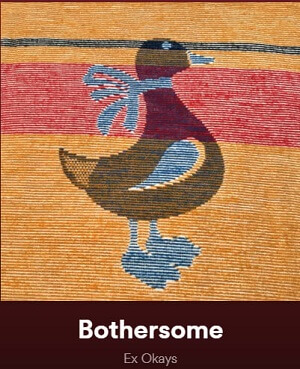 4. Gauntlet In The Sun
The song is from Ricky Lewis, a work after he goes solo. And to him, this song means quite a lot to his career. If you prefer rollicking music, you may probably like this song. And it's a song to tell you "fear not" when you have no idea what your future will be.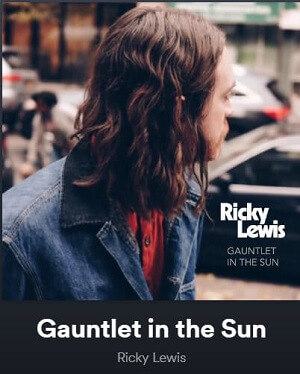 5. Medicine
A song Sung by Nicky William, from his album "Set Your Loved Ones Free, We Have You Surrounded". I should say he got quite a special voice as a young man. And there are some people attracted by his amazing voice and think it's a pity that he is not that famous.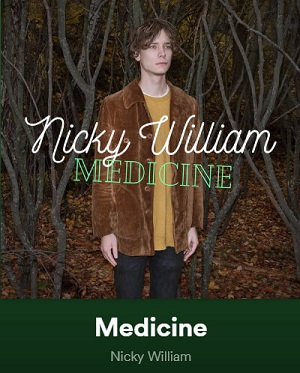 6. Green Shade
A new song from Chase McBride. This time he cooperated with Mackenzie Bunch in this new album. And it can be a breakthrough for him. Because his song has more upbeat tones and wider sonic palette.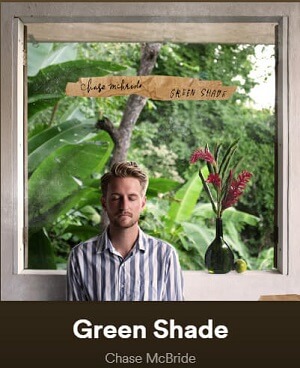 7. Leap Of Love
The song is from John Moods. It is just what you see from its name, it is a love song. It will give you a feeling of mystery and hazily affectionate. I think it may also remind you of the romantic love of your life.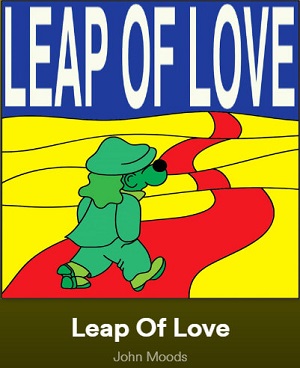 8. Go With The Flow
A song from Falcon Jane. The official video of this song is also directed by the singer herself. To her, she thinks the song is quite personal to her because all the scenes in the video show different parts of her life. And what she wants to show us is to be relaxed and cool in life.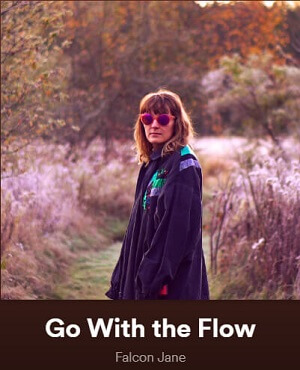 9. Squid
It is an alternative pop on from Champion Electric. And it is said that this band is taking the lead of other bands. And they think this band gets a potential to succeed as they work hard in music.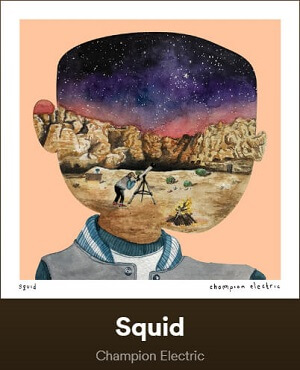 10. Jimmy

The song has the same name as his singer Jimmy. It is a song with the brisk melody. And as you can see from the song name, it tells you stories of himself.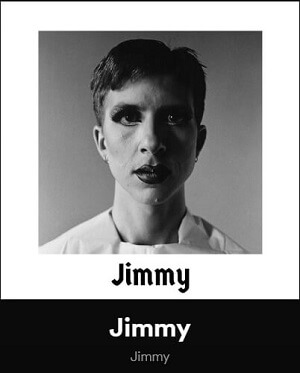 These are the 5 best Spotify playlists and 10 top Spotify songs for you, don't ever miss them and hope you would like them. I think each of them will bring you different feelings. If you like them, search them in Spotify and add them to your favorites. Or if you want to play these songs on your devices, you should remove the DRM (Digital Rights Management) first. Then you can try to convert the Spotify music to MP3 format. To do so, I highly recommend you to download TuneFab Spotify Music Converter. With it, you can download and convert Spotify music to other formats freely.
Was this information helpful?
TrustScore 2 | 4