I am a crazy music lover who spends hours a day exploring music tracks I've never heard of before. As a result, I have thousands of songs and dozens of playlists in my Spotify account. However, some of them are saved repeatedly without being noticed. It's time-consuming to check and delete Spotify duplicates one by one and will take up extra spaces when downloading all the songs offline without de-duplicate. But is there any efficient way we can use to organize the Spotify playlist? Let's check together:
CONTENTS
Preface: Spotify Duplicate Songs Notifications
The good news for Spotify users is that Spotify provides a "duplicate songs" notification for their users now. Every time you are trying to add a new song that is already in your Spotify library, you will get the following pop-up offering two options: "ADD ALL" or "SKIP DUPLICATES". You can choose the green "SKIP DUPLICATES" to easily skip existing songs and only add new ones.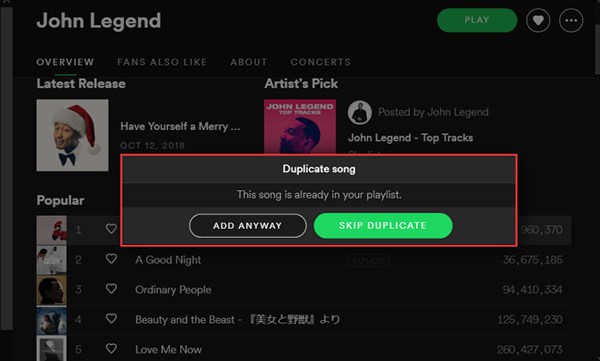 However, what if we already have some duplicated songs added to our Spotify library before Spotify providing this "Duplicate song" notification feature? Just read on to see how we can delete duplicate Spotify songs with ease:
Part 1. Spotify Playlist Manager: How to Delete Duplicate Spotify Songs
Step 1. Browse your playlist and you will find duplicated songs.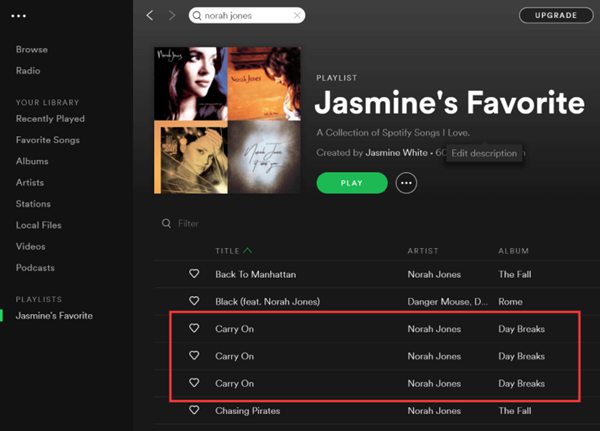 Step 2. The regular method to remove duplicate songs is to manually remove them one by one or select them in bulk and right-click on the song to show the options menu. Choose "Remove from this Playlist".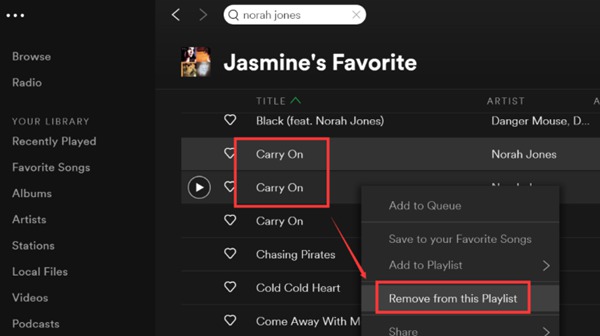 Note: Manually deleting works for those playlists that have only a few songs. For those who have hundreds of songs included in one playlist, removing duplicated songs manually will be time-wasting.
Step 3. To solve this issue, I've been digging into the solutions and find the following website which is so smart and efficient to remove a large amount of duplicated Spotify songs from a huge playlist. Just visit https://jmperezperez.com/spotify-dedup/.
Step 4. Here you will be asked to log in to your Spotify account. Just hit on the green "Log in with Spotify" as shown.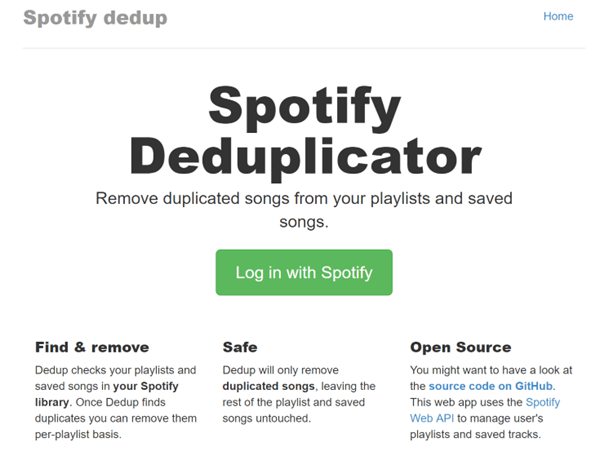 Step 5. After that, the Spotify app will start to scan your Spotify accounts and when it's done, you will get the "Processing complete!" notification and the duplicated songs of your chosen playlist listed as below. Hit on the blue "Remove duplicates from this playlist".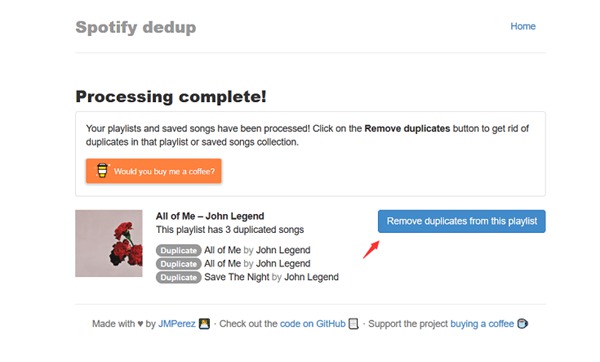 Step 6. Wait a few seconds and you will get the following info showing that the duplicated songs scanned are all be removed successfully.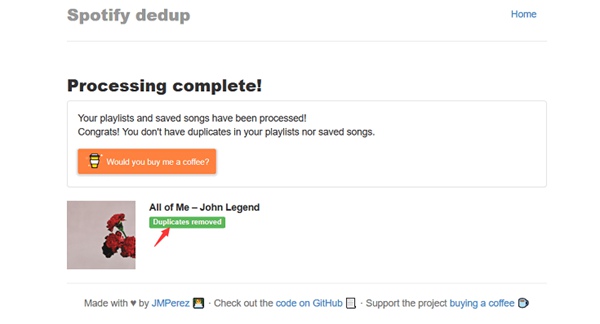 The issue is easily solved with few simple clicks. However, what if we want to organize the whole Spotify account and remove all Spotify duplicate songs in the library? I am sorry that I haven't found any excellent third-party website or software that works perfectly to compare different Spotify playlists and de-duplicate them. However, there are still some certain ways that we can achieve this. Let's see how:
Part 2. Remove Duplicate Songs from Different Playlists
For example, I have another Spotify playlist by Norah Jones which I believe there are already some songs that existed in my private playlist. How can I avoid duplicated and add new ones to my private playlist?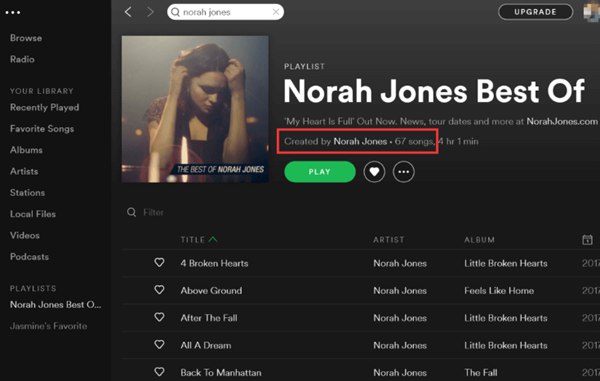 Copy all the songs from Norah Jones's playlist and paste them into the playlist I want.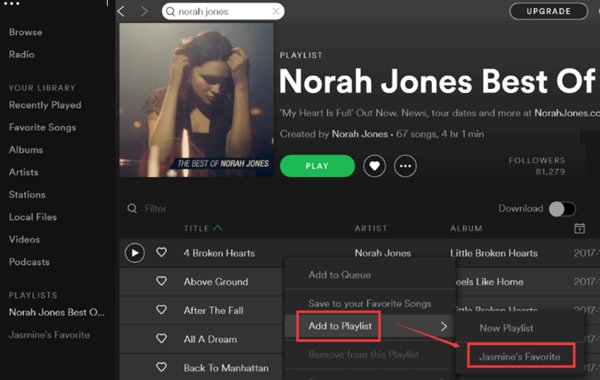 As mentioned in the preface part, Spotify will pop up a notification telling you that some of these songs are already in your playlist. You just need to click on the green "SKIP DUPLICATES" to only add new songs.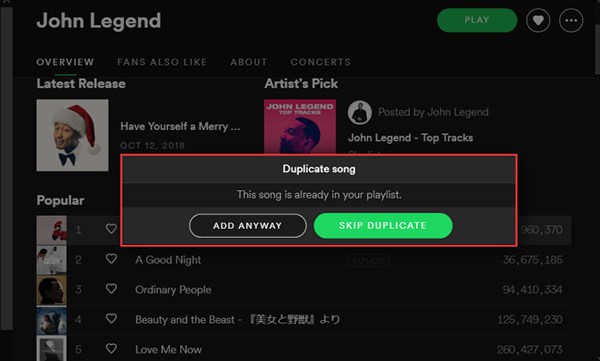 Part 3. How to Download Spotify Songs for Offline
Now, we've excluded the duplicate songs from your Spotify playlist, it's time to download Spotify songs for offline playing. As we all know, no matter how many songs you want to download, you need to have a Spotify Premium subscription. That is, you need to pay Spotify $9.99 a month so that you can download unlimited Spotify songs, be able to skip songs, and use Spotify without advertisements.
Of course, there's a more affordable way to make the best of the large Spotify music resources database. We can download unlimited Spotify songs with TuneFab Spotify Music Converter at a relatively low price. We all know that Spotify OGG music is encrypted with DRM protection so that it can't be played on other music-playing apps. TuneFab Spotify Music Converter perfectly solved this by automatically removing DRM protection and enabling you to convert Spotify songs to MP3, M4A, WAV, and FLAC.
Step 1. Install TuneFab Spotify Music Converter on PC/Mac
Download and install TuneFab Spotify Music Converter on your computer. Then you will see the main interface as below.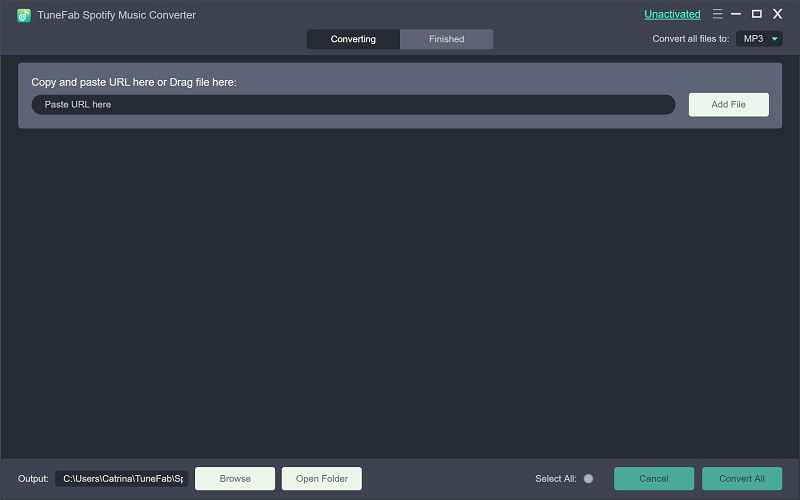 Step 2. Add Spotify Songs
From the main interface of the software, we can see the "Add Files" button. Click on it and if you've already installed the Spotify app on your computer, it will be brought up. You can browse and drag and drop the songs from your Spotify library to TuneFab Spotify Music Converter. As the software instructed, you can drag and drop songs, playlists, albums, artists, and tracks to the software easily. Hit on "Add" and you will see the interface as below.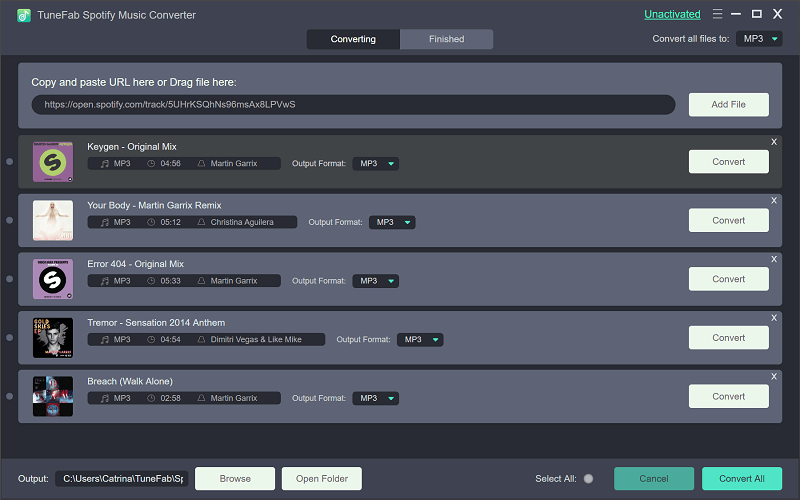 Step 3. Choose Songs to Convert
In this step, you can review the songs that you just added. View and uncheck those you don't want and click on "Add" again once you finish it.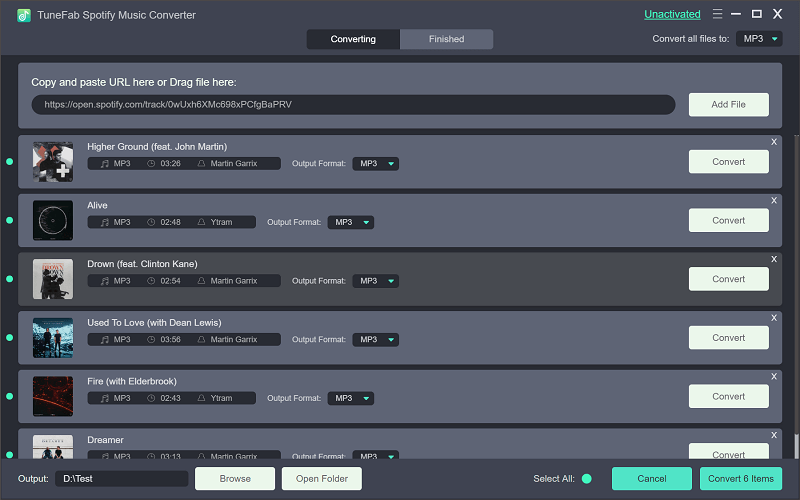 Step 4. Select Output Format & Folder
As we all know, MP3 is very universally used in multiple devices and players. So, make sure the Spotify songs we download are ready for different use, converting OGG to MP3 is obviously a wise option. Go to "Options" > "Advanced" > "Format" and choose "MP3".

Go to "Options" > "General" > "Select..." to choose the output folder that you can conveniently locate.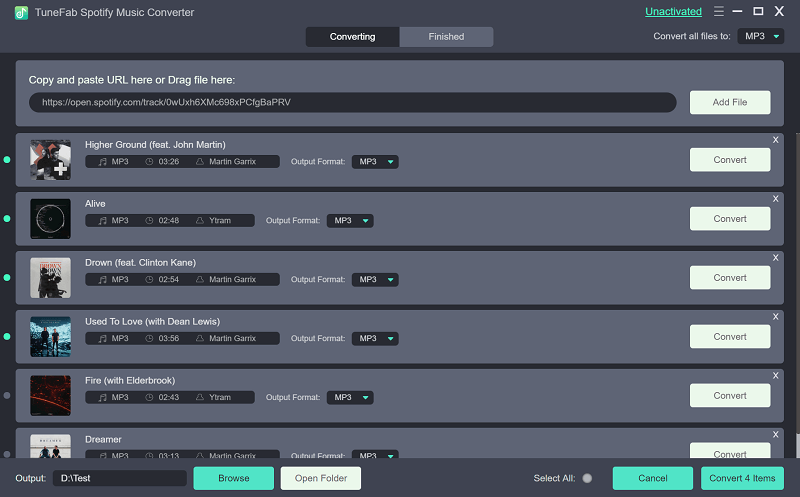 Step 5. Convert Spotify Music to MP3/M4A/WAV/FLAC
The last thing you need to do to download Spotify songs offline is to simply hit on "Convert" button from the top.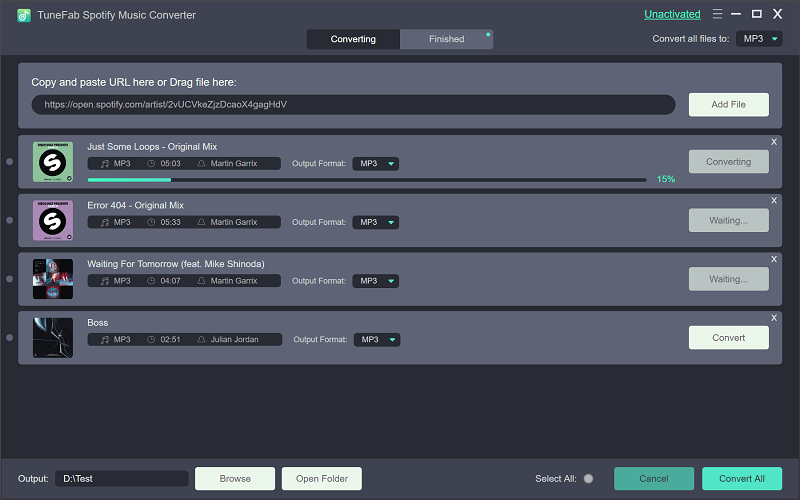 Here you are! Now your Spotify account is tidied up. There are no more duplicated songs in your playlist(s) which takes up extra space and time when downloading them. Try the process on your own to see how easy it is to remove duplicates of Spotify playlists and organize Spotify playlists on your own before downloading Spotify music without Premium.
Was this information helpful?
TrustScore 3.4 | 5