As one of the largest music streaming services in the world, Spotify is also providing a discount for students to make them better enjoy the high-quality music streaming with a low cost. If you are an eligible student, you can subscribe for the Spotify Premium for only $4.99, which has dropped from $9.99 with a 50% discount. So, how to get Spotify's 50% student discount?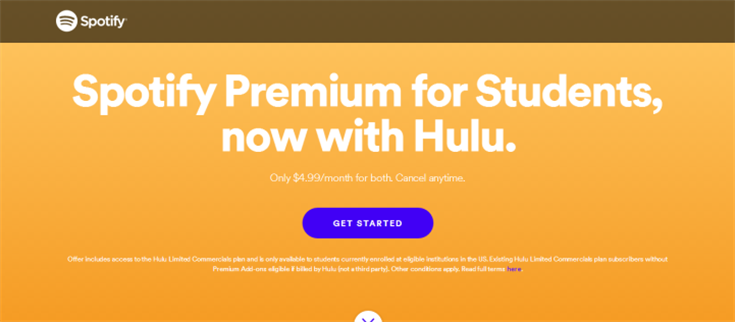 The Advantages of Subscribing Spotify Premium's Student Plan
Comparing to Spotify Free, Spotify Premium owns the following advantages:
1. Users can enjoy any track and high-quality music streaming without being interrupted by Ads and are able to skip without any limitation.
2. Users are allowed to download the songs offline inside the Spotify.
3. Spotify is going to release an official program for users to enjoy music streaming on Apple Watch in the near future.
If you have subscribed for the Student Plan of Spotify Premium, you would have more benefits as follow:
1. Users just require $4.99/month subscription fee instead of $9.99/month.
2. Students who enroll in the US would also have the access to the Hulu Limited Commercials plan, which includes streaming of full seasons of exclusive series, hit movies, Hulu originals and more, on all compatible devices.
Eligibility of Getting the Spotify's Student Discount
1. You would be eligible for subscribing for Spotify Premium at student price if you are a student enrolled in the eligible countries that support the student plan of Spotify, including America, Austria, Australia, Belgium, Brazil, Canada, Chile, Colombia, Czech Republic, Denmark, Ecuador, England, Estonia, Finland, France, Germany, Greece, Hong Kong, Hungary, Indonesia, Ireland, Italy, Japan, Lithuania, Latvia, Mexico, Netherlands, New Zealand, Philippines, Portugal, Singapore, Spain, Switzerland, Turkey.
2. You have to subscribe Spotify Premium directly through Spotify instead of other third-party provider, for example, a cell phone provider.
3. The new, returning Hulu subscribers or existing subscribers of Hulu Limited Commercials (not through a third-party provider, either) without Spotify add-ons are also considered as eligible.
Note: You would have access to Spotify Premium's Student Plan for 12-month long since you subscribe or re-verify this plan successfully. Until the end of the period, if you graduate or leave school, you could no longer be considered as a student and could not subscribe for Spotify Premium with a 50% student discount. Also, you could not enjoy the Hulu Limited Commercials plan any more. It would switch to original price and you need to subscribe for Spotify Premium at $9.99/month.
The Procedures of Getting Spotify's 50% Student Discount
Step 1. Go to the interface of Spotify's official website (Click: Spotify). Then slide down to see the Spotify Premium plan, and click on "GET PREMIUM".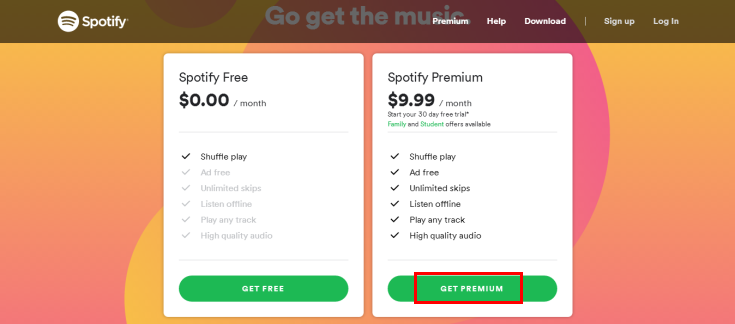 Step 2. Scroll down and find the "Student Discount" section. Click on "learn more".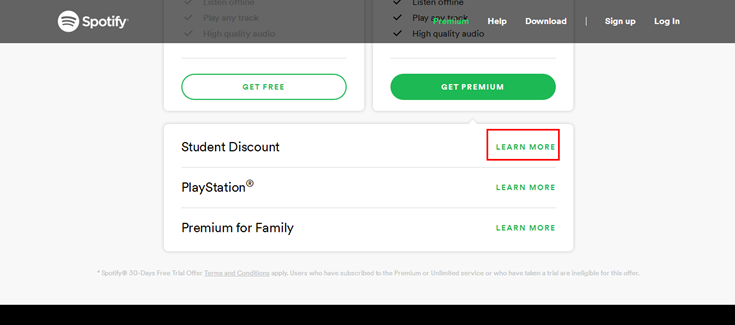 Step 3. Click on "Get Started" and sign up for your Spotify account.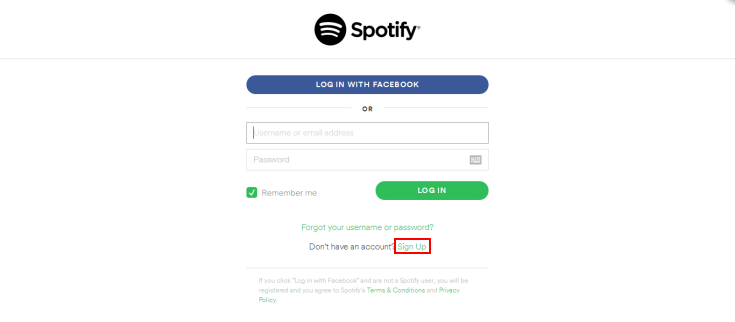 Step 4. When you are filling the email address during sign up, you need to use your university email address, which must be ".edu". This would allow you to subscribe for the Student Plan. Then click on "Sign Up".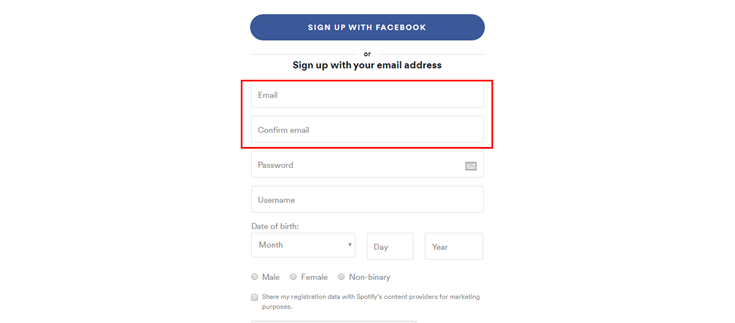 Step 5. Fill in the credit card details and pay $4.99 for Spotify Premium's student plan. Then click on "Start Premium" and enjoy Spotify with student discount!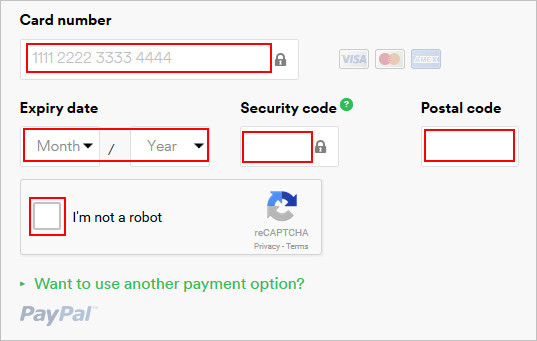 Little Tips – Cancel the Spotify Premium Subscription
You are also allowed to cancel the subscription of Spotify Premium according to your need. Follow the guidance below to cancel:
Step 1. Open the interface of Spotify program which has login with your Spotify account. Then go to the "Subscription" section.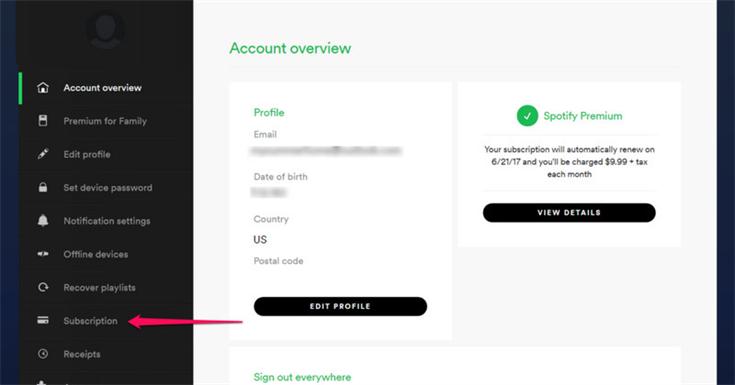 Step 2. Under Subscription and payment, click on "Change or Cancel". Then select the reason for why you are leaving and click on "Continue". Enter your password and select "Cancel My Subscription".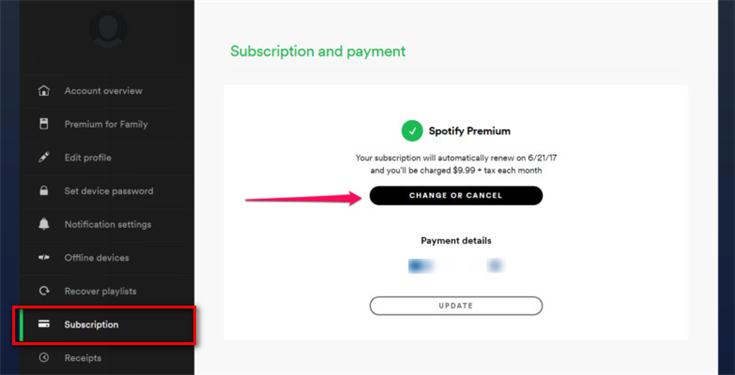 Then your Spotify Subscription could be canceled. Don't forget to keep downloaded Spotify songs after canceling Spotify subscription.
As one of the largest music streaming services in the world, Spotify does have the advantages which can attrack a massive amount of users. Comparing to Apple Music, Spotify would be more user-friendly since its playlists could be customized by users themselves, and it is allowed to share with friends. It is really beneficial for students to enjoy Spotify Premium's advantages with 50% student discount. If you are eligible, get the discount as soon as possible!
Was this information helpful?
TrustScore 3.8 | 8