"I'm a Spotify Premium but I found that my offline songs were gone! What can I do to stop Spotify deleting my downloaded songs? Could anyone help, please!!!"
Have you ever confused about the reason why your downloaded Spotify music misses without any warnings? Or Spotify keep deleting the offline songs though your Premium is not overdue yet? If the answer is possible, then this post will analyze the cause one by one so as to fix the problem for you. What's more, we are going to provide you with an ultimate tool to end up losing any Spotify music by downloading and converting them to MP3 format. Have you geared up?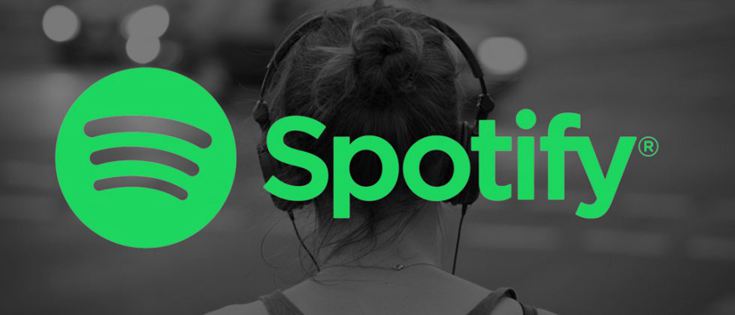 CONTENTS
Part 1. Why Spotify Songs Disappeared?
To begin with, we need to find out the secret of missing Spotify songs, from which you can identify the problems by checking the possible reason listed below.
1. All of Spotify music is gone?
Make sure that the account on your device is yours. In case somebody else logs in their account on your mobile device, you'd better check it out. Or, you are able to create multiple accounts, so you need to ensure that you have logged in the right Spotify account.
2. Save somethings but can't find it?
#1. Delete the Playlist
If you clearly remember that you have saved the playlist where the songs are. In this case, if you can't find the songs, then the creator of that playlist may have deleted the playlist.
#2. Hit 10,000 Songs Limits
Check that if you have hit the 10,000 songs limits. If so, a warning message will notify you. You need to remove the previously saved songs before you add new songs. Or you can move the songs to your own playlists which are not bounded by the limits.
#3. Check Internet Connection
An active Internet connection is needed while you save Spotify songs. Please check that whether the Internet you used is valid or not. Then save the songs again.
#4. Fail to Add Songs to Music Library
If you want to find a track from your library or playlist, you need to add the song to "Your Library" or a specific playlist first. Some users may become too excited and forget to put the beautiful song into "Your Library" or a specific playlist. As a result, it is impossible to see the songs lying there waiting for you.
3. Something saved is greyed out/won't play?
If the content is greyed out, meaning that it is not available anymore. Generally, it will happen when the licensing agreements with the artists or ownership of rights have changed. Sometimes the contents could reappear but hard to tell.
Tip:
Waiting for the songs reappear again is a waste of time. We need to do something to make the songs played. To successfully generated the songs again, you can read this article: Fixed: Spotify Songs Greyed Out . I'm convinced that you will solve the problem smoothly after reading the passage.
4. Downloaded songs have disappeared?
#1. If you have logged in the same Spotify account on more than 3 devices, then you will come across this problem.
#2. Make sure that during the past 30 days you have logged in the account at least once. Otherwise, your songs will disappear.
#3. If your downloaded songs for offline streaming vanish, then you can upgrade Spotify.
Part 2. How to Fix Spotify Songs Disappeared?
The users have no power to control the downloaded songs because of DRM. That is to say, Spotify Premium "rent" music for offline streaming, but once it is overdue, the Spotify songs will disappear. To solve the problem, we need a different way to download. What if we can have Spotify music downloaded and converted to MP3? TuneFab Spotify Music Converter is born to fix it! It is a software that helps us download and convert Spotify music to many common formats. Not only can it remove the DRM for us but also download Spotify songs to computer. And the output files are free to be transferred between any devices. Have a try by yourself!
Step 1. Install and Launch TuneFab Spotify Music Converter
Click the button above to download the software on your computer. And then launch it, after which you can see its main interface like this: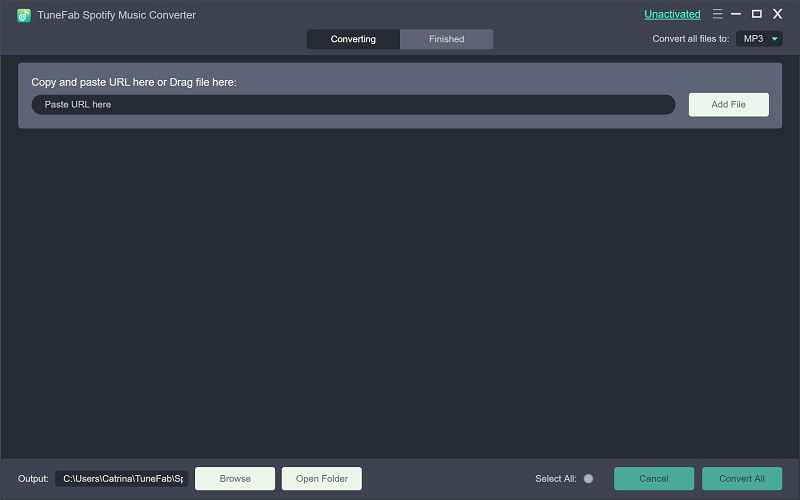 Note:
Before you used TuneFab Spotify Music Converter, Spotify needs to be installed on your computer first. Once you launch TuneFab Spotify Music Converter, Spotify will be activated automatically, so that you can select songs from Spotify conveniently.
Step 2. Add Spotify Songs
Click "Add Files" at the top-left corner of the interface. A new interface will appear and there two ways to add songs to TuneFab Spotify Music Converter:
#1. Drag and Drop to Add
Go to Spotify, you can drag and drop the songs, playlists, albums, artists, tracks, etc. that you like to the blank space of the converter.
#2. Copy URL to Add
The other way is to copy and paste the URL of the contents to the search bar at the lower-left part of the converter. By clicking the three-dot icon of the content in Spotify, you will see the URL option and then just copy that.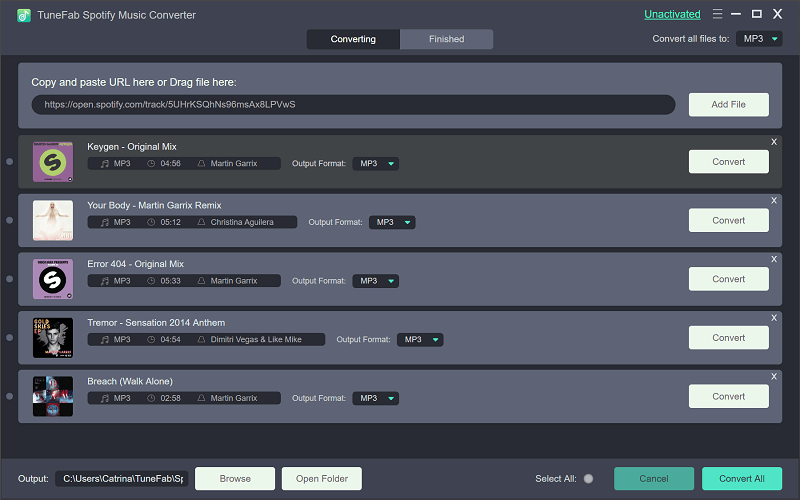 Step 3. Select Songs to Convert
After you finish adding songs to TuneFab Spotify Music Converter, then you can pick the ones you like by ticking. And click the "Add" button.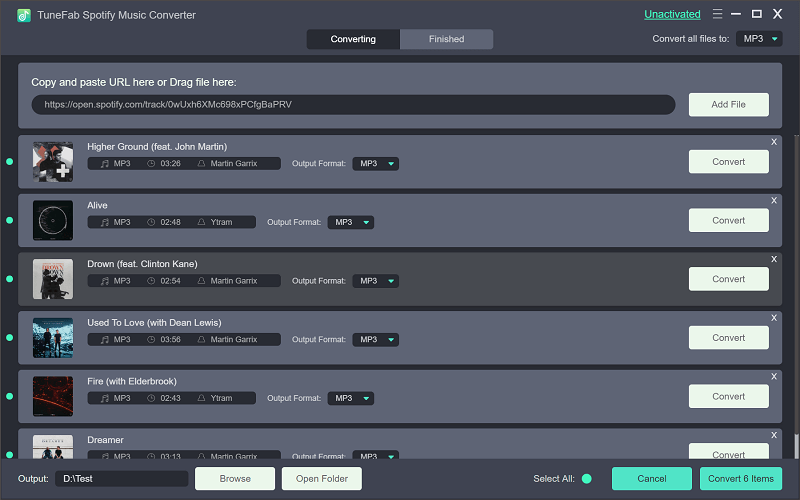 Step 4. Select Output Format
Click on "Options" and then "Advanced", there are 4 formats for you to choose from, including MP3, M4A, WAV, and FLAC. Here we choose MP3 as the output format. By the way, you can also adjust the conversion speed up to 5x in the same page.

Step 5. Select Output Folder
Go to "Options" > "General" > "Select…", you can select an appropriate folder on the computer to save the songs. Also, you are free to choose the "Default" option so as to make it as the output path.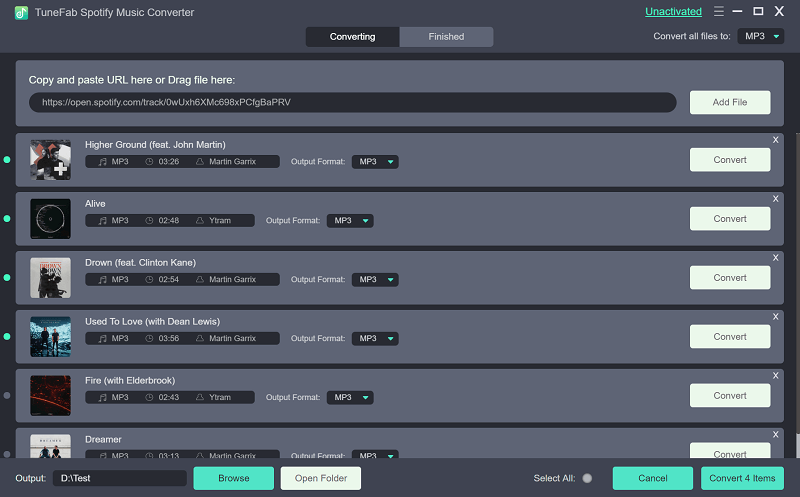 Step 6. Start Converting
After these necessary settings, click "Convert" to download Spotify music to MP3 format.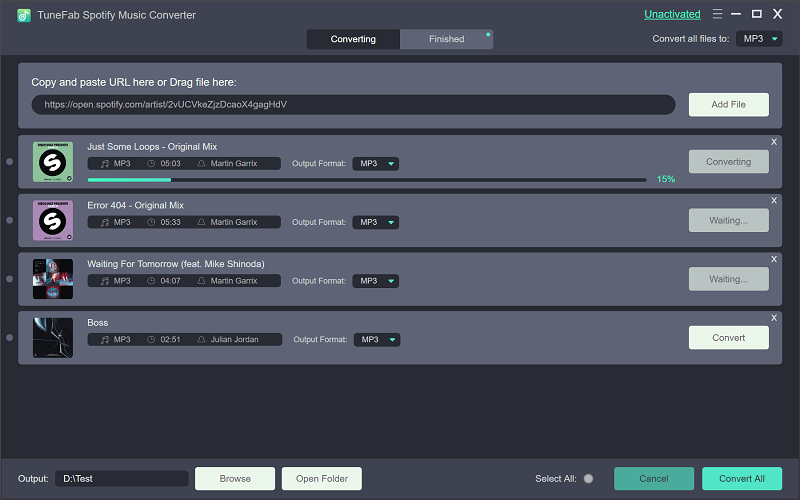 Now what you need to do is wait a minute to have the process done, and you can get a total DRM-free version of Spotify songs with a high quality of tone.

Conclusion
Have you got the methods to fix Spotify songs missing issue? In order to get a better experience while listening to Spotify, you'd better use TuneFab Spotify Music Converter to download and convert the Spotify songs to DRM-free MP3. If you encounter the problems listed in Part 1, then you can try to solve it following the guide above. To be honest, the best way to fix Spotify songs disappearing is to download the songs with the help of Spotify Music Converter. Just Try it!
Was this information helpful?
TrustScore 1 | 1