"I just found my Spotify playlist disappeared. I swear I did nothing to it! Does anybody know what happened? I've tried re-login and reinstall Spotify, but it seems like not working...... Does anyone have any idea how to recover my Spotify playlist?"
Don't worry, you're not alone in facing this issue. Generally speaking, Spotify does not interfere with your playlists. Such disappearance could happen if the artists have removed them or the copyright has expired. Alternatively, mysterious disappearances can occur for several reasons. Whatever the case, it's frustrating! But here I am to help you out. Whether it's a network error or an issue with your Spotify subscription, this article will provide the solutions you need to recover your playlists.
Contents
Why Did Playlists on Spotify Disappear
Exceeded Download Limit
The DRM protection on Spotify imposes download limits, allowing Spotify Premium users to download up to 10,000 tracks on a maximum of 3 devices. If the total number of downloads exceeds this limit, Spotify will delete previous downloads to accommodate new ones. This action can impact the accessibility of the playlist. Additionally, you need to log in online every 30 days to verify your active Premium membership.
Deleted by Playlist Owners
If you like or follow someone else's playlist and the owner deletes it, the playlist will disappear from your account, too. But since it takes some time to completely remove the playlist information from the database, the playlist might still be visible for a couple of weeks.
Collaborative Playlists Changes
In collaborative playlists, co-owners or contributors can modify the content. If any of the owners delete songs from the playlist, those songs will disappear for all collaborators. Luckily, communication and agreement between playlist contributors can prevent the accidental removal of tracks.
Logged out of Spotify Account
If you've recently logged out of your Spotify account, your downloaded music might temporarily disappear. Simply log back in to retrieve your playlists and tracks. Alternatively, having multiple Spotify accounts might lead to logging in with the wrong account, which lacks the downloaded songs. Make sure you sign in to the correct account to retain access to your playlists.
Expired Spotify Premium Subscription
When your Spotify Premium subscription expires or becomes invalid, you may encounter issues with your downloaded songs disappearing. Spotify's offline download feature is exclusive to Premium subscribers. If your subscription expires, ends, or is canceled, your downloaded music will no longer be accessible. Ensure you have an active Premium subscription to maintain access to your downloads.
Previous Cache or Data Clearing
Clearing the app's cache or data for troubleshooting purposes can inadvertently lead to the removal of downloaded music. Additionally, uninstalling the Spotify app without backing up your downloads will result in their deletion. Always back up your data before performing any significant app actions.
How to Fix Spotify Playlists Gone
Before proceeding with the solutions, it's essential to understand that if your playlist's owner is someone else and they've deleted it, there is no way to recover it. But if you accidentally deleted your playlist from your own account, it is easy to recover deleted Spotify playlists. For other scenarios, you can resolve the issue using the following methods:
Check Network Connection
Ensure you have a stable internet connection. Downloads may not be visible if you're offline or have a weak connection. Connect to a reliable network and open the Spotify app to see if your downloads reappear.
Attempt turning your network or data off and on, or switch to a different Wi-Fi network. This will help you check if there's a problem with your network connection.
Check Subscription Plan
Verify that you have an active Spotify Premium subscription. Downloads are exclusive to Premium users, and a subscription issue could be the cause of disappearing playlists.
To review your subscription status:
Step 1. Open Spotify and tap the three lines located on the top left corner.
Step 2. Select Account and then navigate to Subscription.
Step 3. Here, you can check whether your subscription expired and the specific type of subscription you have.
Restart Spotify
Sometimes, the app may encounter glitches that affect downloaded content visibility. Try restarting the Spotify app or your device to refresh the system and potentially restore your missing playlists.
On Android
Step 1. Access the list of open apps by tapping the three-line icon located at the bottom of your phone's screen.
Step 2. Swipe up on Spotify to close it. Then tap the Spotify icon to restart it.
On iOS
Step 1. Swipe up from the bottom of your screen.
Step 2. Continue swiping up on the Spotify preview panel to close the app on your iPhone.
Step 3. Go to Home Screen and open Spotify to restart it.
Update Spotify
Outdated app versions may have bugs or compatibility issues leading to problems with downloaded music. Ensure you have the latest version of the Spotify app installed on your device to avoid such issues.
Step 1. Go to Google Play Store on Android devices or the App Store on iOS devices. Then, search for "Spotify" in the search bar.
Step 2. Tap on the "Update" button next to the app's listing.
Step 3. Once the update is complete, you can open the Spotify app to access the latest version and check your playlists.
Re-add or Re-download the Spotify Playlists
If the previous steps don't resolve the problem, you might need to re-add or re-download your music. Open the Spotify app, navigate to your library, and find the songs, albums, or playlists that were previously downloaded. If they appear as not downloaded, try re-downloading them by tapping the Download button.
Note:
All of the above require a re-launch to Spotify to check if your playlists have recovered.
How to Prevent Spotify Playlists Missing
Even with a premium subscription, Spotify playlists can still mysteriously disappear. Due to DRM protection and the OGG file format, Spotify restricts the playback and transmission to other platforms. In other words, you might come across the issue of the playlist disappearing again. However, there is a solution to save your songs permanently-- TuneFab Spotify Music Converter.
TuneFab Spotify Music Converter offers a seamless solution to prevent playlist vanishings by enabling users to download Spotify music and convert it to a universally compatible format. Through its built-in player, TuneFab Spotify Music Converter allows you to download Spotify playlists to MP3, M4A, WAV, FLAC, AIFF, AAC, and ALAC audio nearly lossless. With this powerful tool, you can keep your downloaded playlists forever, unaffected by DRM restrictions, and ensure they are accessible and playable on any device. No need to worry about disappearing playlists, as your converted MP3 files will remain securely in your local files.
Some Sparking Features of TuneFab
• Best Audio Quality TuneFab Spotify Music Converter ensures that your converted Spotify songs retain the highest audio quality possible. Experience the original fidelity and clarity of your favorite tracks, enhancing your music-listening pleasure.

• Download Audio Files of All Types TuneFab Spotify Music Converter lets you quickly download and convert songs, albums, playlists, podcasts, and even audiobooks to MP3 for easy offline playback. This versatile feature ensures you can enjoy all types of Spotify audio content without limitations.

• Preserve Music Metadata and ID3 Tags Bid farewell to long conversion times with TuneFab's impressive speed. With at least 35 times faster conversion rates, you can quickly transform your Spotify songs into MP3 format, saving you valuable time and effort.

• 35X Faster Conversion Speed TuneFab Spotify Music Converter lets you quickly download and convert songs, albums, playlists, podcasts, and even audiobooks to MP3 for easy offline playback. This versatile feature ensures you can enjoy all types of Spotify audio content without limitations.

• Lifetime Upgrades Included Access to every major release and the latest versions without extra charges. With TuneFab Music Converter, you benefit from free lifetime upgrades, ensuring you're always up-to-date with the best features and improvements.
How to Download TuneFab Spotify Music Converter
Before reading: TuneFab Spotify Music Converter is currently available for Windows and Mac users.
STEP 1. Download TuneFab Spotify Music Converter. Install and launch it on your computer. Click Open the Spotify Web Player to access Spotify. Tap Log In on the top-right corner of your screen.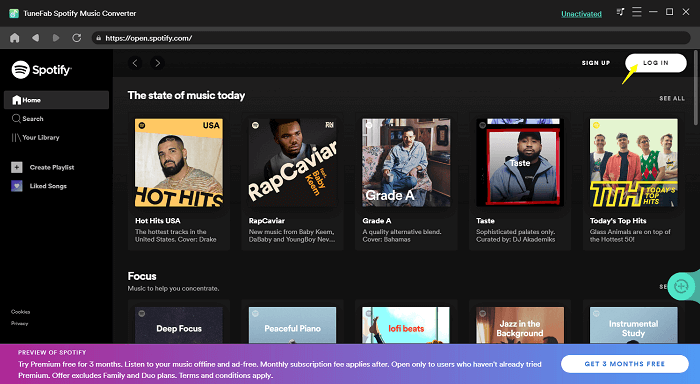 STEP 2. Drag and drop your selected tracks onto the green "+" button on the side.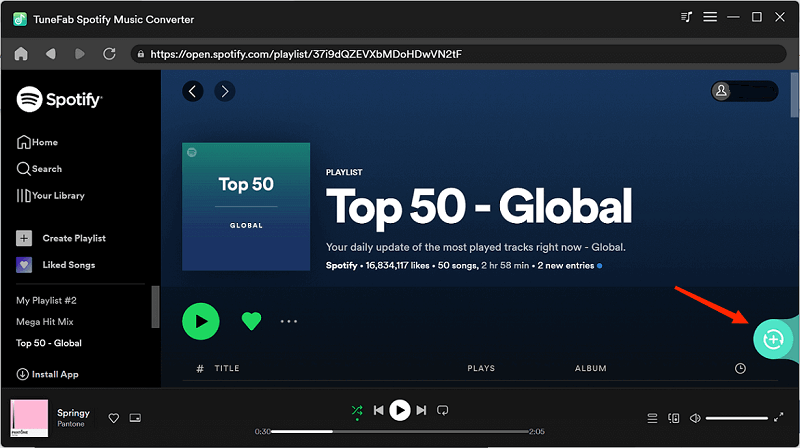 STEP 3. Click the three-line button in the top-right corner and select Preference.In the Preference menu, adjust the output format settings:
• Under General, customize the output folder and categorization options (by playlists, artists, albums, etc.) for efficient organization.

• Under Advanced, choose your desired audio format, such as MP3, M4A, WAV, FLAC, or M4A. organization.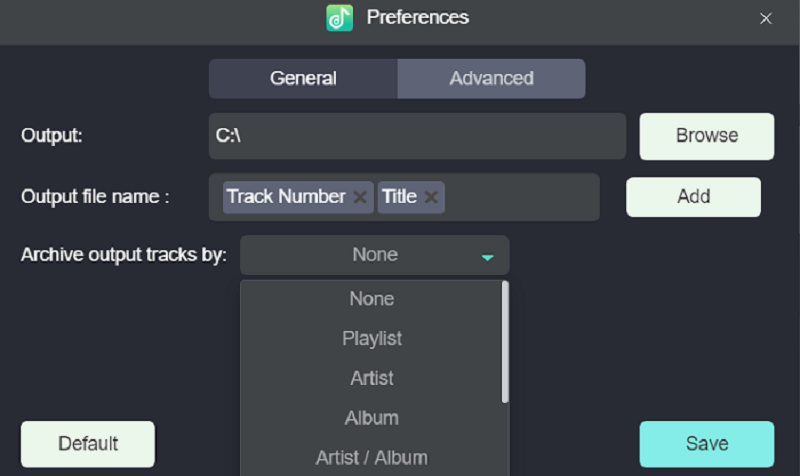 STEP 4. Click Convert All to start the batch downloading process, or click Stop All to stop it. TuneFab will convert the selected tracks to the chosen audio format and save them to the specified output folder. After the conversion is complete, click View Output File to check the downloaded Spotify songs.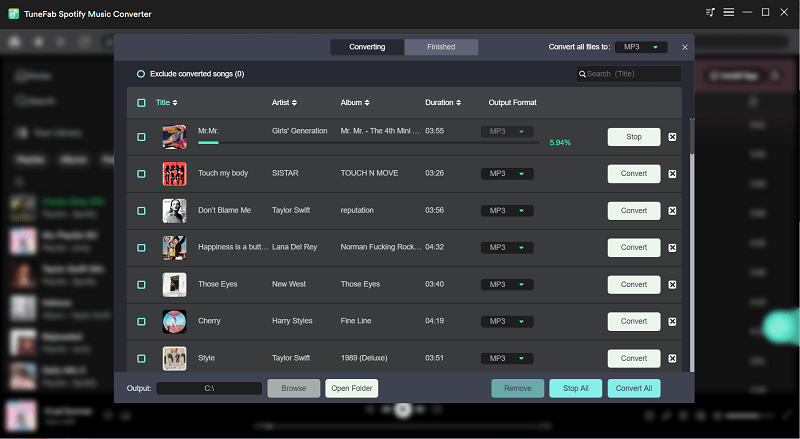 Conclusion
In this article, I've addressed common issues with disappearing Spotify playlists and provided simple solutions to you. First, start by verifying your network connection, and then, check the status of your Spotify app and your subscription. Also, it's crucial to be aware of the download limits set by Spotify.
To further enhance your Spotify listening experience and prevent playlists from disappearing, we recommend exploring TuneFab Spotify Music Converter. This powerful tool not only allows you to download and convert Spotify content into permanent MP3 files, but also saves your downloaded playlists permanently. By incorporating TuneFab into your music journey, you can enjoy your favorite tunes offline on any device, anytime, anywhere.
Was this information helpful?
TrustScore 1 | 6