As one of the leading music streaming services, sometimes, Spotify has some problems with delivering a smooth music playback experience. From the Spotify Community, many Spotify users have reported that their Spotify Premium can't work offline. That means even with a Spotify premium account, they cannot either play their downloaded songs without an Internet connection, or enjoy the ad-free and unlimited skip function, etc.
If you have also run into such an issue, then you are in the right place. This post has collected all practical ways that can resolve the issue for you. Please walk through them and select some methods to figure it out in no time.
NOTE:
If you don't want to try all solutions one by one, you can directly use TuneFab Spotify Music Converter to redownload the songs. With the batch download feature provided, this program can help you download all the songs with only one click and the conversion speed can reach up to 35X faster!
CONTENTS
Why Is My Spotify Premium Not Working Offline
First of all, please check the possible reasons causing Spotify Premium not working offline and you would make it easier to target the appropriate solutions, resolving the issue easily: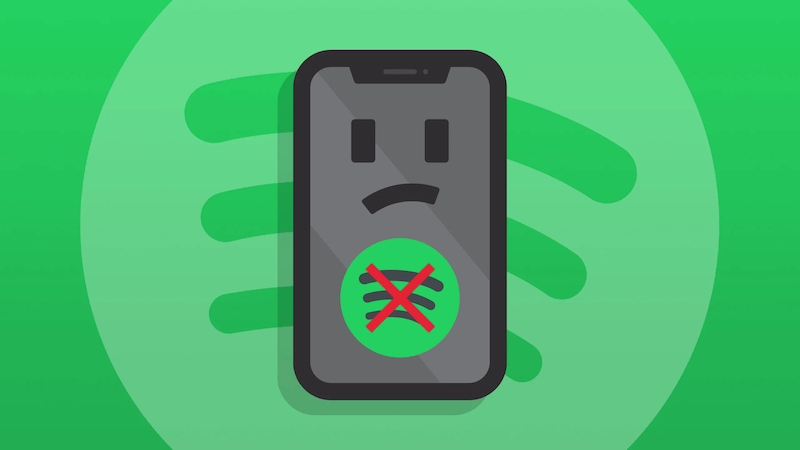 Reason 1. Premium Expiration
When Spotify Premium offline feature fails to function, please check your account status to see if the subscription has expired. Once it turns out to be invalid, you will lose all premium features, including the offline mode.
Reason 2. Device or Download Limit
Even for Premium users, Spotify applies restrictions on the download amount and device authorization. If you have downloaded over 10,000 Spotify songs or exceeded 5 devices in total, Spotify will prohibit you from continuously processing the music download, in that you will find it fails to work properly.
Reason 3. Try Playing Off Spotify
Please note that all Spotify downloads are streamable within Spotify platforms due to the DRM protection. Therefore, even if you have downloaded Spotify songs to OGG files, they are all encrypted and you are not possible to play through other media players.
Reason 4. Device or Spotify App Corrupted
Consider whether there is something wrong with your device system, or the Spotify app just appears buts and fails to work as usual, causing Spotify Premium not working offline issue.
Reason 5. Unstable Internet Connectivity
When you process the Spotify Music download under unstable Internet connectivity, the entire download may fail to complete successfully, which will also cause Spotify offline not working issue.
6 Solutions to Fix Spotify Premium Not Working Offline
When you have a clearer in mind about some causes of Spotify Premium not working offline issues, you can easily target the corresponding solutions to resolve it. Now, let's move on to the practical methods to fix the problem one by one.
Solution 1. Check Premium Status
First, you can check whether your account is still in a valid Premium subscription. If you have canceled the auto-renewal or the subscription billing fails to process due to your bank card issues, the Premium status will turn out to be invalid, leading to the failure to access Spotify downloads and stream them as usual.
To check the Premium status, please open your profile >> Account in Spotify app or on the official website. If you are not in the Premium plan now, by activating the subscription and you can easily fix the issue by making Spotify Premium work again offline.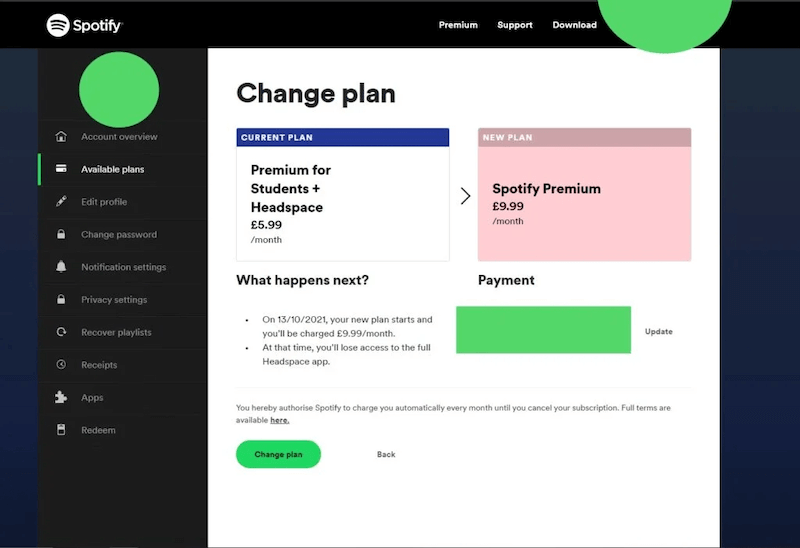 Solution 2. Log out and Log in Account
If you have checked that you are still in Spotify Premium but the downloads are still not able to be streamed, try logging out the account and get back in once again. For many users, this simple solution actually works!
Solution 3. Re-download Spotify Songs
Consider whether the Spotify downloads are not complete, in that results in the Spotify Premium not working offline error, as Spotify would fail to play incomplete music for you. Therefore, you can try re-downloading the music under a stable network and play the songs in offline mode again to check if Spotify Premium download feature works offline now.
Solution 4. Free Up Device Storage
Insufficient device storage is another possible reason leading to the failure in streaming Spotify Premium downloads offline, as Spotify has failed to allocate the space for running the offline music playback, or just can't seek room to place the new downloads. Therefore, when you discover Spotify offline not working, please check the storage space of your device and free it up when it is warning up.
Solution 5. Restart Your Device
When your device system has run for a long time with many programs functioning at the same time, the overloaded programming and stored caches would be easily corrupted, then leads to the improper performance of many programs. Therefore, you are recommended to try restarting the device when the Spotify Premium not working offline error appears. Many people have reported it as a workable solution for them!
Solution 6. Update or Re-install Spotify App
Sometimes, Spotify app would run into bugs that cause unexpected errors to disturb your music streaming experience, especially when you are utilizing the outdated Spotify app version that hasn't been updated for a long period, which would easily lead to issues like Spotify Premium not working offline.
Therefore, it is recommended for you to check Spotify from app stores. Regularly updating it to the latest version can prevent sudden issues like Spotify Premium offline mode functioning improperly. You can also try uninstalling the app and re-install it again if you have already utilized the latest version. In most cases, this solution works to resolve the problem.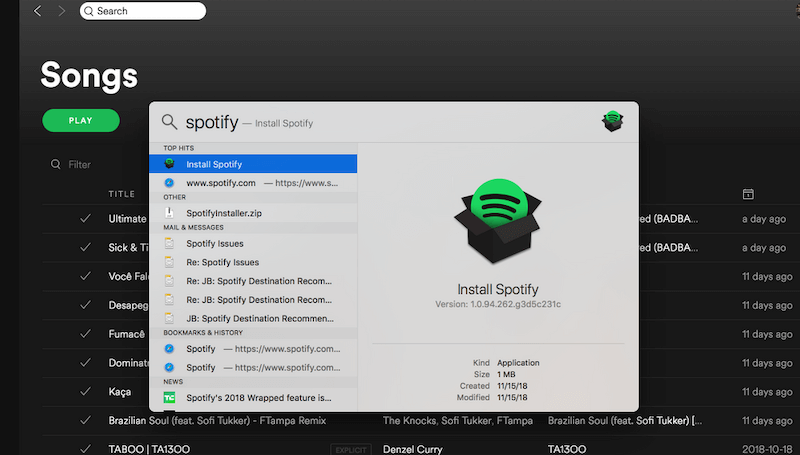 Ultimate Guide to Bypass Spotify Premium Not Working Issue
When the above solutions are all failing to work for you, and the Spotify Premium not working offline issue still exists in your desktop software or mobile application, this ultimate method will be the best option to figure it out.
TuneFab Spotify Music Converter has embedded Spotify web player to access the official music database without restrictions, meanwhile, with the download function added. In other words, you can directly log in Spotify web player in TuneFab Spotify Music Converter to process the music download even without subscribing to Spotify Premium.
The way this program is used to process Spotify music downloads would be different from Spotify Premium, which works to convert the songs to local music files of popular encoders like MP3. Through this way, the problem of Spotify Premium not working offline can be easily removed as you will no longer need to use Spotify Premium or stream the downloads within the Spotify platform at all.
The manipulation is provided here to guide you how to get Spotify downloads offline bypassing Spotify Premium and avoiding the offline mode not working issue:
Step 1. Run TuneFab Spotify Music Converter and enter the main feed of the Spotify web player to log in.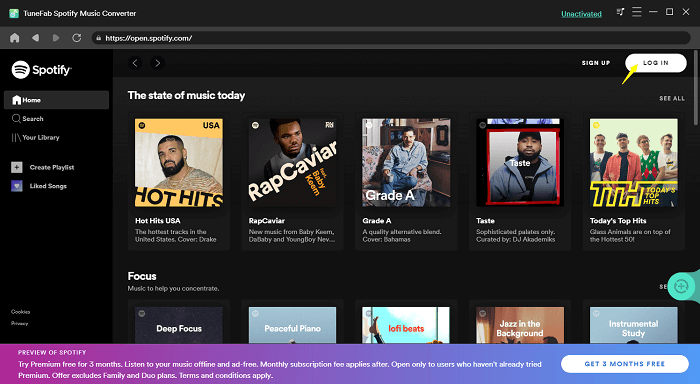 Step 2. Subsequently, search for any Spotify music and drag the playlist to the Add button aside for processing the conversion.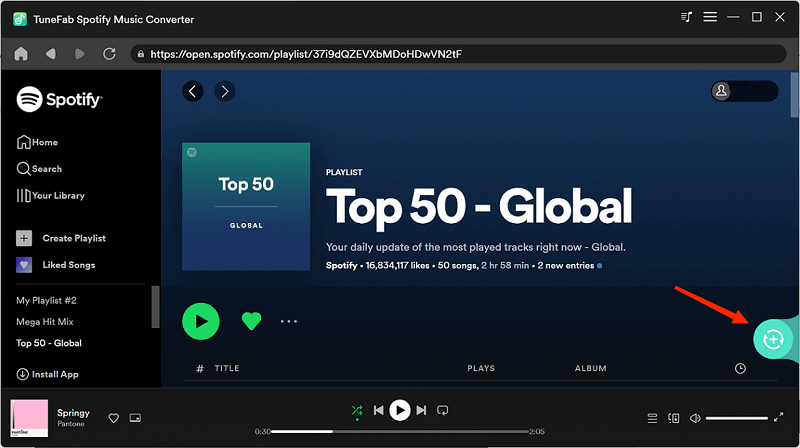 Step 3. Turn to Menu >> Preferences and personalize the output settings, including the Format, Bitrate, and SampleRate in preferences.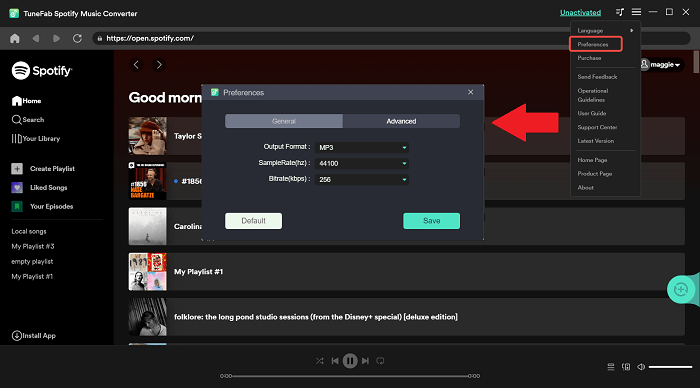 Step 4. Proceed downloading Spotify songs to stream offline by tapping the Convert All button.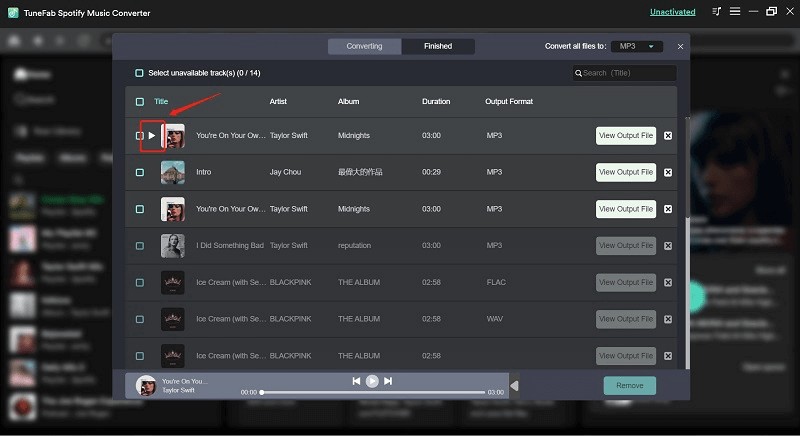 The offline music files can be stored on any device and streamed without Spotify app installed. From then on, you no longer need to worry about Spotify Premium not working offline issues!
FAQs About Spotify Offline Not Working Issue
Q1: How to Enable Spotify to Play Offline?
To enable Spotify to play offline, you need to have a Spotify Premium subscription. Once you have a Premium subscription, you can follow these steps to enable offline listening:
1. Open the Spotify app to find the "Your Library" tab.
2. Then tap on the "Settings" >> "Playback".
3. Toggle the switch next to "Offline Mode" to the on position.
Q2: Does Spotify Work Offline on Airplane Mode?
Yes, Spotify works offline on airplane mode, but only if you have a Spotify Premium subscription. When you turn on airplane mode, Spotify will automatically switch to offline mode and you will only be able to listen to the songs that you have downloaded.
Final Words
To sum up, this post has concluded the full ways to help you resolve the Spotify Premium offline mode not working issue. Please simply evaluate the reason causing the error and access the corresponding way to fix it!
TuneFab Spotify Music Converter
Batch convert Spotify to MP3 320kbps in lossless quality
Was this information helpful?
TrustScore 1.5 | 62